New Turbocharged M 9000 King Cat plus EFI-Equipped ZR 6000R SX and ZR 6000R XC Race Sleds Unveiled at 50th Annual Sno-Baron's Hay Days Event
Minneapolis, Minn. (Sept. 12, 2016) – Arctic Cat unveiled three new 2017 model year snowmobiles to more than 10,000 fans at the 50th Anniversary Sno Baron's Hay Days event in North Branch, Minn. The snowmobiles – a new turbocharged M 9000 King Cat mountain sled, a EFI-equipped ZR 6000R SX snocross race sled and a ZR 6000R XC cross-country sled – joined 17 other new 2017 models that the company introduced earlier this year.
The M 9000 King Cat features the full menu of chassis and ergonomic improvements available on select 2017 mountain models, and is powered by the 998cc three-cylinder 9000-Series engine, which delivers the highest output of any production snowmobile engine regardless of temperature or altitude. Spinning a 162-in. track with 3-in. lugs, it's poised to set the highest marks on every mountain.
The new ZR 6000R SX is the first production snowmobile built for snocross competition featuring electronic fuel injection. It's powered by a modified Arctic Cat 600 C-TEC engine that was co-developed for competition by Speedwerx. Other key improvements and features are aimed at defending its ISOC Pro Open and Pro Lite championship titles from last season.
Cross-country racers will pilot the new 2017 ZR 6000R XC production race sled, which features all-new Gen-II plastic bodywork; FOX 1.5 ZERO QS3-R coil-over ski shocks with Kashima coating; and other improvements. It's powered by the Arctic Cat C-TEC2 600 DSI engine and contained by the ProCross chassis, a combination that captured five USXC championships last season, including Pro 600 and Pro Open.
"The three new sleds that we unveiled at Hay Days reflect our passion and commitment to innovate and win more," said Greg Williamson, Arctic Cat Chief Marketing Officer. "Whether a rider wants to be the king of the back country or the X Games gold medalist, we build the machines that will give them the experience they desire."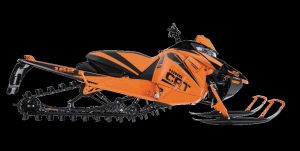 About Arctic Cat
The Arctic Cat brand is among the most widely recognized and respected in the recreational vehicle industry. The company designs, engineers, manufactures and markets all-terrain vehicles (ATVs), side-by-sides and snowmobiles, in addition to related parts, garments and accessories under the Arctic Cat® and Motorfist® brand names. Arctic Cat Inc.'s world headquarters is located in Minneapolis, Minnesota. Its common stock is traded on the NASDAQ Global Select Market under the ticker symbol "ACAT." More information about Arctic Cat and its products is available at www.arcticcat.com.
For additional information contact:
Kale Wainer (612) 350-1799
KWainer@Arcticcatinc.com