New Race Class at AMSOIL Championship Snocross
Albertville, MN- November 3, 2016
What happens when you combine the best of snocross along with your favorite aspects of motocross?  The Snow Bike.
One part dirt bike, two parts snocross sled- equally something completely amazing.
The concept: taking a motocross bike, slap on a track and a front ski for the wheels and you've  GOT yourself a Snow Bike. It rides like a motocross bike, but with the additional roost and ripping found at snocross with increased maneuverability.
After riding or watching a Snow Bike race, the first question most folks ask is: what took 'em so long? This is definitely the next big thing.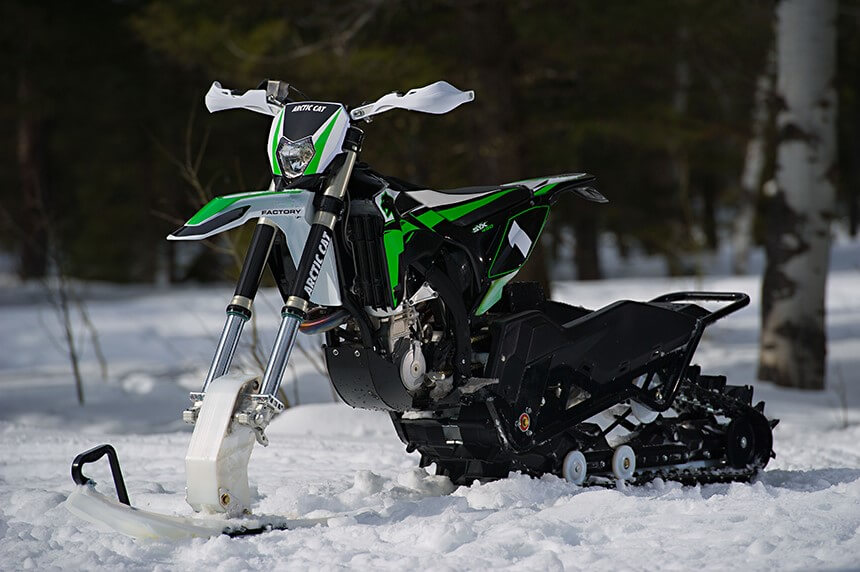 A new race class will debut this year at AMSOIL Championship Snocross,  "The Snow Bike Race Class."
AMSOIL Championship Snocross Race Director, Jesse Strege, can't wait to get the first Snow Bike race started at the AMSOIL Snocross National in Duluth, "This is going to be a very exciting class for the racers and fans. The Snow Bike Class will be at all 8 races on the National Circuit and we are  expecting a competitive field. "
Class Rules: Snow Bike Engine limited to 700cc, 4-stroke or 2 stroke. Racers must be 15 years of age or older. No studs, naturally aspirated and must follow all ISR general Snocross rules, ISOC flag mandates and policy.  ACS Snow Bike racing starts November 25-27 in Duluth. Want to learn more or sign up?   info@ISOCracing.com
About ISOC Racing
The International Series of Champions (ISOC) is the premier snowmobile race organization in North America, sanctioning AMSOIL Championship Snocross powered by RAM events.
ISOC produces, stages, builds the track, live streams and packages the national race circuit for broadcast on CBS Sports.
In addition, ISOC produces nine regional Snocross races in the mid west.
Visit www.snocross.com for more information, fan and racer memberships, schedule details and listings for 17 exclusive one-hour shows on CBS Sports. A live stream link during events is free to fans at www.snocross.com/livestream.