Albertville, MN- November 8, 2016
AMSOIL Championship Snocross powered by RAM is proud to announce that FXR will continue to be the official outerwear clothing sponsor for snowmobile riders, racers and Snocross crew members. Their latest line of premier riding gloves, boots, helmets, jackets, and pants will also be utilized by fans as well as professional racers. With winter fast approaching, the fall tradition of any rider is prepping their sled and ordering the latest FXR gear.
FXR continues to set the standard on snowmobile gear. Race Director Carl Schubitzke continues to be impressed, "The world's greatest Snocross racers and crew simply need the best possible clothing for warmth, safety, and to look cool; FXR delivers on all counts".
Snocross track officials, who endure long hours outdoors, know what quality feels like. Not only is the gear warm and flexible, but the design and colors available are endless. The contemporary look and feel of FXR is visually stunning on the TV show and live stream production and is the only gear that the CBS Sports TV crew wears.
ISOC announcer and Sledhead 24-7 host Chelsie Skorich recently went over the new FXR catalog, selecting what she will wear this season." FXR has plenty of warm options and with a design to fit everyone's style. The designs really are endless. Each year I look forward to seeing what they have to offer".
To get your own FXR gear visit: FXR Racing
The first race of the season, The AMSOIL Snocross National is set for November 25-27 at Spirit Mountain in Duluth. For the entire schedule, log on to snocross.com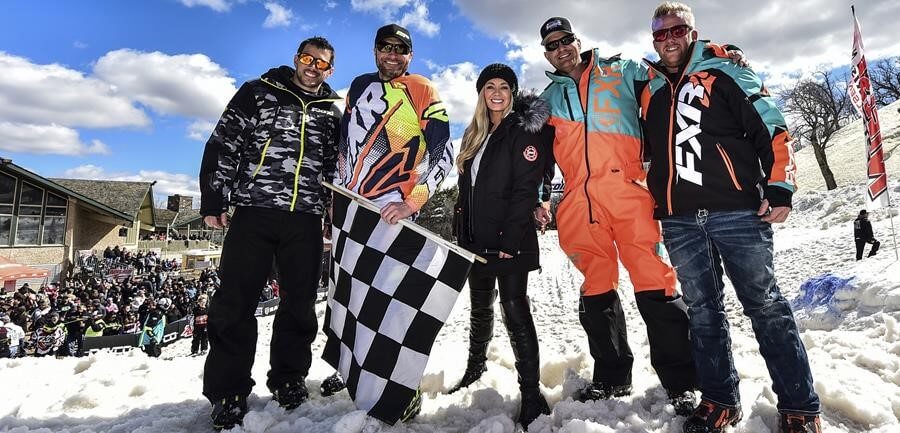 About FXR – At age 17, Milt Reimer, FXR owner, started working part time at a Honda and Polaris dealer, in the small town of Morris, MB, about 50 kms south of Winnipeg. It was there he started racing motocross. He continued to work for 10 years at that dealership, and after realizing he really liked it, he bought the company. Even then, Milt says he believed being a dealer was just another step towards the next project. It was during the next 6 years that the business plans for a clothing company called FXR were created. Milt noticed that nobody was making high performance snow rider wear and started to design some items to be made up by a local garment manufacturer. The first beginnings were operated in the basement of his house.
FXR continued to grow and expand and by 2005, most of the FXR line was produced offshore. Because of Milt's experience at the racetrack, FXR has always paid attention to sizing, fitting and venting in its snow clothes in order to provide the best product for its customers.
One of the reasons for the continuing growth is FXR's ever expanding product line. Every year new products are added and tweaked in order to offer the best possible product to our customers. In the upcoming 2017 Snow season, FXR is offering hundreds of different styles and colors of jackets and pants for men, women, and children. In addition to jackets and pants, we have gloves, boots, headwear, and casual lines for men and women.
FXR is also redefining the mountain category. Along with our regular mountain specific gear, we are also introducing our elite FXR "Mountain Air" series. Dedicated to the high performance mountain rider, we have industry leading quality boots, the lightest helmets in the market, and of course the best technical jackets and pants you can find.
About ISOC Racing
The International Series www.snocross.com of Champions (ISOC) is the premier snowmobile race organization in North America, sanctioning AMSOIL Championship Snocross powered by RAM events.
ISOC produces, stages, builds the track, live streams and packages the national race circuit for broadcast on CBS Sports.
In addition, ISOC produces nine regional Snocross races in the midwest.
Visit www.snocross.com for more information, racer memberships, schedule details and listings for 17 exclusive one-hour shows on CBS Sports. A live stream link during events is free to fans at www.snocross.com/livestream.