COLORADO ADVENTURE PARK – WINTER PARK, CO. (December 17, 2016) – After nearly white out conditions in Round 3 and delayed racing action, the riders were greeted with frigid temperatures and icy conditions. Despite the challenges of the weather, Round 4 was full of great racing action in both Pro Open and Pro Light as well as some great action in the amateur ran
PRO LITE FINAL –
Some would say that the Pro Light racing is often the best racing in the circuit, and tonight was no exception. Aki Pihlaja found the rhythm again today taking two first place wins in the heats, Cole Cottew(21) also had a great run wrapping up two second place wins while Round 3 podium finisher Travis Kern(201) was unable to find a ticket to the final round.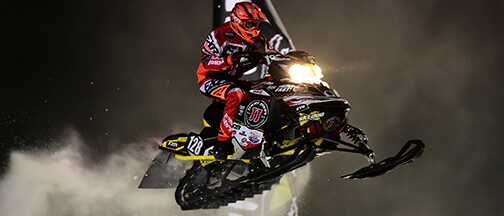 With sub-zero temps in the air, the riders lined up for the start of their final race of the weekend. Aki Pihlaja being the top qualifier battled bar-to-bar with Nickolas Lorenz (572) lap-after-lap. As the two riders swapped the lead several times, riders Cole Cottew(21) and Jake Angove(177) were also within striking distance for the lead, Lorenz and Pihlaja began to check out but Lorenz would fall back two spots giving Angove and Cottew a chance at Pihlaja. As the laps wound down, Pihlaja started to checkout and take his second win on the weekend and a clean sweep. Cottew landed his first podium finish in second and Angove finishing up the podium in third.
1. Aki Pihlaja
2. Cole Cottew
3. Jake Angove
4. Nickolas Lorenz
5. James Johnstad
6. Kevin Wallenstein
7. Montana Jess
8. Zak Mason
9. Tyler Adams
10. Danny Poirier
11. Travis Muller
12. Korbyn Anderson
13. Eddie Neubauer
14. Max Taillefer
15. Evan Daudt
PRO OPEN FINAL –
Rookie rider Elias Ishoel(200) is finding new challenges in the Pro Open ranks and was forced to run the LCQ, after getting pinched off in the start, he made quick work of the field and finish in first putting him the back row of the final. Tucker Hibbert(68) had a sixth place finish in the first heat, but came back with a win in the second heat while Kody Kamm(53) and Lincoln Lemieux(13) had strong finishes in the heat races.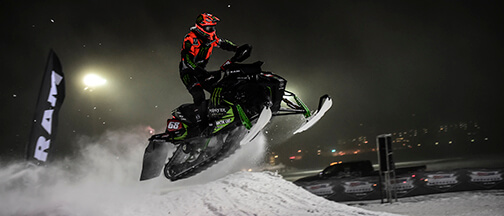 With the green flag in the air, Ross Martin(837) grabbed the hole shot and the early lead in the final. Tucker Hibbert(68) on Martins heels was able to make the pass on Martin and move into the top spot. AMSOIL/Air Force rider Tim Tremblay(11) worked through the field and half way through the race was able to get around Martin for second. Elias Ishoel(200) who came from the back row was a contender for a top five or better finish, however while pushing to pass Tremblay in the rhythm section lost control of the sled and was thrown off the sled. With the checkers in the air, Tucker Hibbert(68) extended his lead by more than ten seconds grabbing his second win on the weekend followed by Tim Tremblay(11) and Ross Martin(837) getting the final podium spot. Hentges Racing riders Petter Narsa(54) and Kody Kamm(53) rounded off the top five.
1. Tucker Hibbert
2. Tim Tremblay
3. Ross Martin
4. Petter Narsa
5. Kody Kamm
6. Lincoln Lemieux
7. Logan Christian
8. Corin Todd
9. Adam Renheim
10. Colby Crapo
11. Kyle Pallin
12. Justin Broberg
13. Andrew Carlson
14. Elias Ishoel
DNS Brett Nastala