SENECA ALLEGANY RESORT & CASINO – SALAMANCA, NY- (FEBRUARY 4, 2017), Final night in Salamanca and the house was packed to watch Round 10 of the US Air Force Snocross National. With the season moving on the downward slope to the final in Lake Geneva, the points race is starting to tighten up in both Pro Open and Pro Lite. In both classes, there has been a variety of different riders on the podium throughout the season.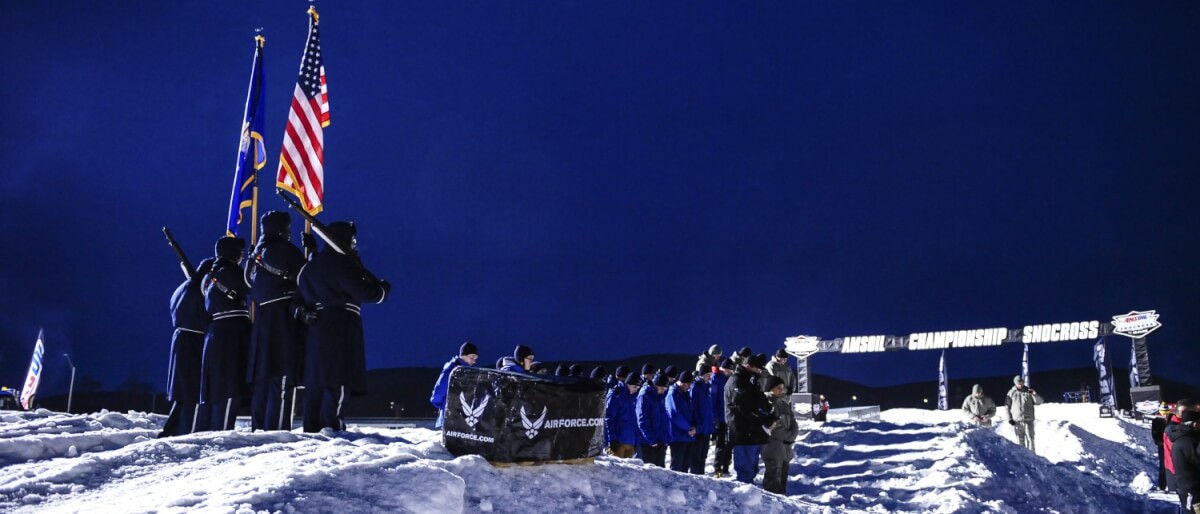 PRO LITE
Solid competition in the heat races with Jake Angove(177), Montana Jess(765) and Evan Daudt(413) all getting first place finishes in round 1 of the heats. Round 2 heats saw Jacob Yurk(727), Zak Mason(63) and Daniel Benham(221) all with first place finishes. Montana Jess(765) riding his 2016 Championship sled unable to transfer to the final in the heats, ran the LCQ and transferred in with a first place finish. Round 9 final winner Travis Muller(436) and Travis Kern(201) also locking in a transfer into the main through the LCQ.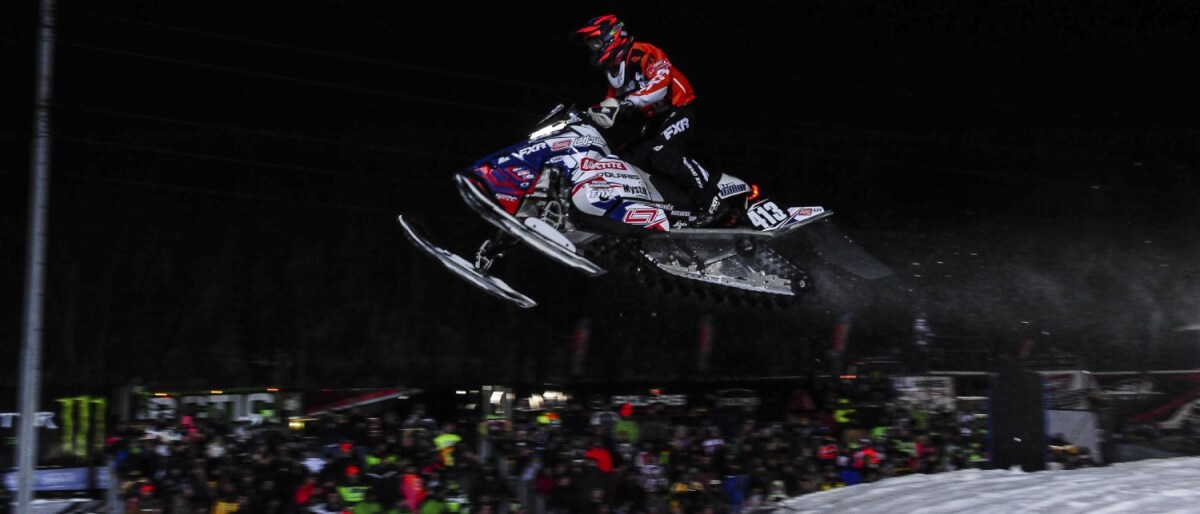 The playing field has leveled out where any given rider could take the checkered flag with the win as Pro Lite has had six different winners in nine events, there is no room for mistakes in this division. Out of the gate early on, Evan Daudt(413) gets the Stud Boy hole shot followed by Daniel Benham(221) and Aki Pihlaja(128) in third.
Evan Daudt who took his first win in Deadwood is on point with a solid run and continues to stretch his lead. As the battle for second continues, Aki is able to make a move on Benham for second and begins to run down Daudt. Zak Mason(63) the number one qualifer finds some trouble on lap four and goes off the sled in the front stretch and of the track through the US Air Force rythym section taking him out the top five, Jake Angove(177) is there to capitilize and moves into fourth. Up front Aki has made up ground on Daudt, trying to find ground on the inside, on the outside, he cannot find the way around Daudt for the lead.
While Evan continues to run a perfect race, Jake Angove(177) finds the rythym and makes the pass over Benham for third on lap eight along with Nickolas Lorenz who also passes Benham for fourth. With the laps winding down, Pihlaja tries everything he can to make a pass on Daudt, but is unable to make the pass. With one lap to go, bar-to-bar racing between first and second, Angove makes a big move on the inside putting Pihlaja back one spot and tries to to make a run for first, but Daudt goes on take his second win this season, followed by Angove and finishing off the podium will be Pihlaja who maintains the points lead.
1. Evan Daudt
2. Jake Angove
3. Aki Pihlaja
4. Nickolas Lorenz
5. Cole Cottew
6. Daniel Benham
7. Kevin Wallenstein
8. Montana Jess
9. Zak Mason
10. Jacob Yurk
11. Travis Muller
12. Andrew Lindholm
13. Leo Patenaude
14. Martin Moland
15. Travis Kern
PRO OPEN
The competition from week-to-week continues elevate in the PRO OPEN ranks with it becoming anyones game to take home the win. Points leader Tim Tremblay(11) takes two first places finishes in the heats while Kody Kamm(53) pulls a second and first. Lincoln Lemieux(13) who had Round 9 won until a belt broke sending him over the bars with only four laps to go and suffered a dislocated shoulder, finished the heats with a third and fourth. No LCQ for the PRO OPEN as all sleds transferred to the main.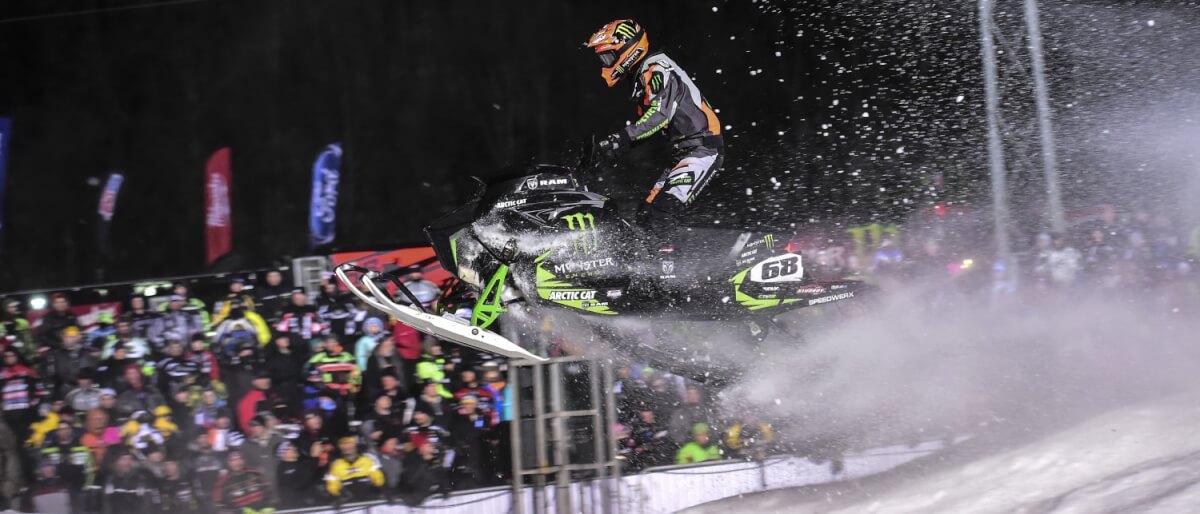 Final race of the weekend, fourteen sleds on the line, hoping for a repeat win this weekend is the number one qualifier Tim Tremblay(11), Kody Kamm(53) number two and Hibbert as the third qualifer. With twenty two laps scheduled for the final, it could be anyones race. Green flag in the air and it is the third qualifier Tucker Hibbert(68) with the Stud Boy hole shot and out to the early leader followed by Ross "The Boss" Martin and Lincoln Lemieux(13) in third.
With only two laps in the books, Hibbert is already extended his lead out three seconds from second place. Points leader Tim Tremblay(11) has his work cut out from him as he sits back in sixth place. Kody Kamm(53) always a contender for a podium spot is battling with Adam Renheim(311) for the fourth spot. Ryan Springer(541) makes a charge at the half way point in the race and moves into that fourth spot putting Kamm back one position.
Tim Tremblay(11) finds some ground passing Kamm and Springer for fourth but is unable to track down team mate Lemieux for a podium spot. Up front with a dominating lead, Tucker Hibbert(68) would go on to take the checkers at the AMSOIL finish line putting his name in the record books with his 125th career win followed by Judnick Motorsports rider Ross Martin(837) in second and Lincoln Lemieux(13) with his dislocated shoulder rounds off the top three.
1. Tucker Hibbert
2. Ross Martin
3. Lincoln Lemieux
4. Tim Tremblay
5. Ryan Springer
6. Kody Kamm
7. Petter Narsa
8. Kyle Pallin
9. Corin Todd
10. Andrew Carlson
11. Adam Renheim
12. Cody Paolella
13. Kristoffer Holm
14. Elias Ishoel