SOARING EAGLE RESORT & CASINO – MT. PLEASANT, MI- (FEBRUARY 23, 2017), The AMSOIL Championship Snocross Series Presented by RAM lines up for the RAM Trucks Snocross national and Round 11 of the season. Riders are set to race in some of the worst conditions that Mother Nature has thrown at them so far this season. ISOC officials have been battling the old mighty sun in an effort to salvage enough of a track for the race this weekend.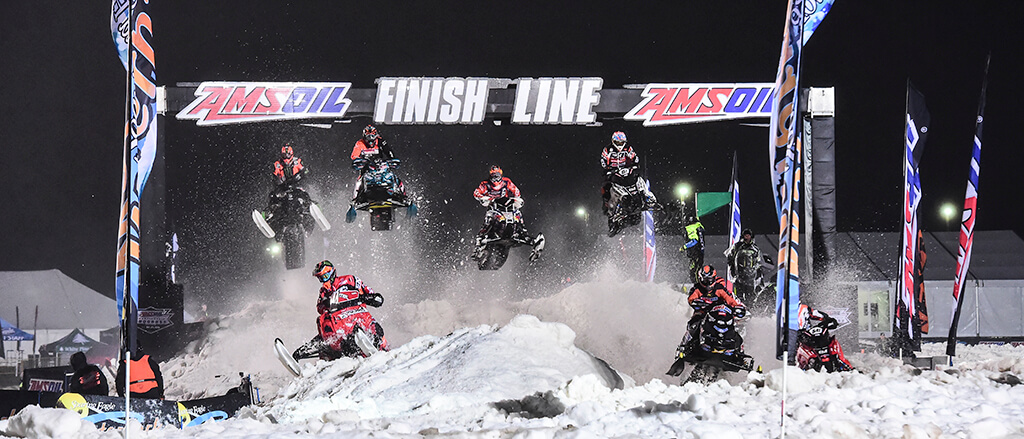 With near record highs in the regions for the last week, the snow base that ISOC had in place for the race has melted away leaving almost nothing to build a track with. On top of the warm temps, Mother Nature decided that some rain was needed in the area, throughout the day, several rain showers and down pours soaked the track to challenge the riders even more. Nothing but hard work and dedication by the ISOC officials allowed for the races to continue.
PRO LITE
In this division you simply cannot count anyone out as we have seen all season. Aki Philaja, Zak Mason, Jake Angove along with Nickolas Lorenz, Zak Mason, Evan Daudt and many others have all brought their A game to the track this season. Zak Mason(63) and Jake Angove(177) both come away with wins in both heats while Philaja locks in a first and second. Montana Jess(765) founding his stride again, reeled in a second and third place heat finish. Other top riders were forced to run the LCQ where Travis Muller took the top transfer spot.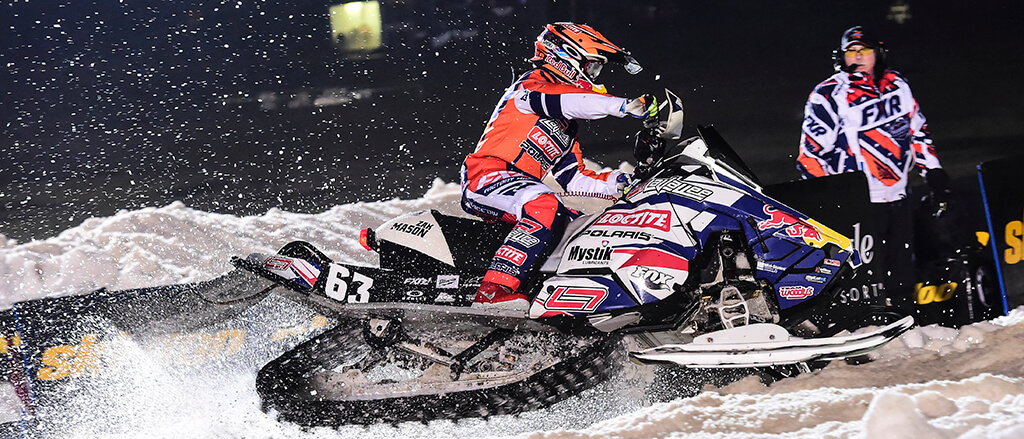 After continual episodes of rain, the PRO Lite Final is on deck to conquer the wet track where heavy roost will become a major factor. Off the line and into the first turn, the field of riders gunning for the Stud Boy Hole Shot, Zak Mason(63) gets the early lead with the hole shot and over the AMSOIL finish line and into the Soaring Eagle corner. Mason would maintain control of the race from start to finish while Jake Angove(177) worked hard to track down Mason, but was unable to force a challenge for first and finished with second place finish. Points leader Aki Pihlaja ran a solid race and landed a third place podium finish.
As the season is starting to wind down, Aki Pihlaja is starting to stretch out his lead with a 57 point lead over Jake Angove. Rookie Rider Nickolas Lorenz is making a big statement in the Pro Lite division currently holding onto the third in points followed by Kevin Wallenstein and Zak Mason rounding off the top five in points.
TOP FIVE IN POINTS
1. Aki Philaja – 431
2. Jake Angove – 374
3. Nickolas Lorenz – 361
4. Kevin Wallenstein – 351
5. Zak Mason – 328
FINAL RESULTS
1. Zak Mason
2. Jake Angove
3. Aki Pihlaja
4. Tyler Adams
5. Max Taillefer
6. Daniel Benham
7. Kevin Wallenstein
8. Evan Daudt
9. Montana Jess
10. Marcus Ogemar Hellgren
11. Travis Kern
12. Nick Pattyn
13. Travis Muller
14. Korbyn Anderson
15. Nickolas Lorenz
PRO OPEN
Heat race action saw Kody Kamm(53), points leader – Tim Tremblay(11), Ross Martin(837) and Corin Todd(36) with first place finishes. Lincoln Lemieux(13) who was able to come back after a nasty crash in Round 10 rode strong in the first heat with a third place finish and a fifth place finish. Kyle Pallin(324) having an off night, wrote two seventh places finishes in the books, while Tucker Hibbert(68) locked in a second and a third place finish.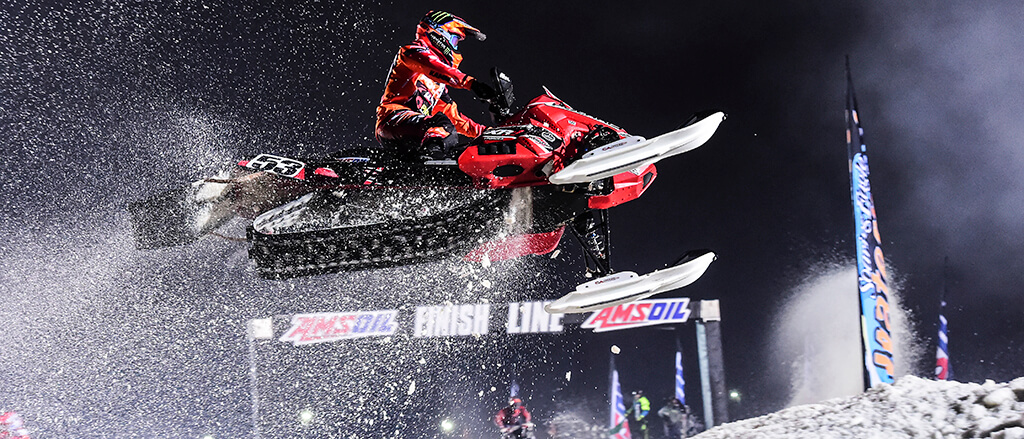 With the Pro Open final on the line, the weather radar indicated that Mother Nature was going to grace the field with her pressence one more time with some additional rain, however the rains never came. Green flag in the air and the field was off to the first turn and over the AMSOIL finish line, Kody Kamm(53) gets the Stud Boy Hole Shot, followed by teammate Petter Narsa(54) and Lincoln Lemieux(13) in third. Tucker Hibbert(68) currently sitting third in points needing a win for a chance to ink in the championship, gets a mid-field start and has some work to get to a podium finish.
Up front, Kody Kamm(53) continues to lead the field uncontested and goes on to take the checkers and the win, while Tim Tremblay(11) works his way into third and races bar-to-bar with teammate Lincoln Lemieux(13) for the second spot. Rookie Elias Ishoel(200) gets a face full of roost causing him to lose site of his landing off a jump and is tossed over the bars ending his night. Tucker Hibbert(68) pushes through the field to pull in a fourth place finish, while Tim Tremblay(11) is able to overcome Lincoln Lemieux(13) for second and extend his points lead over the field.
TOP FIVE IN POINTS
1. Tim Tremblay – 516
2. Kody Kamm – 486
3. Tucker Hibbert – 464
4. Lincoln Lemieux – 412
5. Petter Narsa – 400
FINAL RESULTS
1. Kody Kamm
2. Tim Tremblay
3. Lincoln Lemieux
4. Tucker Hibbert
5. Petter Narsa
6. Adam Renheim
7. Andrew Carlson
8. Kyle Pallin
9. Corin Todd
10. Brett Nastala
11. Ross Martin
12. Elias Ishoel
13. Ryan Springer