Fertile, MN (March 1, 2017) – Christian Brothers Racing riders found themselves in vastly different situations once again this past weekend. Cross-Country riders Zach Herfindahl and Ryan Trout competed in the penultimate race on their USXC Cross-Country schedule, while Jacob Yurk flew the flag for the snocross team at the Soaring Eagle Snocross National in Mt. Pleasant, Michigan. CBR snocross rider Logan Christian remained sidelined in Michigan with a broken collar bone sustained at the Winter X Games a month ago.
Fresh off his win at the USXC Seven Clans Winnipeg to Willmar I-600, Zach Herfindahl (AMG Peterbilt/doc/Arctic Cat) entered the Seven Clans Warroad 200 looking to seal the deal on the Pro 600 points championship. With the I-600, the biggest points race of the season, in his back pocket, Herfindahl was definitely in command of the class. Herfindahl not only brought home the win in the Pro 600 class, but also the Pro Open class as well.
"Warroad was another great weekend for the team," said Herfindahl. "It's been an unreal season, we have had some great competition and some tough battles, but we came out on top every time."
Like Herfindahl, Ryan Trout's (Country Cat/Royal Distributing/Arctic Cat) win in the Semi-Pro 600 class at the I-600 had vaulted him more than a hundred points clear of second place in control of the class points – and in total control of the points championship. A win at the Warroad 200 would all but lock it down, and that's exactly what Trout did, winning Semi-Pro 600 as well as the I-500 class.
"My sled was set up so well, the team put in a lot of work getting things right at Warroad," said Trout. "I was able to do really well and things are looking great going into the last race next weekend."
Jacob Yurk (Country Cat/Royal Distributing/Arctic Cat) entered the snocross national event in Mt. Pleasant, Michigan, looking to gain some momentum for his season. While Yurk's luck has been hit or miss this year, it was definitely a hit Saturday night when he finished 4th in Pro Lite, one spot away from the podium and his best finish of the season.
"Things didn't go as planned Friday, but that did not hold us back for Saturday," Yurk said. "Starts were key, so once we got those dialed everything else followed. The mood in the trailer was great, the sled was working awesome and I was able to run the fastest lap times in the final. I was really close to getting on the podium, but that will drive us going into the last two events."
Despite being sidelined due to an injury sustained at X-Games, Logan Christian (doc/Arctic Cat/AMG Peterbilt) stays very busy on race weekends mentoring teammate Jacob Yurk. Christian also spent time this weekend with the doc VIP getaway winner Ryan Taylor and friend, Cory Paulson. The doc giveaway sent the winner and a friend to Mt. Pleasant, Michigan for round 6 of the Snocross Nationals.
"I was really excited about the doc giveaway, it is such a cool opportunity," said Christian. "It was a lot of fun getting to hang out with Ryan and Cory, hearing what they liked about the racing and showing them around the hauler."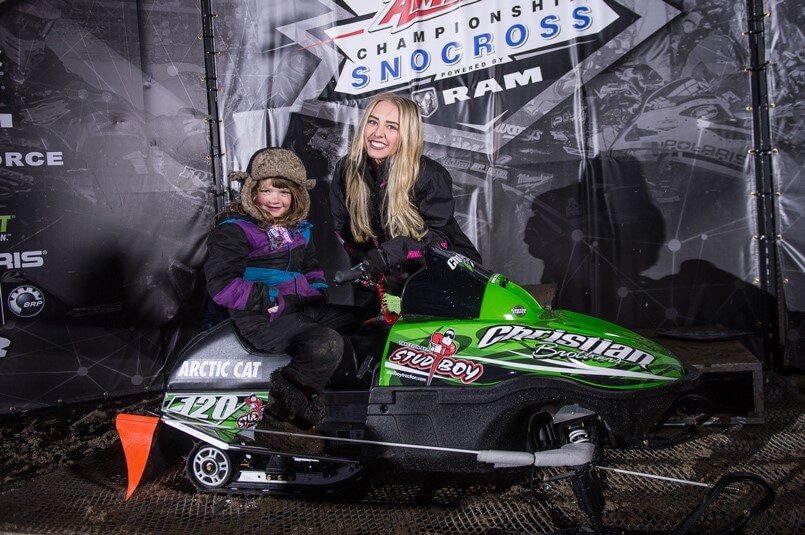 Mt. Pleasant was also the scene of the sixth of eight Arctic Cat ZR120 snowmobile giveaways sponsored by Christian Brothers Racing and Arctic Cat. Adrianna Mathewson of Michigan was the lucky little winner, she and her brothers were hoping for more snow this winter so they could get a chance to ride yet this year.
Next up for the Christian Brothers Racing cross-country team is the Naytauwash 200, March 4-5, in Naytauwash, Minnesota.
Next up for the Christian Brothers Racing snocross team is the Theisen's Snocross National, March 3-4, in Dubuque, Iowa.
For more information on Christian Brothers Racing visit www.christianbrosracing.com.
Watch the recap videos online at
https://www.youtube.com/channel/UCKunOj7bQBlJxCGNfuj7bTQ
Check out The Renegade Series with Logan Christian at
https://www.youtube.com/watch?v=fst-3-52cHQ
USXC Photo Credit : Aaron Kennedy
Snocross Photo Credit : Lissa Marsolek