Longville, MN (November 28, 2017) – This past Thanksgiving weekend marked the 26th Annual AMSOIL Duluth National Snocross CJ Ramstad Memorial Cup held at Spirit Mountain in Duluth, Minnesota. With cooler temps leading up to the race weekend, the ISOC and Spirit Mountain crew were able to make a large amount of snow, creating a technical and fun track that wowed the crowd over the 3-day race weekend.
The Amsoil Dominator race started things off on Friday night. A bracket-style format type of racing, where each rider was judged off their lap times in seeding to see whom they would match up against in Round 1, and from each race moving forward, the winner would continue on. Pro Rider, Kyle Pallin had some awesome lap times but missed his chances of advancing after being eliminated in Round 1. Team LaVallee's Grassroots Pro Lite Rider, Evan Daudt entered his first Dominator Race with a nothing-to-lose attitude and while he didn't qualify through seeding, it allowed him more track time and a chance to get on the track against the Pro Racers.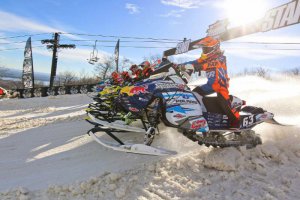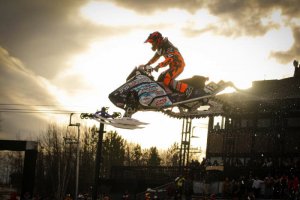 Riding into the 2017/2018 season, which kicked off on Saturday night with Round 1, Team LaVallee's Polaris, Red Bull, Walker Evans Racing snowmobiles were all geared up with the new rulings for the Pro sleds going from modified to stock. Kyle Pallin (Pro), was eager for the opener and had a weekend of highs and lows. We are happy to report Pallin is ok, after a tough off on Sunday's Pro Round 2 Final, and is looking forward to redemption in Jackson. Zak Mason (Pro Lite) had great qualifying rounds, but with the stacked Pro Lite class the opportunity was slim to automatically go into the finals. Mason had some adversity within both of his LCQ's and did not make Round 1 and 2 Pro Lite Finals.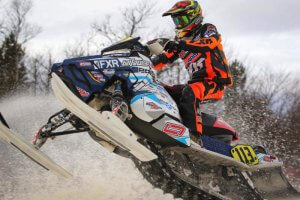 For Team LaVallee's grassroots riders, Daudt finished out the 2-Day National with a notable 7th place on Saturday and 12th place on Sunday. Adam Peterson (Sport) had strong qualifying rounds, which allowed him to skip the LCQ (last chance qualifier rounds) and go straight into his respective finals. Peterson finished the Duluth Opener with a 12th and 6th place.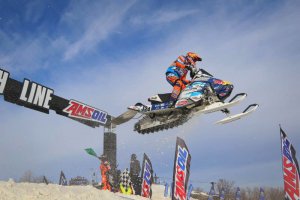 "Although this wasn't the season opener we had hoped for, it sure has got us eager to get back to testing and prepping for the upcoming races. That's one thing about racing, it's unpredictable and you never know what will happen. We only know how much time and effort we can do on our end, the rest is left out on the track. Looking forward to more improvements and getting back up on top, in Jackson." Levi LaVallee, owner
RACE RESULTS – Round 1 & 2
PALLIN – PRO
Rd 1: 4th Rd 2: 6th LCQ: 3rd Final: 9th
Rd 1: 3rd Rd 2: 3rd LCQ: — Final: 14th
MASON – PRO LITE
Rd1: 2nd Rd 2: 8th LCQ: 7th Final: —
Rd 1: 4th Rd 2: 3rd LCQ: 8th Final: —
GRASSROOTS RACE RESULTS – Round 1 & 2
DAUDT – Pro Lite
Rd 1: 3rd Rd 2: 8th LCQ: 4th Final: 7th
Rd 1: 5th Rd 2: 4th LCQ: 3rd Final: 12th
PETERSON – Sport
Rd 1: 2nd Rd 2: 2nd LCQ: — Final: 12th
Rd 2: 2nd Rd 2: 1st LCQ: — Final: 6th
COMING UP
TV SCHEDULE
Amsoil Duluth National Round 1 CBS Sports Network / 12.16.17 / 11:00AM (Check Local Listings)
Amsoil Duluth National Round 2 CBS Sports Network / 12.23.17 / 11:00AM (Check Local Listings)