FOR IMMEDIATE RELEASE
November 27, 2017 – Tucker Hibbert hit the 2017/2018 ISOC National Snocross season swinging, winning both Pro finals at the season opener in Duluth, Minn. The 10-time champion made a statement riding with confidence on his all-new Monster Energy / Ram Truck backed Arctic Cat ZR 6000R SX race sled.
Spirit Mountain featured a rough, technical track for the 26th running of the Duluth National. Known for his ability to find fast lines on challenging racecourses, Hibbert had a near perfect weekend winning three of his four qualifying races and both final events.
The main events Saturday and Sunday played out much the same for Hibbert – quick jumps off the start line, exiting the first turn in the top-five of the 15-rider fields, taking the lead in lap three of the 22-lap races and riding unchallenged to the finish.
Up next is the Jackson Hole Snocross National December 8-9 in Wyoming. Born just 35 miles away in Driggs, Idaho, it'll be a homecoming event for Hibbert. Stay up to date with his schedule and race preparations by visiting tucker-hibbert.com.
Tucker Hibbert – Duluth National Results
Saturday, November 25 – Pro Round 1
Round 1 Qualifying: 1st
Round 1 Qualifying: 4th
FINAL: 1st
Sunday, November 26 – Pro Round 2
Round 1 Qualifying: 1st
Round 2 Qualifying: 1st
FINAL: 1st
Tucker Hibbert – #68 Monster Energy / Arctic Cat / Ram Truck
On his win Saturday night:
"It's an awesome night. It feels so good to start the season with a win. I feel really strong and the sled is working great. Honestly, I wasn't super happy about my line choices. I kept thinking there's got to be something better out here. After searching for a while I decided to stick to what I knew was working. Having a race like this gives me a lot of confidence."
On his win Sunday and taking the weekend sweep:
"You always hope to have a weekend like this but I didn't expect it to be this good. I don't have enough good things to say about my sled. Everyone at Arctic Cat – the whole engineering crew worked so hard to make this sled the best it could be. I feel like we're just getting started and have so much we can improve and build on. I'm grateful for this opportunity and no matter how many times I stand up here [the podium] it means a lot to me. I have so many good memories at Spirit Mountain."
Weekend highlights:
"It was really fun to be back at the racetrack with my team. Everything just clicked and that's when it's fun. Nothing beats seeing your hard work pay off. We had a lot of laughs in the trailer this weekend and, to me, that's what makes a race weekend memorable."
Looking ahead:
"We're in a good position and it feels great to leave the first race with the points lead. It's a good place to be and I know we can keep improving. I know everyone will show up at the next round stronger so we need to make sure we're doing the same – keep pushing and keep improving."
Detailed race reports from ISOC
Saturday: snocross.com/2017/11/25/tucker-hibbert-wins-round-1-at-spirit-mountain/
Sunday: snocross.com/2017/11/26/tucker-hibbert-sweeps-season-opener-at-duluth/
2017/2018 ISOC National Snocross Schedule
Duluth, MN // November 24-26, 2017
Jackson Hole, WY // December 8-9, 2017
Shakopee, MN // January 5-6, 2018
Deadwood, SD // January 19-20, 2018
Salamanca, NY // February 16-17, 2018
Mt. Pleasant, MI // February 23-24, 2018
Dubuque, IA // March 9-10, 2018
Lake Geneva, WI // March 16-17, 2018
About Tucker Hibbert
Tucker Hibbert, 33, entered his first race at the age of eight and today stands as the most decorated snowmobile snocross racer in history. He's a two-time FIM World Snowcross champion, 14-time X Games medalist and 10-time national snocross champion. Now in his 18th professional season, he holds 129 Pro National victories. For more information on Hibbert, visit tucker-hibbert.com.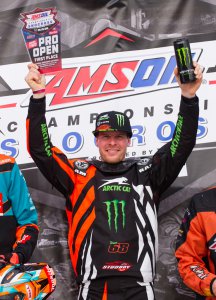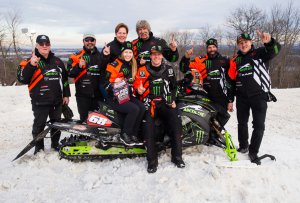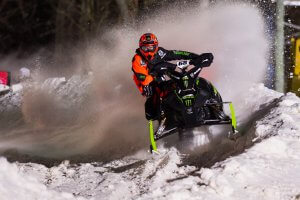 Photos: John Hanson