Shakopee, MN (February 26, 2018) – With just three events left on the snocross calendar and with both of its riders sitting Top 5 in Pro points, Hentges Racing was looking to start a push to the end of the season. Mt. Pleasant, Michigan, transitioned riders from the technical track they found in New York to a longer layout complete with elevation changes and massive bump sections.
Kody Kamm entered the race sitting second in Pro points, and the reigning champion was looking to make ground on the first place rider. Kamm swept his qualifiers Friday night, but a crash in the final dropped him back to 5th. Saturday night he finished second in both his qualifiers and took the lead in the final. He set the pace for most of the race before dropping to second in the closing laps.
"Overall, it was a decent weekend, but not my best," Kamm said. "I made a mistake Friday and crashed, but worked my way back up to 5th. Saturday I led most of the race but got passed with just a few laps to go. Looking forward to the event in Iowa and cutting the points lead before Lake Geneva."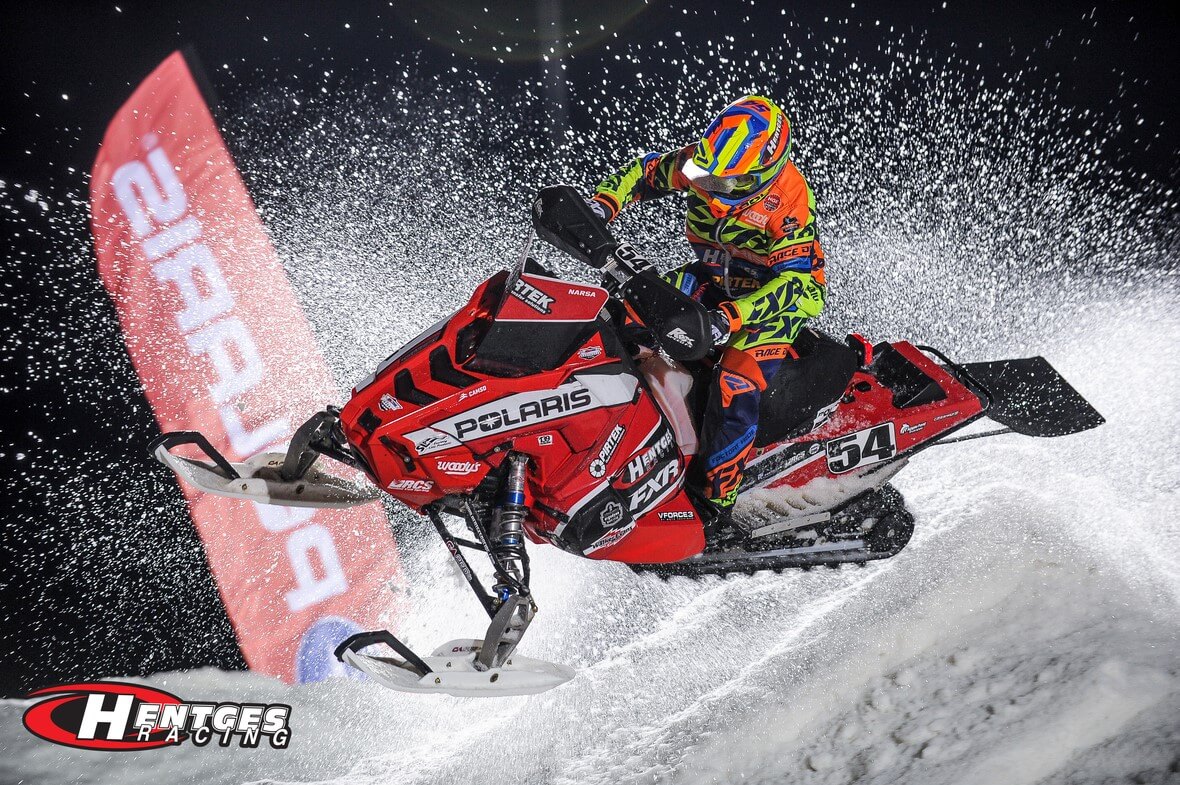 Photo by Crystal Wallem Photography
Petter Narsa set the pace Friday night with a qualifier win, but got tangled with other riders in his second heat. He earned enough points for a front row start and worked to a 7th place finish in the final. He came back Saturday and posted 1st and 2nd place finishes in qualifiers and was running in 3rd place in the final before a crash more or less put him out of the race.
"It was a rough weekend," Narsa said. "Two crashes and I just didn't have the speed when I needed it. I'm proud of the team, they never quit and it was nothing but positive the entire weekend. We'll regroup and look forward to the last two events."
Next up for Hentges Racing is the Theisen's Snocross National at Sundown Mountain Resort in Dubuque, Iowa, March 9-10. For more information on Hentges Racing visit www.hentgesracing.com. Follow Hentges Racing on Facebook, Twitter, Instagram and YouTube.
Team Partners: Polaris,Pirtek Fluid Transfer Solutions, FXR, Monster Energy,Polaris Engineered Lubricants, Woody's Traction Control, Walker Evans Shocks, Apple Ford Shakopee, Forterra Pipe & Precast, S.M. Hentges & Sons, Ergodyne, C&A Pro Skis, 139 Designs, Camso, NGK Spark Plugs, EVS,SLP