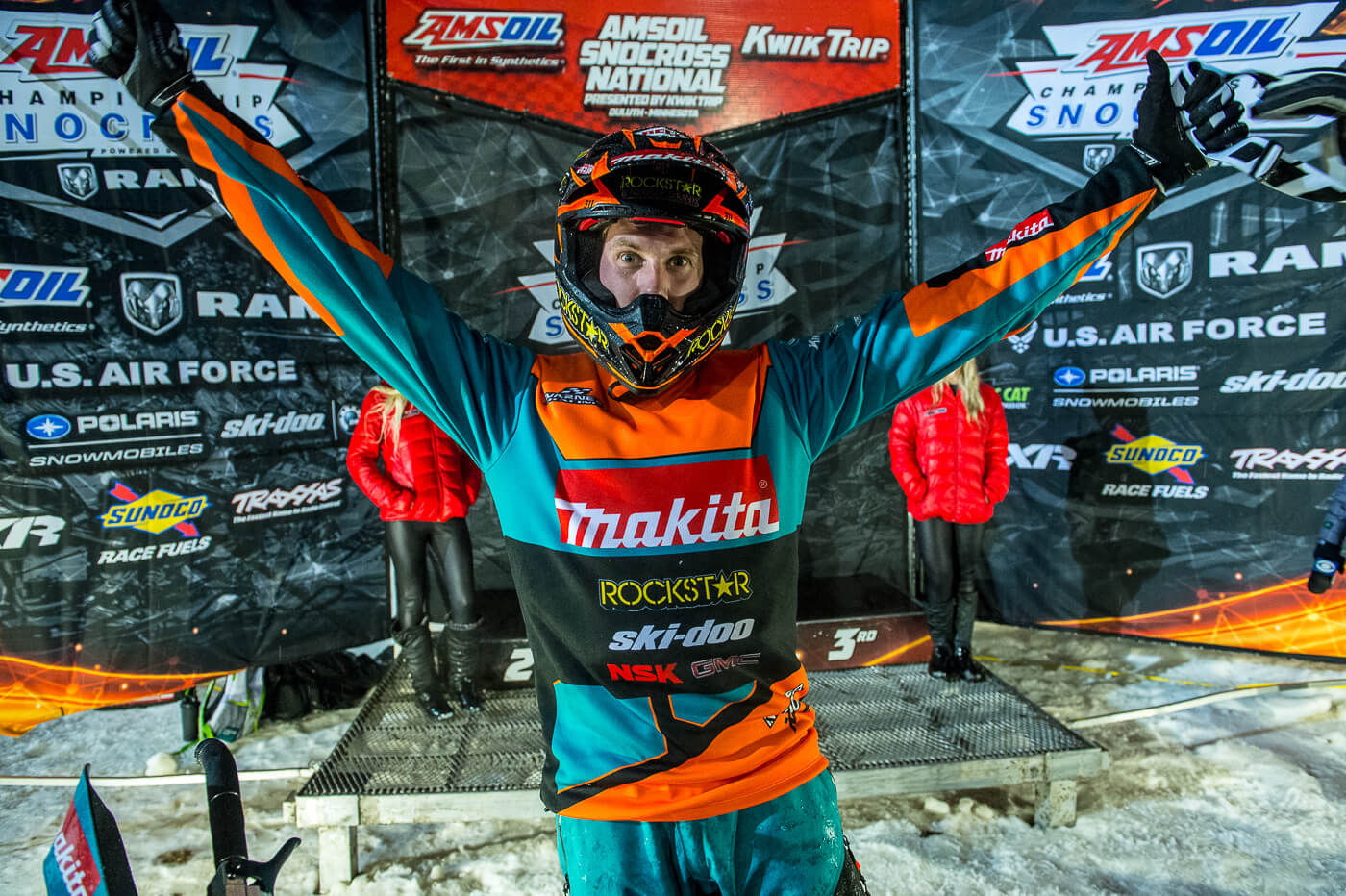 All Ski-Doo line-up in $10,000 showdown
DULUTH, MINN.~ Adam Renheim picked up a pair of podiums at Lake Geneva to finish last season on a high-note. His 2018 campaign started off even stronger in Duluth, Minn. with a $10,000 payday in the AMSOIL Dominator, winner-take-all showdown that starts the 2018-2019 AMSOIL Championship Snocross tour.
With pre-event temperatures prime to make an abundance of snow, ISOC officials were able to create an extremely large track, including a long, downhill start that made hole shots a critical component to winning Friday nights head-to-head races. Renheim took advantage and utilized his strength to put himself into the lead in nearly all of his races. The Swedish-born rider grabbed hole shots and early leads in his first three races, holding off Kyle Pallin, Lincoln Lemieux and past champion Elias Ishoel to land in the final.
With a large payday on the line, Renheim had to deal with Warnert Racing/Ski Doo teammate Tim Tremblay, a former Dominator champion and 2017 Pro Lite champion Aki Pihlaja (Boss Racing/Ski Doo), who had to beat his teammate, Ishoel, in the Last Chance Qualifier to make the final.
Renheim continued his steady starts in the final, holding off both Tremblay and Pihlaja in a slippery first turn. Tremblay was close heading into the final lap, but a mistake pushed him off the side of the track and allowed Renheim to cruise to the win ahead of Philaja.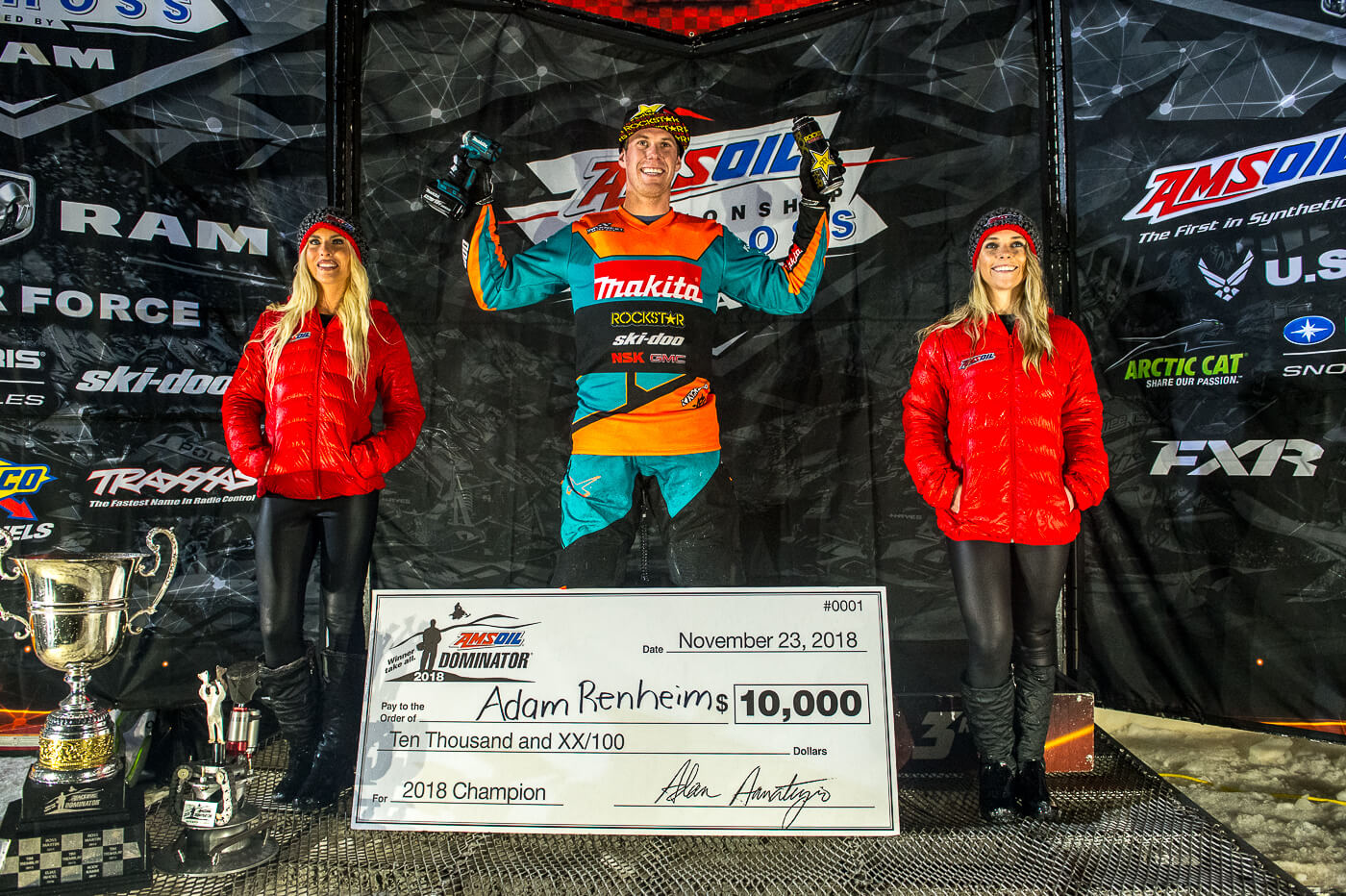 "I had confidence in myself and the sled and suspension coming into (Duluth)" said Renheim after the race. "The head-to-head game is something else, and when I go home to Europe I always feel I have a chance and I usually win them at home, so it felt the same over here and I pulled off the win."
As the fifth seed, Renheim was the highest seed to win his first round match-up. Kody Kamm, Logan Christian and Peter Narsa all had early exits on Friday night. Kamm, the number one seed, also had one of the more exciting races of the night as he and Ishoel came together in the backstretch, with both riders coming off their sleds. Ishoel won the scramble and Kamm was forced to leave the track.
Pro and Pro Lite racing will start their points chase on Saturday. A full day of racing begins at 9:15 a.m. with opening ceremonies starting at 5:30 p.m.
Friday Night Finals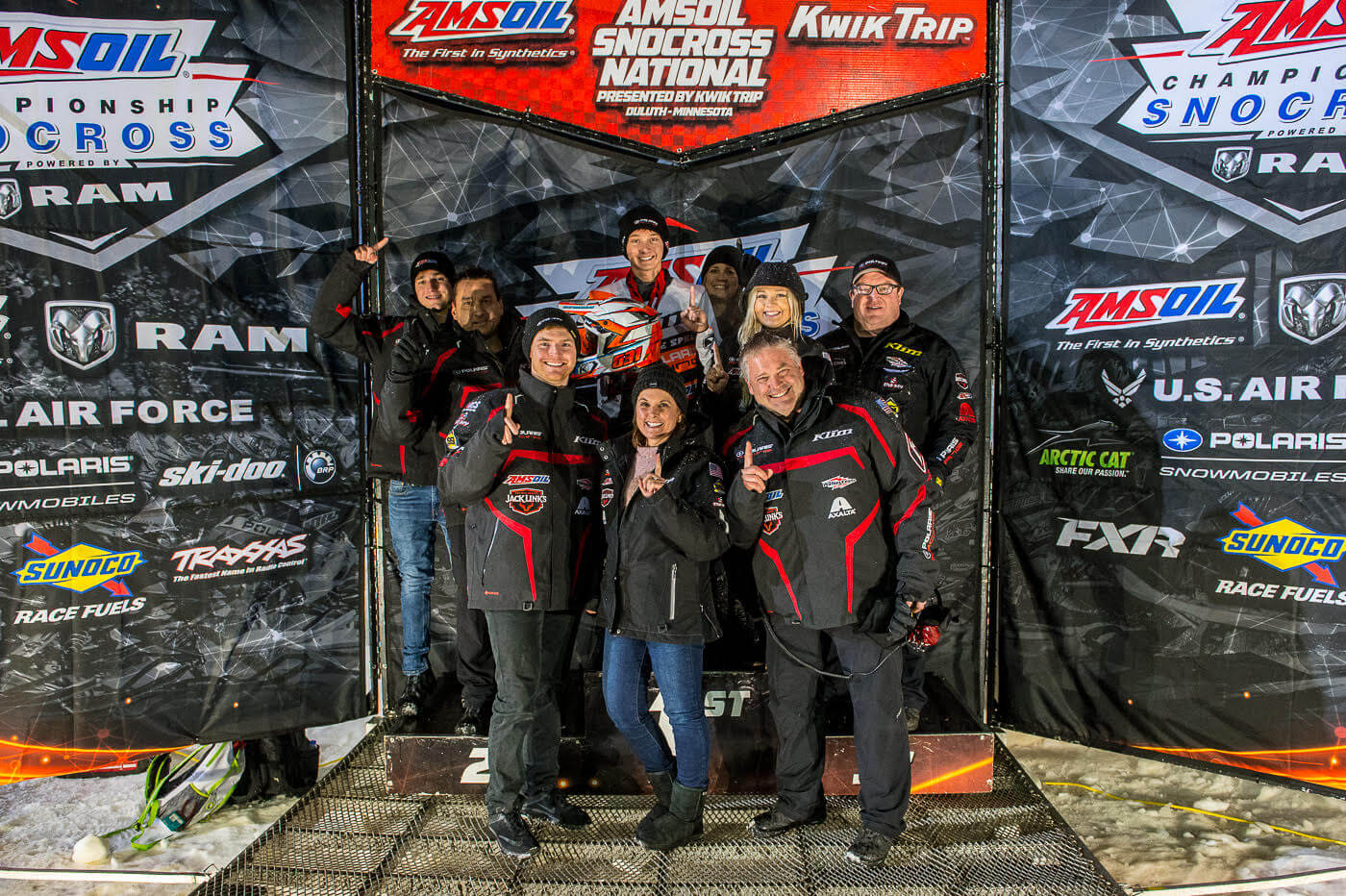 Along with the AMSOIL Dominator, early points leaders were established in several classes, including Pro Vet Plus 30, Jr 14-15 and 200 Stock. One of the most dominant riders of the night came in the super-competitive Sport class where Carson Alread stole the show.
After opening the weekend with a commanding win in the first round of qualifying, Alread won his second heat and started the main event in the pole position. In the final, the Judnick Motorsports/Polaris/Jack Links rider overcame a tough start and capped the night off with a come-from-behind win.