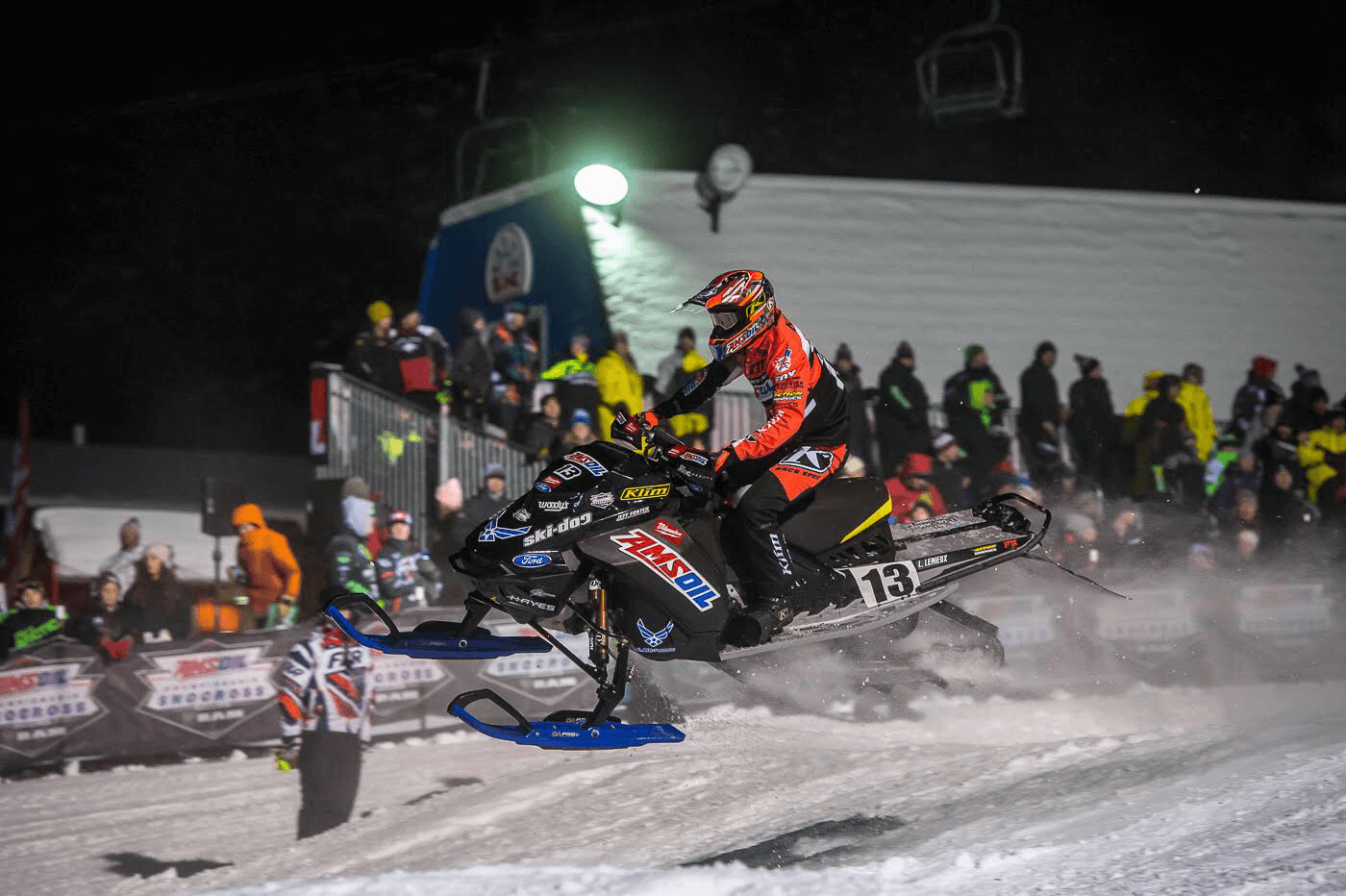 There has now been 54 laps in pro finals this season, and Lincoln Lemieux has led for 51 of them as the AMSOIL/Ski Doo rider continued his main event dominance in Jackson Hole, Wyoming on Friday night.
After winning in Duluth, the Vermont-native was untouchable for the second straight final as he utilized an early triple-jump to take the lead and never looked back. Lemieux pushed out to a nearly six-second win over fellow Ski Doo racers Adam Renheim and Tim Tremblay.
It wasn't any easy day of racing for Lemieux, who once again struggled in heat racing, and entered the main event at Snow King Mountain as the number eight qualifier. Starting on the far outside, the Scheuring Speed Sports driver launched off the line and snaked his way into a first turn battle with Arctic Cat's Johan Lidman. After an aggressive downhill triple, Lemieux past the number 52 sled and cruised to victory.
"We came out and watched the Pro Lite guys hitting that triple, and we knew there was no excuse after that," said Lemieux. 'It got pretty sketchy during the race, but we had a great set-up and held on for the win. We know when we get out front, we are pretty fast and tough to beat."Elias Ishoel was the points leader heading into the Jackson Hole Nationals, and backed up a successful Duluth by nabbing the number one qualifying spot. The Boss Racing/Ski Doo rider charged hard in the final, finishing fourth.
As Lemieux cruised out front, his fellow podium finishers had to work for their success. Renheim Pushed through heavy snow dust and roost to get by Stud Boy Holeshot winner Aki Pihlija and Limdhom to secure second. For Tremblay, he battled a back row start after finishing fourth in the LCQ just to make the final, but picked up the Traxxas Hard Charger award by passing his way to a spot on the box.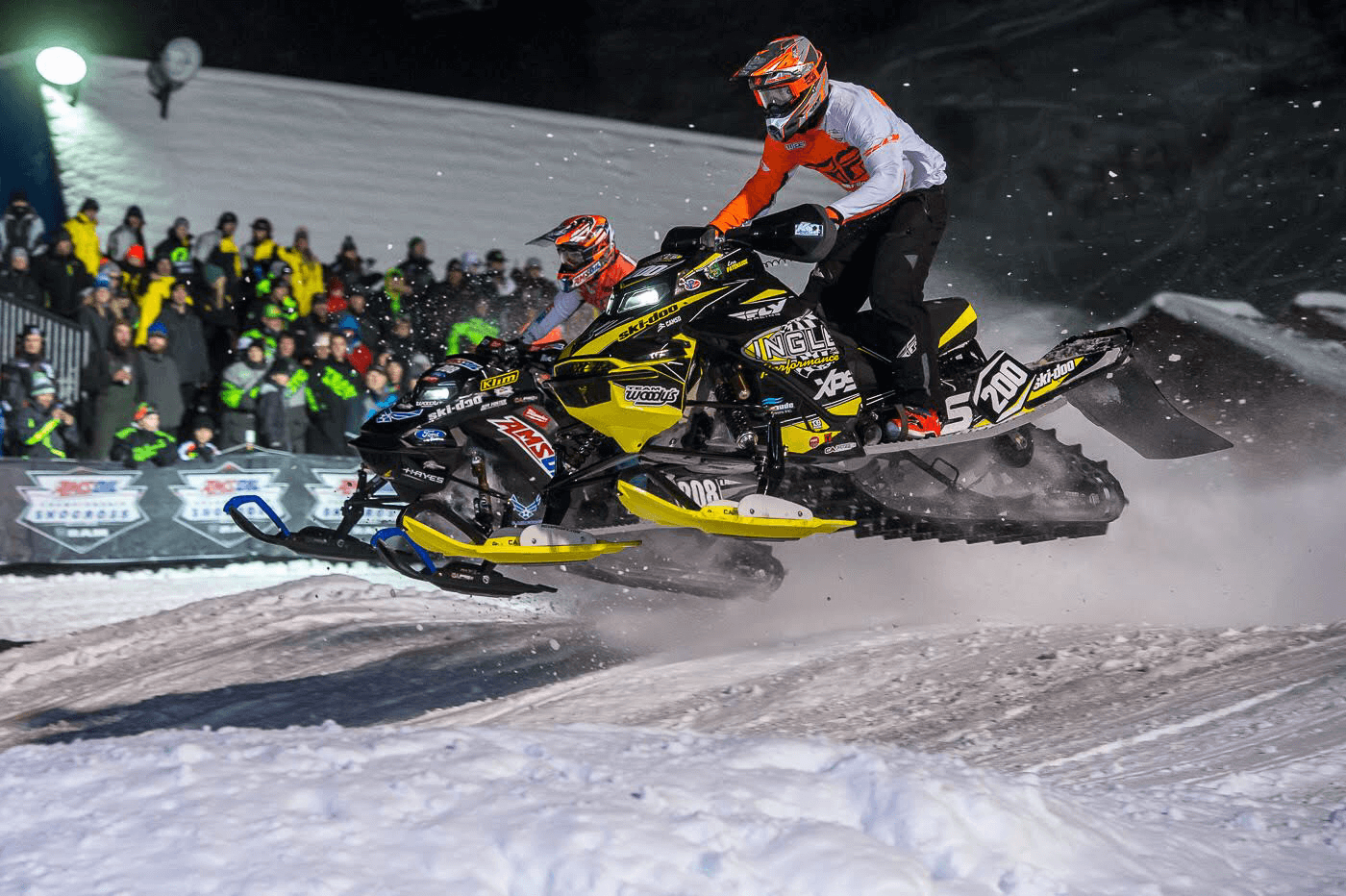 Patenaude, Again!
Leo Patenaude continued his dream run in Pro Lite. The Ingles Performance rider was a surprise, wire-to-wire winner on Sunday in Duluth, and the Vermont-native backed it up with another win in Wyoming.
Patenaude had an amazing start in the final but had his hands full of sibling rivalry for the first several laps with brother Hunter Patenaude. The pair went back-and-forth for the first third of the race before Leo gained control to claim his second straight win.
"I had to smile for the first few laps," said Leo Patenaude. "We battled back and forth and he pulled up next to me at one point and I knew I had to do something. I grabbed hold and got the lead, but was fun going against him for the lead."
Friday Night Fun
Despite temperatures hovering in the mid-to-low teens, and dry air causing heavy snow dust, the race track produced great racing across the board on Friday night.
Megan Broderick won her third straight pro Am Women's final. The overall points leader held off Malena Anderson and Inanna Hauger for the win.
The points battle is getting tight in Pro Snowbike as Mark Wilson took home the "W" on Friday night. Jesse Kirchmeyer was second and Duluth winner Harris Huizinga rounded out the podium. Former Snocross Pro Darrin Mees made is season debut as well.
Beau Tibet's wrestled the win away from Baily Forst and Devin Maclean in Sport.