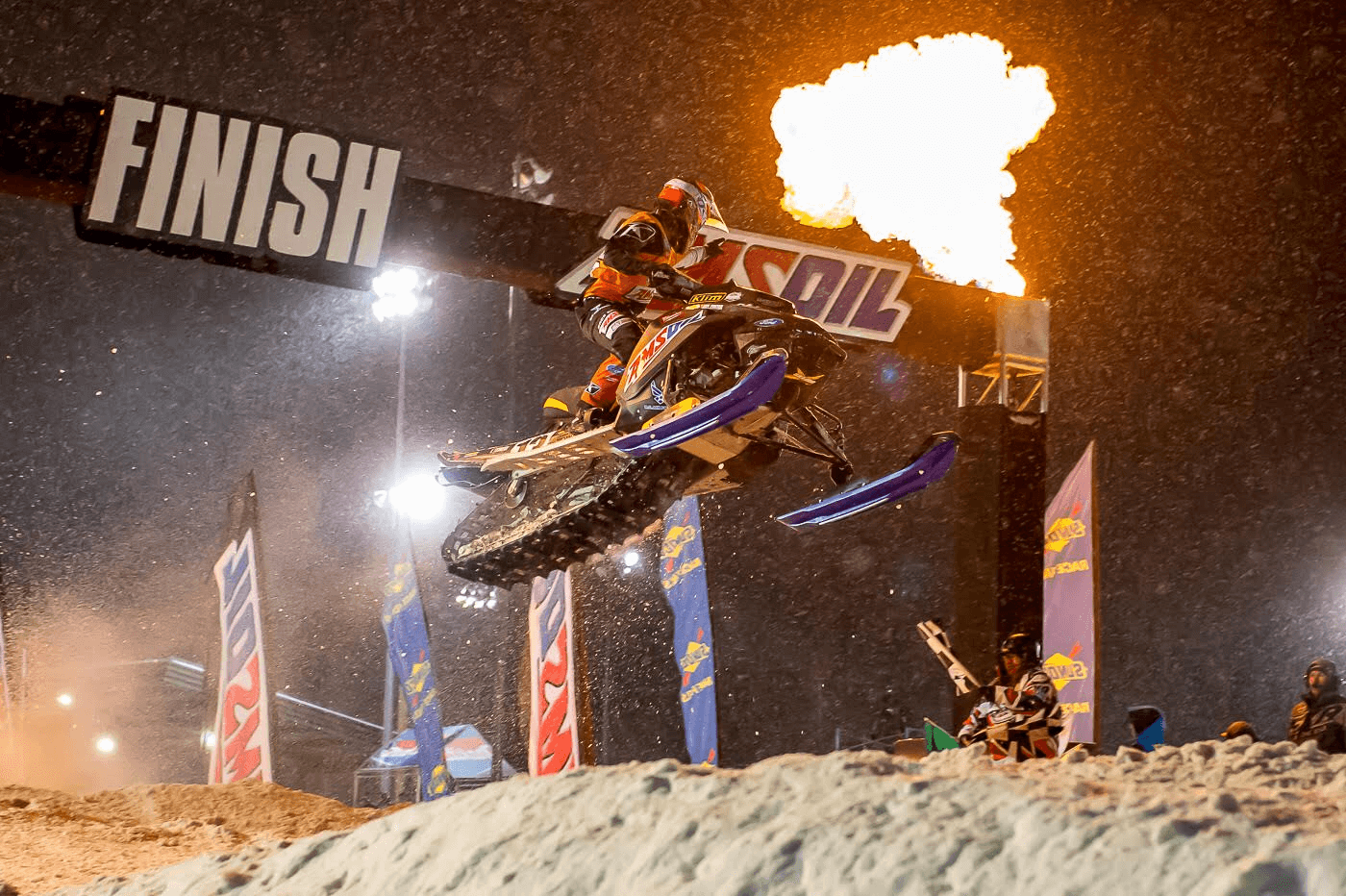 Crazy things have happened in the history of Deadwood, S.D., and with snow falling upon round seven of AMSOIL Championship Snocross, POWERED by RAM, a new chapter of odd endings was added to the books.
Ski Doo's Lincoln Lemieux has a knack for winning on opening night, making good in Duluth, Jackson Hole and Shakopee, entering some sort of historical consistency that has only been done by Tucker Hibbert.
Things seemed to be on par in the final, with Lemieux grabbing the hole shot and an early lead. But it wasn't an ordinary night in the shadows of the Black Hills. On lap three, Lemieux pushed wide and Arctic Cats Johan Lidman took over the point. Lemieux kept charging and a few laps later he overcame a three second deficit and went back into the lead.
As Lemieux pushed forward, the bull ring of a snocross track began to swallow up riders, including Tim Tremblay and points leader Elias Ishoel. While significant, it was a crash on the backstretch by Aki Pihlaja that made the biggest impact of the night. A red flag was brought out and as the the FXR Medical staff attended to Pihlaja, the field waited for the restart. But when it was time to line-up, Lemieux's sled wouldn't start and the Scheuring Speed Sports driver was on the clock. With time ticking down, his mechanic was able to manually get the sled running, and Lemieux back to the line.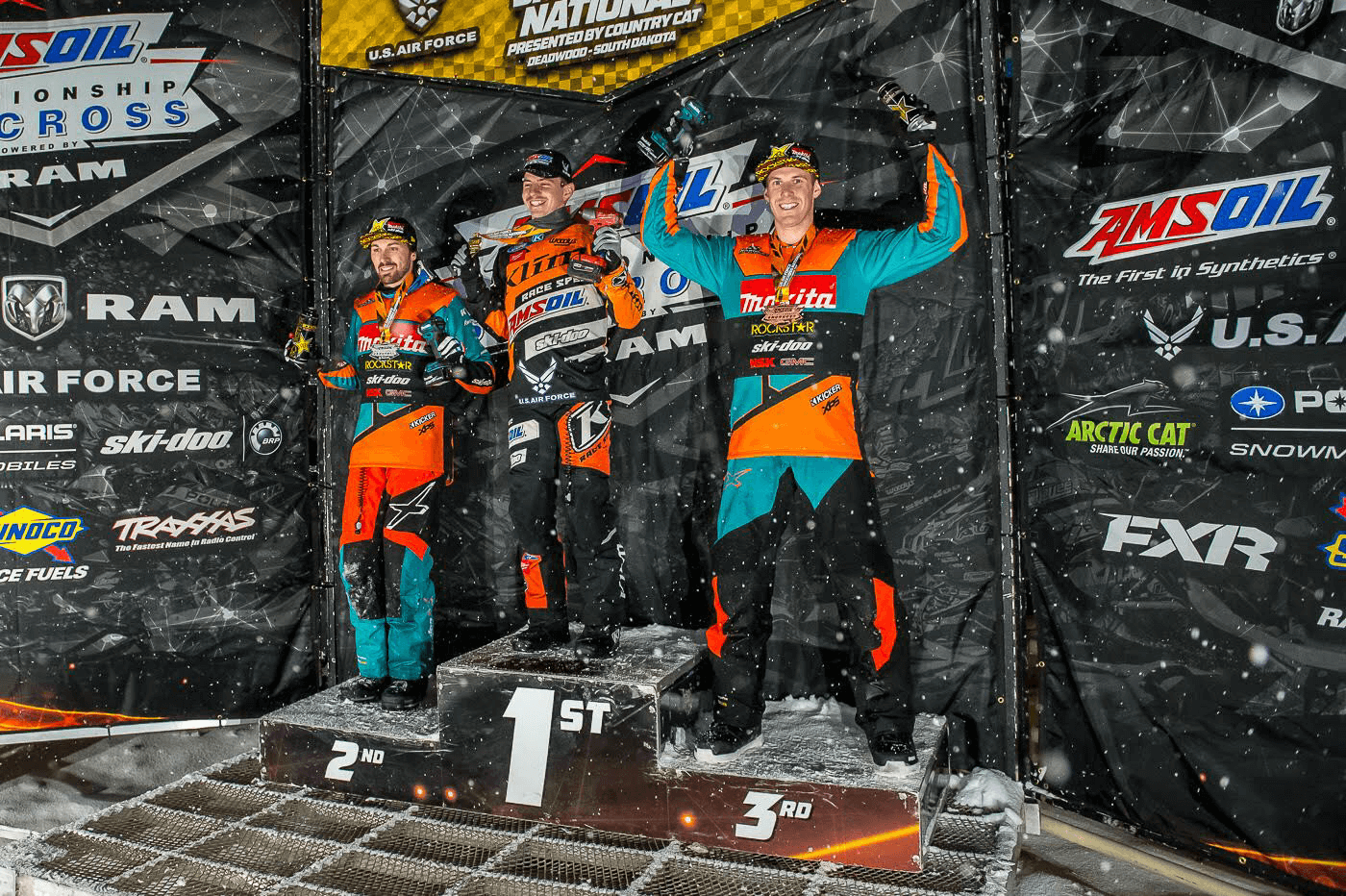 With three laps to go, and a single file restart, Lemieux pushed into the lead as the pack battled behind him. With two laps left, Tremblay forced the issue and pushed past teammate and round six winner Adam Renheim for second, and Polaris' Kyle Pallin went up one spot off the restart in fourth.
For Lemieux, it was another big win, and one of the most intense of his career.
'I was battling with Lidman, lost the lead for awhile and I noticed he was getting tired, so I just rode smarter and waited to make my move," said Lemieux. "I got by him and just put a gap on Renheim. Unfortunately, Aki crashed and got hurt, so we had to red flag it, and my sled wouldn't start. I got it started and then shut it off. It was a stupid move by me, but then Elliott (Burns) got it started back up and we had three laps left to go and it was just cruise control."
Another First Timer in Pro Lite
Rookies and surprises have dominated the story lines in Pro Lite this season, and the seventh round saw another new winner in Deadwood.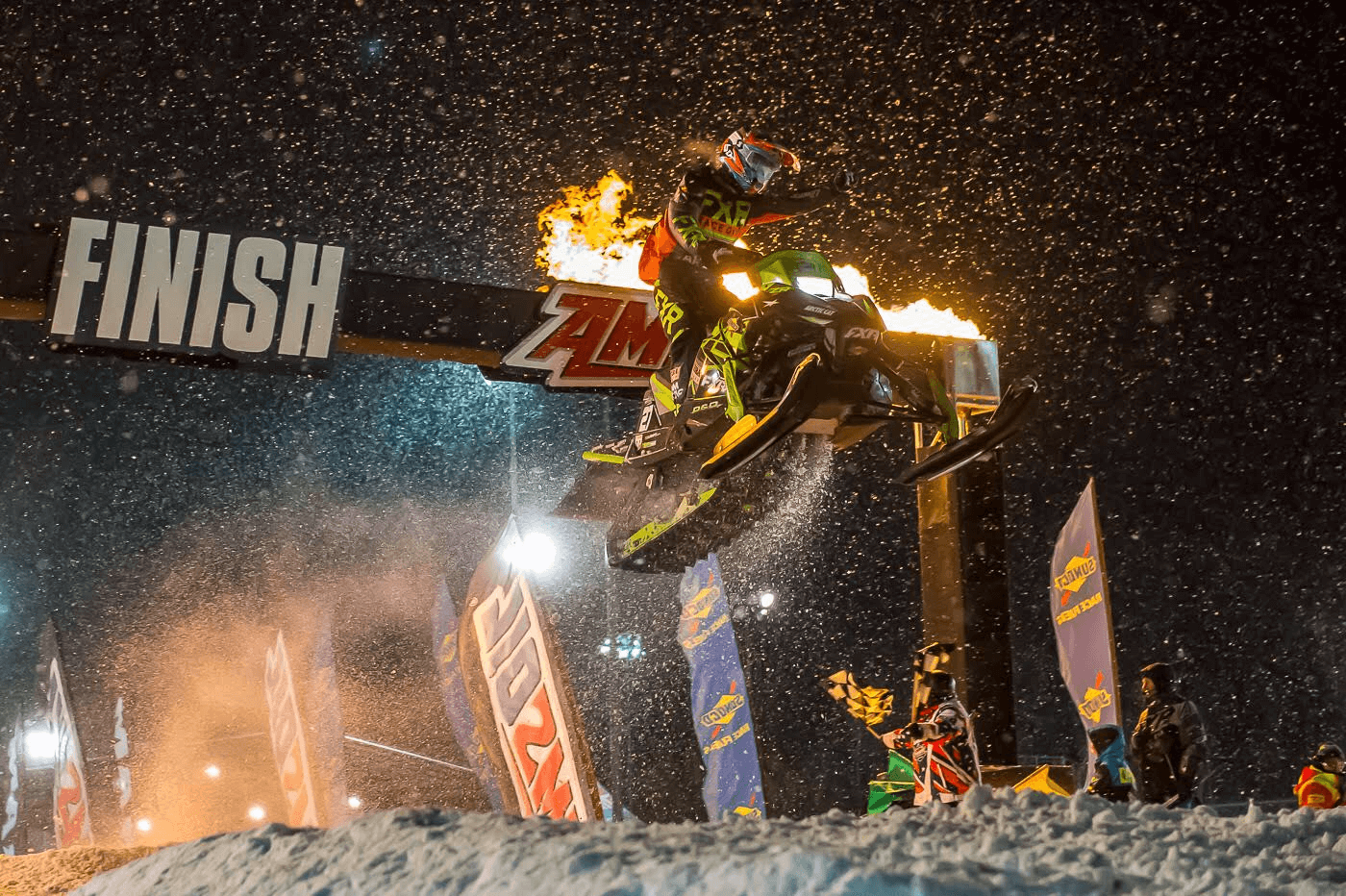 Artic Cat's Nisse Kjellstrom's day started with an early exit in his first heat , resulting in an eighth place finish. But the Swedish rider rebounded nicely, winning in round two and setting the pace for the final. In the main, Kjellstrom was strong from the get-go, grabbing the Stud Boy Holeshot and holding of early charges from Hunter Patenaude and Max Taillefer, For his first career win in Pro Lite.
"It was rough out there, but I had a lot of fun," said Kjellstrom. "I took the hole shot out there and road my race. I'm super happy, especially since it's my first win in Pro Lite."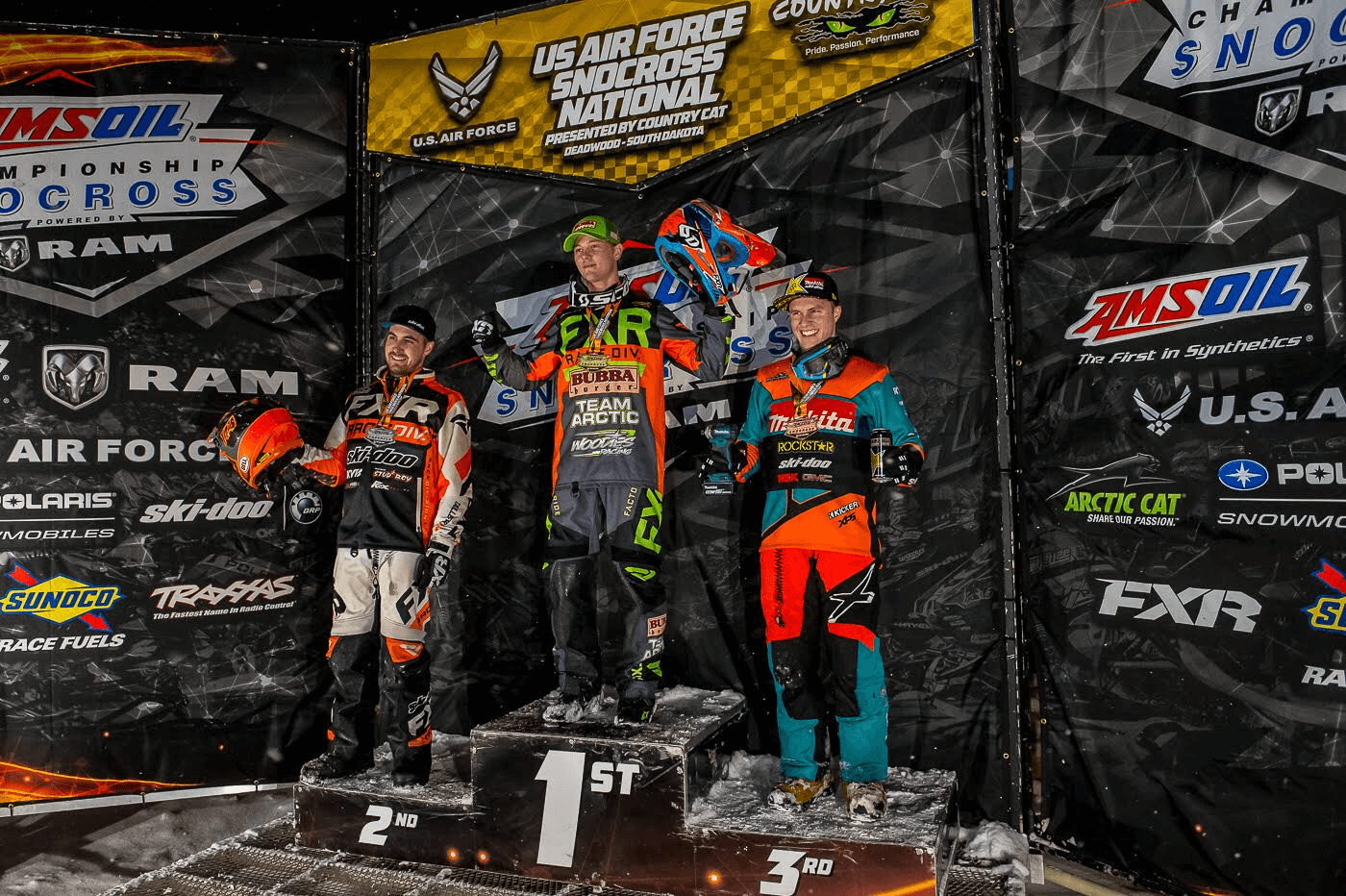 Patenaude swapped out on lap 8, ad Taillefer took over second for the duration. Points leader Francis Pelletier made a late-race charge on Taillefer for second, but couldn't get the final pass, finishing third. RJ Roy continues to impress as a fill-in rider for Judnick Motorsports and was up as high as third before finishing fourth, ahead of Marcus Ogemar.
A Third Player Arrives in Pro Women
Meghan Brodeur and Teven Woodie have been the one-two punch the Pro Women's class has always searched for over the sports history. The pair has put up some of the best racing on the national circuit this season. Lurking in their shadows has been Malene Andersen, who has had success in the class in past years but has not finished higher than third this season.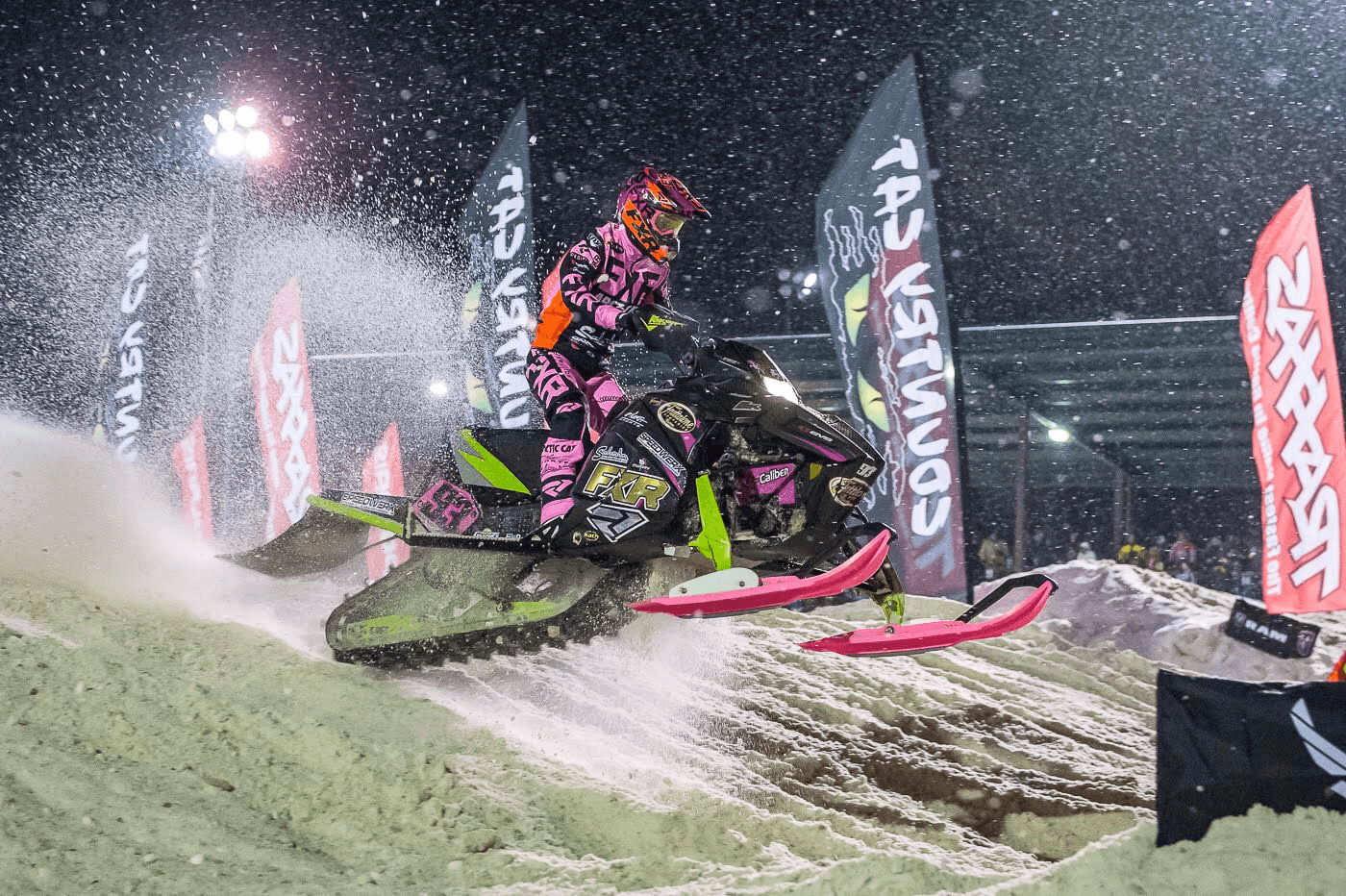 Andersen grabbed the hole shot and never looked back, as she led every lap for the win. Behind her, Brodeur started second and finished second. Woodie had a slow start to Friday's final, pushing from as far back as tenth before finishing third.
Friday Night Lights
Jordan Lebel led from started eight in the Sport Lite final, but made a last lap pass on Eli Epling for the win.
Samuel Blouin led from start to finish in the Sport final, finishing ahead of Mitchell Thelen.
Austen Madison won his first career Snowbike race with a complete race win.