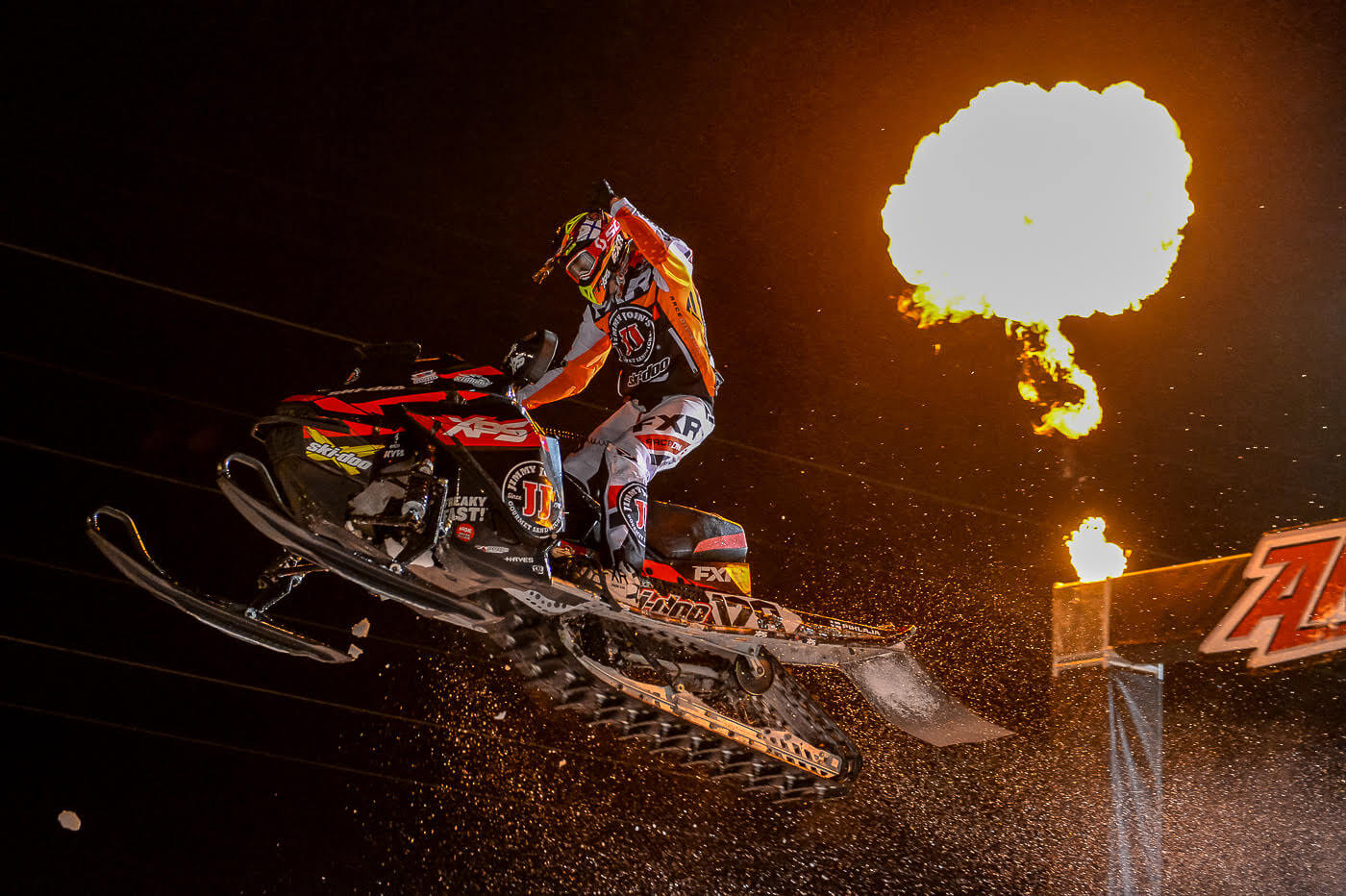 If it wasn't for some lapped traffic and the constant pressure from teammate Elias Ishoel, Boss Racing/Ski Doo's Aki Pihlaja's Saturday night would have teetered on the side of dominance. Instead, the Finnish rider had to settle for a hard-fought win, his second of his impressive rookie campaign.
The track for round 12 of AMSOIL Championship Snocross, POWERED by RAM was as gnarly as any that had been built this season. Big jumps, including what turned into a risk-taking quad across the AMSOIL finish line, were the norm at the huge Seneca Allegany National Snocross track.
All of that didn't seem to bother Pihlaja, who turned a solid starting spot after finishing second and third in his heat races into a great start in the final. Arctic Cat's Montana Jess grabbed the Stud Boy Hole Shot, but Pihlaja was on his heels, and by the time the first circuit was complete, the lead belonged to the Ski Doo rider.
Current point's leader Ishoel made his way into second on lap three and did more than just keep the race leader honest. The Norwegian standout took advantage of a rough track and back markers, making up serious ground on Pihlaja in the congestion. But open air swung the pendulum back in Pihlaja's favor during the 22-lap battle, with Pihlaja finding a seemingly higher gear over his Scandinavian teammate.
"It feels good to get on top of the box again," said Pihlaja after the win. "I got a huge hole shot and never looked back. Elias kept putting pressure on me, and having him up here on the box is a big win for the Boss Racing team."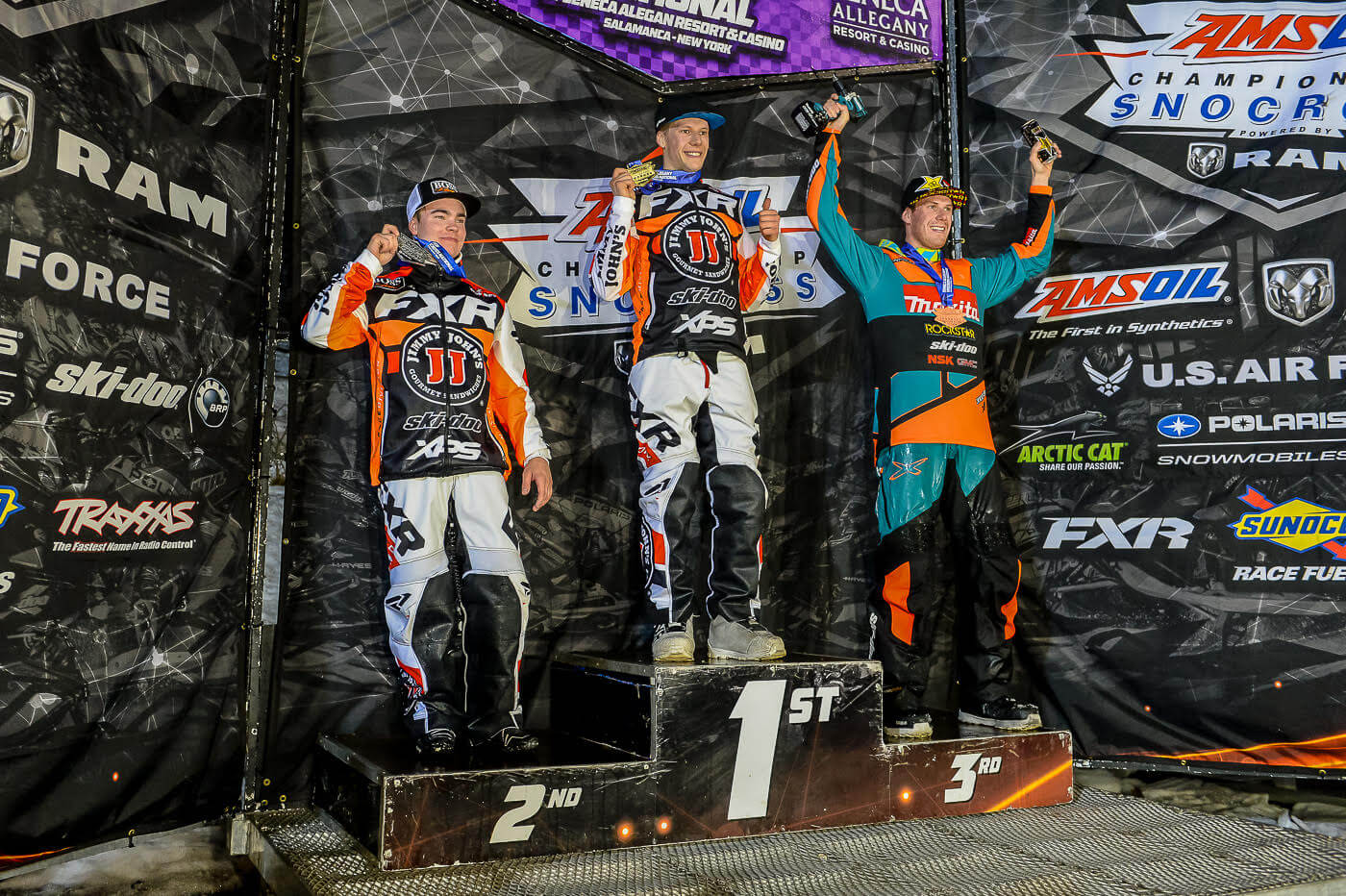 With two Ski Doo riders already on the box, it was up to Warnert Racings Adam Renheim to put in the race of the night to fill up the winners circle with a single brand. The Deadwood winner has historically struggled in New York, and starting in the back row put the odds early odds against him. In 11th after lap one; Renheim began his charge to the podium. By lap five he was in sixth, and settled into fourth on lap 15. On the final circuit, Renheim kept up his torrid pace, getting past Polaris' Petter Narsa for the final place on the box.
Friday night's winner Kody Kamm had a great day going with a pair of heat race wins, but ran into trouble in the final, finishing last. He remains in second, 30-points behind Ishoel with four rounds of racing left. Renheim is third overall, with Tim Tremblay sitting in fourth.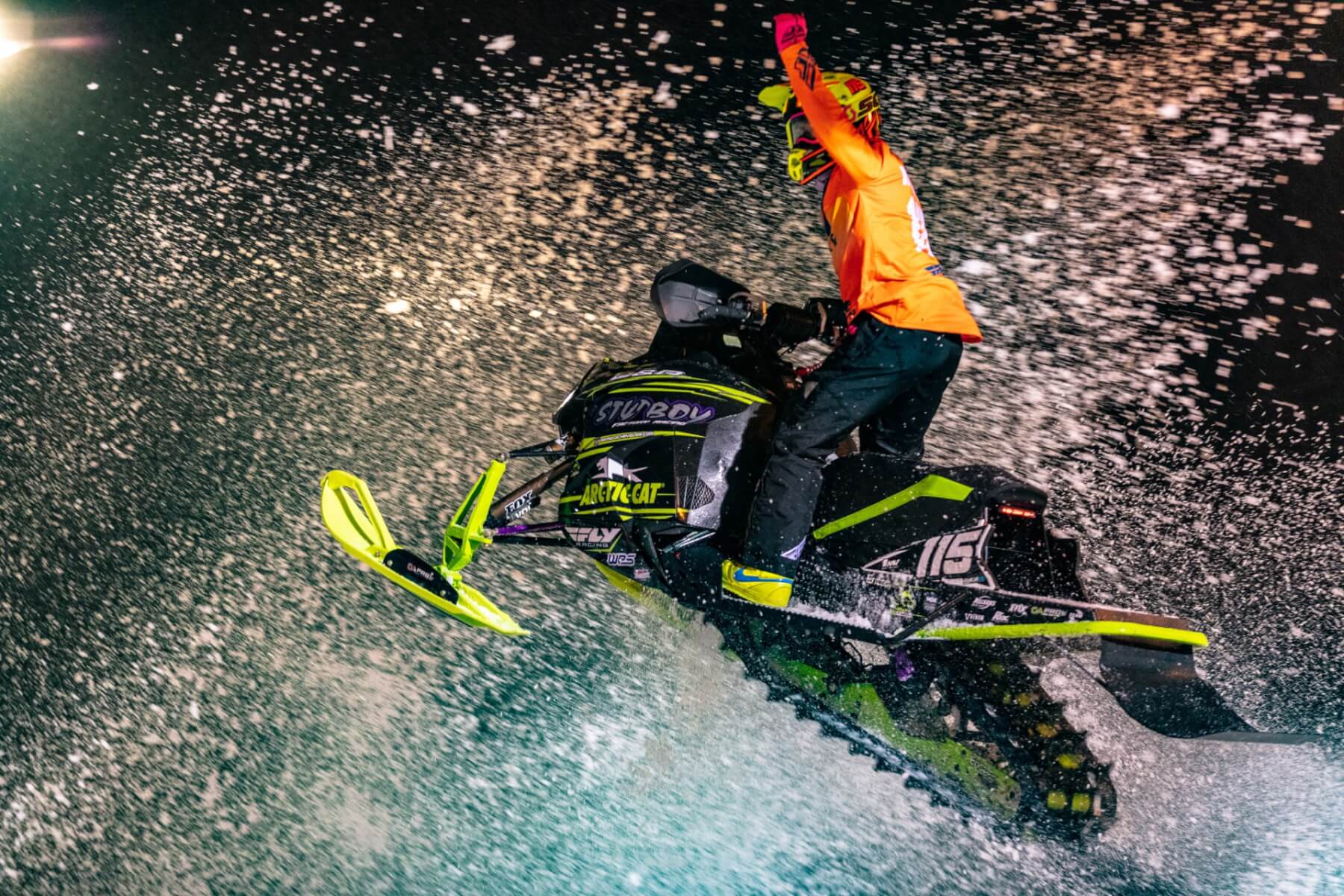 Wittwer Wins in Pro Lite
Trent Wittwer has seen the highest of highs and the lowest of lows during his rookie campaign. But when he is on, he is on. And that was the easily the case on Saturday night.
It had been nearly two months since Wittwer had won a Pro Lite final, but he was focused on win number three from the get-go in New York. He grabbed the hole shot, and ran 16-flawless laps. He dealt with lap traffic with ease, as well as the pressure of the two men who are in a dogfight at the top of the point's standings, Hunter Patenaude and Francis Pelletier. Patenaude continuously closed the gap on Wittwer, but the rookie held his own, running a smart race and utilizing patience to get around the grueling race course.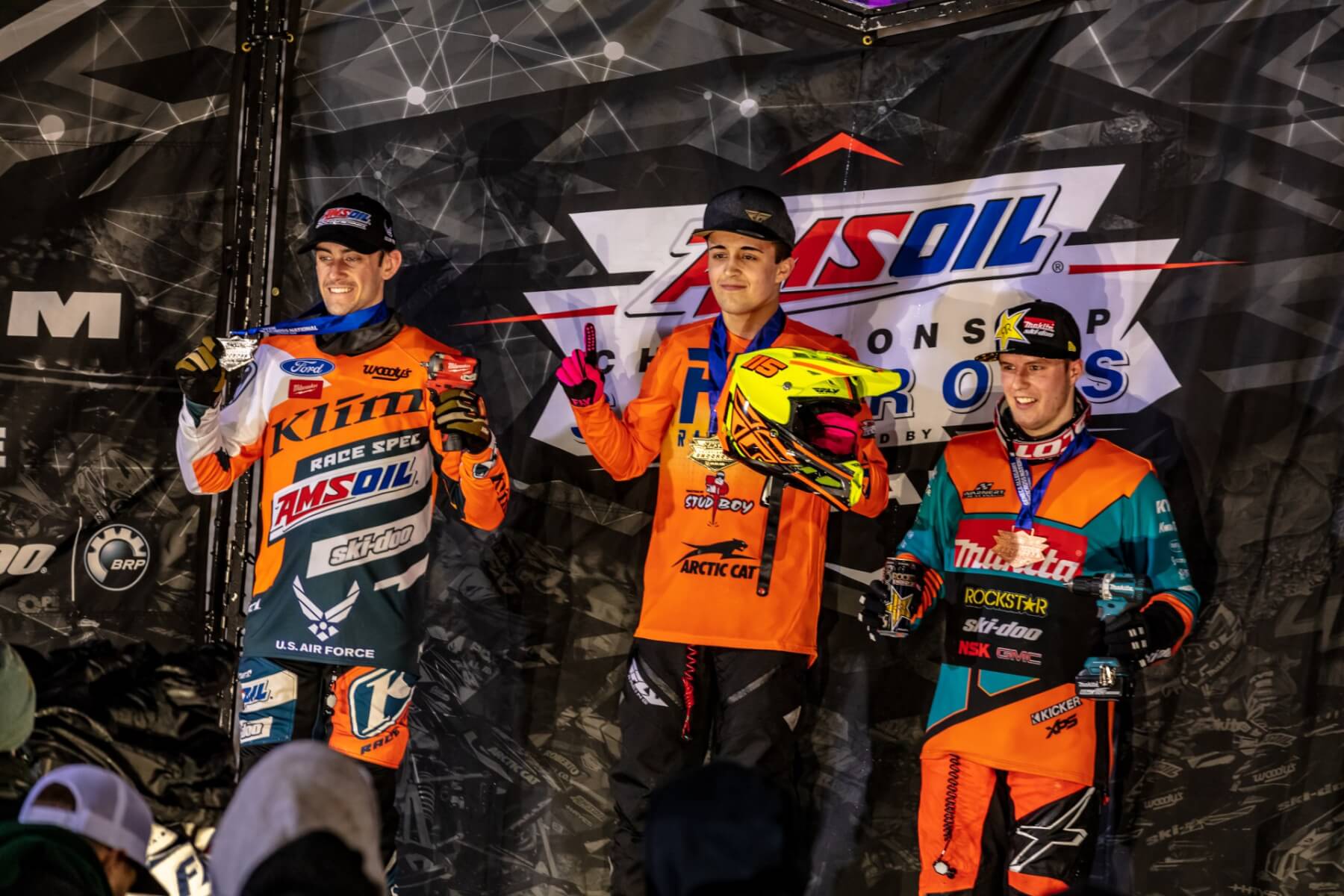 "The first two laps were crucial to come clean," said Wittwer. "The inside, I thought was going to be a cluster, so we did that for four or five laps. After that went rough, I just guarded my line and went on from there. Hunter and Francis ran a really good race, and kept me honest."
There is a new leader in the Pro Lite class as Patenaude moved into the overall lead with a pair of heat race wins, and finishing second, one spot ahead of Pelletier. Patenaude takes a slim four point lead over his fellow Ski Doo racer, who had held the spot since the opening weekend in Duluth.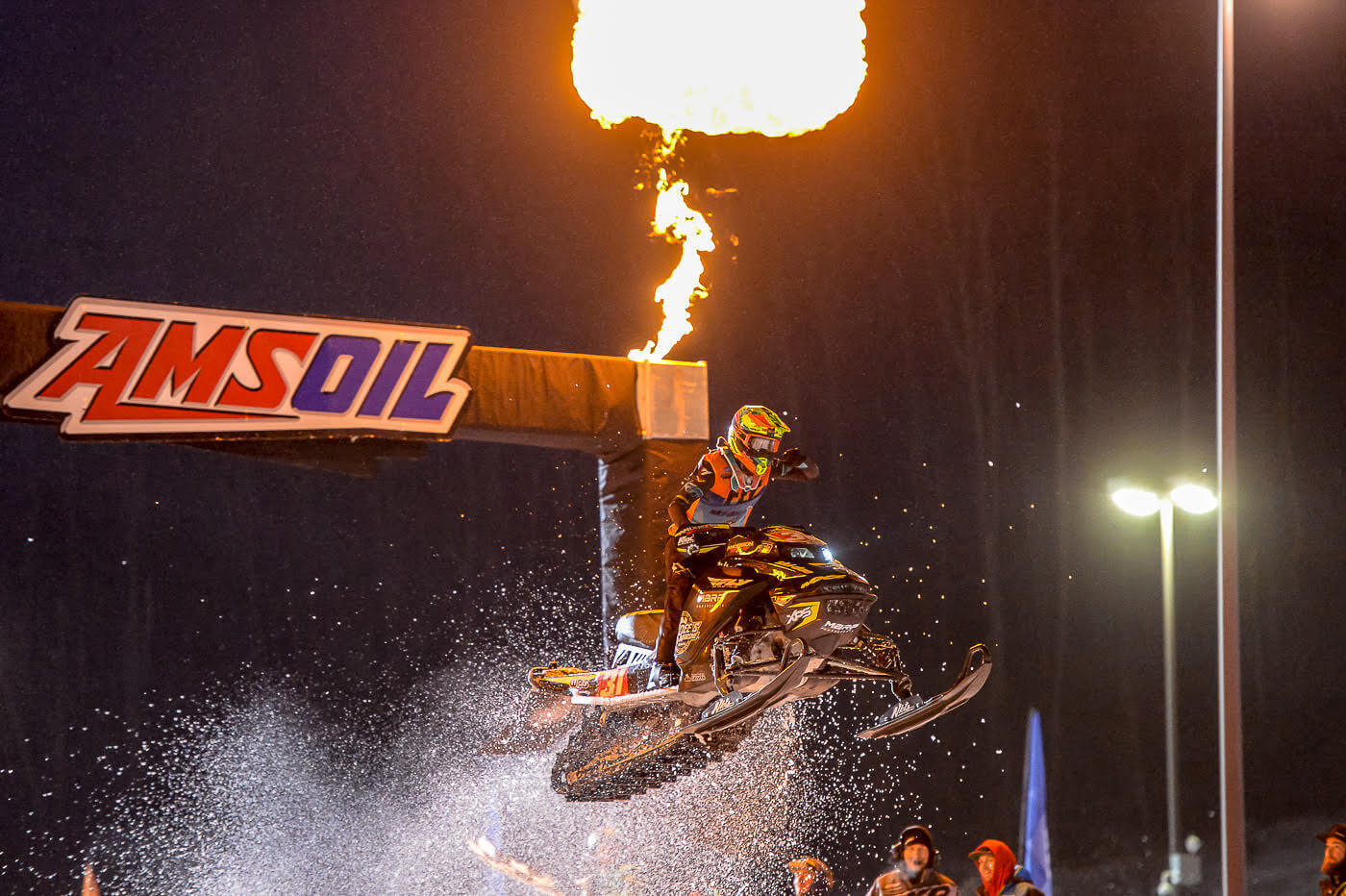 Saturday Night Lights
Mega Brodeur has full control of the Pro Women's class after another dominating win. Taven Woodie ran another strong race behind her with Inanna Hauger picking up her fourth podium of the year in third.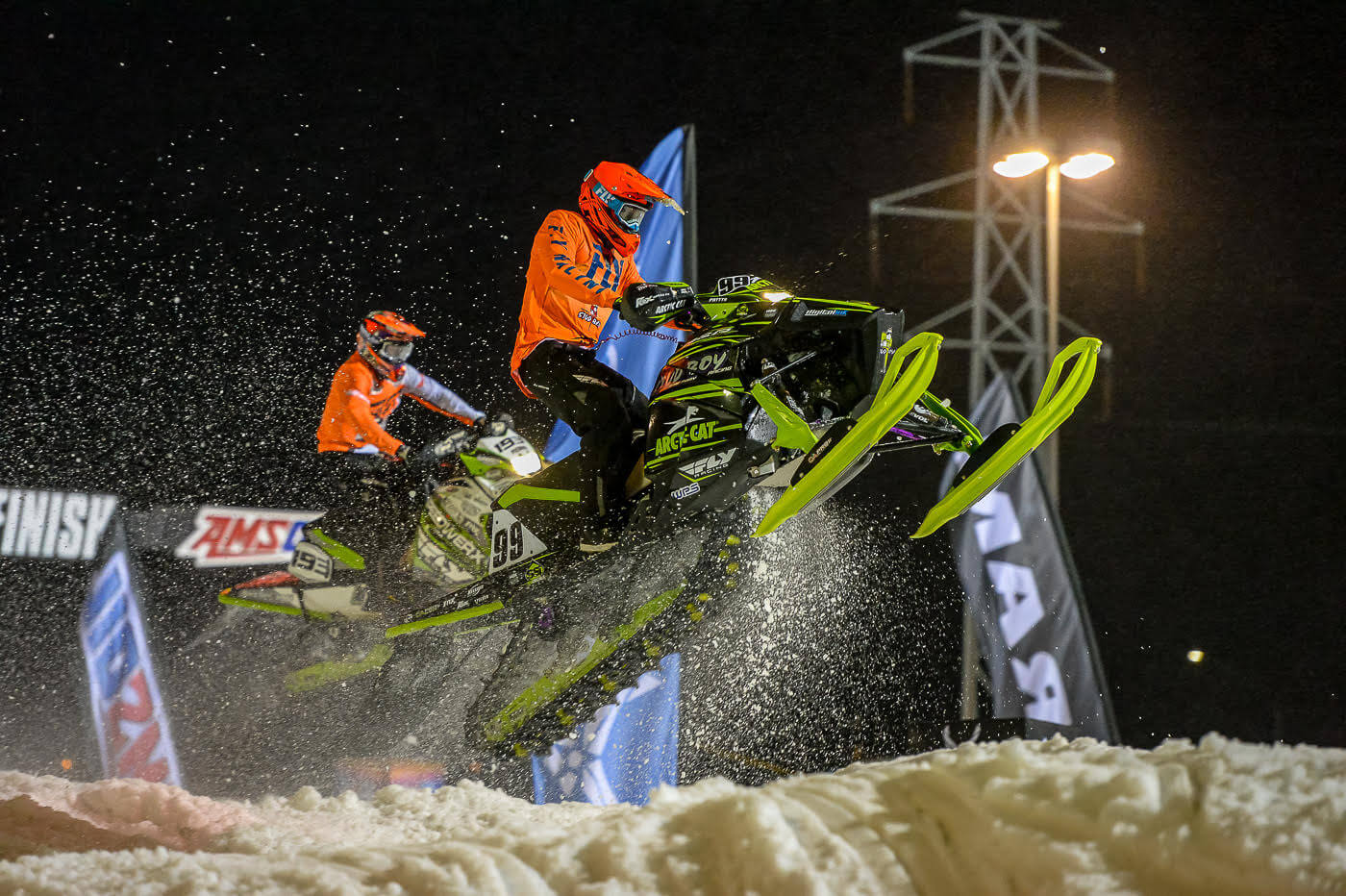 Zach Pattyn and Matt Pichner continue to go nose-to-nose in the Pro Am Plus 30 class. Pattyn got the best of Pichner in New York, with Kurt Bauerly joining the fray for third.
Jesse Kirchmeyer made it two-in-a-row in Snowbike. Keaton Ward and Mark Wilson rounded out the podium.
A day after winning three finals, Jordan Lebel took home the win in Sport Lite, increasing his points lead over Drew Freeland.
Cottew Motorsports Mitchell Thelen held off Eric Downs to win the FXR Sport final. It was Thelen's second win in New York, and puts the Polaris rider into a tie for second with Beau Tibbetts. Samuel Blouin finished third on Saturday, keeping a stranglehold on the overall points lead.