What a difference a year makes. When last year's iteration of AMSOIL Championship Snocross, POWERED by RAM headed to Sundown Mountain in Dubuque, Iowa, Ski Doo's Elias Ishoel was just making his season debut after injuries sidelined him for the first twelve rounds. Skip ahead twelve months and now the Norwegian is healthy, leading the points, and after a spectacular run on Friday night, a winner for the third time this season.
Ishoel's day of racing just was far from clean. The points leader won one of his qualifying heats, but got crossed up in his second heat race, and crashed hard on the downhill. The track presented to the bevy of riders in Dubuque was consistently called 'gnarly', and despite getting swapped out and sent to the ground, Ishoel looked the part of a champion, and stormed back in the final. His biggest challenge came from inside his own trailer as teammate Aki Pihlaja was fast early, holding the lead through lap seven before Ishoel took over. Pihlaja, who won round 12 in New York, finished second.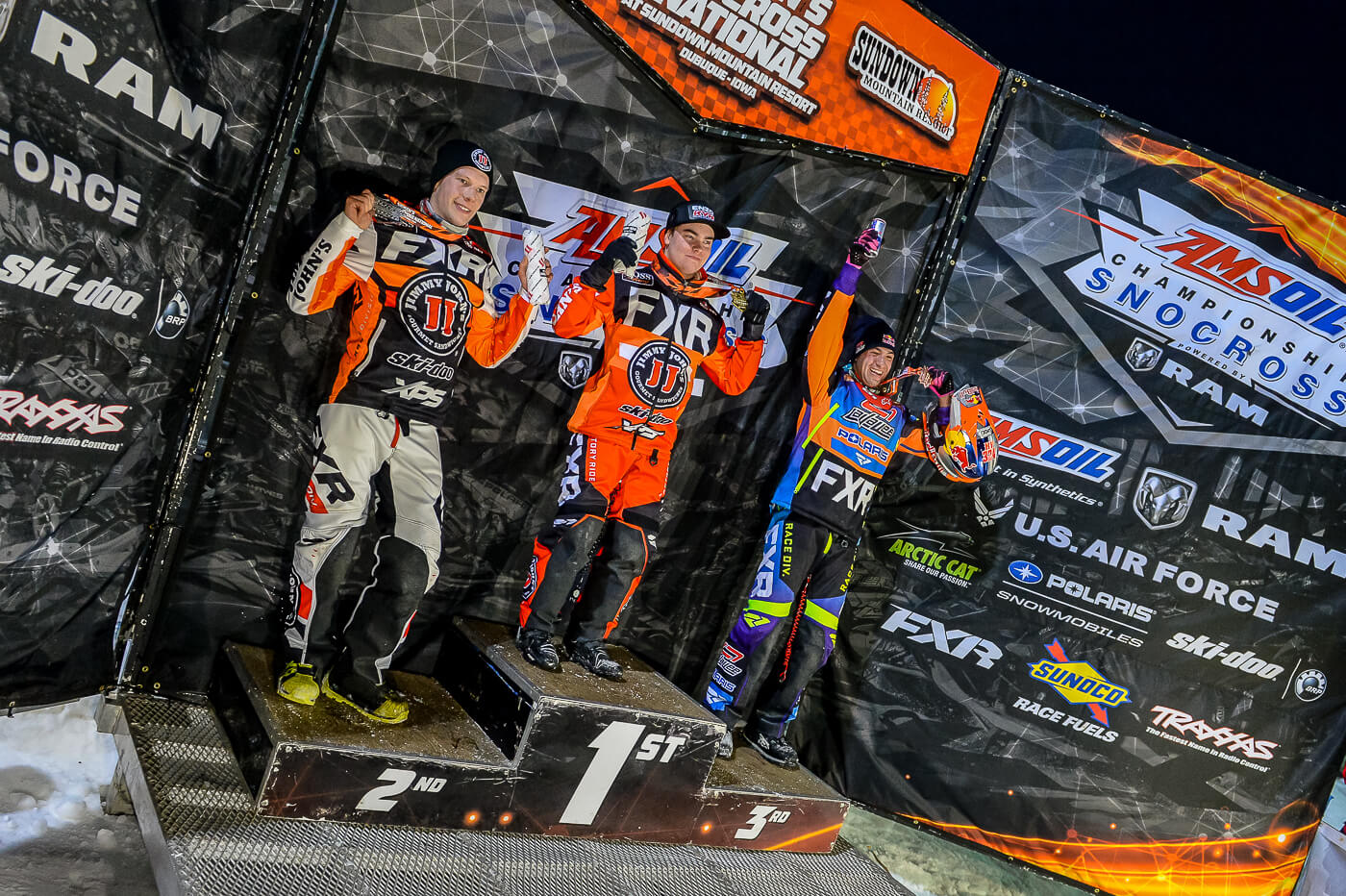 "You know, I just did my job and the track was good for me," said Ishoel. "And my teammate, we were one and two in the last race, too, but I was in second and he was in first. It has been a long time since I was up here in first place, so yeah, it's good."
Early season success has propelled Ishoel into a strong points lead with just three rounds now remaining on the 2018-2019 schedule. Ishoel's win in Iowa was his first since Jackson Hole in December, but he has been the most consistent rider in the Pro class. Entering round 13, Ishoel held a 30-point lead over Polaris' Kody Kamm. After winning both of his heat races, Kamm had a tough night show, finishing tenth.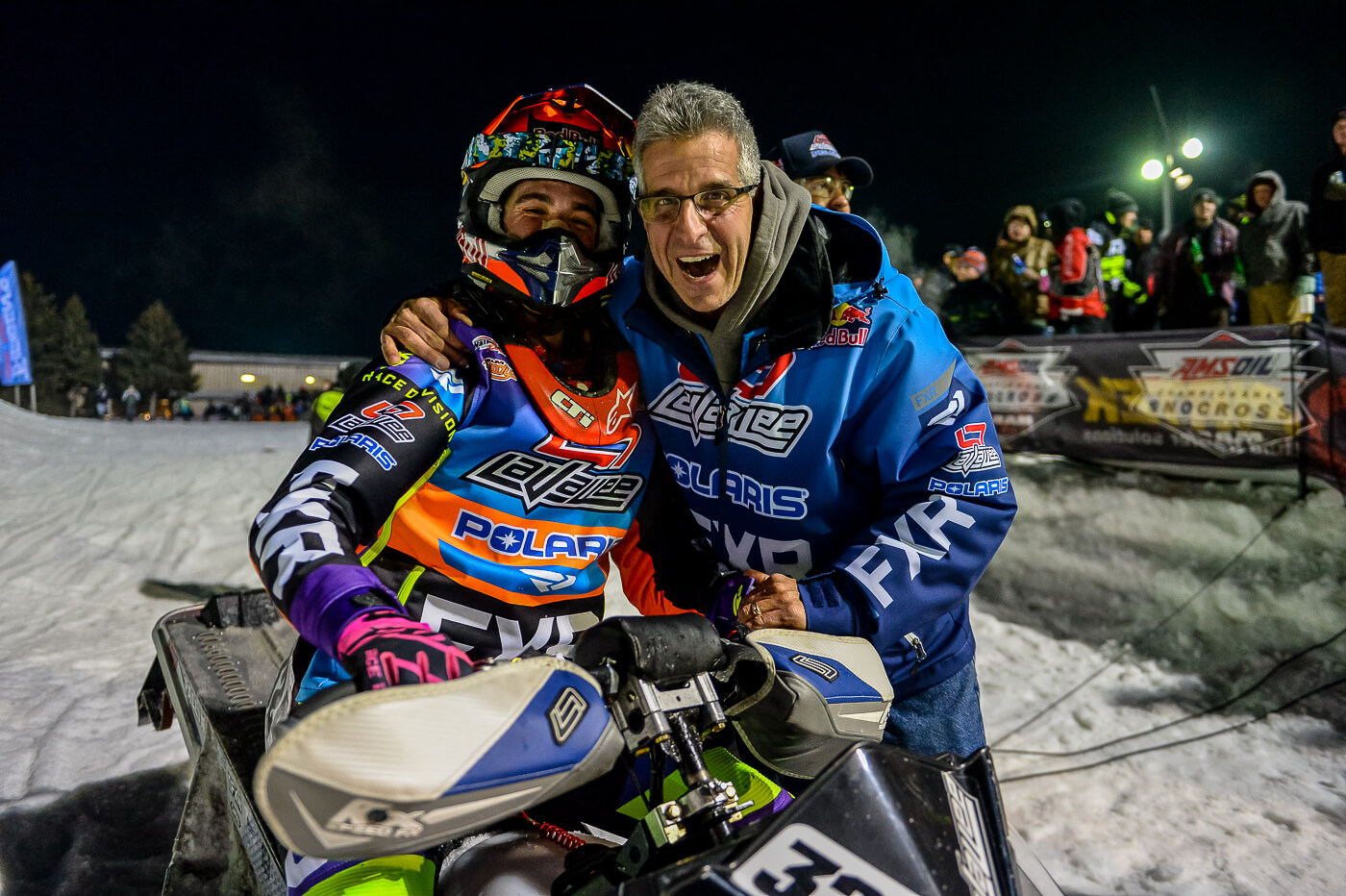 The feel-good story of the night came from the body of work put in by long-time Polaris pro Kyle Pallin. The Michigan-native had his best day of racing this season, finishing second to Kamm in his heat races before putting in a spirited run in the final, finishing third. It marked the first podium of the year for the perennial fan favorite, and his highest finish since a fourth in Deadwood.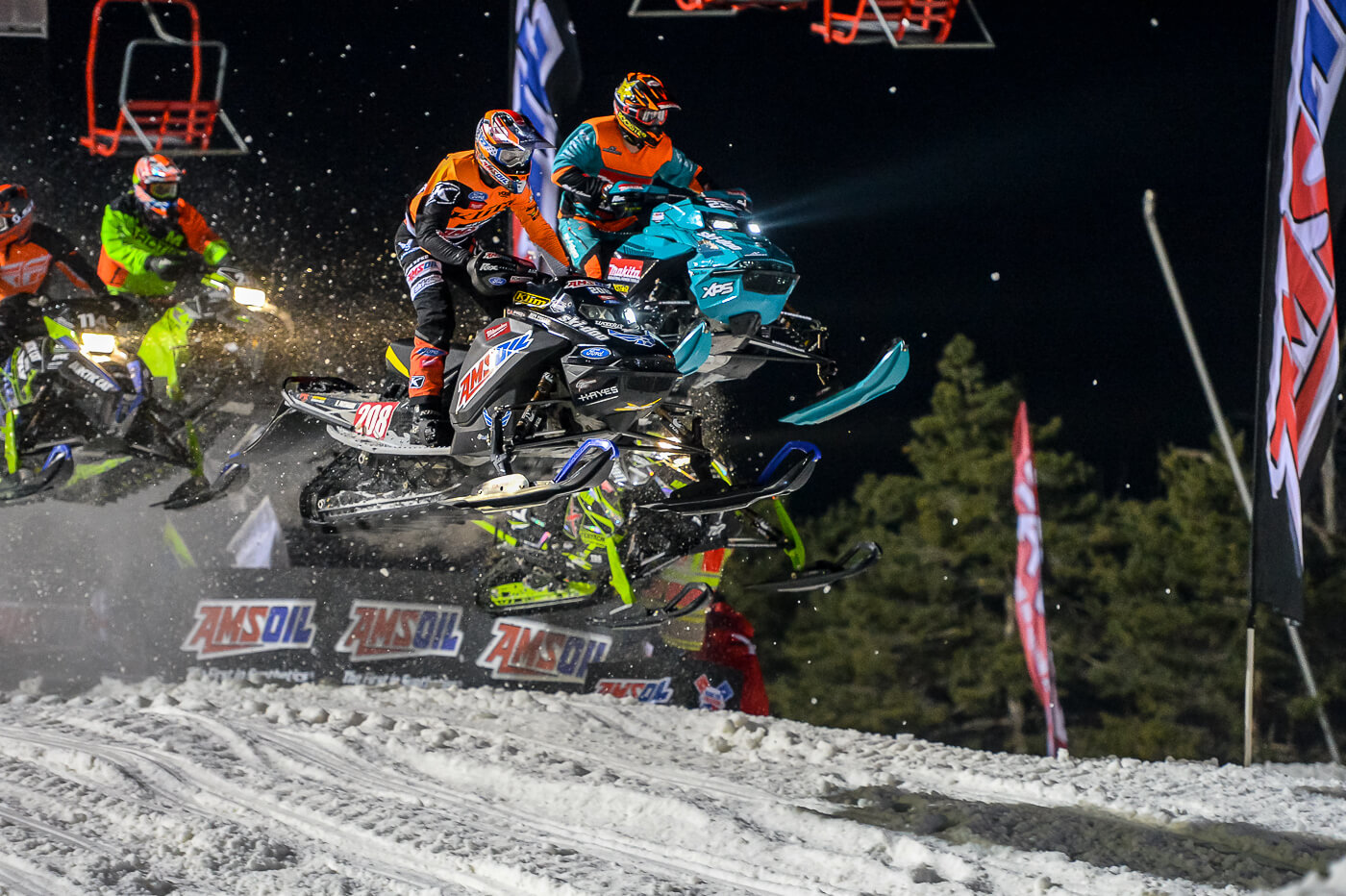 Pelletier Penalty Gives Patenaude Advantage
Snocross fans are definitely getting their money's worth with the Pro Lite class this season. Multiple winners, many of them first-timers and rookies, means things are wide-open and its anyone's guess on who will prevail night-in-and-night-out.
But since Deadwood, Ski Doo's Hunter Patenaude has been on a hot-streak right to the top of the standings. He took over the points lead in New York over fellow Ski Doo racer Francis Pelletier, who had held point since the opening weekend in Duluth despite not winning a final this year.
In Iowa, the pair came out and rode like champions should. Both riders easily won their heats and lined-up next to each other in the final. Both sleds were side-by-side through the first turn, with Patenaude getting a slight edge. For the first two laps, Patenaude held the edge, but Pelletier took over on lap three. For the next several laps, the combo dashed up and down the technical circuit, dealing with big rhythm, downed riders and back markers. It was those riders that would help shape the finishing order, however, as Pelletier was black-flagged with four laps to go after a mid-race penalty for jumping on a yellow flag. As Pelletier pulled over and dropped back to fourth, it gave Patenaude the opening he was looking for since the opening laps, and cruised to his fourth win in. The loss at the top was a gain for Max Taillefer and Adam Peterson, as both riders moved up one spot to fill out the podium.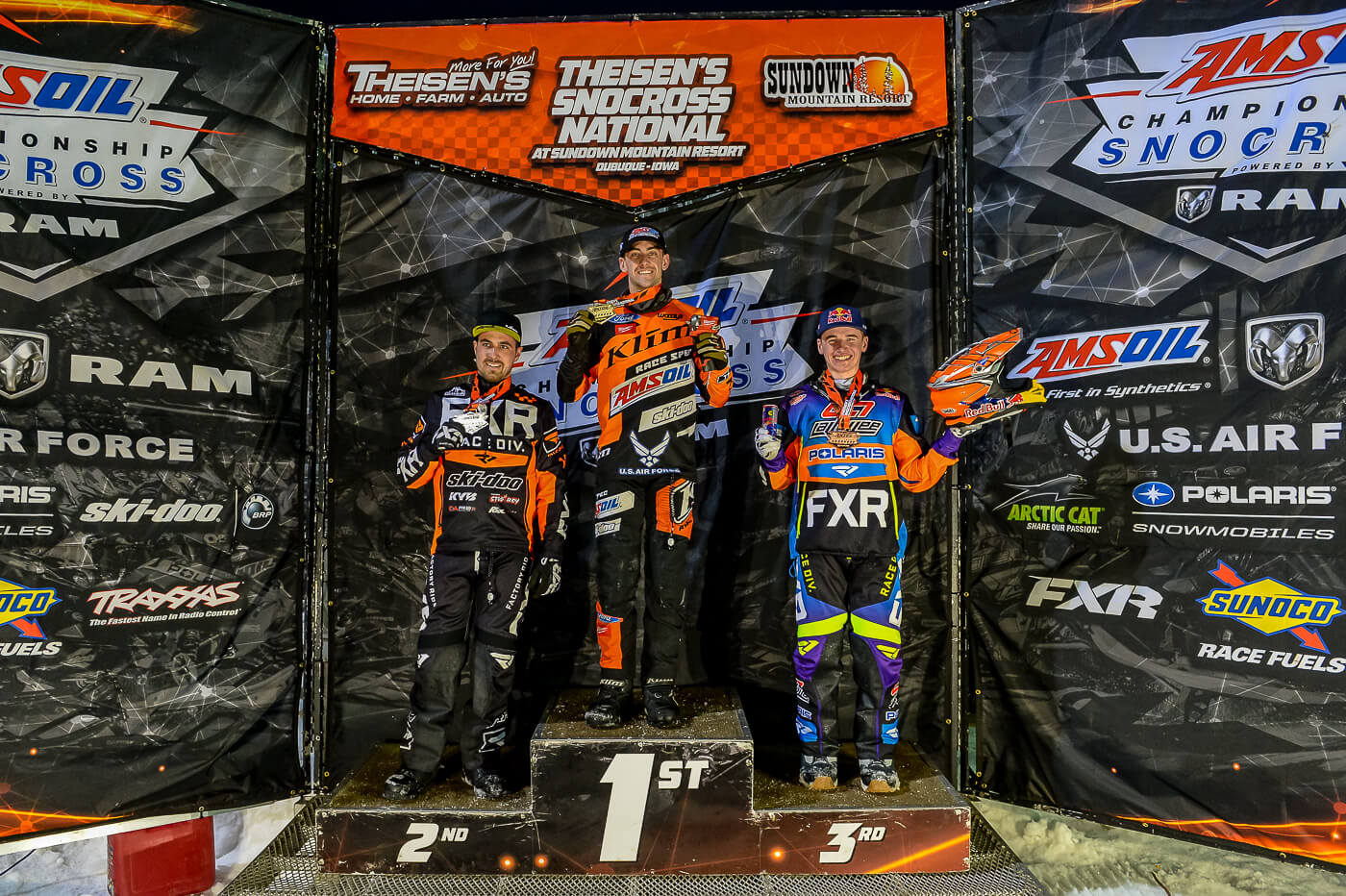 "I was just trying to ride smart," said Patenaude. "I just focused on doing the best that I could to hang on to the sled and not make any dumb moves, because if you make a little mistake, it can really cost you."
Friday Night Lights
The Snow Bike class is now the closest national points race on the tour thanks to Jesse Kirchmeyer third straight win. Keaton Ward picked up a second-place finish, one spot of points leader Mark Wilson who now sits just one point ahead of Kirchmeyer.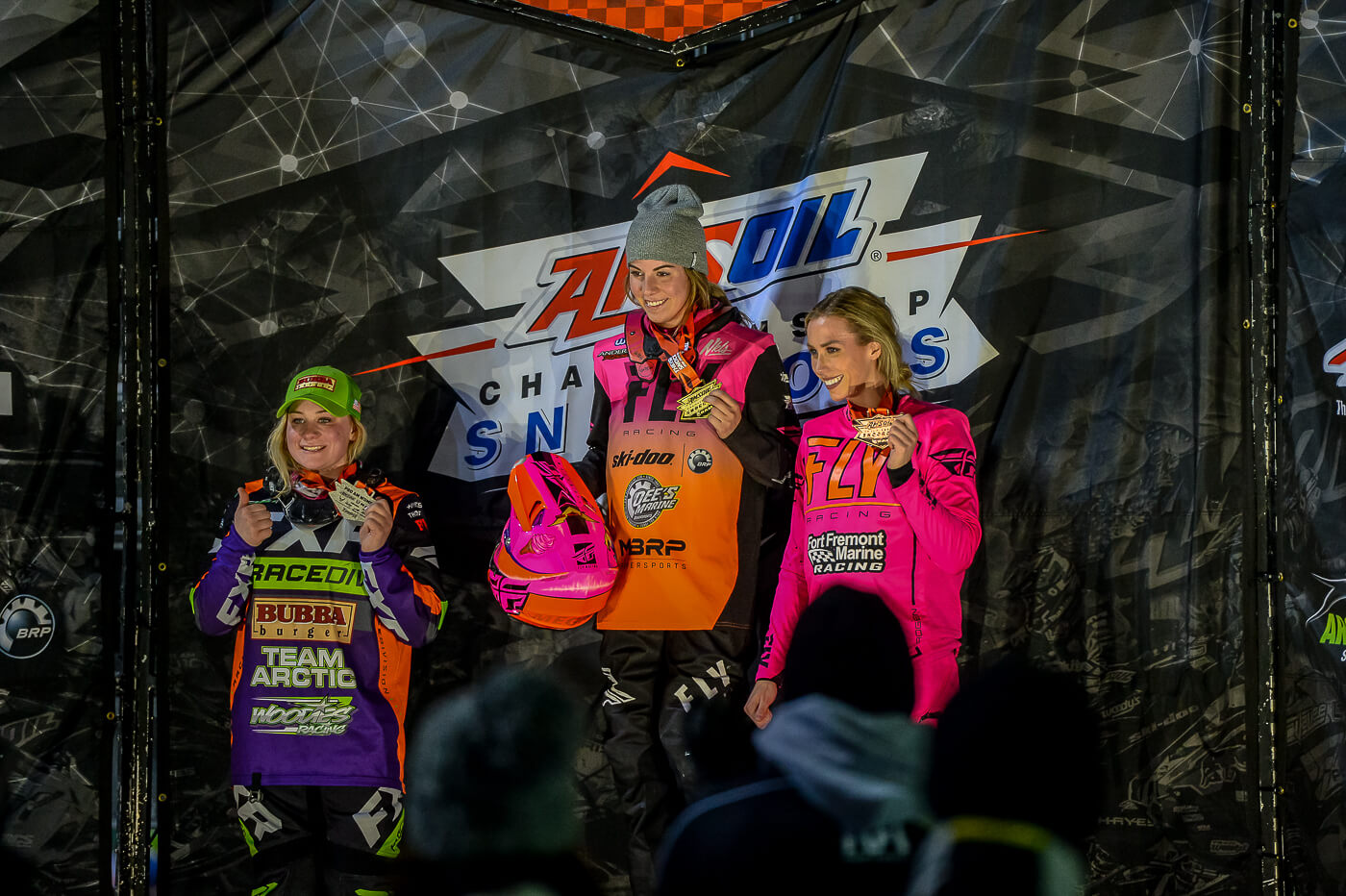 Megan Brodeur won her fourth straight Pro-AM Women's final over Taven Woodie and Jakki Farmer. She now has nine wins and 13 podiums this season.
Andy Pake held off Kenny Mandryk in the Sport class. Evan Christian took home his first podium of the season in third.
Jordan Lebel grabbed his seventh win in Sport Lite and can clinch the season championship on Saturday.