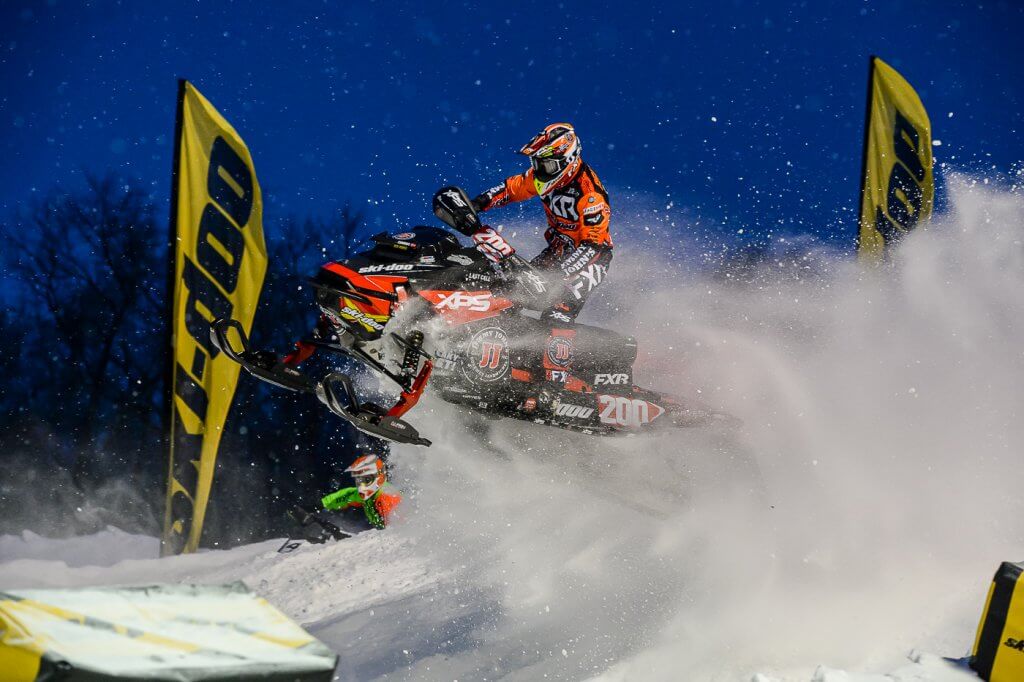 Fargo, N.D. ~ It's a safe bet that the temperature will plummet following any measurable snow fall. After the sun began its nocturnal slumber over the North Dakota plains on Saturday night, the above zero temperatures took a quick nose-dive, dropping roughly 15 degrees to -10 below by the time opening ceremonies cranked up for round two of AMSOIL Championship Snocross, POWERED by RAM.
When the bottom drops out of the mercury, a new challenge for riders emerges. Snow dust quickly fills the air and suffocates visibility. As the night show progressed, the growing number of sleds on the track and the cold weather had made a track that had near-perfect conditions on Friday night appear as if a cluster of pyrotechnics was exploding with each passing lap.
But challenges are meant to be faced head-on, much like defending champion Elias Ishoel has done over his young and flourishing career. To win, or at the very least make it through the race unscathed, a clean start was paramount for any of the 14-riders who surrounded Ishoel's mid-pack start.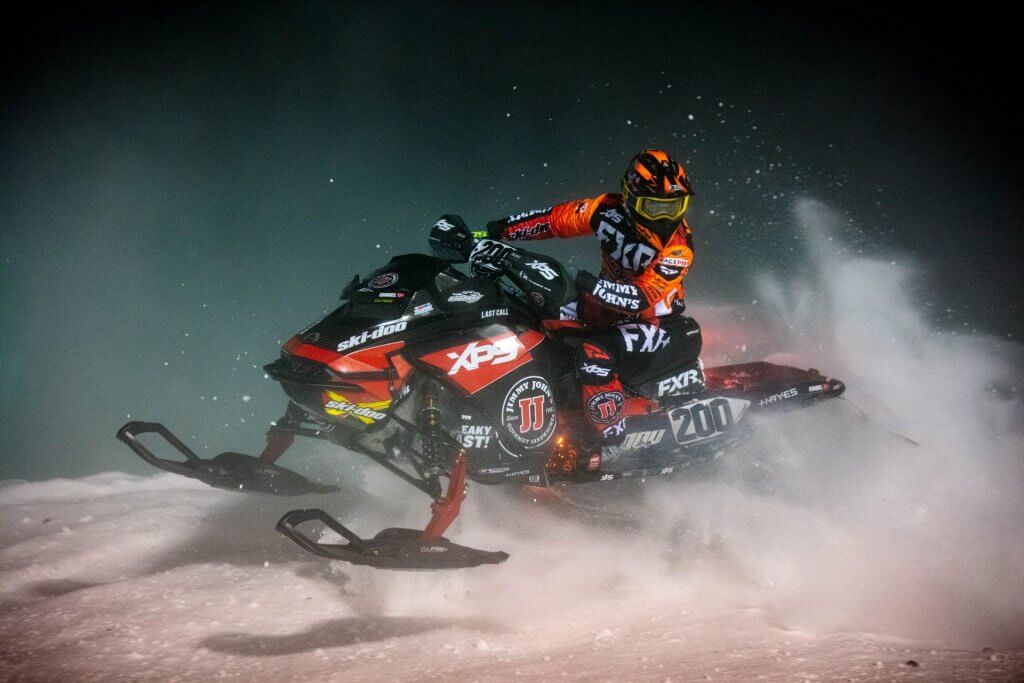 Ishoel has been tough to catch, let alone beat if he gets a good start. On Saturday, it was crucial to come out of the first turn clean, and Ishoel made it work from his spot in the center of the starting grid. He came through the big sweeping turn aside Ski Doo's Daniel Benham and quickly snatched the lead and control of an uncontrollable track. He would lead wire-to-wire for his first win this season, finding redemption after a tough night on Friday.
"I struggled last night, and I had a bad start," said Ishoel. "For sure it was tough to see (tonight), but I thought I had a really good start and the team had the sled ready to go. It felt awesome. It felt really, really good."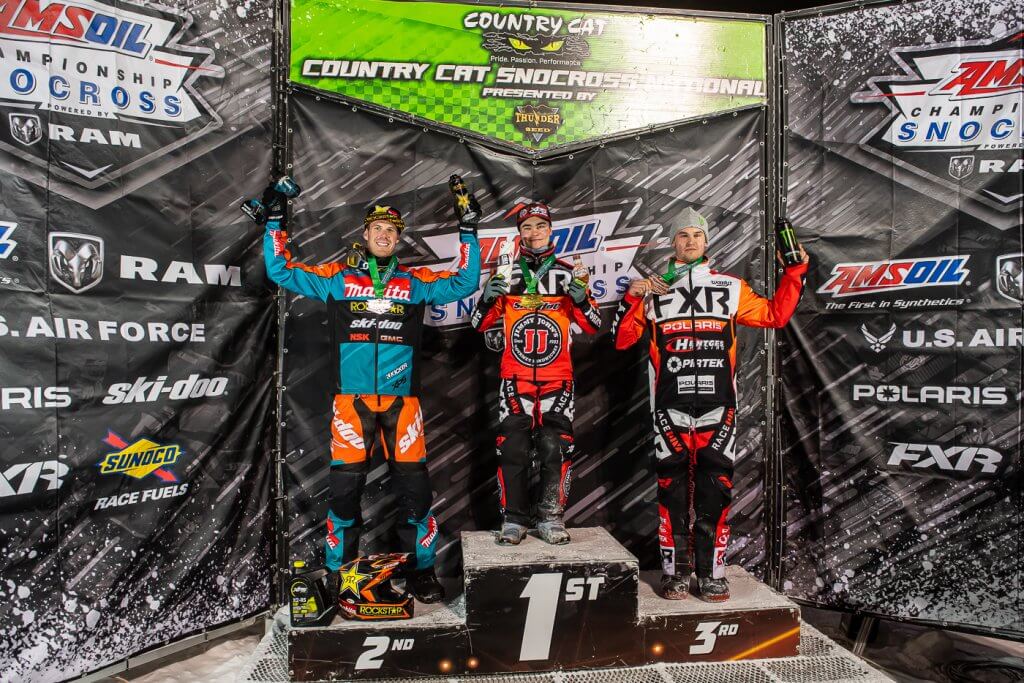 Benham would fall off the pace, opening the door for his Warnert Racing/Ski Doo teammate Adam Renheim to climb up to the second spot on the podiums. The number three qualifier on Saturday went 1-5 in qualifying, a marked improvement after the Swedish champ struggled during his Friday night heats.
"It's really, really important to get points, but it's more important for the finals or you get a bad gate pick from it," said Renheim. "But my pick was good tonight, and I got a good start and came out behind Elias."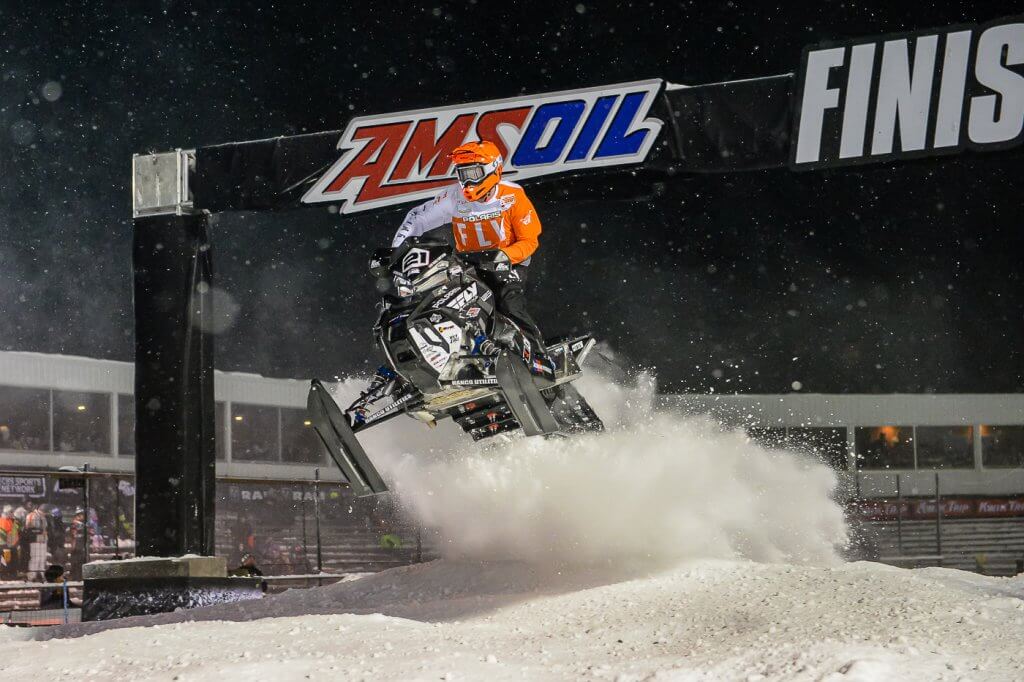 Polaris' Oskar Norum followed up his podium on Friday with his second-straight third place finish on Saturday. He held a steady pace behind Renheim and kept a similar gap ahead of teammate Kody Kamm, who finished fourth. Despite the conditions, Polaris' Cole Cottew made a miraculous charge through the field. The rookie started overcame a backrow starting spot to round out the top five.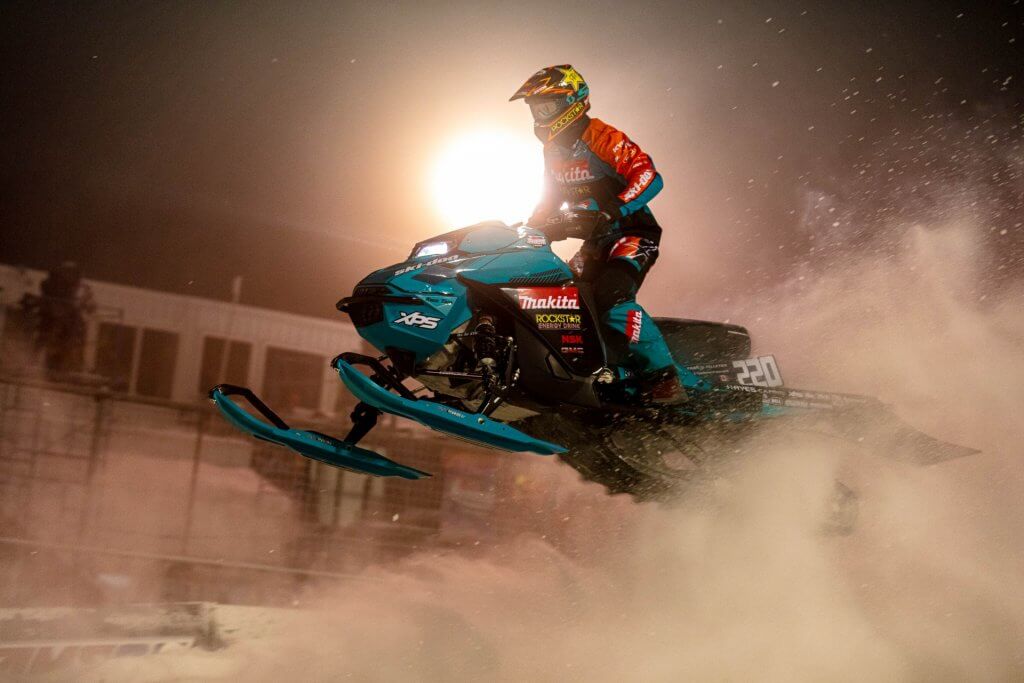 Pelletier Finally Finishes First
By all accounts, Ski Doo's Francis Pelletier had a spectacular year last season. The Warnert Racing finished second in Pro Lite, staying in the championship hunt up to the final weekend despite not winning a final.
The drought finally came to an end in Fargo as the Quebec-native pulled an enormous holes hot ahead of defending champion and Ski Doo teammate Hunter Patenaude. Pelletier was simply too fast for the field on Saturday night, running times that were faster than his Friday night runner-up finish, despite the conditions.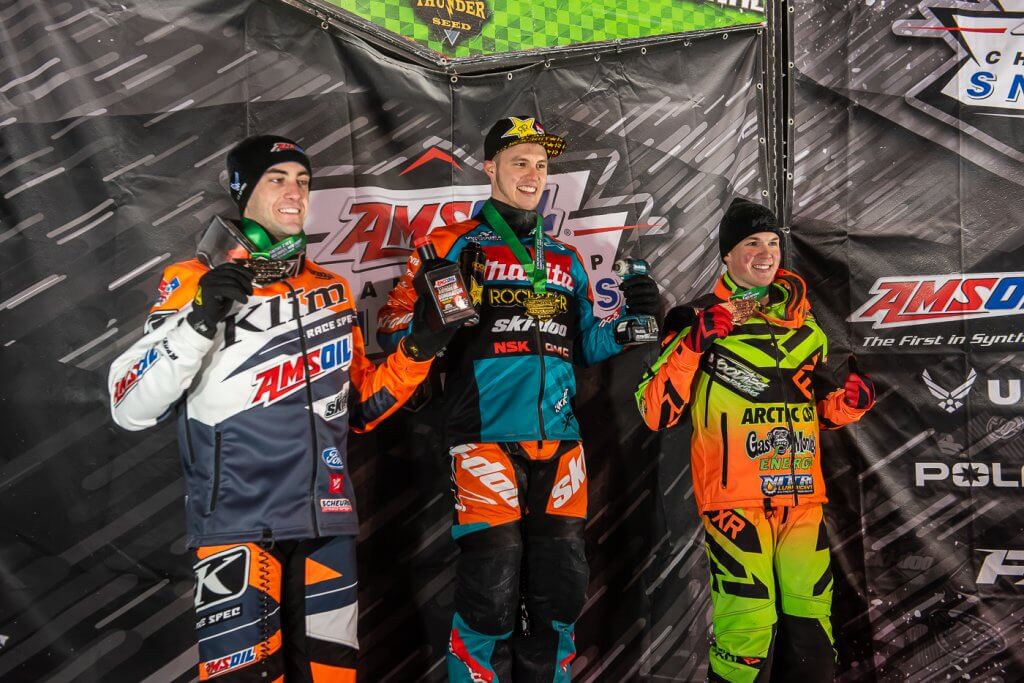 "I knew I needed to be on the light, and have my best start of the weekend," said Pelletier, who went 3-2 in qualifying. "I got up front and just kept my lines clean and I finally won!"
Patenaude kept pace finishing second and Theo Poirier rounded out the podium in third.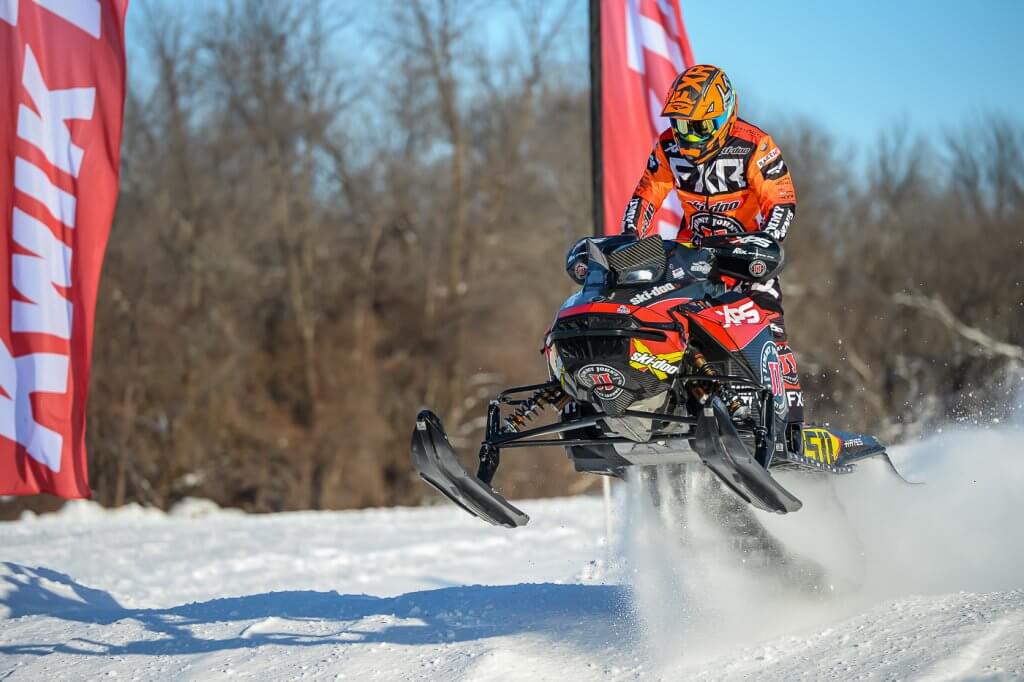 Saturday Night Notes
The national Sport class is setting itself up to be must-see TV after another great final. Drew Freeland grabbed the early lead and held point for the majority of the race. But the top five drivers were all bunched up, and with two laps to go Jordan Lebel came from fourth to first, shooting around Adam Ashline, Carson Alread and Freeland. Ashline kept his second-place spot and Alread held onto third. But Freeland was the odd man out, finish fourth as Lebel picked up his second straight win.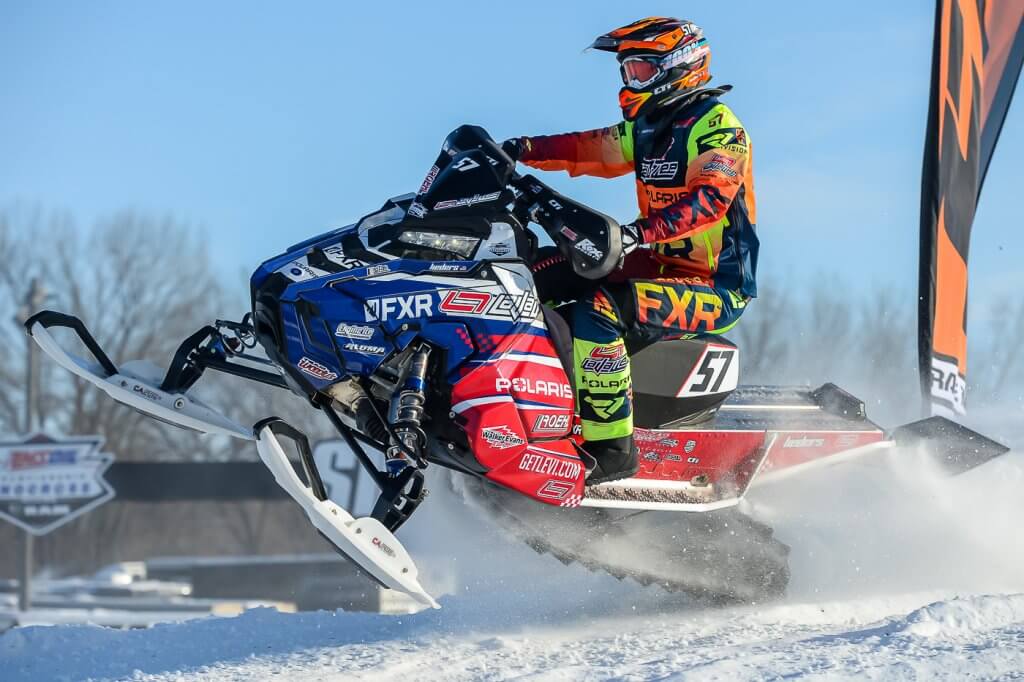 Andy Lieders went wire-to-wire to pick up the win in Pro AM 30 Plus. Duluth winner Zach Pattyn and Steve Martin rounded out the podium.
Ski Doo's Megan Brodeur made it two-for-two in Fargo with the Pro AM Women win. She led from the start, pacing well ahead of runner-up Taven Woodie and Alissah Ashline.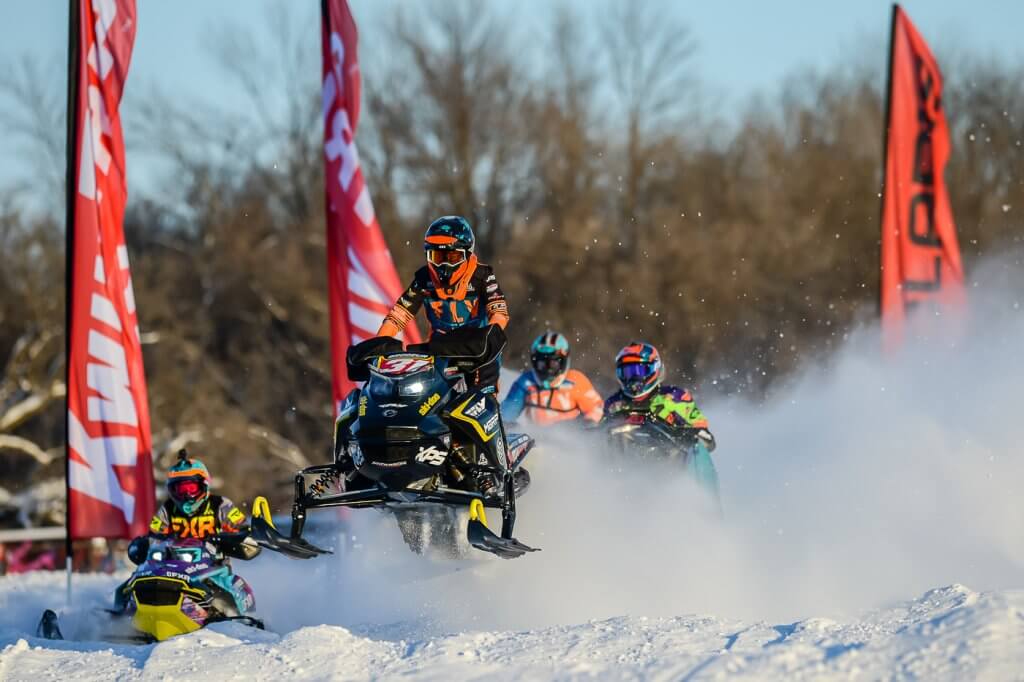 Jesse Kirchmeyer took the first moto win in the Snowbike class but his bike stalled out while leading in Moto 2. Cody Matechuk was the eventual winner in the second moto.
Emeric Legendre Perron was a triple winner on Saturday, taking home wins in the Sport Lite, JR 16-17 and JR 14-15 classes.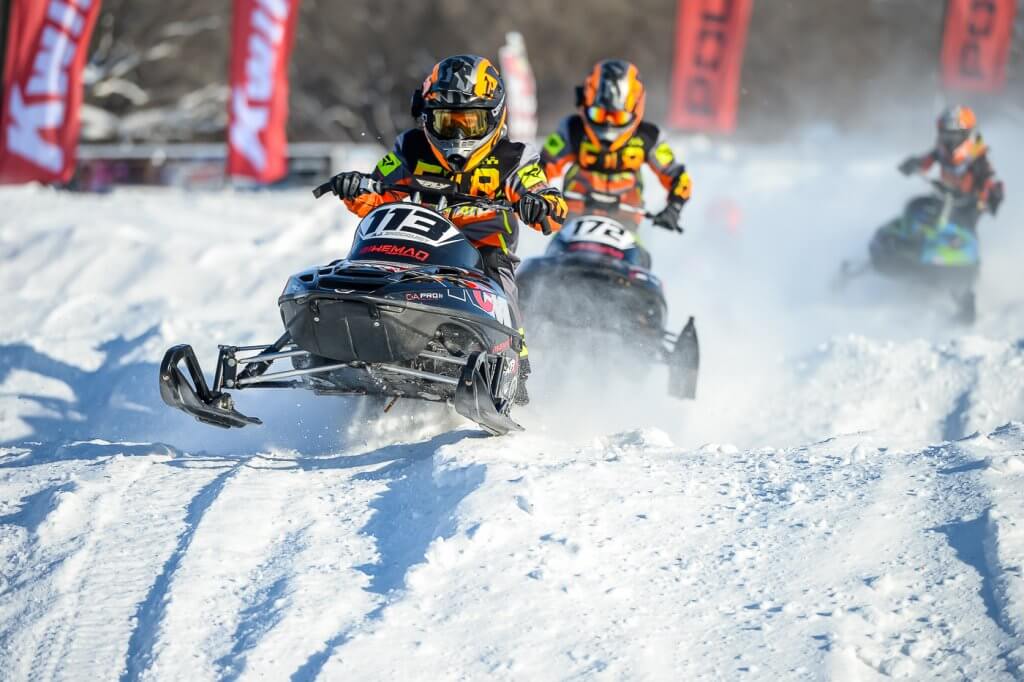 Other class winners include Brady Freeland (Transition 9-13), Tanner Johnson (JR 1-13), AJ Skogquist (120 Champ), Rylan Nelson (200 Champ) and Kendal Rose (Transition 8-10).