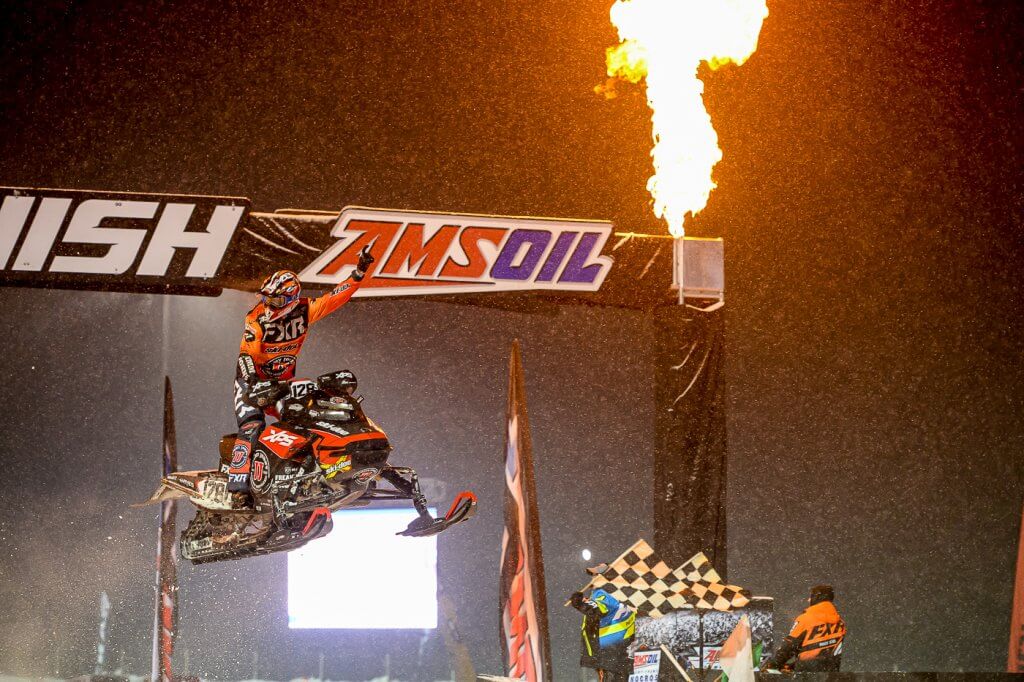 Dubuque, Iowa ~ The AMSOIL Championship Snocross, POWERED by RAM offered racers and fans a new circuit this weekend as the annual stop in Iowa moved across town to the Dubuque County Fairgrounds.
The new home of the Theisen's Snocross National was really challenging for racers, mixing a fast start, big rhythm sections and multiple passing options. That held true for the points leaders in the top classes, as both Elias Ishoel and Hunter Patenaude had to fight their way to their respective finals via the LCQ. In the end, a first timer a past winner put a new stamp on the final podiums.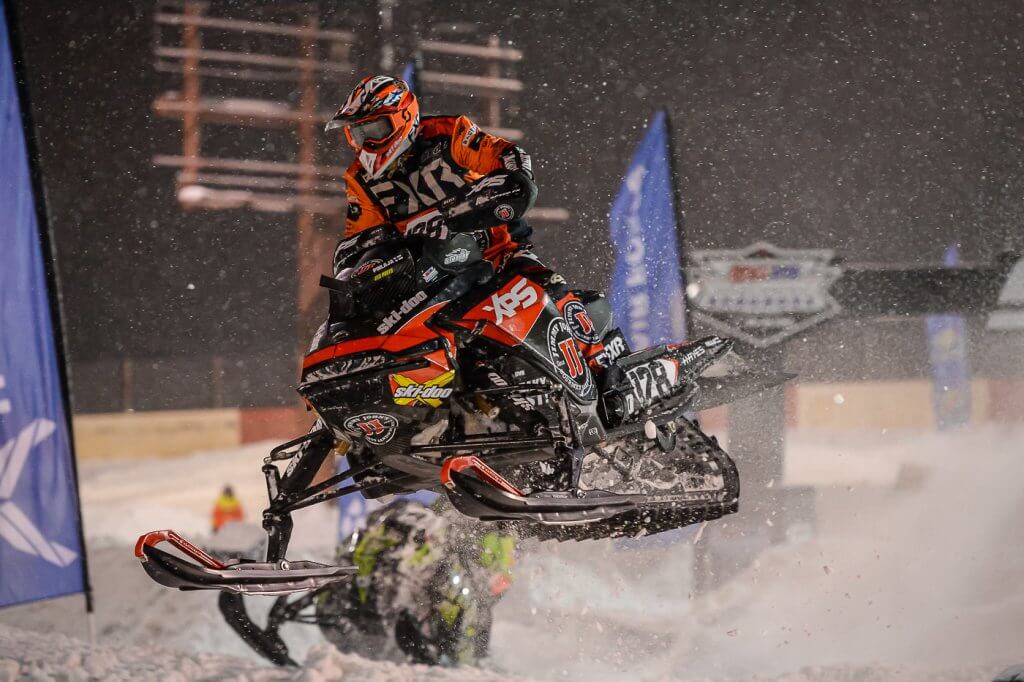 An Aki Assault in the Pro Final
It's easy to miss the season Ski Doo's Aki Pihlaja is having. His teammate, Elias Ishoel, is grabbing most of the headlines as the Pro points leader. But make no mistake, Pihlaja is having another great season, picking up three podiums including a win in Fargo.
Much like his teammate, Pihlaja is dangerous in the open air. A little separation is all he needs, and that's what he got in the final. The first turn was extremely fast in Iowa, and Pihlaja found untouched lines immediately after the opening left-hander. Almost a year to the day he picked up his first career Pro win, Pihlaja grabbed his second of this season by leading all 14 laps despite dealing with health issues.
"I wasn't exactly sure, because yesterday I got some kind of food poisoning,"
said Pihlaja. "I didn't feel good for most of the day, but I got some help from the FXR Mobile Medical team. I got a good start, and yeah, I feel pretty good now."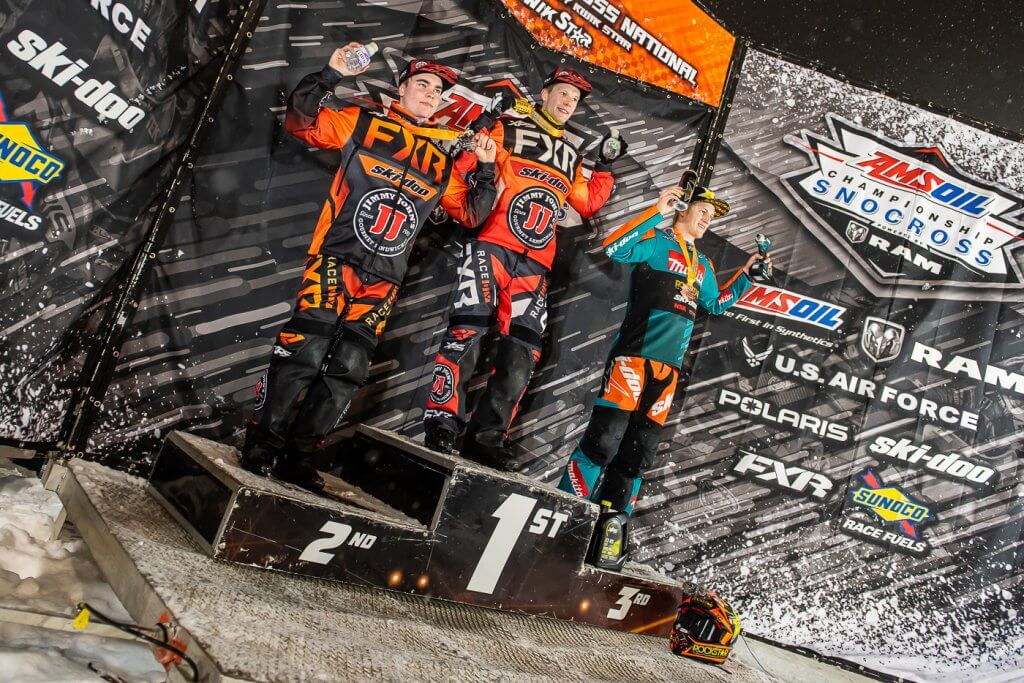 Ishoel wasn't far off his teammates pace. The defending champion dealt with early pressure from a slew of riders, but was able to keep a solid distance in front of them while trying to chase down the leader. It wasn't the cleanest days of racing for Ishoel who had an uncharacteristic dismount in his second heat race.
"I struggled the whole day," said Ishoel. "I actually got the hole shot in the second round and I just fell over on flat ground near the start line. After that, I just needed to settle down and take it easy."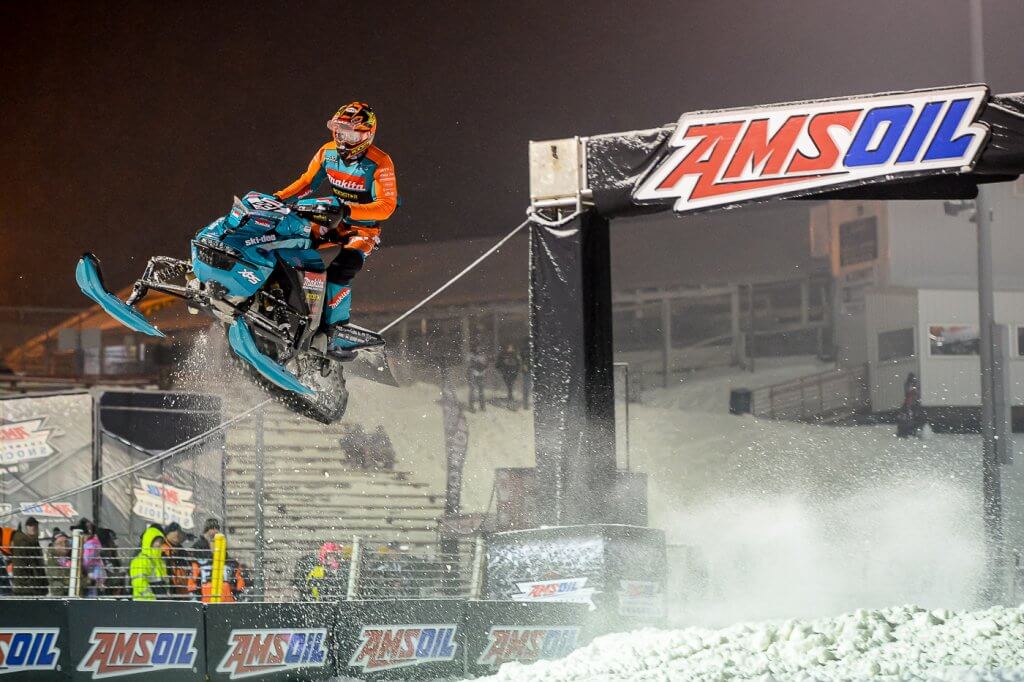 The battle of the night took place for third. Travis Mueller held the position early before Polaris' Emil Harr took over on lap four. Harr looked well on his way to his first podium in the U.S. but round eight winner Daniel Benham worked his way from a mid-pack start and was looking for a second-straight podium. Benham kept working the outside lines, making the pass stick on lap ten.
"I don't know who was behind me," said Benham. "But they were putting serious pressure on and I thought, 'I just have to make this happen now.' We just kept plugging away, made a few passes and we're able to get up here."
Harr put in his best ride of the season finish fourth. Ski Doo's Lincoln Lemieux put in a valiant ride after crashing earlier in the day and aggravating his shoulder to finish fifth.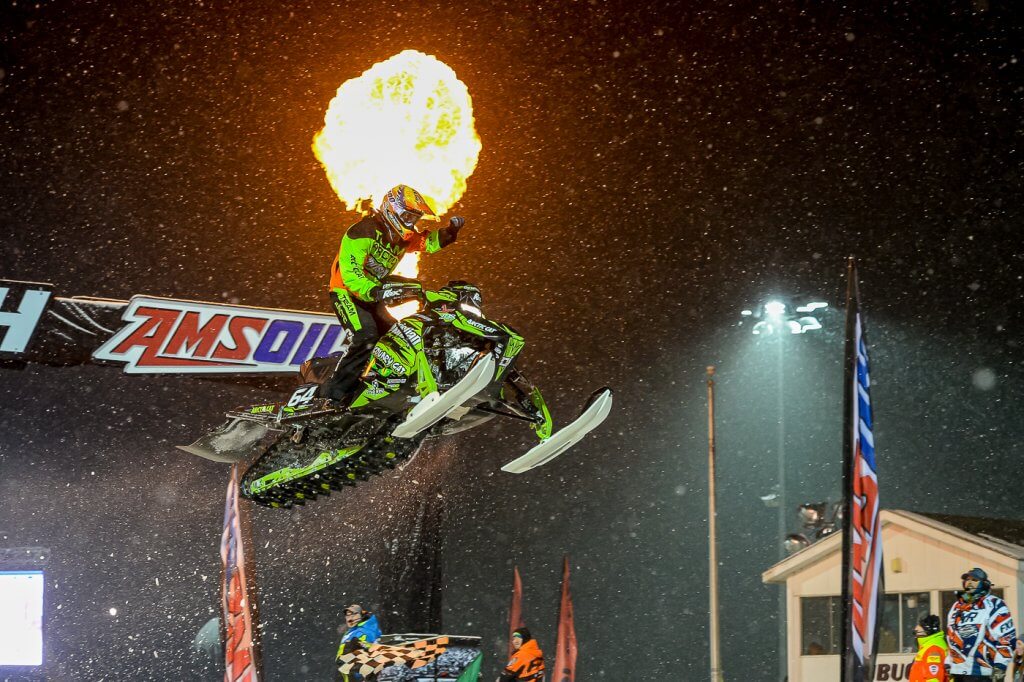 Pro Lite
The Pro Lite field has been predominantly dominated by Ski Doo's Hunter Patenaude (six wins) and Francis Pelletier (two) this season. Neither would make the podium on Friday night, giving way to a trio of riders with one combined podium this year and none sitting inside the top ten entering Dubuque.
Arctic Cats Andy Pake has gone through the typical rookie roller coaster this season. He picked up a podium in Fargo but was still looking for his breakout moment of his pro lite career. In the final, Pelletier grabbed the holeshot but immediately started to slow and pulled to the side. Officials had knocked him for jumping the start giving Pake the opening he needed. He had early pressure from a handful of riders, but the clean track was all he needed to pick up his first career win in Pro Lite.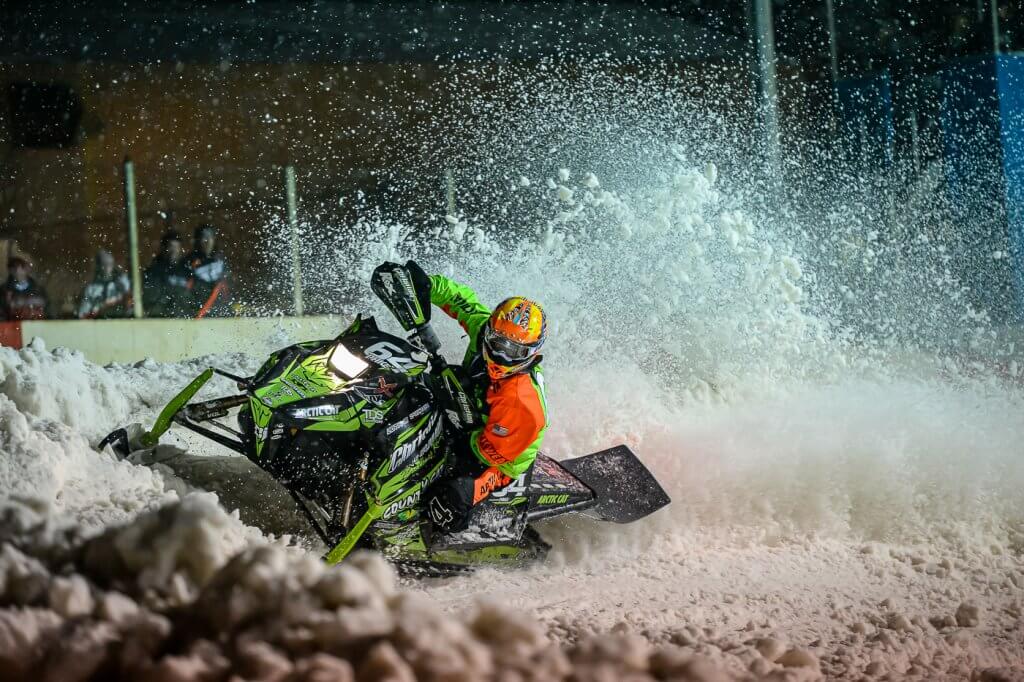 "I almost had an off right there on the first lap," said Pake. "I just told myself if I just stay on and ride my own race, it will end up good. And here we are."
It was also a night of firsts for the other two riders on the podium. Neither Camryn Anderson nor Travis Kern have been in the winner's circle this season. But both put in strong, disciplined rides on Friday night. After battling with Kern for several laps, Anderson was able to grab ahold of second half-way through the ten lap final.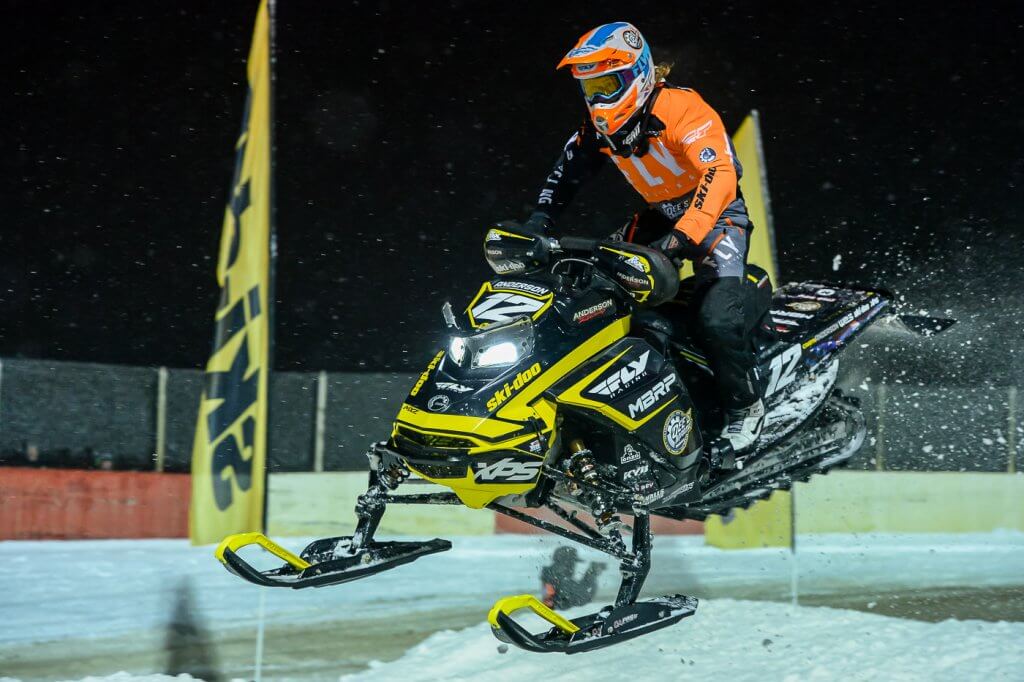 Kern's trip to the box took a little more effort. After falling behind Anderson, he was later passed by Patenaude. A mechanical issue for Patenaude on lap eight opened the door back up for Kern, who took advantage pressured Anderson for the final two laps.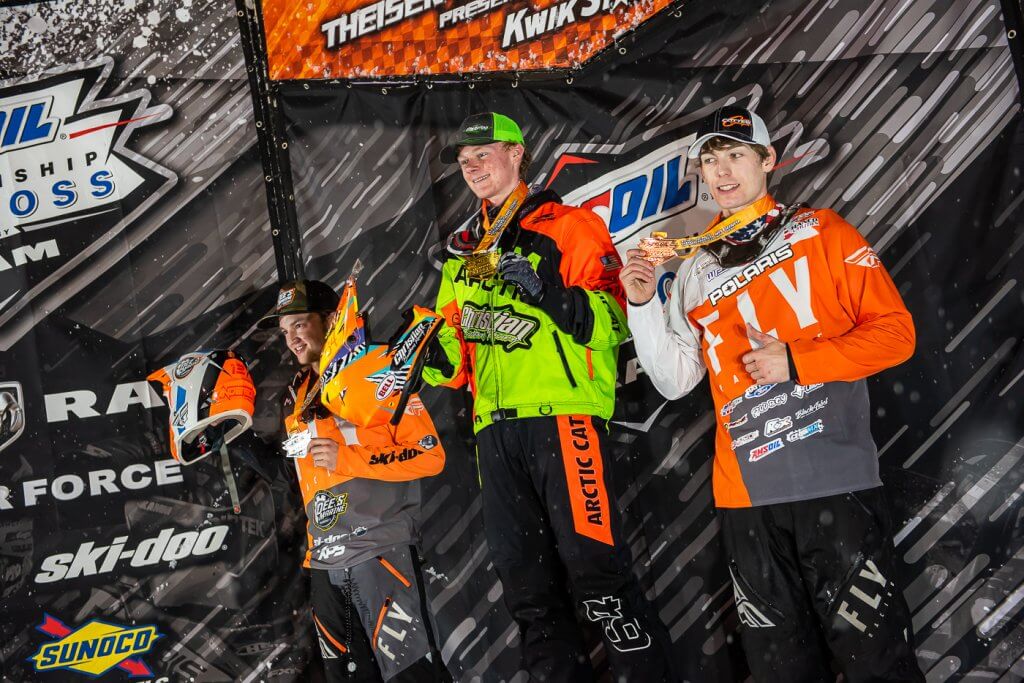 "I got a good start," said Kern. "I didn't qualify that great. Once I got a good start, I knew I had to pick my lines, stay smooth and stay right there with the front pack. I knew I could do it.
Samuel Blouin finished fourth and Evan Daudt rounded out the top five. Pelletier was able to work his way back to sixth, picking up important championship points on Patenaude who finished 14th.
Friday Night Lights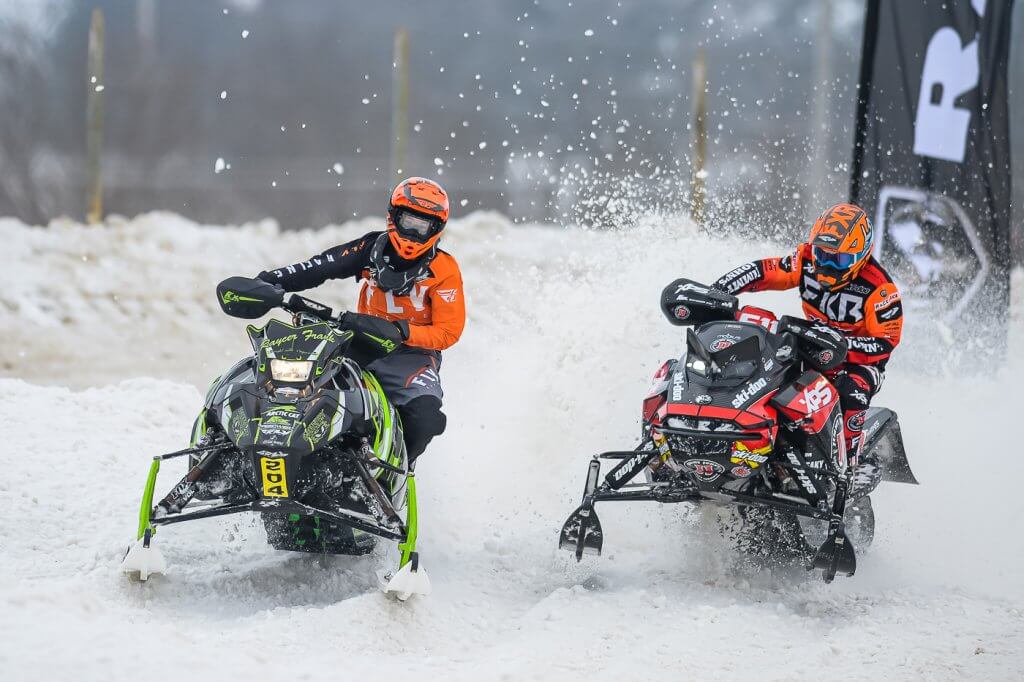 Arctic Cat's Raycer Frank continued his assault on Sport Lite on Friday night. The young gun picked up his sixth win in Sport Lite ahead of Drew Freeland and Mat LaMoura, who both made passes on the last lap to finish in second and third respectively.
Ski Doo's Jordan Lebel picked up his sixth win of the year in the FXR Sport class. He took the six-lap final ahead of Kenny Mandryk and Carson Alread.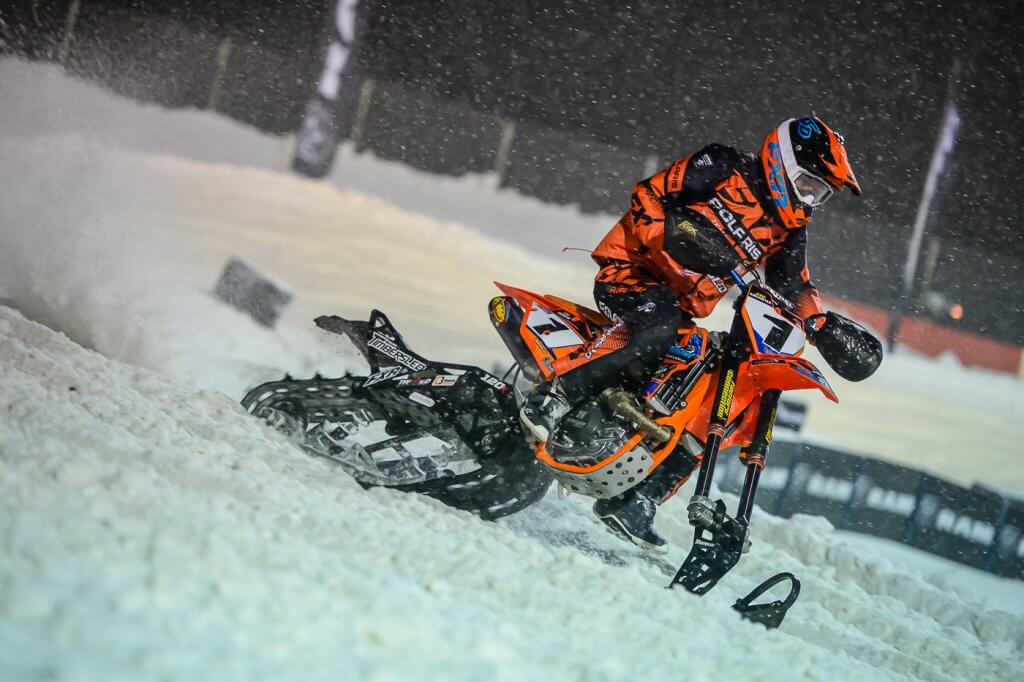 Two of the three 2020 Winter X Games SnowBike medalists made their way to Iowa this weekend. Bronze Medalists Jesse Kirchmeyer rode flawlessly in the two moto's, going 1-1 for the overall win. Harris Huizenga went 2-3 for second and Colton Davis (3-4) finish third. Silver Medalist Yanick Boucher went 10-2 and missed the podium.
Megan Brodeur continued her dominance this season in the Pro Women's class. Brodeur won easily on her way to her ninth finals win this year. Melane Anderson took the holeshot and finished second ahead of Allisa Ashline.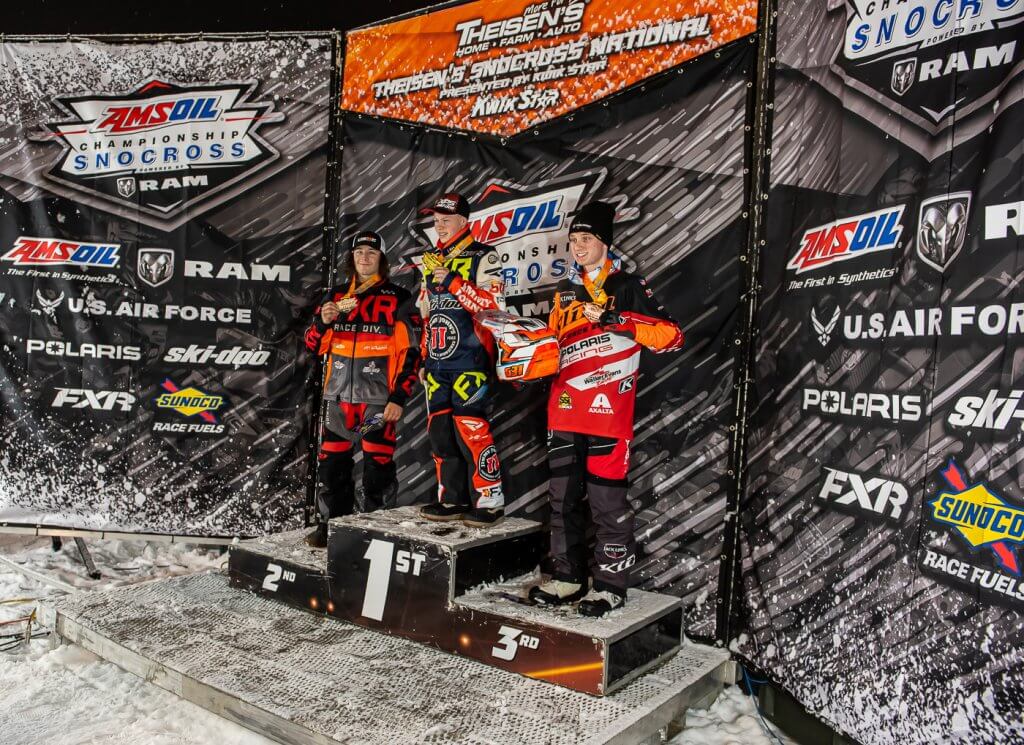 Round 10 of AMSOIL Championship Snocross, POWERED by RAM continues on Saturday. Amateur racing begins at 9:00 AM CST. Opening ceremonies start at 6:00 PM.