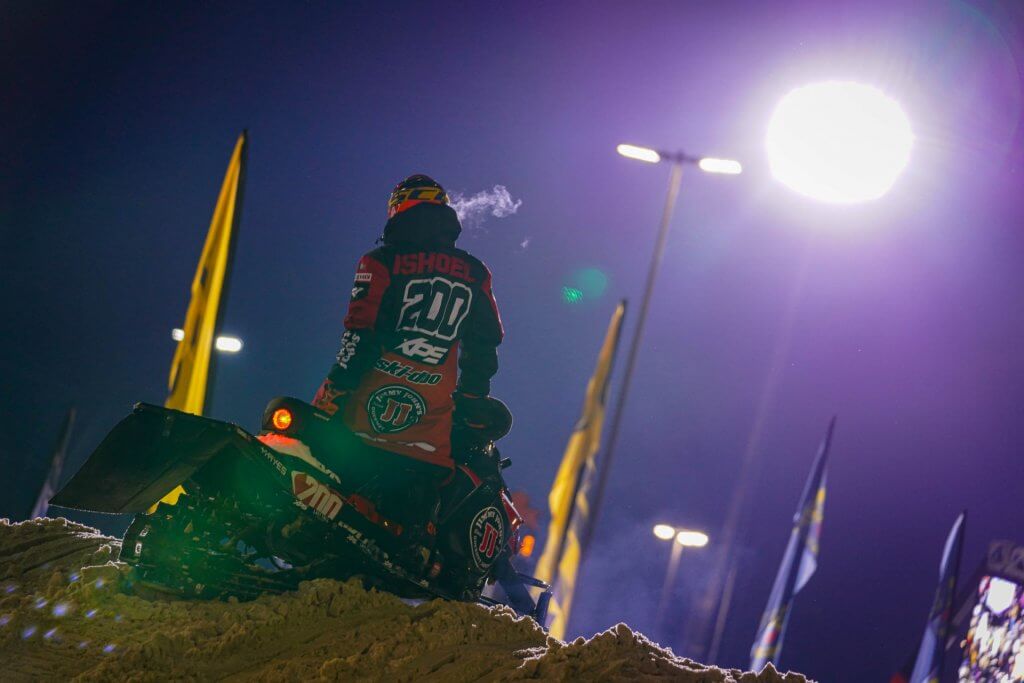 Salamanaca, N.Y. ~ Despite temperatures being well above the freezing mark, there was a perfect storm of storylines as AMSOIL Championship Snocross, POWERED by RAM wrapped up its annual stop in upstate New York on Saturday night.
The track in Salamanaca may best be described as an oval of anarchy. With temperatures hovering near 40-degrees most of the day, the tighter track turned soft, making the sugary snow feel more like the sand sections of Southwick, creating white-knuckle finals, and a few new winners, in all classes.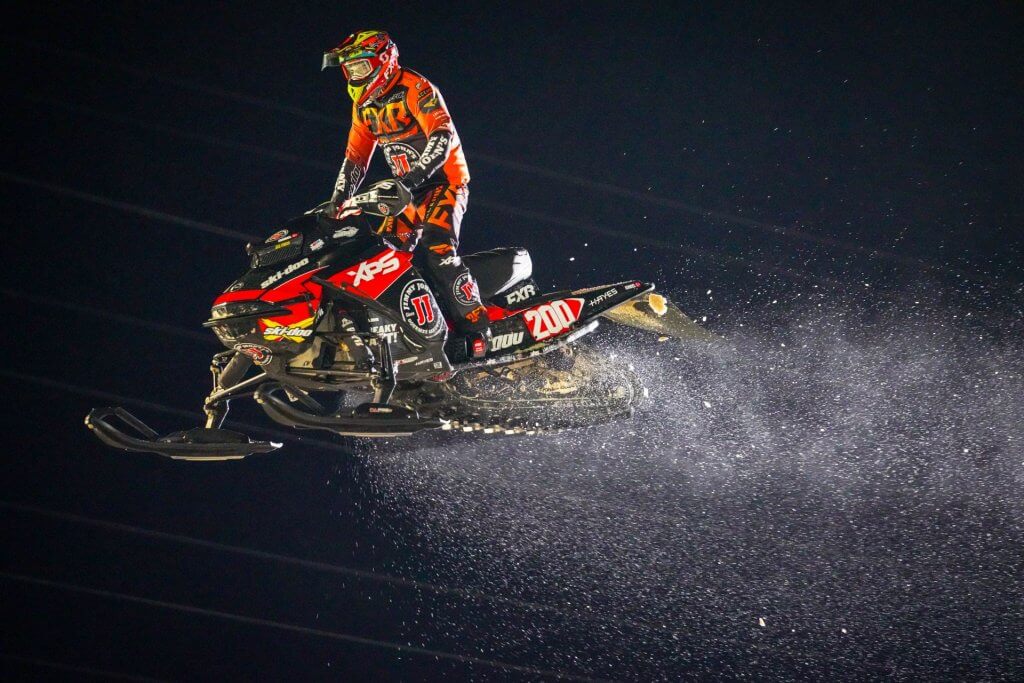 Emerging Elias
There is a certain point in a professional athletes career that they quietly transition from being at the top of their sport to slipping into the conversation as one of their sports all-time greats. Snocross fans might not know it, but Ski Doo's Elias Ishoel could be in the midst of shifting into that realm.
By winning his first Pro title last season, Ishoel was fast and consistent, bookending a strong start of the season with a flurry leading through Lake Geneva. This year, Ishoel has a been the best driver in the sport. His win on Friday night was described as one of the most dominant rides of year on the national circuit.
With a lead that grows with every round, Ishoel continued his ascent to the top of the Snocross world in New York by replicating his season-long success: get-out front early and don't let up.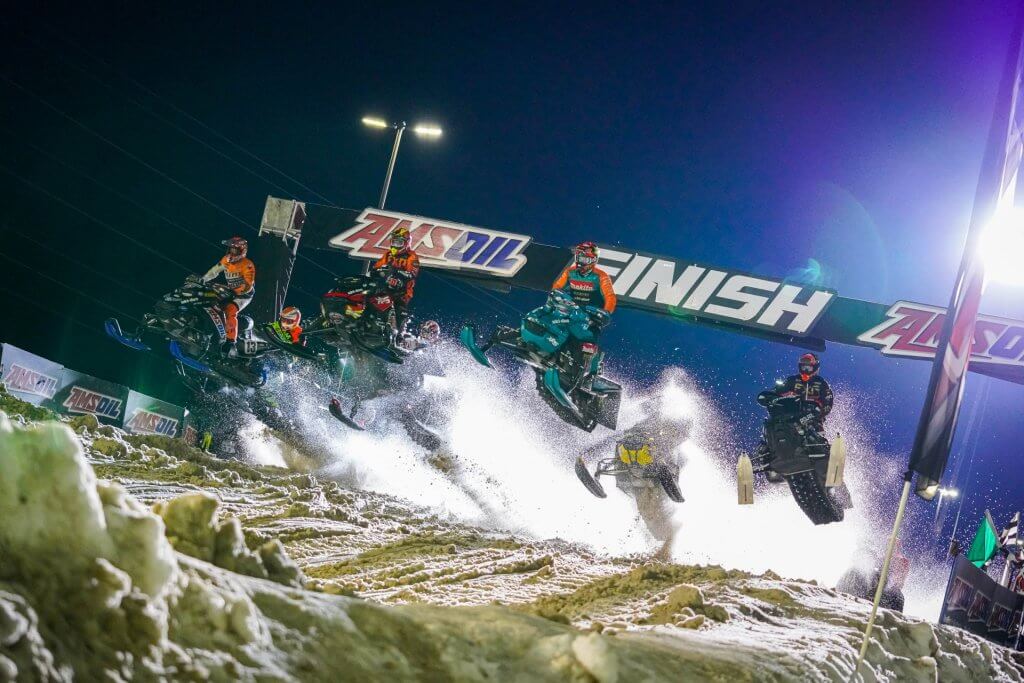 When the green light flicked on to start Saturday's final, Daniel Benham grabbed the hole shot off the fast, straight-stretch start. But Benham's lead quickly dissipated after the Ski Doo rider pushed wide into the first turn. The move allowed Ishoel to grab a lead he wouldn't relinquish on his way to his fourth straight win.
"I really liked (the track) because it was really rough out there," said Ishoel. "You needed to find good lines because it was really changing. It took a lot for me to find the good lines and get the good speed. Being smooth out there, that was the hard part because you could lose a couple of seconds on just one lap."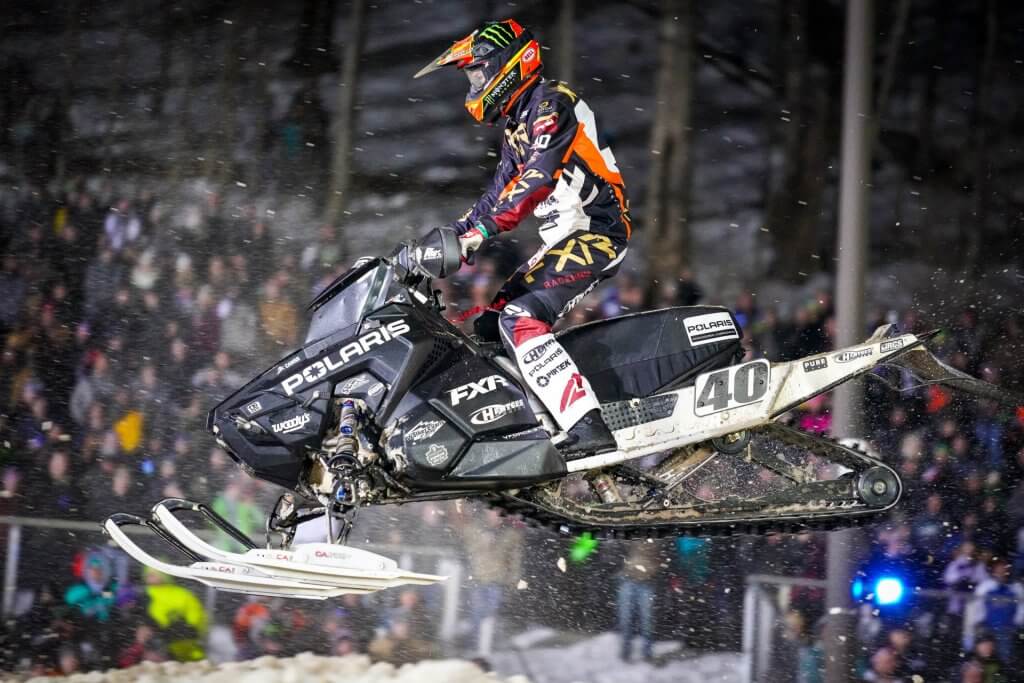 Along with opening the door for Ishoel, the miscue by Benham also made for some great racing behind the points leader. Polaris' Oskar Norum seized control of second place, and took advantage of his hard-charging style to hold-on through a seas of lapped-traffic for his sixth podium of the season.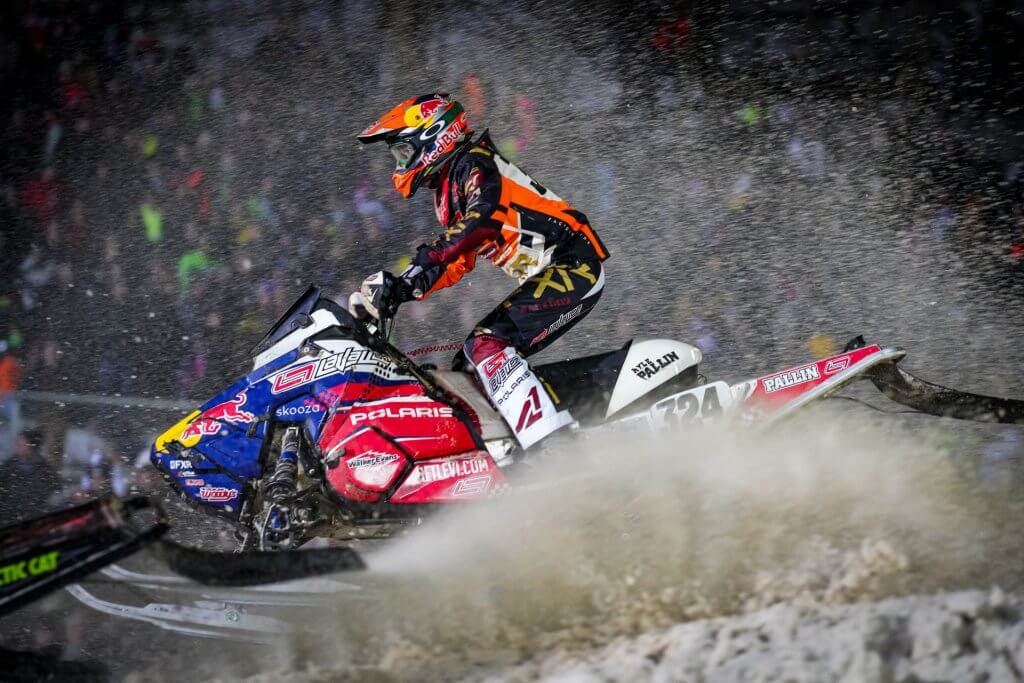 He was pressured toward the end of the final by fellow Polaris rider Kyle Pallin. Pallin's place on the third step of the podium was well earned. He kept within striking distance of third for much of the race, and on lap 20 (out of 22), he made a veteran move on Benham for third. He would track down Norum but ran out of laps, finishing just .582-seconds behind the European champion.
"I had to go through the LCQ, and I just tucked inside (on the start) and somehow I came out in fourth," said Pallin. "I was just so tuned into hitting my marks that race. It just feels really good to be on the box, especially from the back row."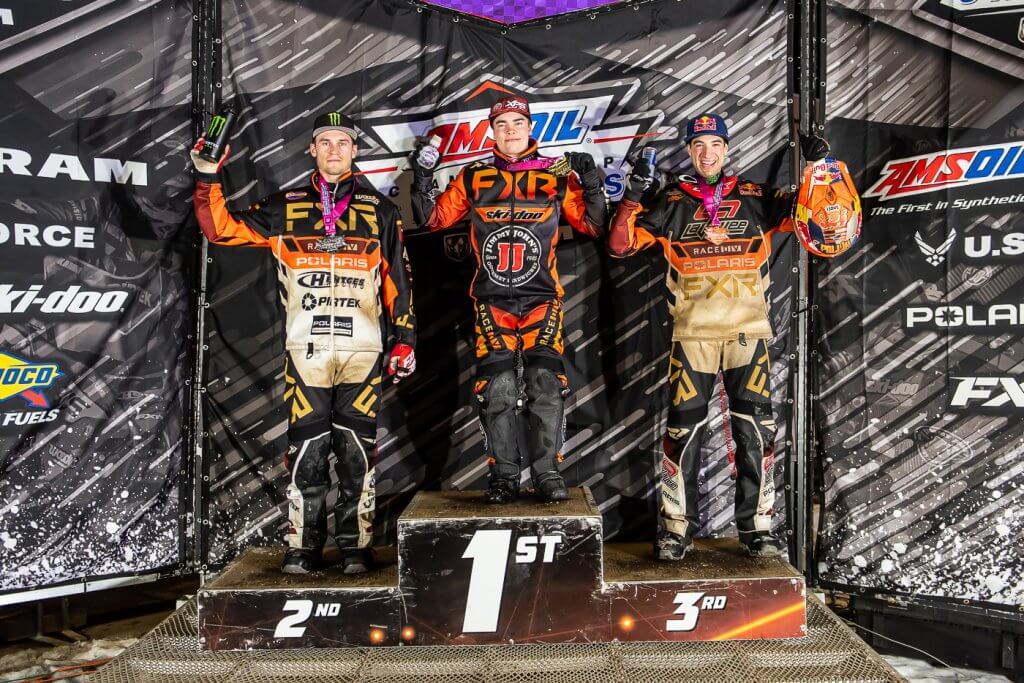 Benham would finish his odyssey in fourth. Aki Pihlaja rounded out the top five.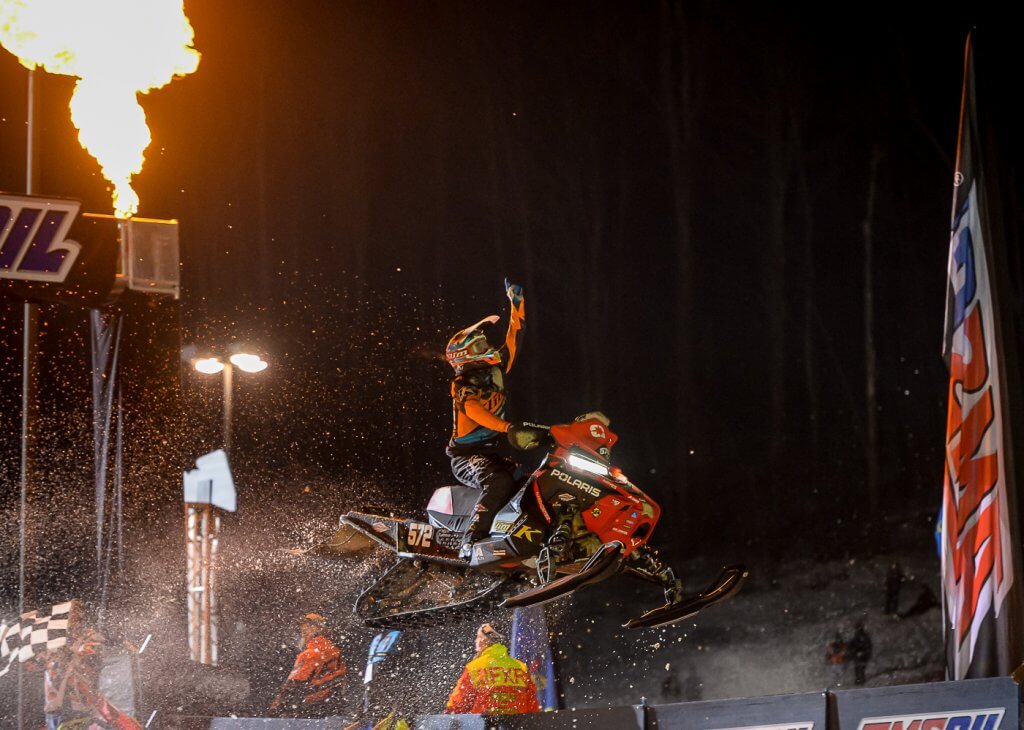 Lorenz Leads Polaris Charge in Pro Lite
Judnick Motorsports Nick Lorenz has officially climbed the steep mountain that has derailed his budding Snocross career the past couple of seasons. A torn ACL and a broken leg kept the Polaris rider on he sideline the past two seasons. His comeback can be considered complete after picking up his first career Pro Lite win on Saturday.
Lorenz's win wasn't easy, especially with the two riders at the head of the class out front early. Ski Doo's Francis Pelletier held a four-point lead over Hunter Patenaude coming into New York and Pelletier struck first with a win on Friday. It looked like Patenaude was going to flip the script on Saturday as he led the field for the first nine laps. But Pelletier kept close and the two riders got tangled on lap ten, causing much of the field, including Lorenz, to get by. Either way, Lorenz was in position to take advantage and grab his first pro win.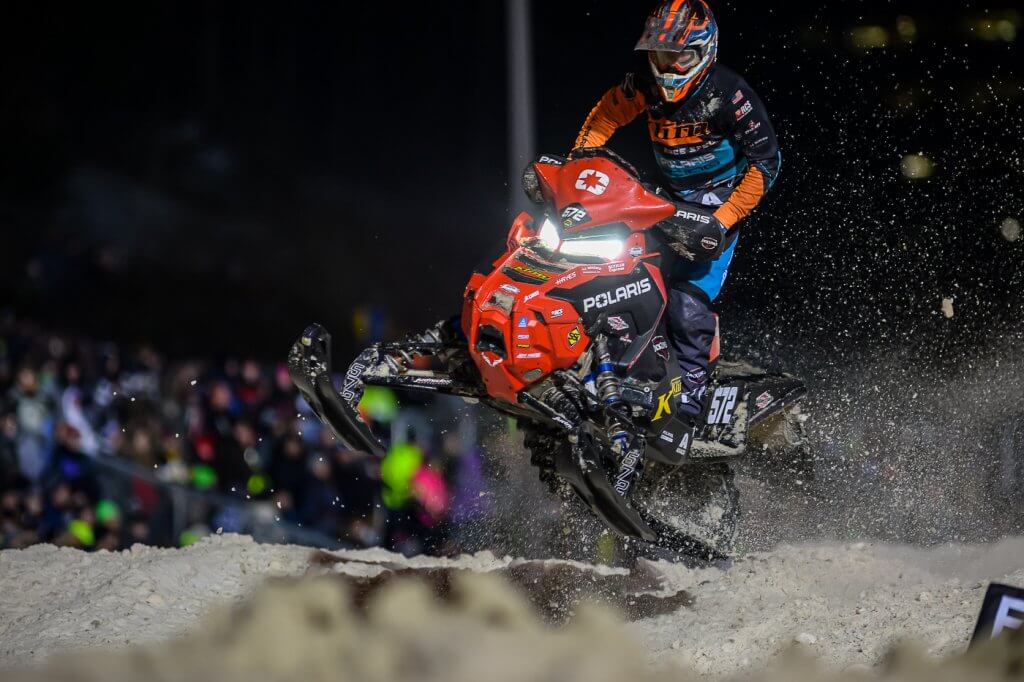 "This has been a long time coming," said Lorenz, "after a good rookie year and two bad years. It's been since sport class since I've gotten a win, so this one means a lot. Yeah, this one means the world to me, to be honest."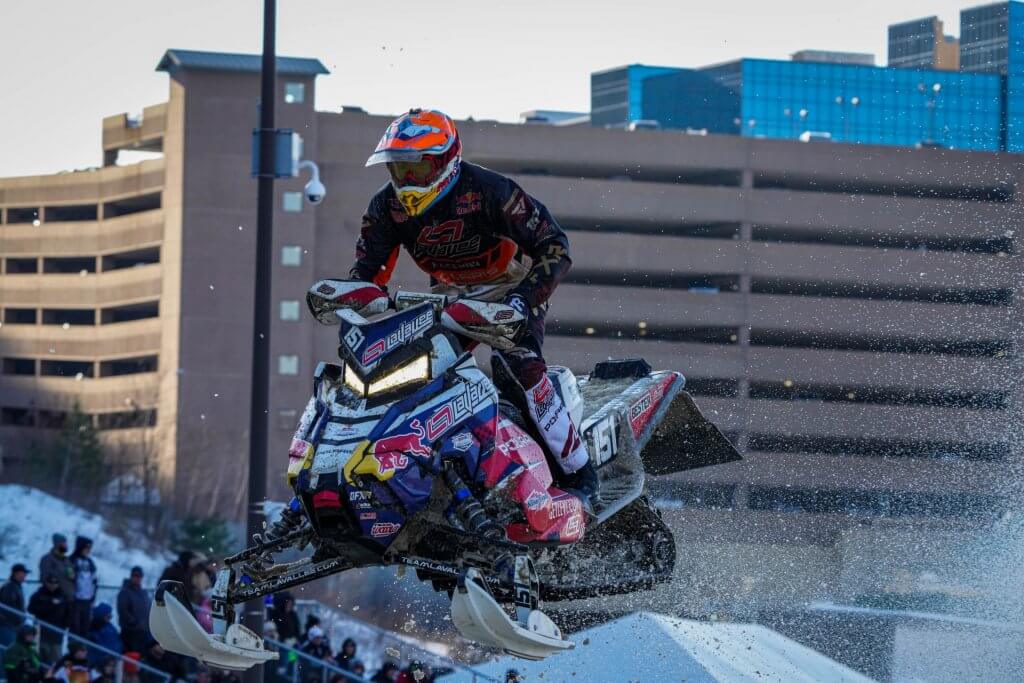 Polaris' Ryley Bester was the initial beneficiary, as he jumped from fourth to first. But Lorenz quickly seized the opportunity, moving from third to first on lap 10 ahead of Bester. For the last five laps, Lorenz opened up his lead finishing more than five-seconds ahead of Bester.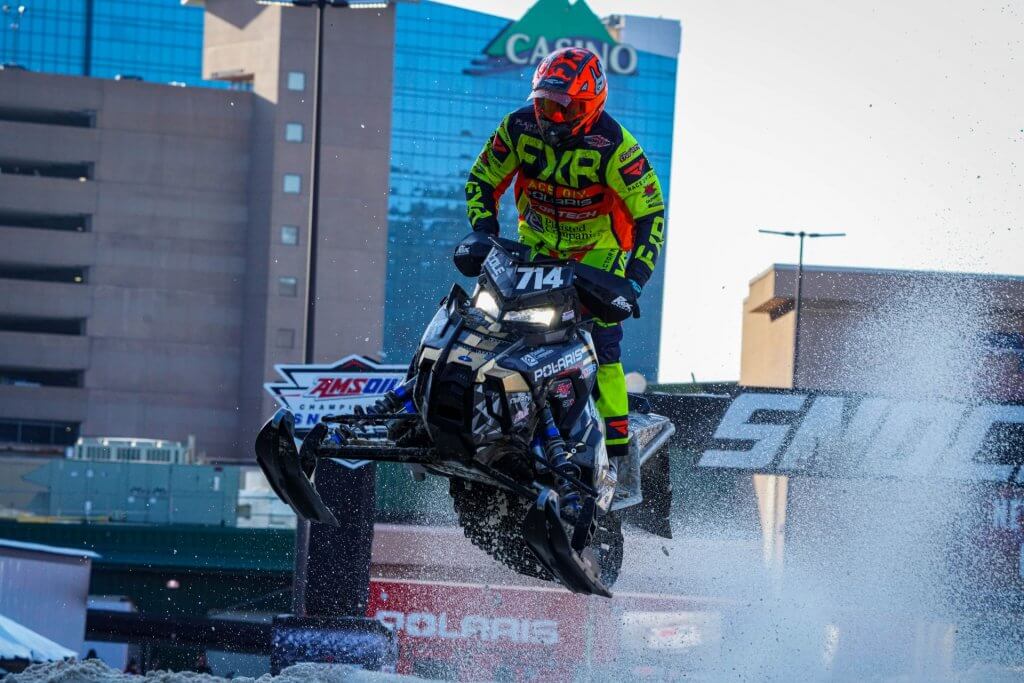 Polaris' Taylor Cole also made the most of the stalled leaders. Cole had worked his way up from 15th off the start to fifth by the time Pelletier and Patenaude crashed. He jumped into third and held off a hard-charging Travis Kern for his first Pro Lite podium.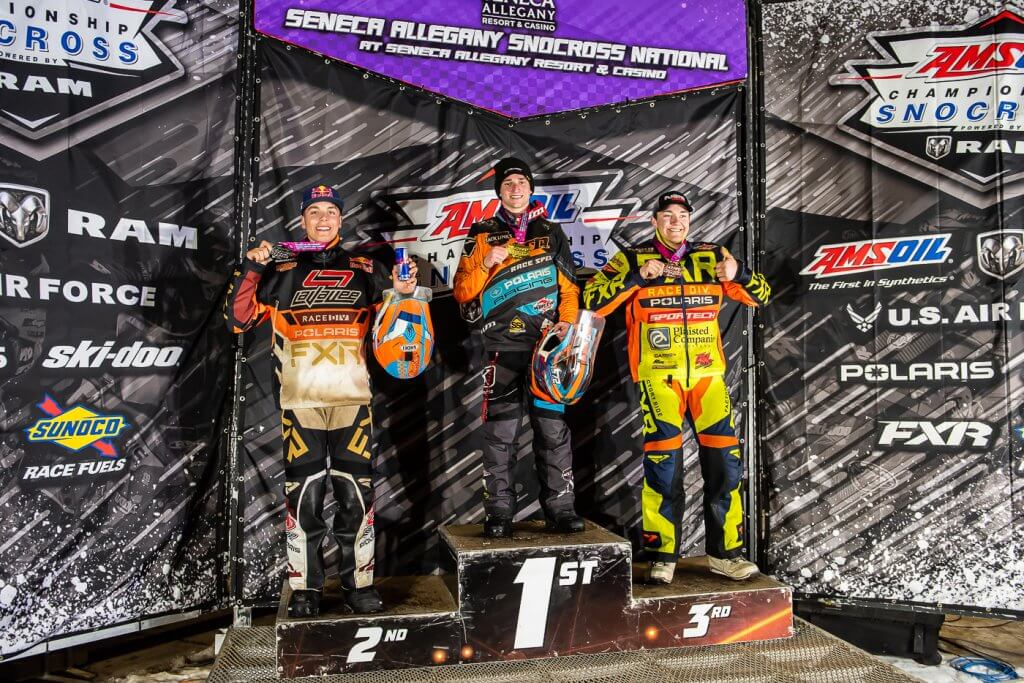 Kern finished fourth with Jay Lura rounding out the top five. As for the points leaders, the on-track incident between Pelletier and Patenaude led to a rough driving penalty assessed to Pelletier. The penalty knocked him down to 15th, while Patenaude was only able to get back to 12th. Overall, Pelletier still holds a four point margin in the championship standings.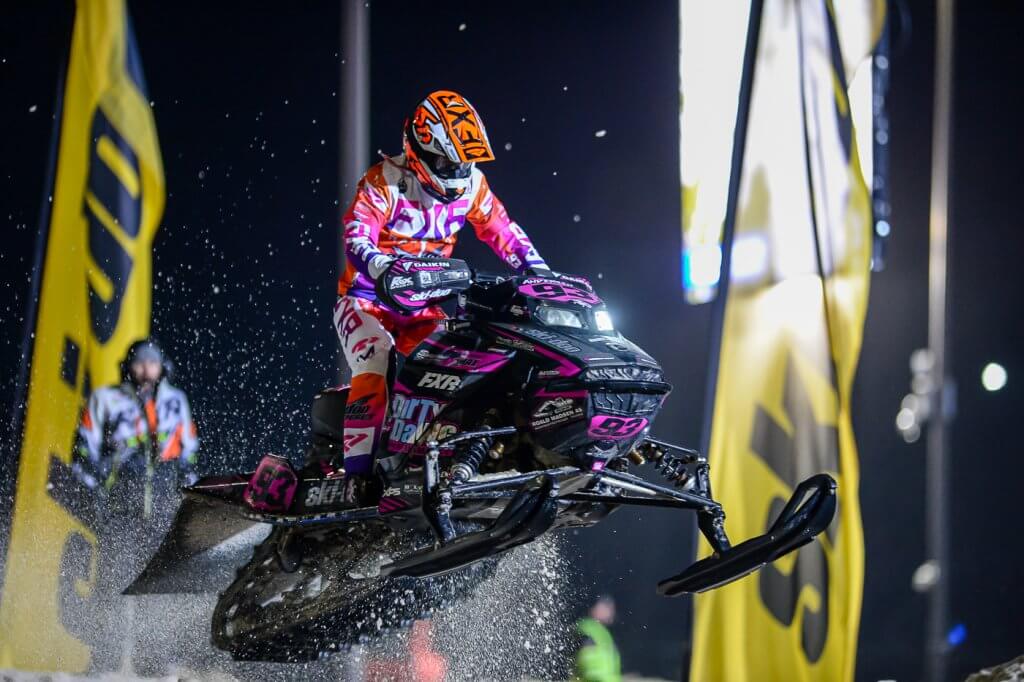 Saturday Night Notes
The perfect season for defending Pro Women's champion Megan Brodeur came to an end on Saturday night. Brodeur led the final for the first three laps before the Ski Doo rider crashed on lap four. That opened up the door for Malene Anderson to pick up the win and end Brodeur's unbeaten streak at 12 dating back to last year.
Brodeur was able to remount her sled and challenged Anderson on the final lap before finishing second. Taven Woodie finished third.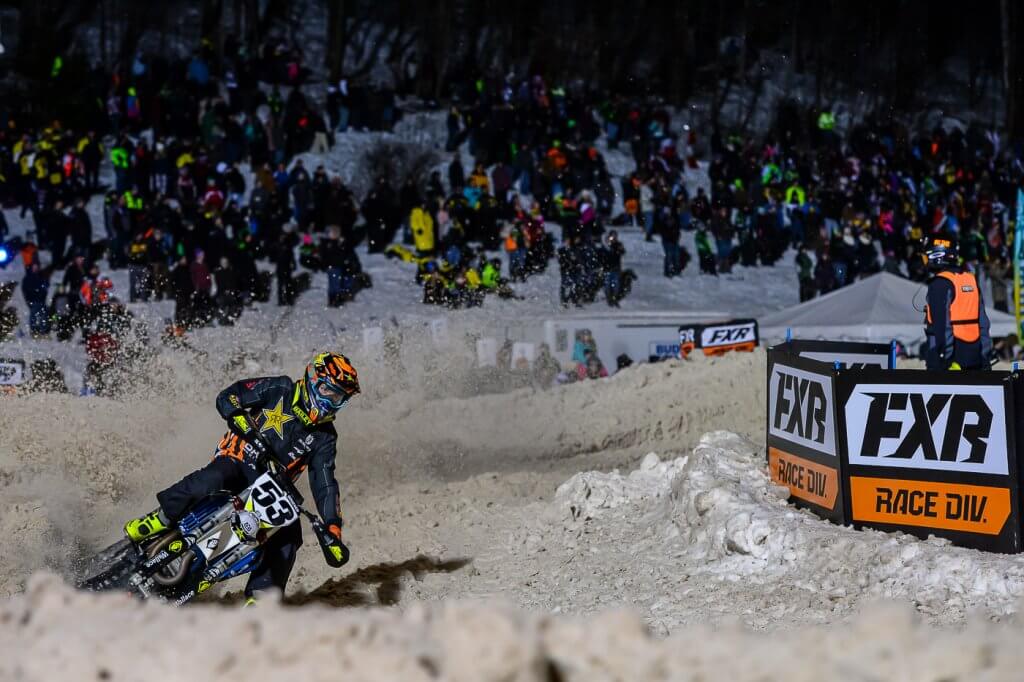 Yanick Boucher went 2-1 in Snow Bike for the overall win in New York. Haarris Huizenga took second overall with a pair of third place finishes in his moto's. Points leader Jesse Kirchmeyer won the first moto but finished seventh in the second race to finish third overall.
Zach Pattyn took control of the Pro AM Plus 30 final on lap five to take home his fifth win of the season. Pattyn got around Japan's Tomosuke Sno, who kept pace with Pattyn for the final four laps to finish second. Steve Martin rounded out the podium.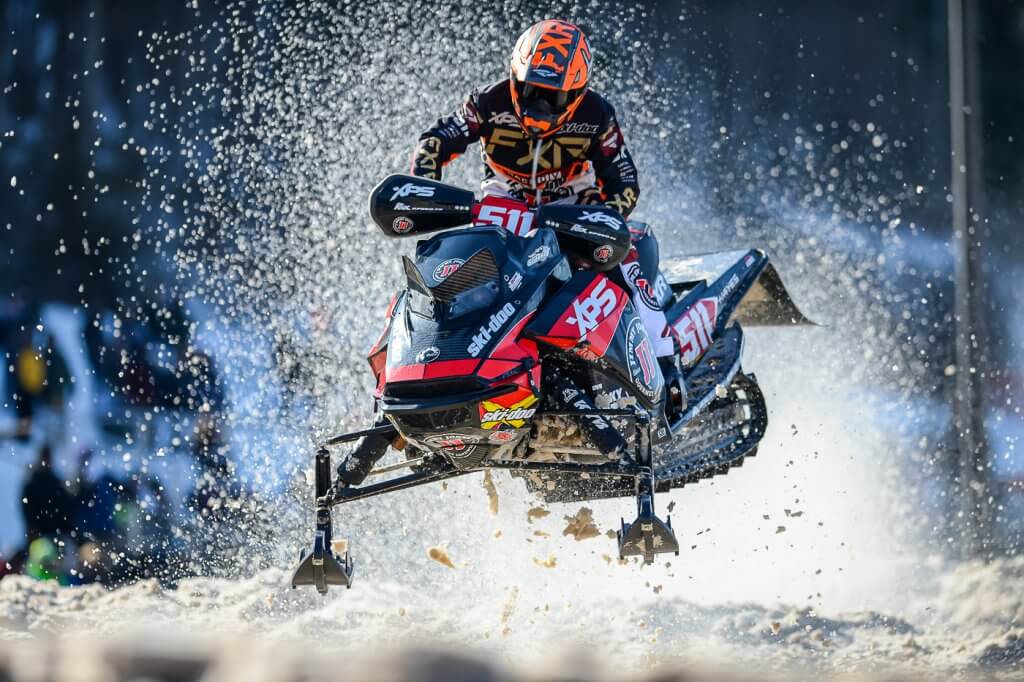 Jordan Lebel led from start-to-finish in the FXR Stock final for his eight win of the season. Kenny Mandryk finished second, with Kaden Woodie slotting home in third.
Drew Freeland won for the second time this season in Sport Lite. Freeland led from the get-go and finished ahead of Jeremy Beaulieu and Eli Epling.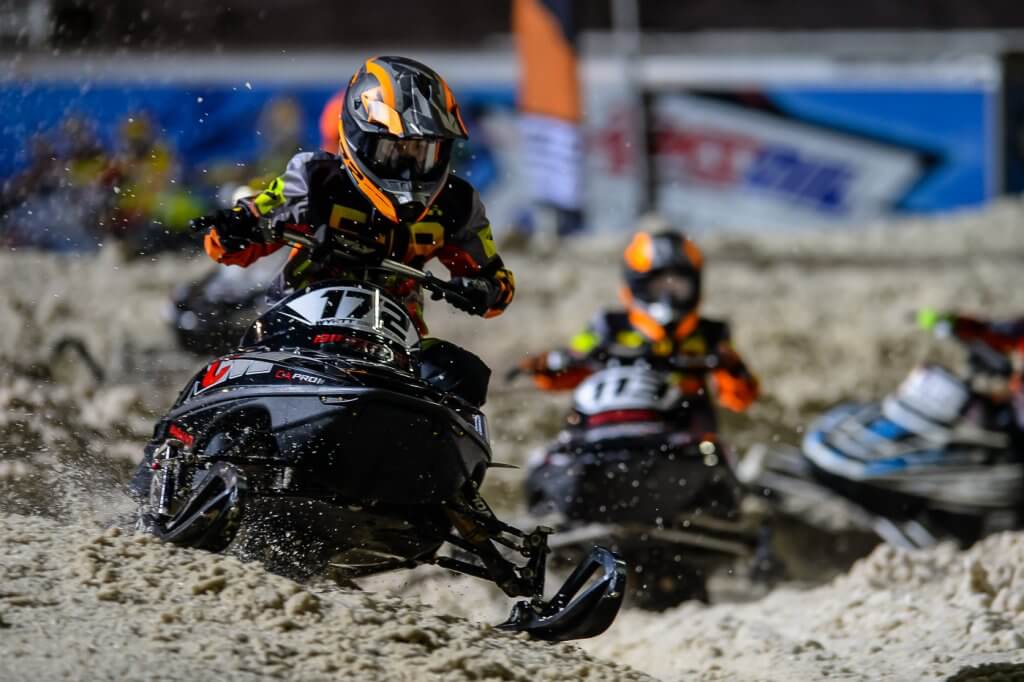 Beaulieu also won the Jr. 16-17 and Jr. 14-15 finals. Other winners in New York on Saturday included: Tanner Johnson (Jr. 10-13), NAA<LI Lebel (Jr. Girls 9-13), Carter Meyeraan (Transition 8-10), Aiden Beckman (Stock 200) and AJ Skogquiest (120 Champ).
Rounds 13 and 14  of AMSOIL Championship Snocross, Powered by RAM, will be held in Grand Rapids, Mich. March 13-14.