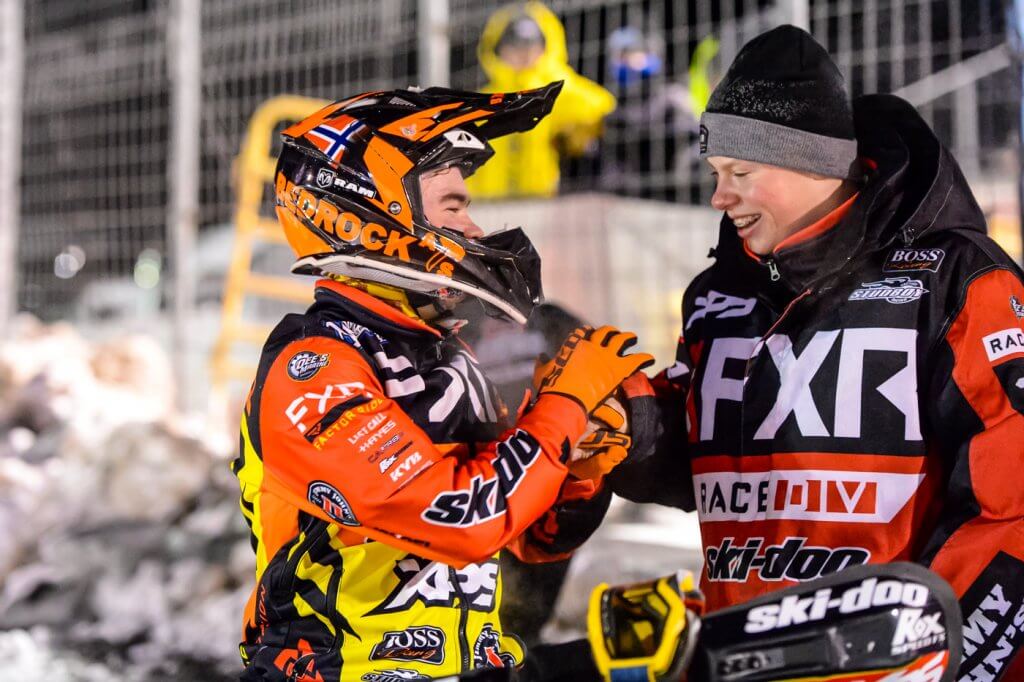 Fargo, N.D. ~ The Red River Valley Speedway in West Fargo, N.D. laid out the welcome mat in a big way on Friday night. A very big welcome mat.
Track builders for the All Finish Concrete Snocross National had a lot of snow to work with, and they built a massive circuit. It is reminiscent of the large layouts traditionally built for the Canterbury National in Minnesota, with big air, stretched out rhythm sections and enough right and left turns to make a rider dizzy.
For those drivers that were able to control their equilibrium, success found them at the finish line, including a pair of teammates in the top tiers.
AMSOIL PRO: It's All Ishoel in Final
It might be odd to say that someone who had already won four Pro finals in 2021 still had some things to figure out. But with the season hid the mid-point, it seems that Boss Racing's Elias Ishoel is rounding back into the championship form that has brought home the past two titles.
Ishoel was on point in the final on Friday night. He had a fabulous start, coming out of the first turn in second, behind Arctic Cat's Trent Wittwer. He found his way past Wittwer by the end of the second lap and was flawless on his way to his fifth win, and a now 41-point lead after seven rounds.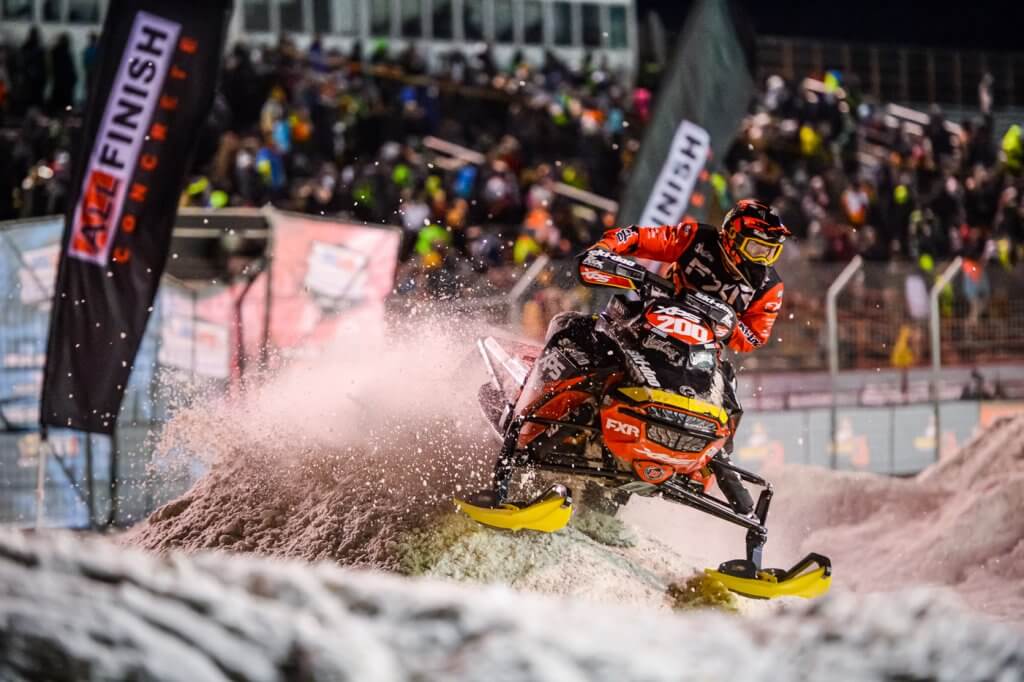 "I was just trying to find the good lines in the final," said Ishoel. "I didn't get the best start in the first round and then I crashed in the second round, so I had to come from the back and I really needed to find a way to get up here. Another good night."
Polaris' Kyle Pallin continued his impressive run of strong final performances. The series Fan Favorite vote winner finished second in Fargo, his second podium of the season, and a fourth straight race that saw him wither battling for the win or a podium spot.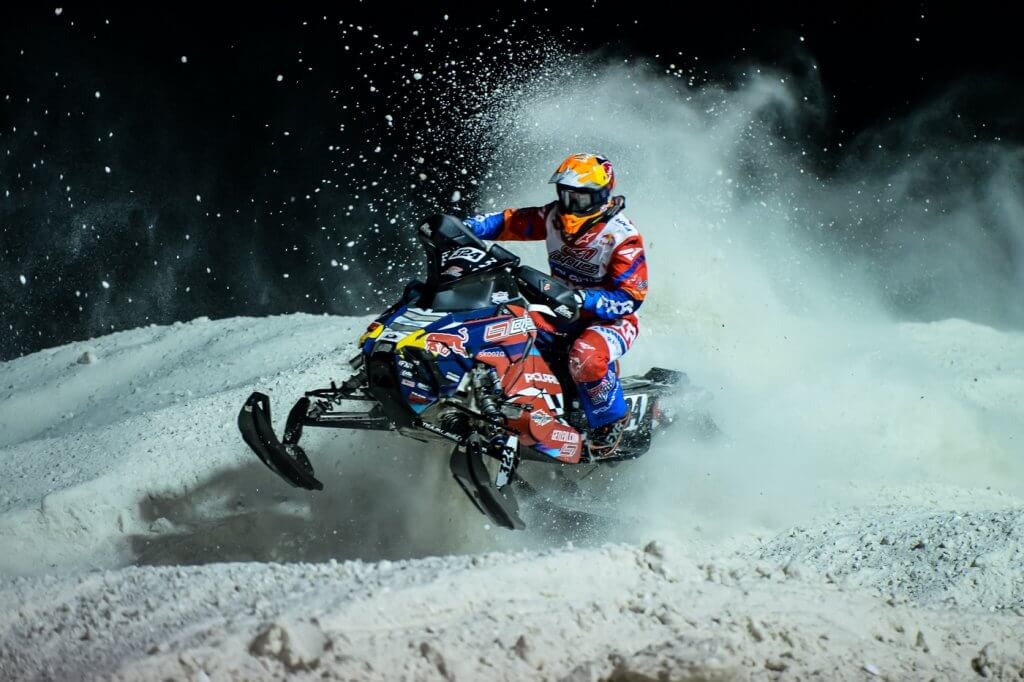 "This track is super technical," said Pallin. "There are jumps and whoops everywhere. It's a lot of timing, a lot of precision, and I really think that suits my riding style. As hard as I've tried, I've never been on to just smash, smash, smash, so I like this a lot. I need to wick it up a notch to get Elias, but it's good to be back up here."
Wittwer battled hard with Ishoel and Pallin, and had his hands full with Francis Pelletier for much of the race. But no matter what Pelletier tried, he was never able to get past Wittwer, who found solace in finishing third, his first career podium after an up-and down 2019-2020 season.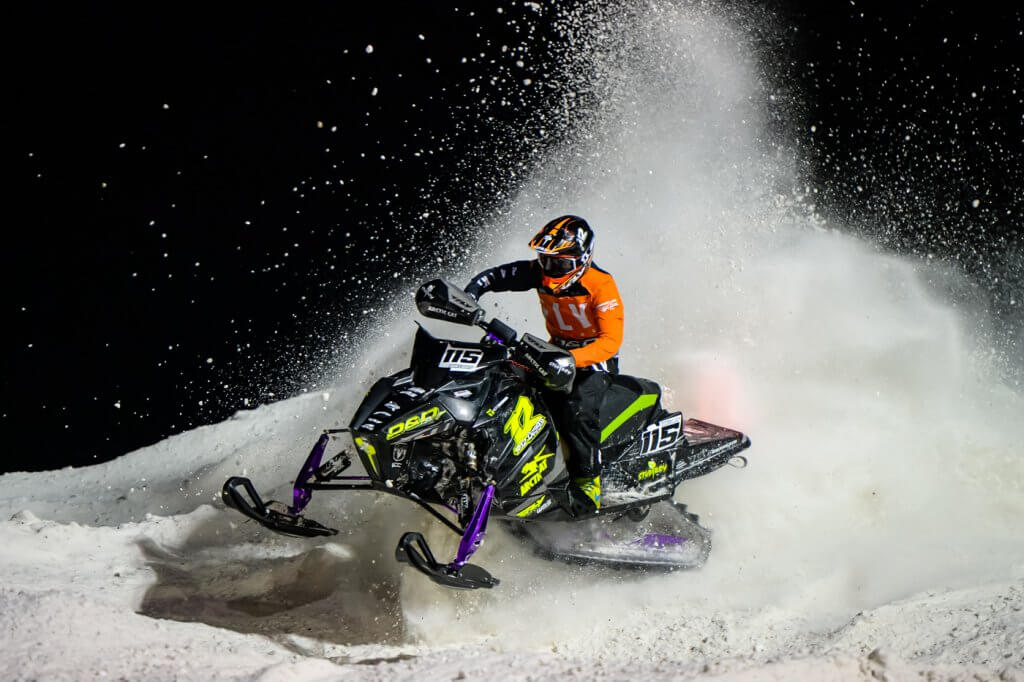 "The whole year we've been dealing with this wrist injury," said Wittwer. "It happened right before ERX, so that was kind of a kick in the butt. It feels good to finally get up here (on the podium). Francis was on my butt pretty good out there, but I knew if I stayed on my lines, I'd be able to stay ahead of him."
Pelletier nearly made it two straight podiums, but finished fourth behind Wittwer. Opening round winner Lincoln Lemieux (Ski-Doo) had several challenges, but came across the line in fifth.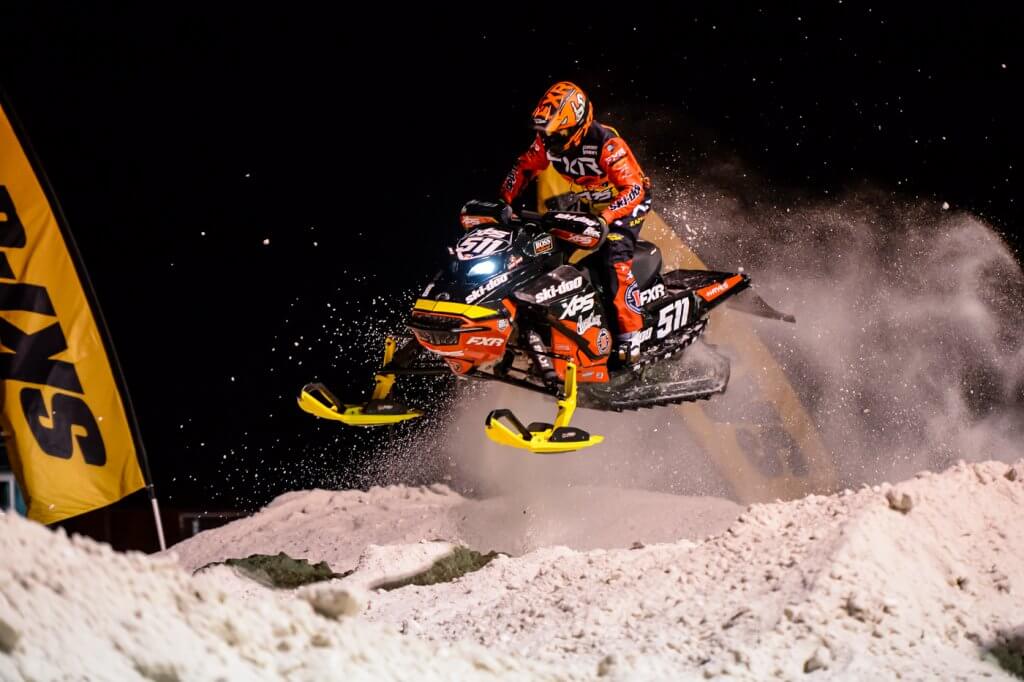 PRO LITE: Lebel Returns with A No-Doubter
It was a double-winning night for Boss Racing, with Ishoel's big win in the Pro final. But you the night got started with an impressive, and somewhat improbable, win from Pro Lite rider Jordan Lebel.
The young Ski-Doo rider was dominant in the Sport class the past two seasons, and his jump into Pro Lite was expected to be a continuation of that success. But Lebel went down during his second heat race of the season at the opening round in Elk River, Minn. He has spent the past month trying to turn a possible season-ending injury into a successful comeback story.
Lebel's return was unexpected, but his performance was perfect. He had an early square-off with points leader Adam Peterson, but made a clean run past the Polaris rider on the second lap. He kept on the throttle as he worked out his preferred lines, and once he found them, he extended his lead over Peterson nearly two-seconds a lap over the final five laps.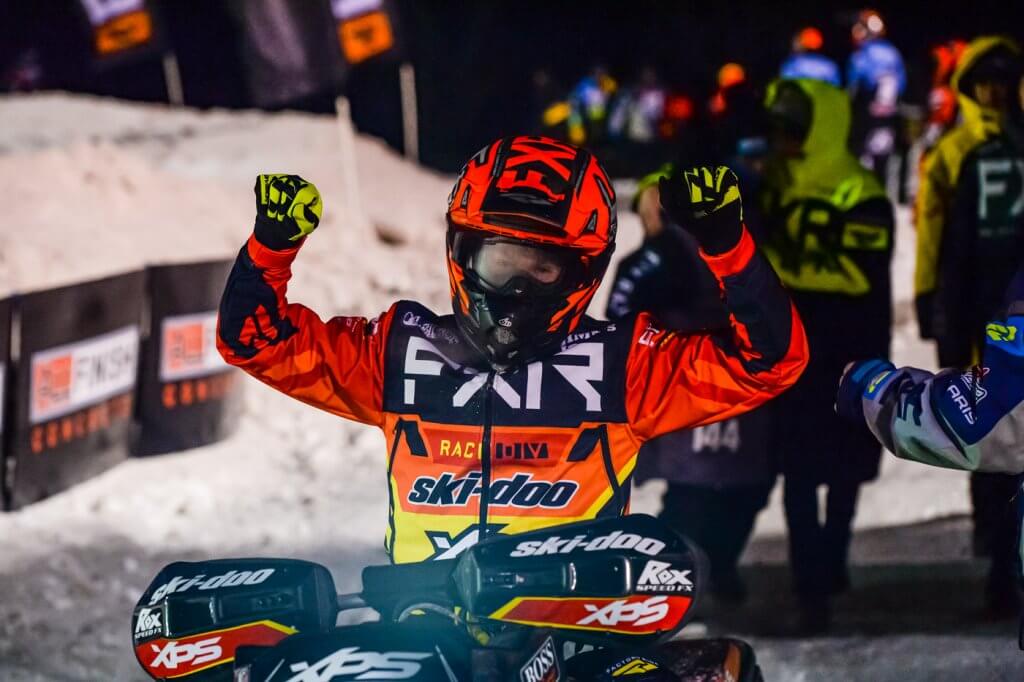 "It was a really good race," said Lebel during his post-race interview. "I had a really good start and just managed my race and found a really good line, and yeah, it was a really fun race."
Lebel's win marked the seventh different race winner in seven Pro Lite races this season. Round one winner, Peterson, was unable to catch Lebel, but his fifth podium of the season allowed him to stretch his overall points lead out to 41-points.
"I just really tried to find clean lines," said Peterson. "It's a really technical track and there are a lot of opportunities to pass, and a lot of opportunities to screw up."
Round Five winner Nick Lorenz continued his recent run of strong final finishes. The Polaris rider started the final in fourth and had kept consistent pressure on Travis Kern before overtaking the round six winner with three laps remaining.
"I was just trying to get a groove and find the best lines, and trying to execute them as fast as I could," said Lorenz.
Kern finished fourth, with Andy Pake rounding out the top five.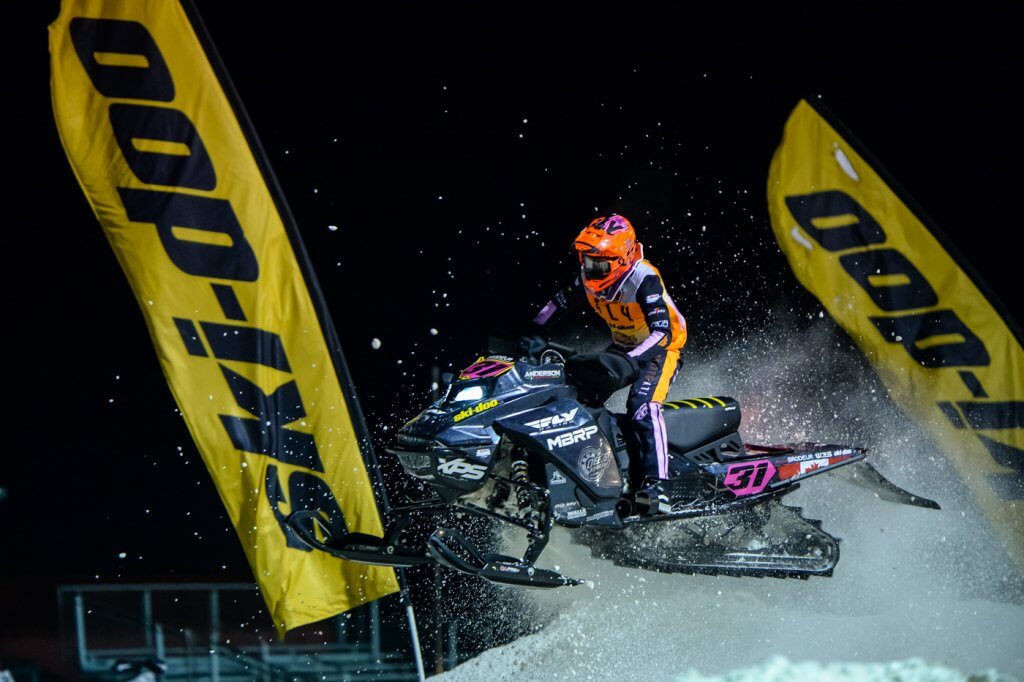 PRO AM WOMEN:
Megan Brodeur has returned to the top of the Pro AM Women standings after a dominant win in Fargo on Friday night.
The Ski-Doo rider took over the lead on lap three after getting past Inanna Hauger. It marked the fourth win of 2021 for Brodeur and the second straight. Landing on the top spot also puts her back into the overall lead after Malene Anderson finished ninth in the final.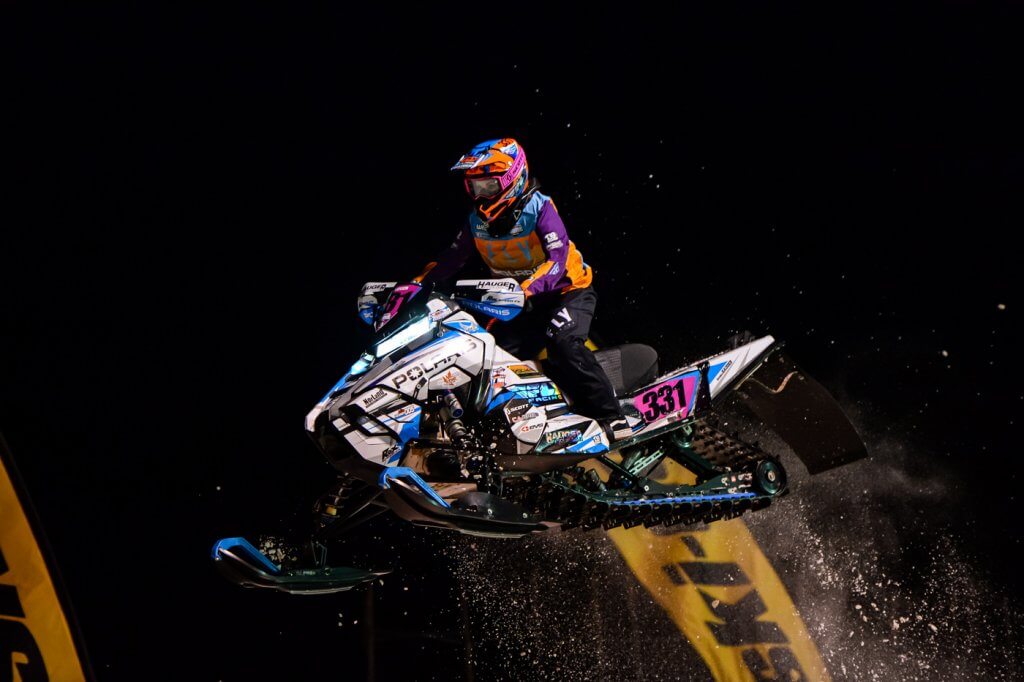 Hauger took the early lead, with Tausha Lange (Polaris) in tow. After Brodeur slipped past, Hauger and Lange would swap positions for several laps before Hauger took ahold of second. Lange would hold on for third.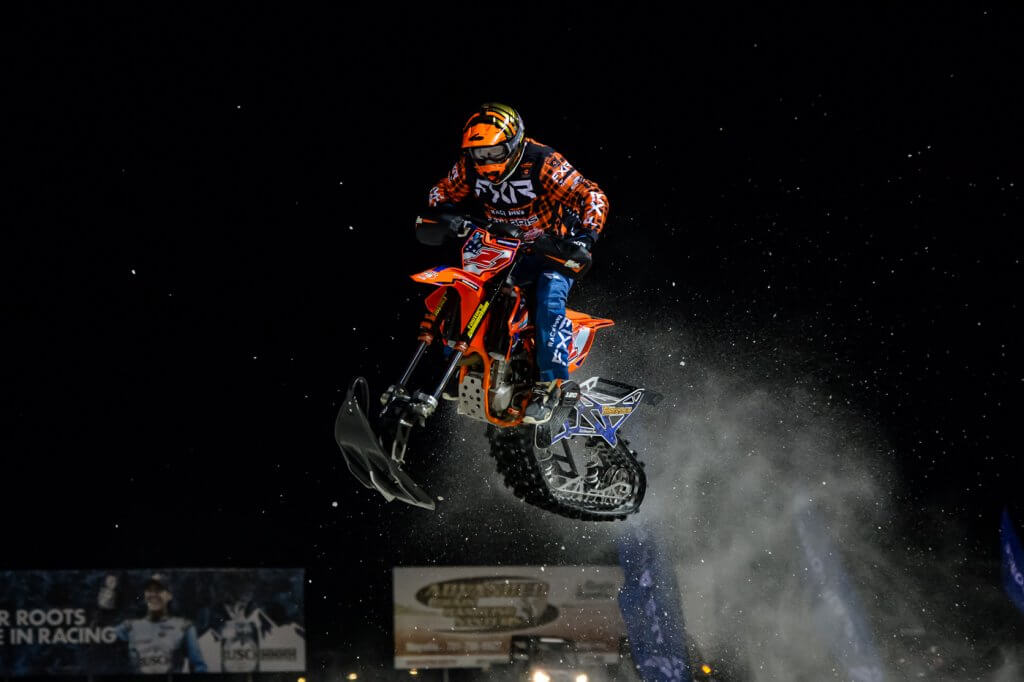 PRO SNOW BIKE: Jesse Kirchmeyer kept his winning streak intact on Friday night. The defending champion once again went 1-1 in the two moto format to take his seventh straight overall win, as well as 14th straight Moto win. Troy Horbaty went 2-2 to finish second overall. Keaton Ward was 3-3 in the Fargo opener for third overall.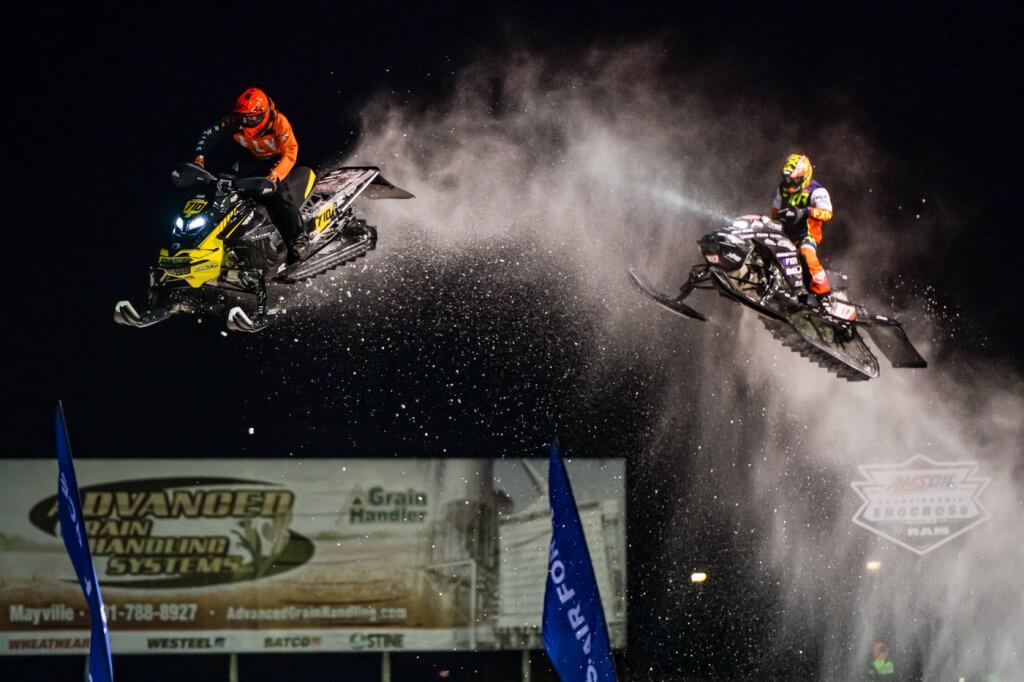 FXR SPORT: Ski-Doo's Adam Ashline finally found the top spot of the podium in 2021. Ashline took over the lead in the FXR Sport final on the third lap, leading the rest of the way for his first class win this season.
Ashline had to run a near perfect race out front, because the battle behind him was intense between points leader Kyle Kuntsman (Ski-Doo) and Emeric Legendre (Ski-Doo). The final running order came down to the wire as Kuntsman held off Legendre for second by .108 of a second.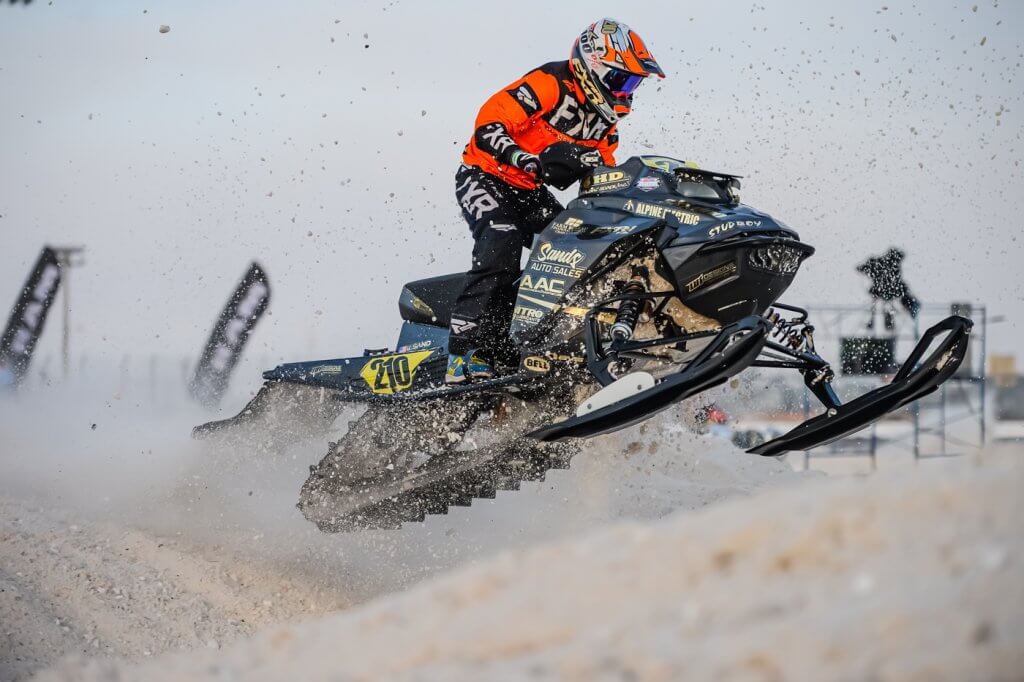 SPORT LITE: Polaris' Kyle Sand lit the lamp for the first time this season after running a flawless Sport Lite final. Sand led wire-to-wire for his first class win. Points Leader Kellen Chapuran had to work his way up after a slow start, finally moving into second on lap sixth after starting seventh. Hayden Meyer pushed his Ski-Doo to a third place finish, his second podium in 2021.
The All Finish Concrete Snocross National will return with a full day of racing on Saturday, including all of the amateur classes. Opening ceremonies at 6:00 PM Central Time. The event will be live streamed at snocross.com.