Eagle River, Wis. ~ It's a two-stroke fueled March Madness this weekend at the World Championship Derby Complex in Eagle River, Wis.
It will also be a sprint to the finish for the 2021 AMSOIL Championship Snocross, Powered by RAM Trucks season, as the series will go through one of the most history spots in snowmobile racing history to decide its overall champions.
For more than 50 years, World Champions have been crowned in Eagle River, and due to a fluid schedule, it will take five nights over back-to-back weekends at the World Championship Derby Complex will decide the final championship standings for the national series.
First up is round 13 and night one of the RAM Trucks Snocross National. Competitors were met with a huge track, featuring big rollers where perfect timing and proper patience were needed to conquer The Derby Track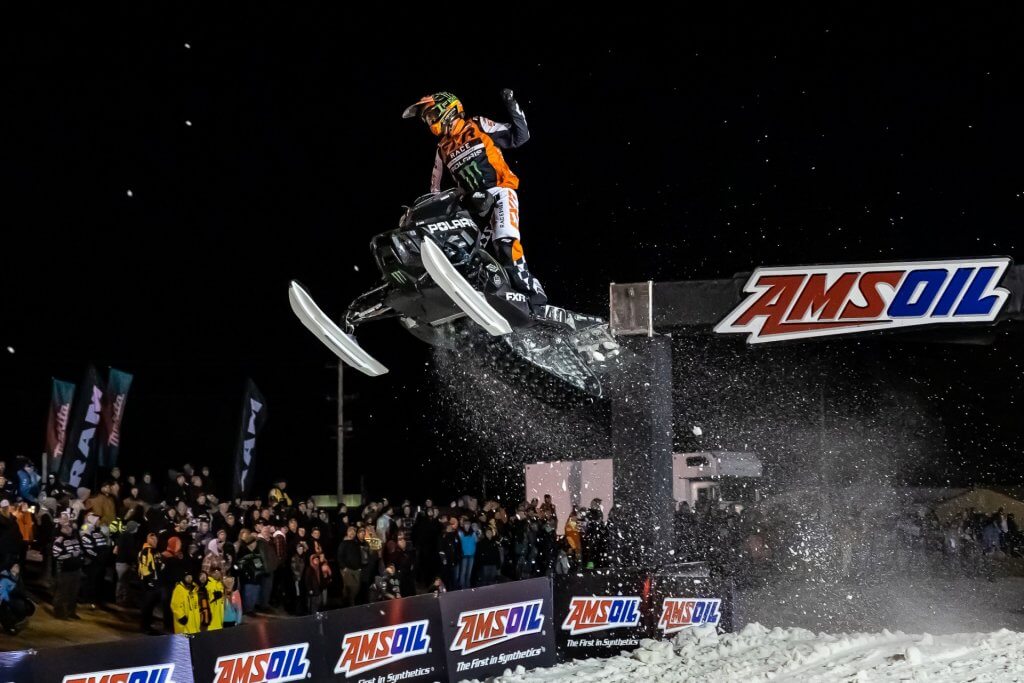 Never Doubt Norum
The Eagle River track is deep, and big and wide. It showcased multiple lines, and an unforgiving rhythm. If a rider got off their line just a smidge, the wet snow slipped out from under them. But the three top riders seemed impervious to the conditions, and while each had a story to tell, it was a familiar fable for Oskar Norum.
The three riders at the front of the pack for the duration of the AMSOIL Pro final were all looking for their first career win in the top class. When the checkered flag flew, it was the hard charging style of Norum that stole the show.
The Swedish champion has 34 career wins, it's just that all of them have been in Europe. He has been close to picking up his first win this season, but hasn't closed the deal. On Friday night, Norum did what he's done his entire time on the U.S. tour, put his head down and charge towards the front. This time he made it all the way.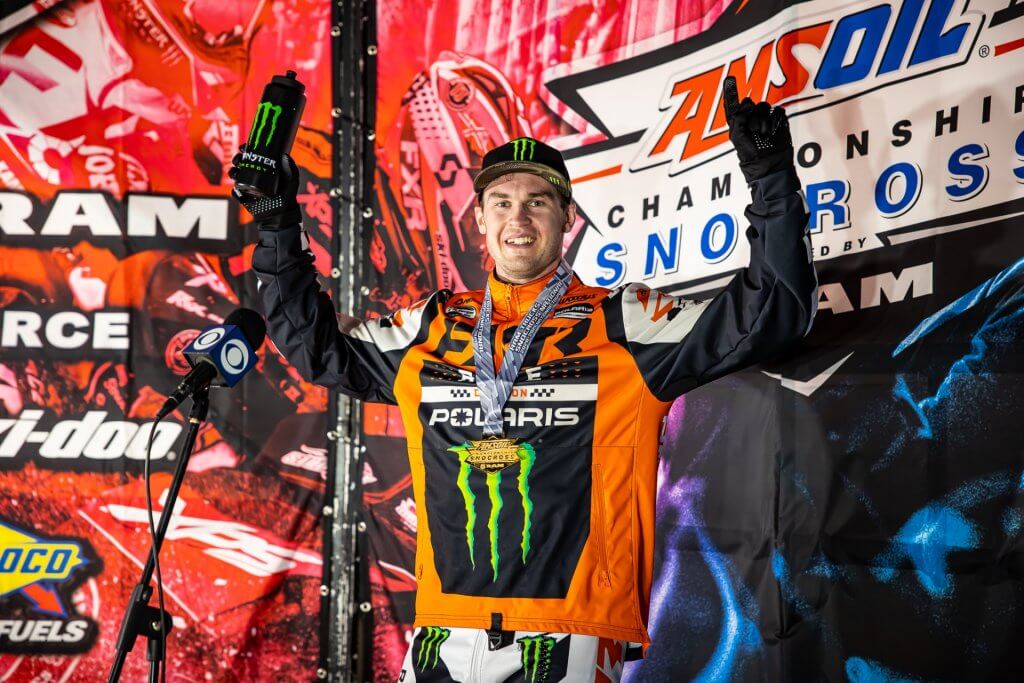 For most of the final, Hunter Patenaude was in control. The class rookie grabbed the holes hot and was smooth as the minutes ticked down to seconds on the ten minute clock. But Norum was pushing hard, finding new lines and hitting big air triples. With 30-seconds to go, Norum had caught Patenaude, and with 11 seconds left, the Swede took the lead. From there, Norum pushed it out to a four second win, his first on American soil, and at the birthplace of snowmobile racing.
"My mind was so positive coming into today, when I first saw the track," said Norum. "Super awesome. I don't know where to start. It's a dream come true to win a pro race here in the U.S.A. It's awesome. I can't describe it."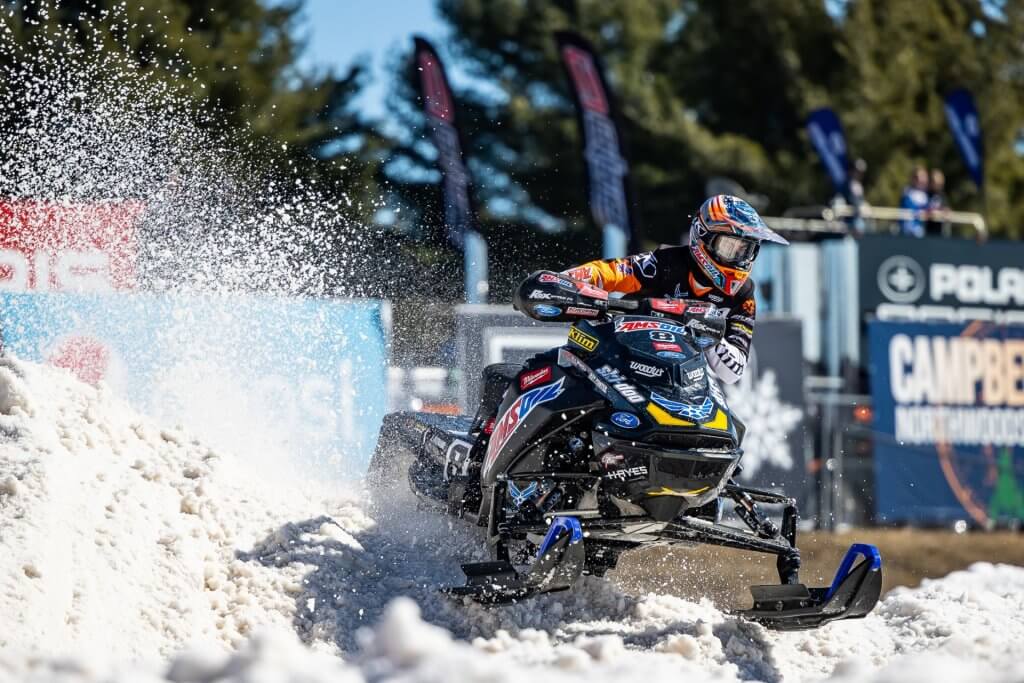 Patenaude's ride to the finish wasn't an easy one. He was pressured by his former Pro Lite nemesis and fellow rookie of the year candidate Francis Pelletier for the final few laps. With less than two to go, Pelletier skipped off the track, giving Patenaude enough clean air to pick up his third runner-up finish of the year.
"If you can come out of that first turn ahead of everyone else it makes it a lot easier," said Patenaude. "It's so tough to be able to find that separation. My heat races weren't what I wanted, but it was nice to get out front and back on the podium tonight."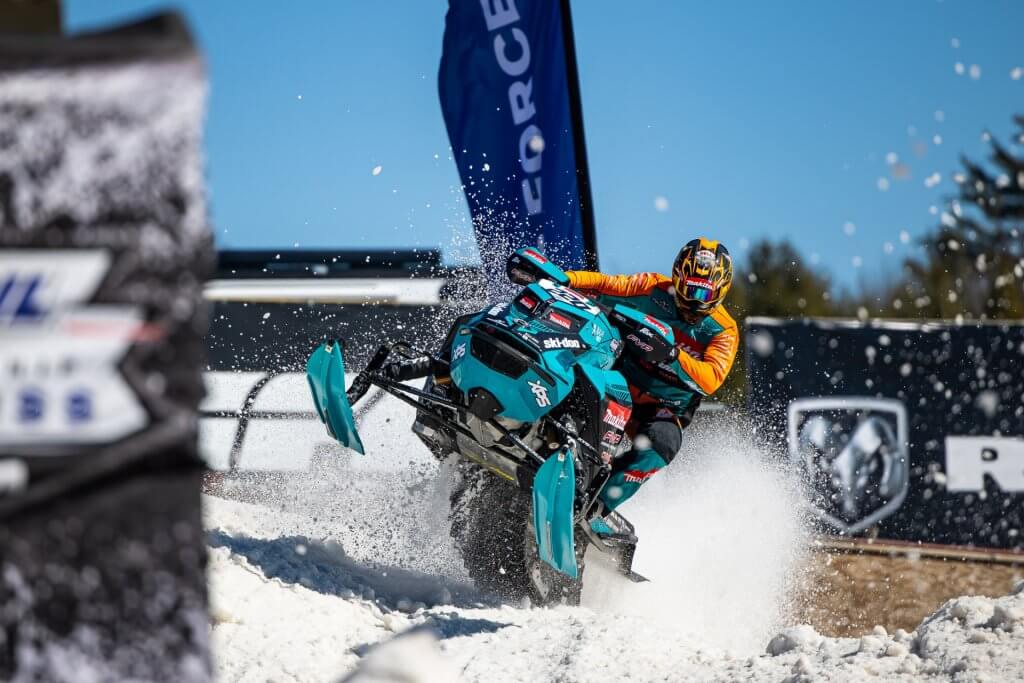 Pelletier kept charging the entire race. He was next to Patenaude coming out of the first turn, and kept the pressure on him until it was Norum's turn to push the matter. He had several chances to get around Patenaude, but wasn't able to make a pass stick. In the end, his third place finish marked his fifth podium and second straight. It also helped unblock a log-jam between him and Kody Kamm for sole possession of second place in the championship standings behind Elias Ishoel. (Kamm was unable to race on Friday.)
"I came on pretty strong by the end of the final, but I just had that mistake," said Pelletier. "It was also hard to see behind these guys. I'm just happy to be up here tonight."
Ishoel kept his large points lead untouchable with a fourth place finish. Emil Harr finished fifth.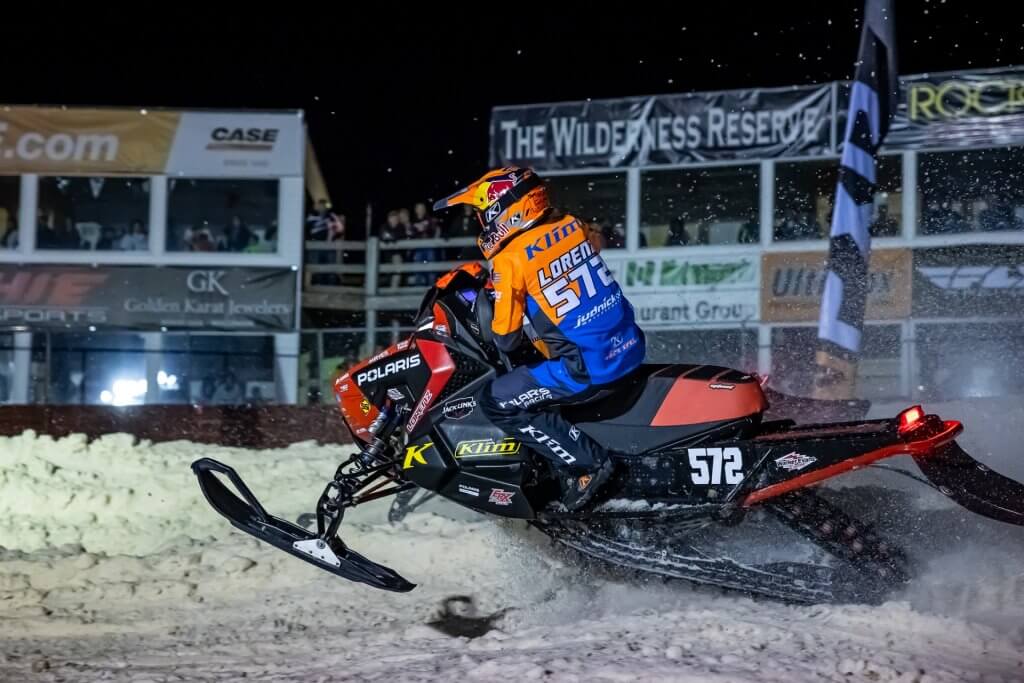 Lorenz Launches to Second Win of Season
If you've never met Nick Lorenz, you should know to never count him out. The round five winner was just finding his groove when an injury knocked him out four four-and-a-half rounds. But like he has done so often in his career, the Polaris rider came back from adversity to find his way back into the winner circle.
The Pro Lite final was a three-way dance, with a new lead taking a different dance partner with them to the front. Ryley Bester nailed the hole shot, but had Lorenz in tow down the big bumps of the back-stretch.
It looked like Bester's was going to pull away, but Lorenz kept finding a way to close the gap. Also closing the gap was Travis Kern, who worked through a crowded start to find enough clean air to catch Lorenz. Those two would waltz their way around the big oval, swapping positions while still finding a way to keep pace with Bester.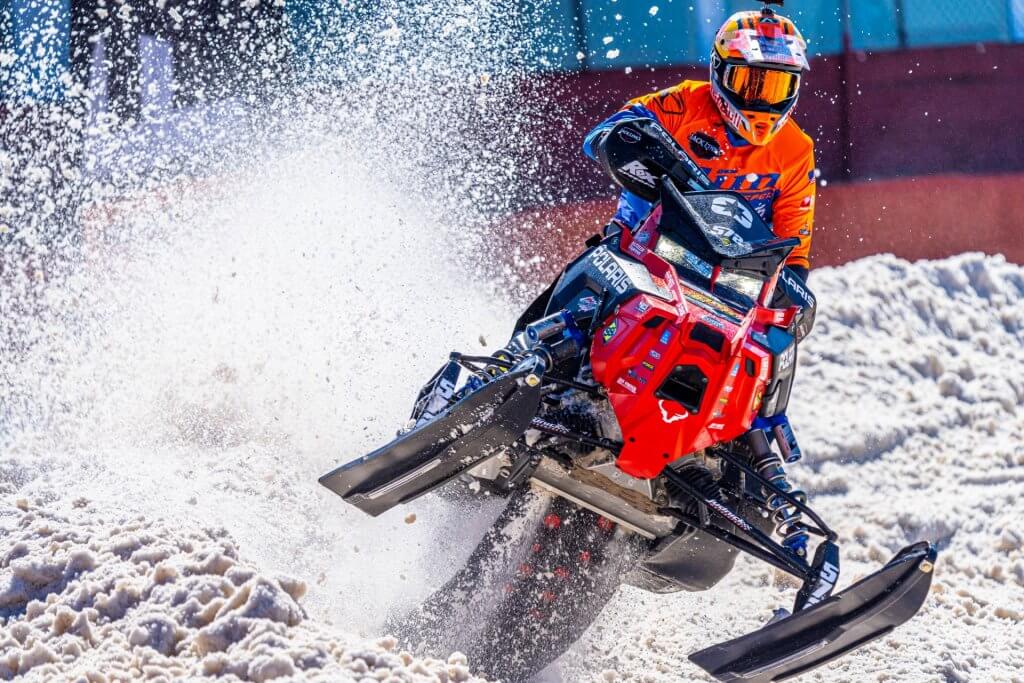 With two laps to go, Lorenz finally broke free, getting into the lead. But Kern was continuous, never letting Lorenz get away. And so was Bester, who pulled alongside Kern on the final lap. When the checkered flag flew, Lorenz had his second win, but Kern was just a sled length behind, who was just ahead of Bester for one of the closest top three finishes of the season.
"I had a really, really good line going through the finish line straight," said Lorenz. "Inside, then squaring up the triple-triple. I'm not sure if people were doing it behind me, but I just continued to do it and it seemed to work for me."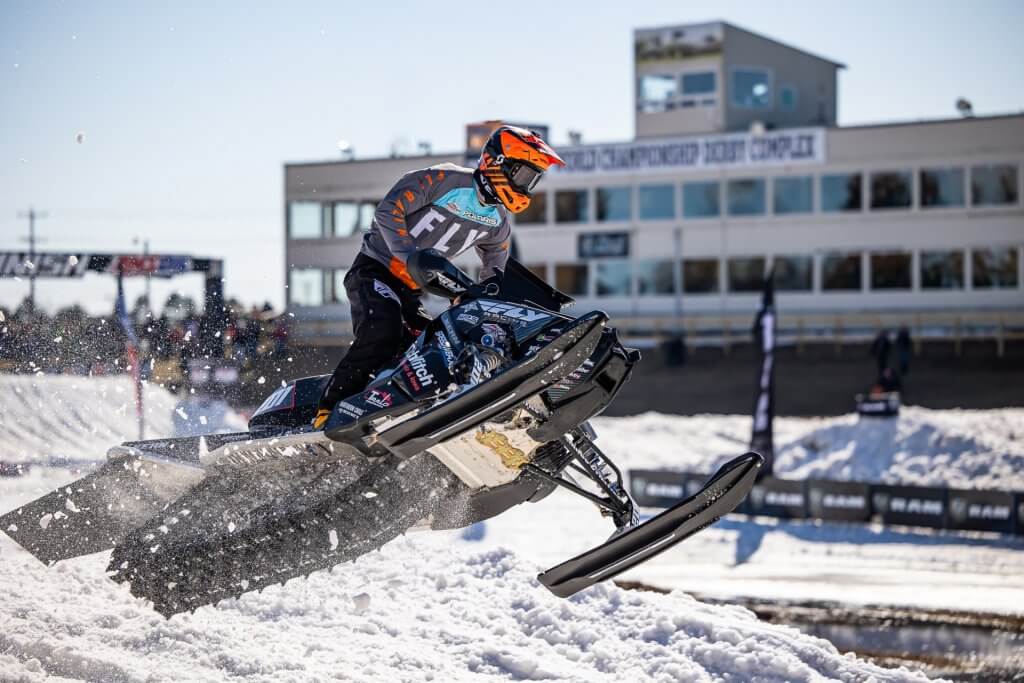 For Kern, who is doing everything in his power to catch points leader Adam Peters, it was his third straight podium finish. He was excited to find a second place end to the night, but felt he came up just short of notching his second win of the season.
"I knew it was going to be a long, technical race," said Kern. "I just tried to stay smooth. It was such a key factor to this race. Everything was so steep, so you just had to hit your marks perfectly. I wish it was just a little bit longer, but it is what it is."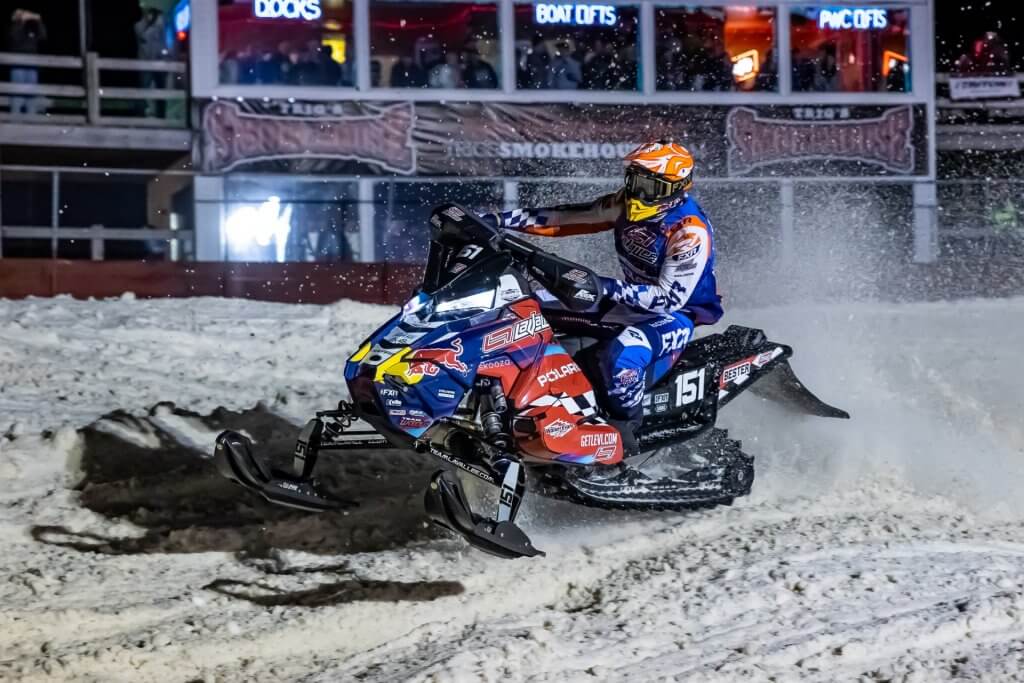 Bester game away with his second podium of the season, and credited his starts for a late season push up the standings.
"The start is so important, especially this year," said Bester. "There are so many guys in Pro Lite this year that can win, so getting outside and a good start is important."
Sam Blouin's return to the series was solid with a fourth place finish. Peterson was able to work his way back into a fifth place finish.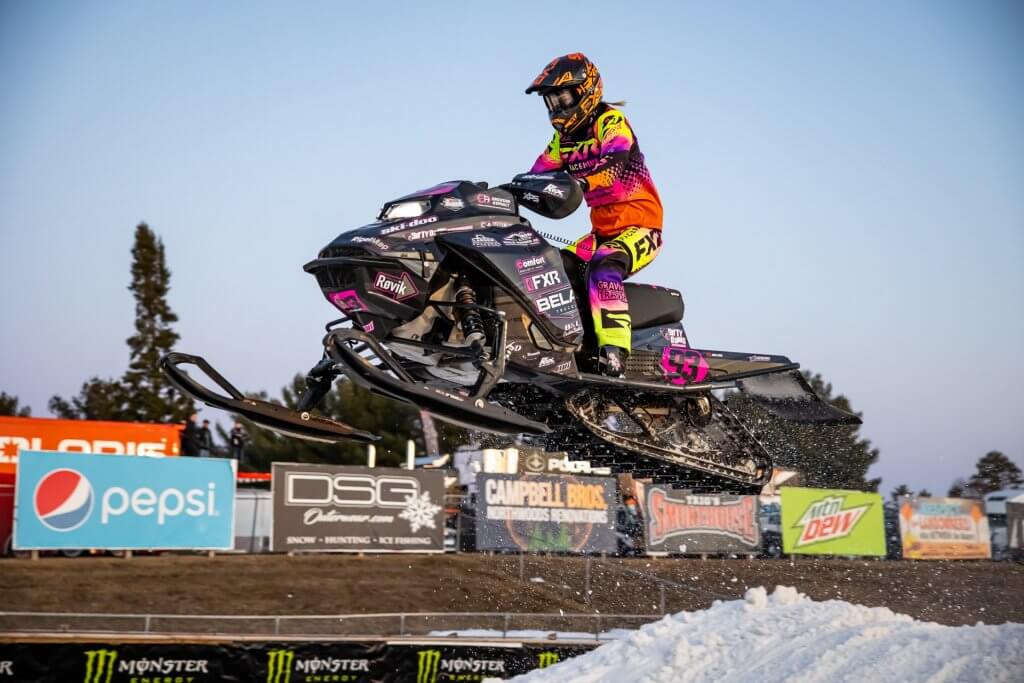 PRO WOMEN: Megan Brodeur's lead in the Pro Women's championship was just 13 points before the start of Friday. She has a fight on her hands as she looks for her fourth straight title because Malene Andersen continues to counter her every move.
Andersen was near perfect in the final on Friday night, banging through the bumps for her sixth win of the year. Brodeur found her own rhythm late, pulling away for a second place finish. Inanna Hauger finished third.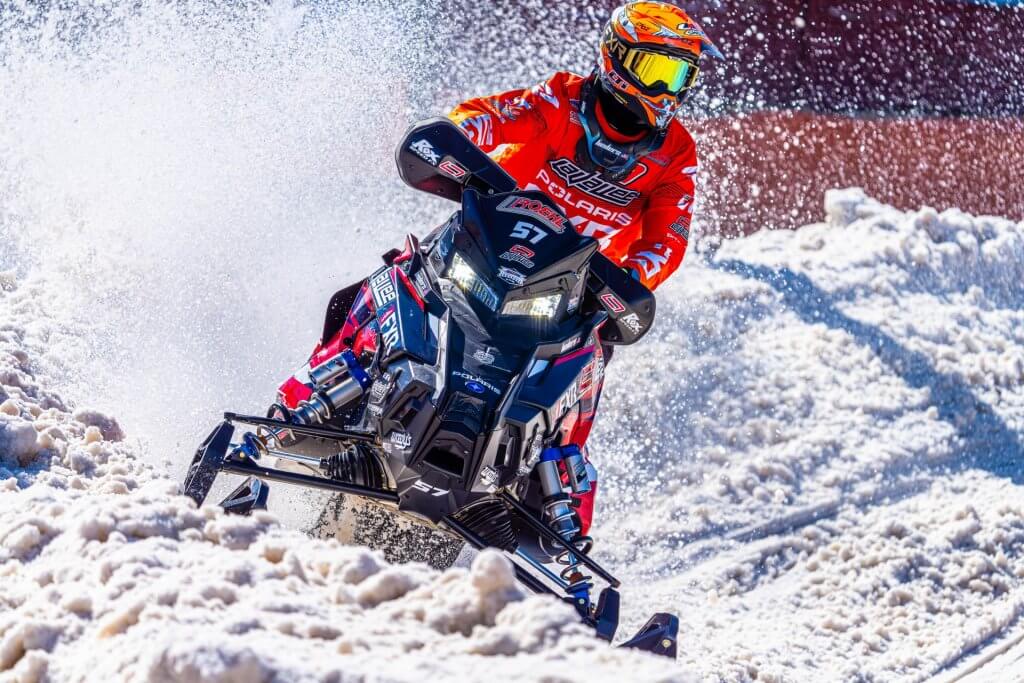 PRO AM PLUS 30: Points leader Andy Lieders wasn't able to race in the second round of qualifying, but that didn't stop him from notching his sixth Pro AM PLUS 30 win of the season. Jacob Blanshan found the podium for the seventh straight final. Jayce Rhine finished third.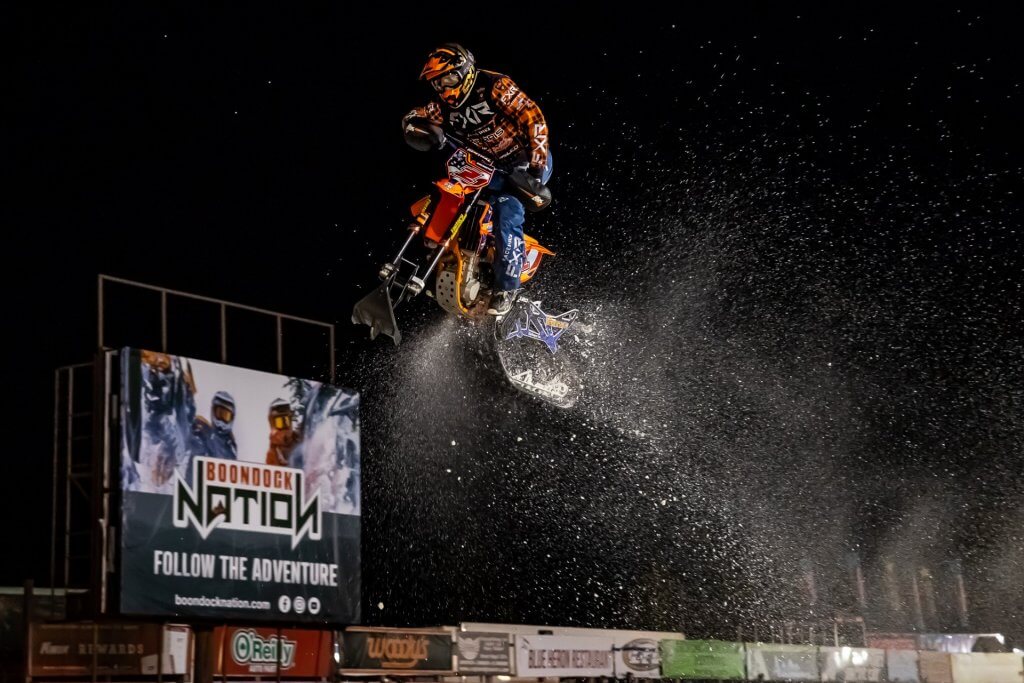 PRO SNOWBIKE: Jesse Kirchmeyer is dialed in for the stretch run. The defending Snow Bike champion is on his second long winning streak of the season, now taking eight straight moto wins and his third overall win in a row after a dominant Friday night.
Troy Horbaty went 2-2 to finish second. Bozeman, Mont. Native Keaton Ward finished third (3-3).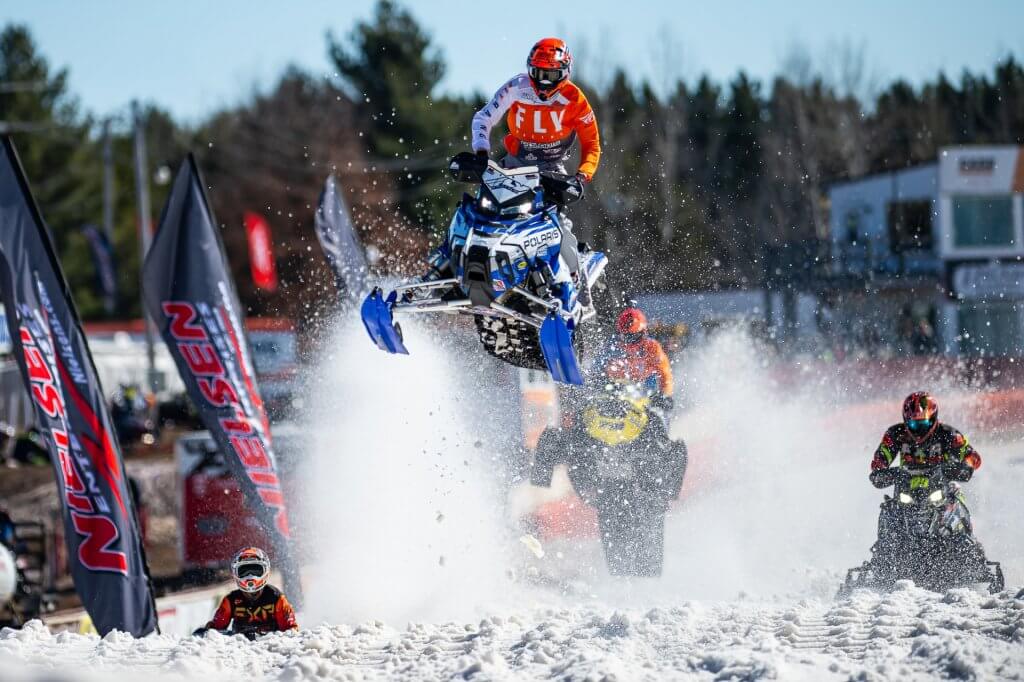 FXR SPORT: Evan Christian (Polaris) is starting to put his stamp on the FXR Sport championship. Christian entered the weekend with a 14-point lead, but was able to get some distance after picking up his second straight win on Friday night. 
Emeric Legendre rebound after missing the round 12 final to finish second. Eric Downs landed on the podium for the first time since his round six win in Deadwood.
SPORT LITE: Kolton Krajicek tightened the title gap on Kellen Chapuran with his win in the Sport Lite final. It marked Krajicek's third win of the season, and helps is championship case as he entered the weekend 21-points behind Chapuran.
Jordan Biese's return proved successful as he finished second. Chapuran capped off a strong day of racing with a third place finish.
The RAM Trucks Snocross National returns for round 14 at the World Championship Derby Complex on Saturday. Amateur racing begins at 9:00 AM with Opening Ceremonies and pro competition kicking off at 6:00 PM. Follow snocross.com for the live stream broadcast.