Eagle River, Wis. ~ The 2021 AMSOIL Championship Snocross, Powered by RAM Trucks has made it through the gauntlet and has the final finish lines in sight. Two rounds and return trip to the World Championship Derby Complex in Eagle River, Wis. remain on the national schedule.
Friday night at the historic Derby Track saw its share of championship clinching rides, but also some fuel thrown onto the fire for those title tussles still up for grabs. With a reverse running of the big oval, full of steep rhythm sections and snow that evolves on every lap, it was now or never for the best snocross racers in the world.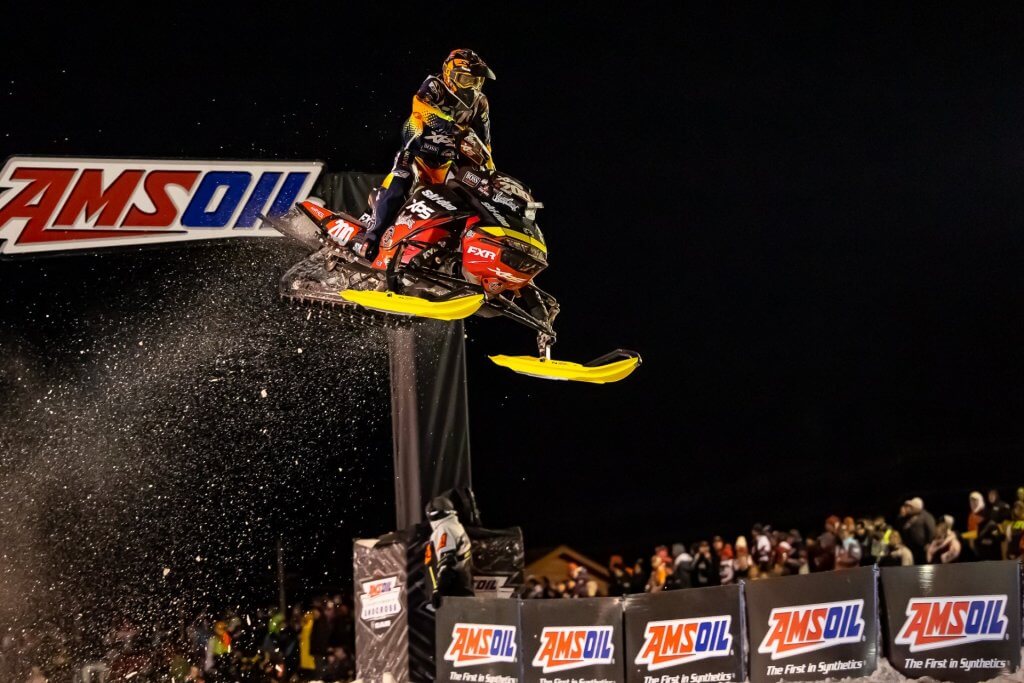 Tenth Win Gives Ishoel Third Title
There is still plenty of snow on laying inside the Derby Track. But as the season comes to a close, and the weather fluctuates from Spring to Winter, it means an every-changing circuit.
Elias Ishoel admitted that the track in Eagle River gave him fits last weekend. But the defending champion has learned how to bounce back in a hurry, and maybe, just maybe, the change in direction and adding in right handed turns instead of left handed ones was all it need to rearrange his thinking.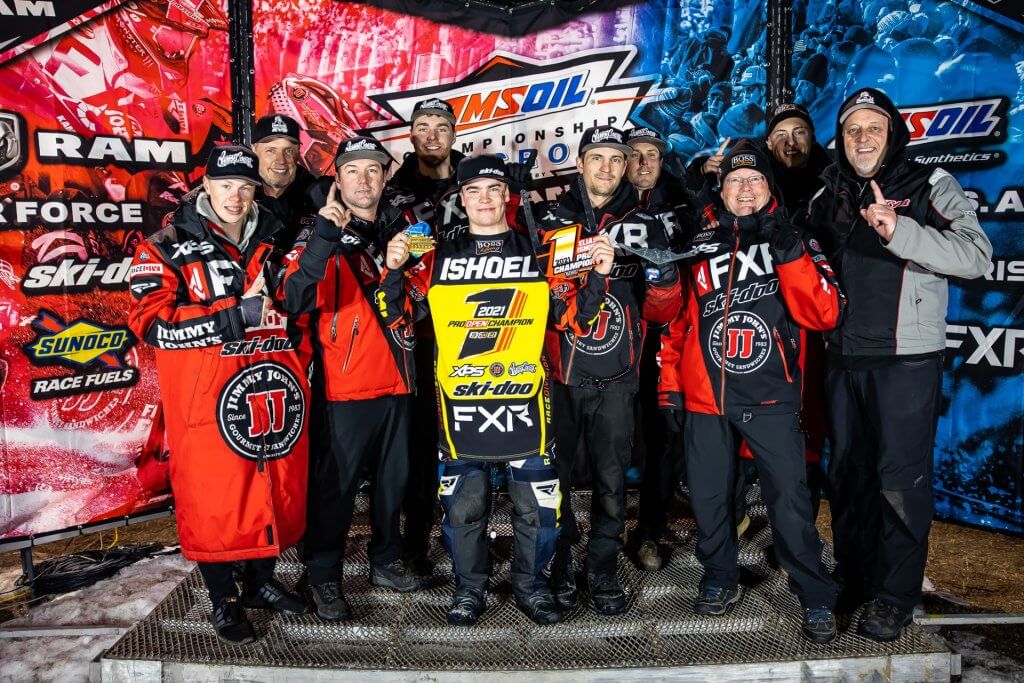 Ishoel won his first qualifier, and learned enough in his second to get a key starting position for the final. He launched hard, heading through the front stretch just behind the swinging snow-flap of Francis Pelletier. With ten minutes on the clock, Ishoel kept Pelletier in check, and just over two minutes later he found a huge triple much to his liking. That gave him enough momentum to rail around Pelletier, and the only time he looked back after that was to see where the rest of the field was.
It marked Ishoel's tenth win in 2021. The victory also cemented his third championship in as many years.
"I got a really good hole shot, and then I got the pass and then the lead," said Ishoel. "I just had to stay smooth and stay smart, at least smarter than last weekend. No better way to win the championship than to win tonight."
While Ishoel was the best rider on the track, the best racing was happening behind him. While some tracks allow for riders to spread out, Friday nights offer meant a full-on assault as riders looked to finish the season on the box.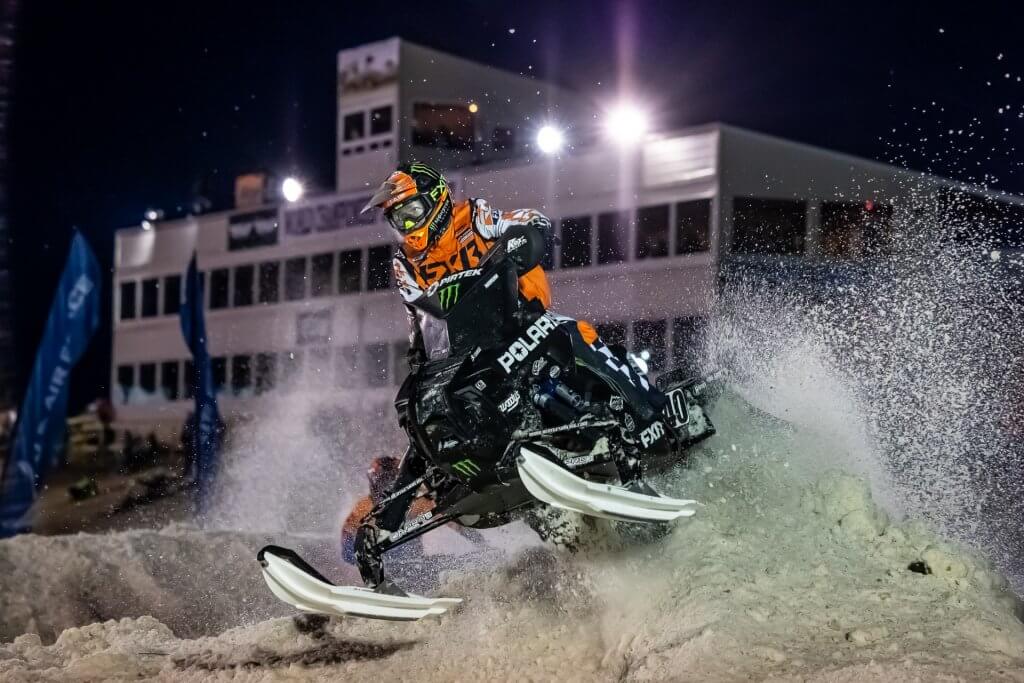 Pelletier looked as if he had control of the runner-up spot for much of the race. But riders as far down as sixth place were well within striking distance of a podium. It just so happened that the sixth place rider, Oskar Norum, would be the one to make the most moves. Norum, who swept the Pro finals last weekend, went on a tear with less than three minutes to go on the clock. The Swedish star got past Emil Harr and teammate Kody Kamm on the same backstretch. He then chased down Hunter Patenaude one lap later. Finally, with the clock hit zero, Norum worked past Pelletier and into second. For the remaining two laps, Norum cruised to his fourth straight podium.
"I was super confident coming in this race from last weekend," said Norum. "I didn't do the best start and made it tough for myself. But I was able to do a lot of passes, so it was fun."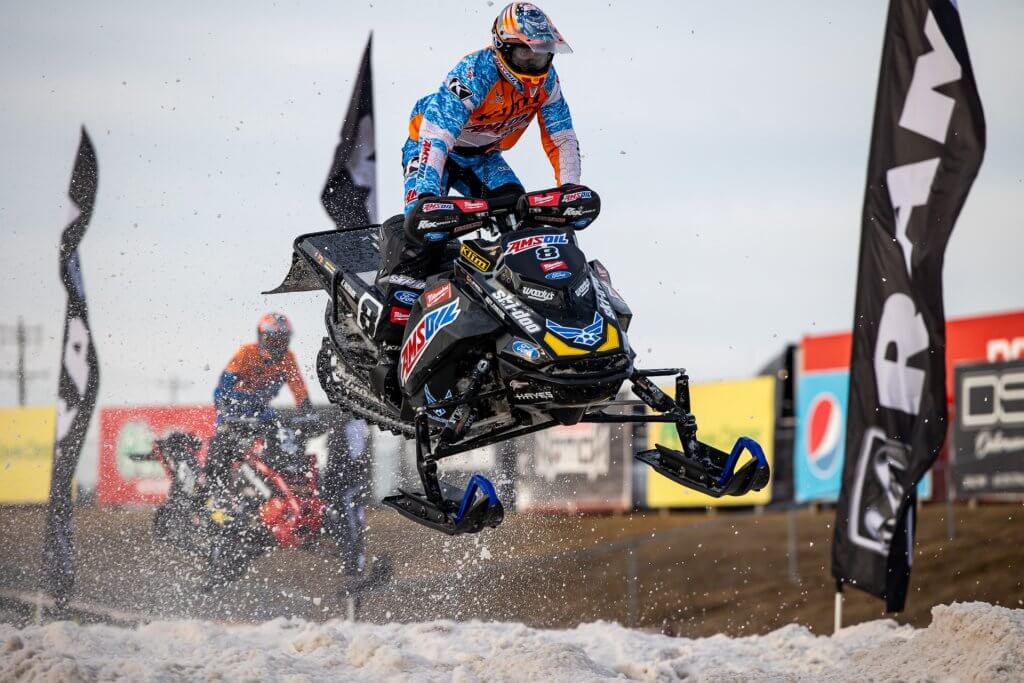 Pelletier's hold on third evaporated during the last trip around the track. Patenaude was bringing Harr and Kamm with him around the final few turns, and with one last turn, Patenaude saw an opportunity to get on the podium, and a drag race towards the line gave him the final spot, by .385 of a second.
"I knew Harr was right behind me, so I was just trying to find some good lines and just ride smart and smooth," said Patenaude. "Then I saw Francis a little bit. Then on the last lap, I don't know if he made a mistake, but I got really close to him, so I figured, last lap, last corner, I gotta go for him."
Pelletier just missed the podium, finishing fourth. Harr continues to finish races strong, nearly inching into fourth, missing the spot by a half-a-sled length.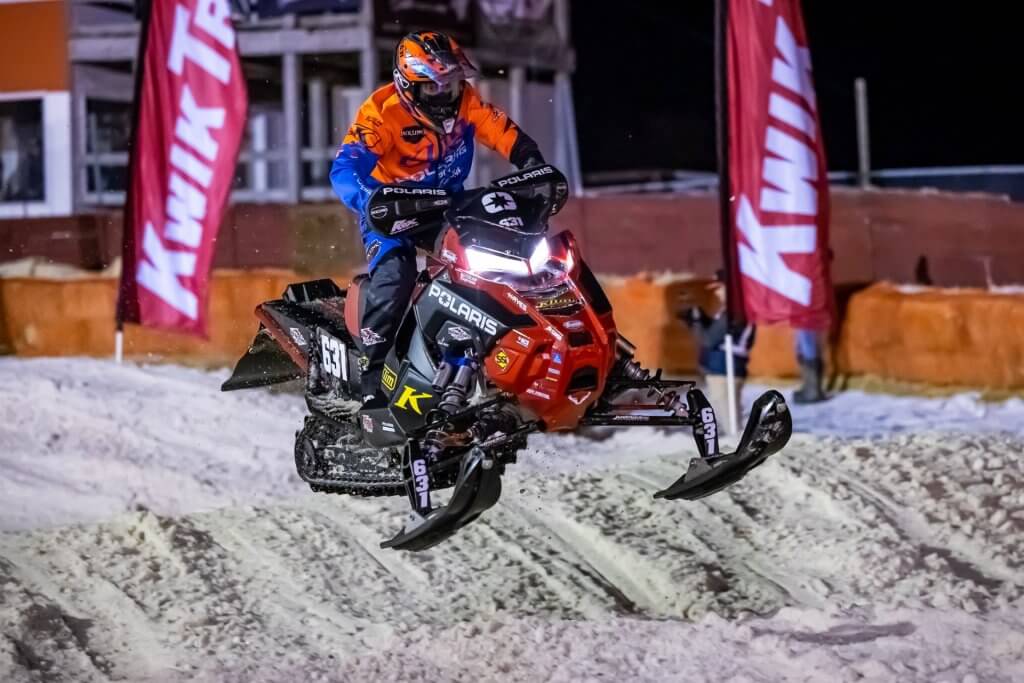 Alread is Alright in Pro Lite
In gambling, its often said that "Behind bad luck comes good luck." Carson Alread might become a sole believer in the old saying after picking up his second win of the year on Friday night.
After winning in Sioux Falls, Alread has been looking for the winning formula the past five rounds. The young rider has been competitive, but unable to put his Polaris back on the box. In Eagle River, Alread took a much needed calculated risk by gaining the outside line off the start and propelling around early leaders Ryley Bester and Adam Peterson. After that, there was no bad luck for Alread, only a great ride on his way to his second win of the season.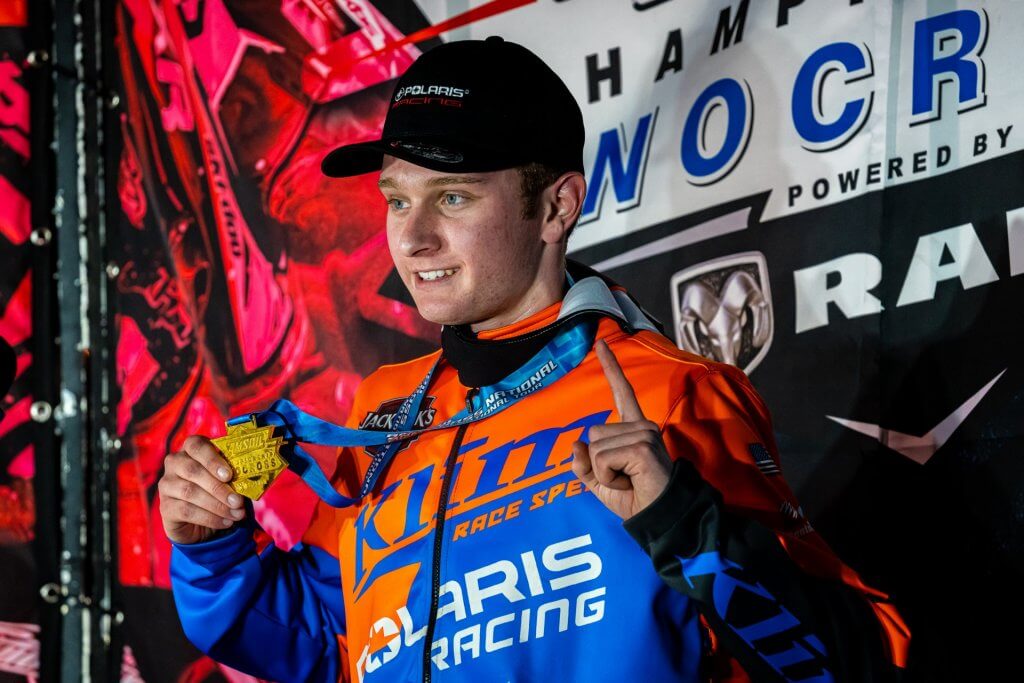 "I knew coming into the first corner I wanted to make it to that outside line," said Alread. "It was pretty flat, and I knew if I was close to the front, I could drive around a couple of guys."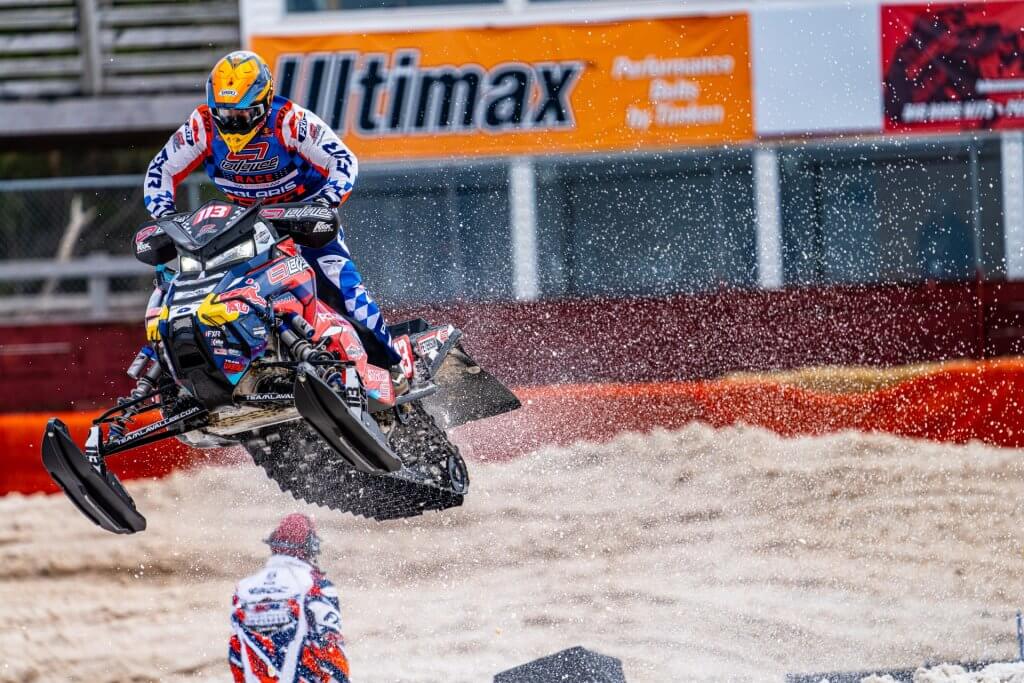 With Alread in the lead, it looked like round 14 winner Bester was going to get the runner-up spot. With a minute left on the clock, Bester had navigated through lapped traffic a bit cleaner than Alread and had caught the race leader. That quickly vanished, and before he knew it, Bester had his hands full with the points leader, Peterson. With the clock under zero, Peterson barreled his way past his teammate and into second, grabbing valuable championship points with the move.
"Last weekend, I had a couple of tough breaks in the heat races and then ended up going off the track in the final and going for a swim," said Peterson. "Tonight, I had a few sled problems and wasn't sure if I was going to finish the race, but someone was watching over me and keeping that sled going."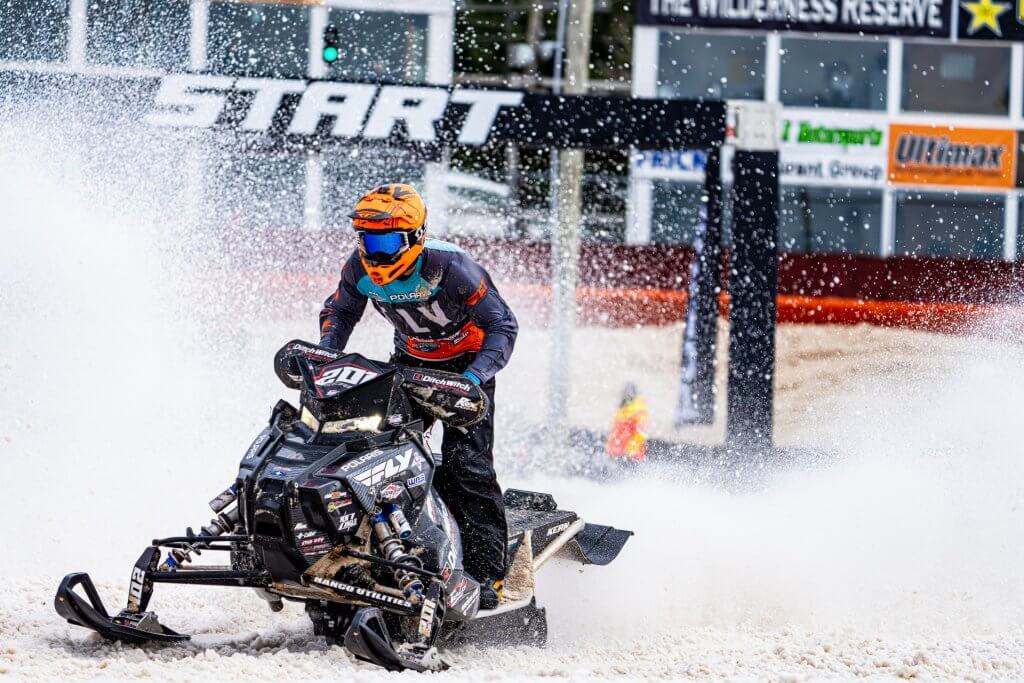 Peterson's main challenger for the Pro Lite crown is the ever-present Travis Kern. Once again, Kern battled his way back through the crowd after a fifth place start. He was chasing Peterson all over the racetrack, but once Peterson got around Bester, Kern still had to put in one last charge to get on the podium. As the white flag came out, Kern was able to get the job done, grabbing his fifth straight podium finish and keeping Peterson in check for the championship.
"That was probably one of the toughest races of my season, I think," said Kern. "Trying to battle the roost tonight and with the weird snow consistency, I knew if I stayed with and Ryley, we'd get through it."
Bester finished fourth behind Kern. Round 13 winner Nick Lorenz overcame a back-row start to finish fifth.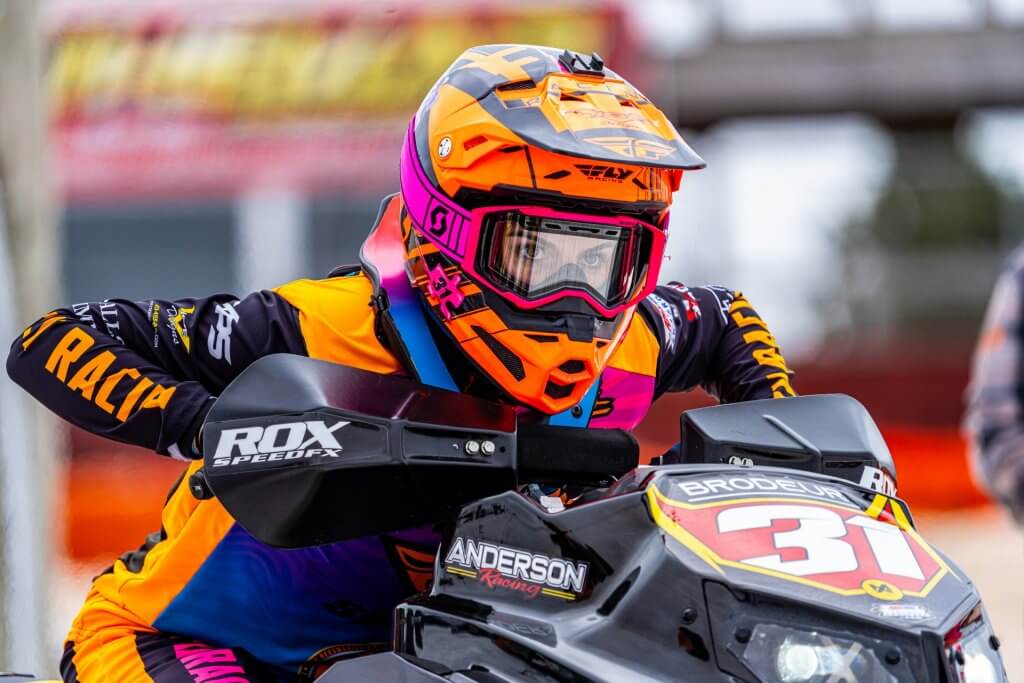 PRO WOMEN: The best points battle over the past couple of years has been in the Pro Women's class, but nothing compares to the 2021 campaigns being put in by Megan Brodeur and Malene Andersen.
The two riders entered the final weekend in a deadlock, both sitting at 581 points. Andersen would gain an edge in qualifying, winning both of her heat races whereas Brodeur won her second round, but finished fifth in the opening qualifier.
In the final, the showdown intensified. Andersen used a little more speed to grab the hole shot, but Brodeur used a little more muscle to continuously challenge her counterpart. After multiple lead changes, Brodeur was able to capitalize on slight bobble by Andersen. That gave Brodeur enough of an edge as she held on for her seventh win of the year.
Andersen finished on the podium for the third straight race, and unofficially leads the championship by a single point heading into the final day of racing.
Inanna Hauger extended her podium streak to seven by finishing in third.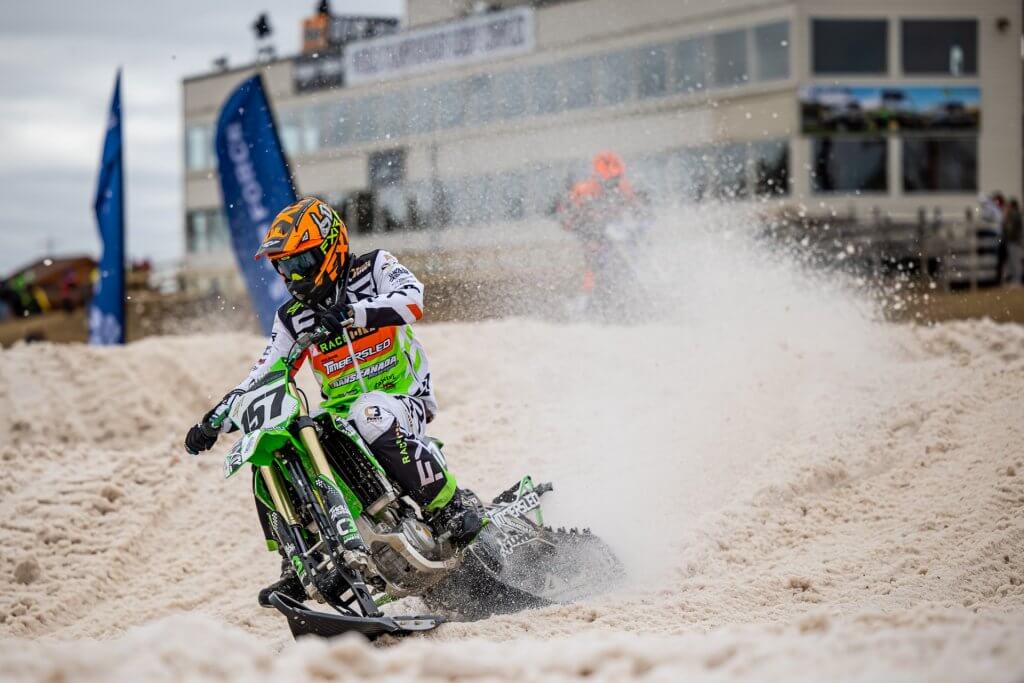 PRO SNOWBIKE: It's another winning streak in Pro Snowbike. This time its thanks to the right wrist of Troy Horbaty, who picked up his second straight overall victory on Friday night.
For the second straight week, points leader Jesse Kirchmeyer rattled off a first moto win and the defending champion was holding point in the second moto when he whooped out with just under two laps to go.
With Kirchmeyer on the ground, Horbaty seized the opportunity to win the moto and in turn his second straight overall by going a combined 2-1.
Keaton Ward was looking to finish second overall by going 3-2 in the dual moto format, but Kirchmeyer was able to rally back into third place in the second moto. That gave him a 1-3 and his four points were enough to finish second overall as well as clinch the overall points title.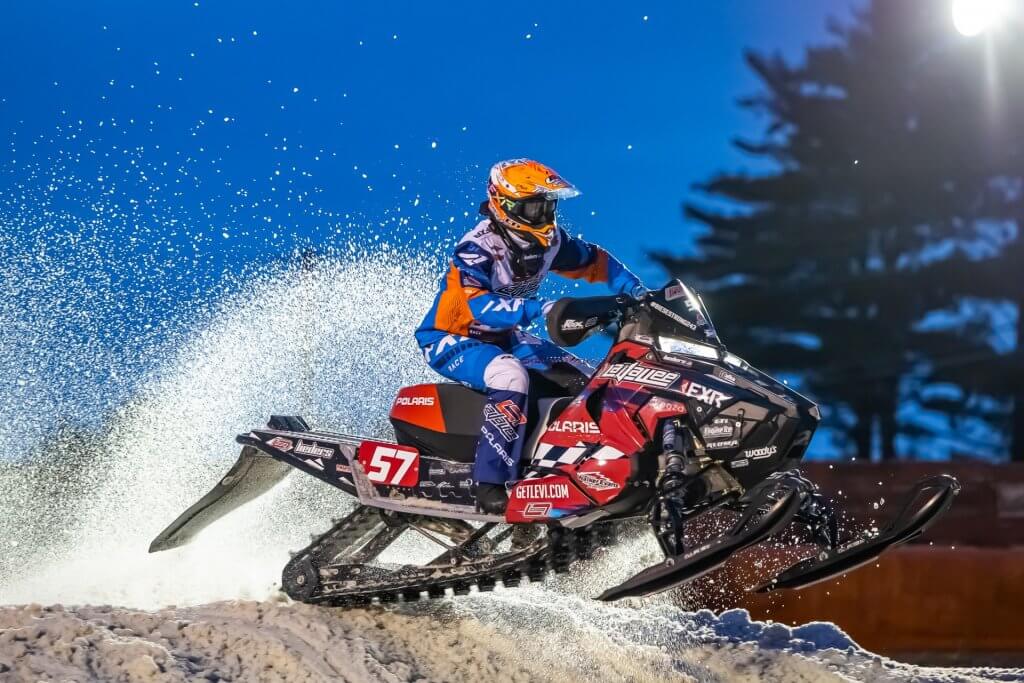 PRO AM PLUS 30: Polaris rider Andy Lieders knocked off the competition as the veteran rider nailed down his eighth Pro Am Plus 30 win of the season. His Friday night success was enough to officially clinch the 2021 title.
"I wouldn't say it was easy, as the track was pretty rough out there," said Lieders. "It makes you a little nervous going out there and trying to time some of those rhythm sections. I had a good sled out there, and really can't thank everyone at LaVallee (Racing) enough for such a great set-up."
Round two winner Jacob Blanshan crossed the line in second, his ninth podium this year. Seth Engel finished third.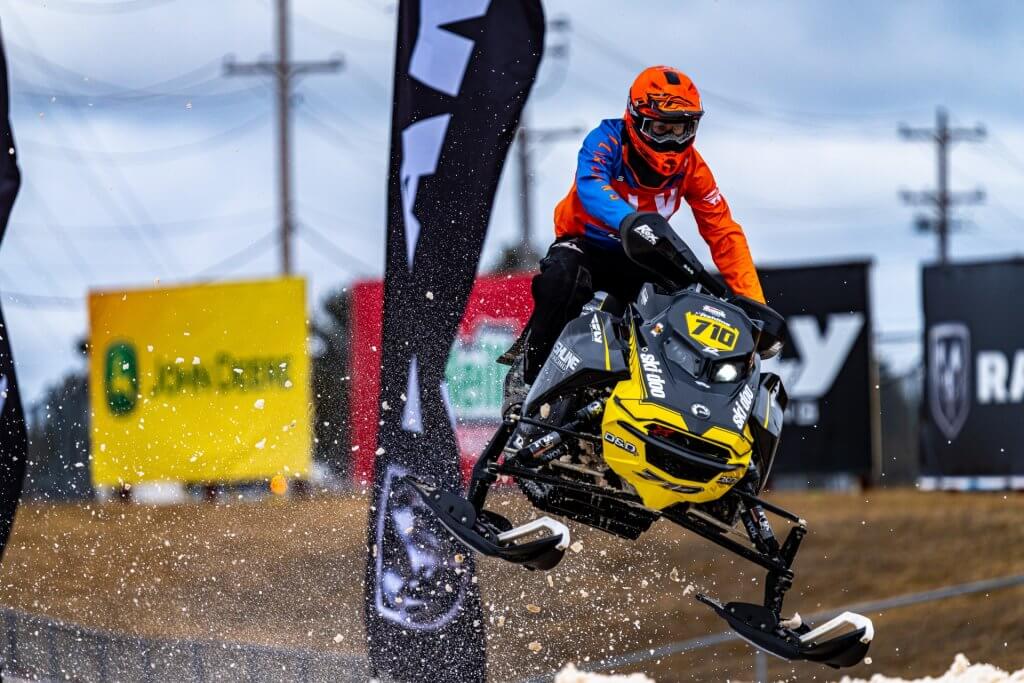 FXR SPORT: Adam Ashline (Ski-Doo) used a hole shot off the start to pick up his third win in the FXR Sport class on Friday night. But the focus was on second place finisher Evan Christian. The Polaris rider used a pair of heat wins and his runner-up finish in the final to secure the 2021 FXR Sport championship. Hayden rounded out the podium in third.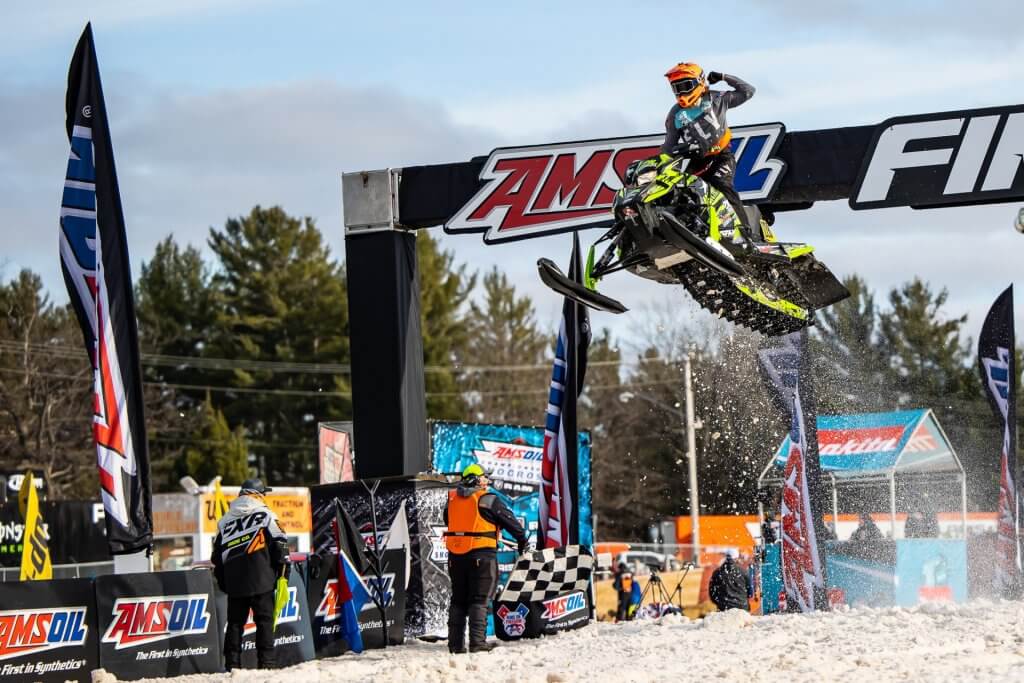 SPORT LITE: Jordan Biese is make the most of his return to full-time racing after missing several mid-season rounds with an injury. With his second Sport Lite win on Friday night, Biese now has four straight podium finishes since returning five rounds ago.
Overall points leader Kellen Chapuran also has a nice podium streak going. His second place finish in Eagle River gave him four straight podiums in a row. Hayden Meyer used a strong, late-race push to finish third.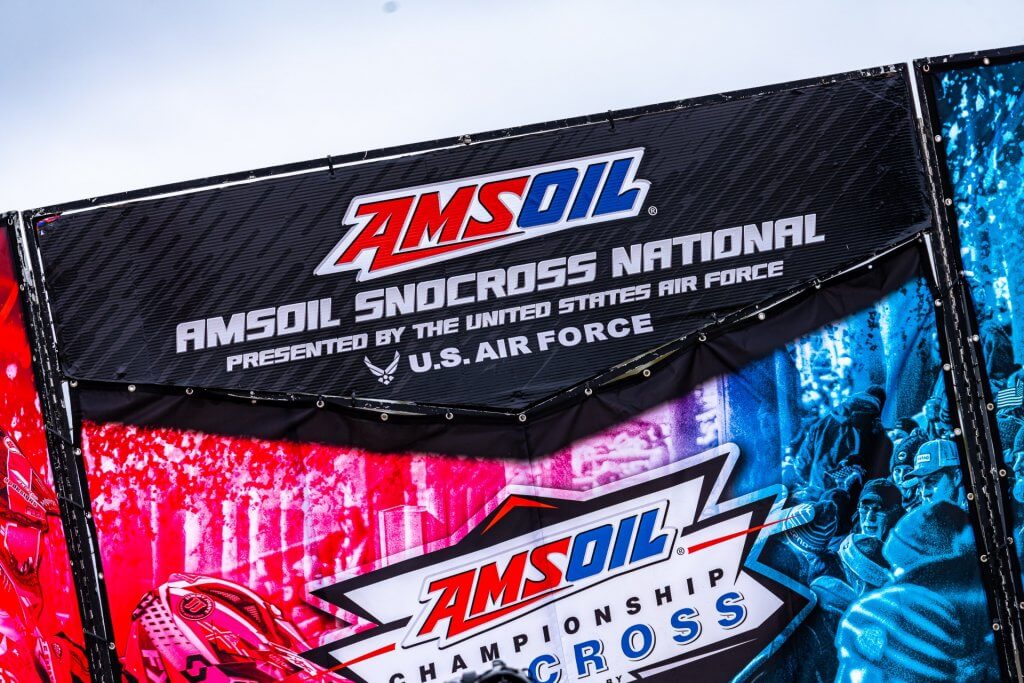 The AMSOIL Snocross National and final round of the national 2021 AMSOIL Championship Snocross, Powered by RAM Trucks season will wrap up with a full day of racing on Saturday. Sunday will feature the annual amateur Showdown day of racing as well as the AMSOIL Dominator featuring the top Pro and Pro Lite riders going head-to-head. Both days will air live on www.snocross.com