Dubuque, Iowa ~ Much like 2021, the 2022 season of AMSOIL Championship Snocross will feature an extremely condensed schedule, starting after the New Year and then sprinting towards the March finish in Michigan.
Much like 2021, there is no rest for the weary as the national tour packed up and maneuvered its snowmobile show down I-35 from the season opening rounds in Shakopee, Minn. to the big oval in Dubuque, Iowa.
The track has become a racer favorite over the past few seasons, and with snow falling and the wind whipping, racers were welcomed to the Theisen's National Snocross with a wide, racy track in Dubuque. The circuit featured multiple lines and rewarded those drivers who were creative and willing to bounce around looking for the best line.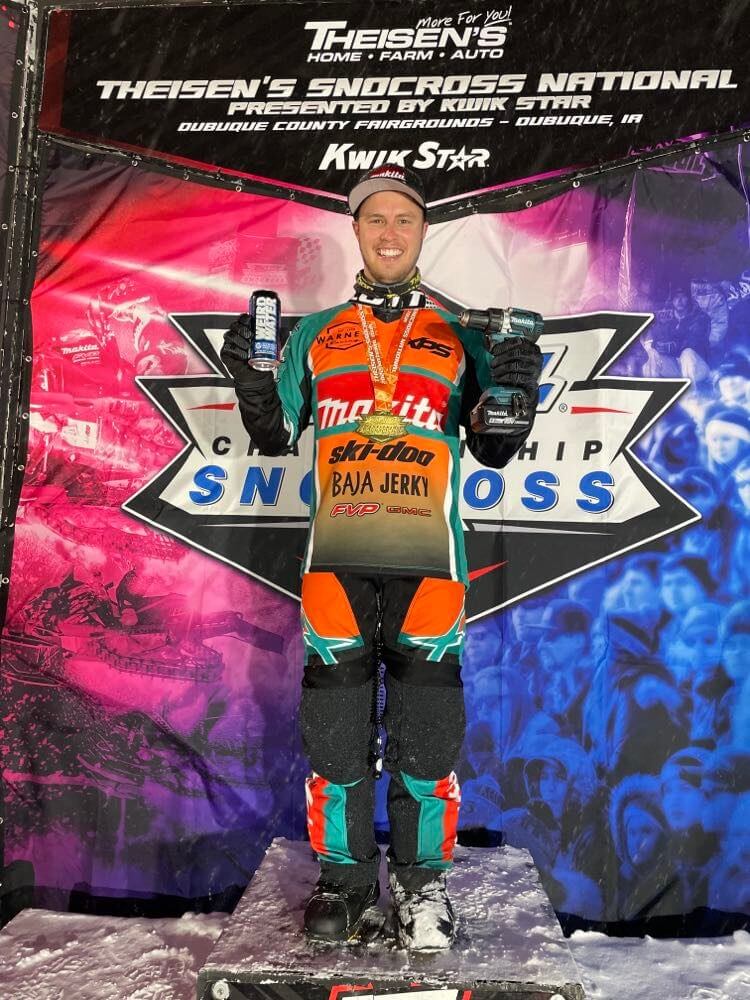 Pelletier Delivers First Pro Win
The Dubuque track seemed manageable for most of Friday's opener, but after a full day of snowmobiles pounding out laps, the circuit decided to stop being so nice and took back the night once the Pro final came around.
Francis Pelletier (Ski-Doo) threw the first punch, doing like most winners on the day did, grabbing the hole shot and clean air. But Oskar Norum (Polaris) kept pace and took the lead a minute into the final. Norum looked his usual strong self, but a mid-race bobble kicked him off his sled, jettisoning him back to third, and eventually back to fifth.
The bobble gave Pelletier the clean air he was looking for and the second year pro didn't miss a mark, mixing his speed and strategy wisely around a track that was getting nastier and nastier with each pass. Being out front also meant Pelletier didn't have to deal with the endless battles for position going on behind him. He clocked in a near perfect ride over the last several laps on his way to his first career win in the premier class.
"I got injured last weekend so just being out front like that is good," said Pelletier. "I got some momentum and tried to put some pressure on Oskar. I didn't know what happened to him, but somehow, I was first. So, I just keep going in my lanes, slow and fast at the same time so I would be first at the end. I'm glad to be here. It's been a rough weekend last weekend for me and today we had some highs and downs, too. So, I'm really happy to be here on the podium."
For the first half of the race, Emil Harr was a safe bet to not make the podium. But Harr always finds a way and after dropping as far as ninth on the first few laps, Harr went to work, pounding his way into contention with roughly six laps to go. His constant pressure allowed him to get past a bevy of riders, including Norum with just under three minutes to go and rookie Jacob Yurk with under a minute of running time. His runner-up finish on the night pushes him closer to points leader Elias Ishoel, who finished ninth. Only one pro rider has been on the podium in all three rounds this season. That's Emil Harr.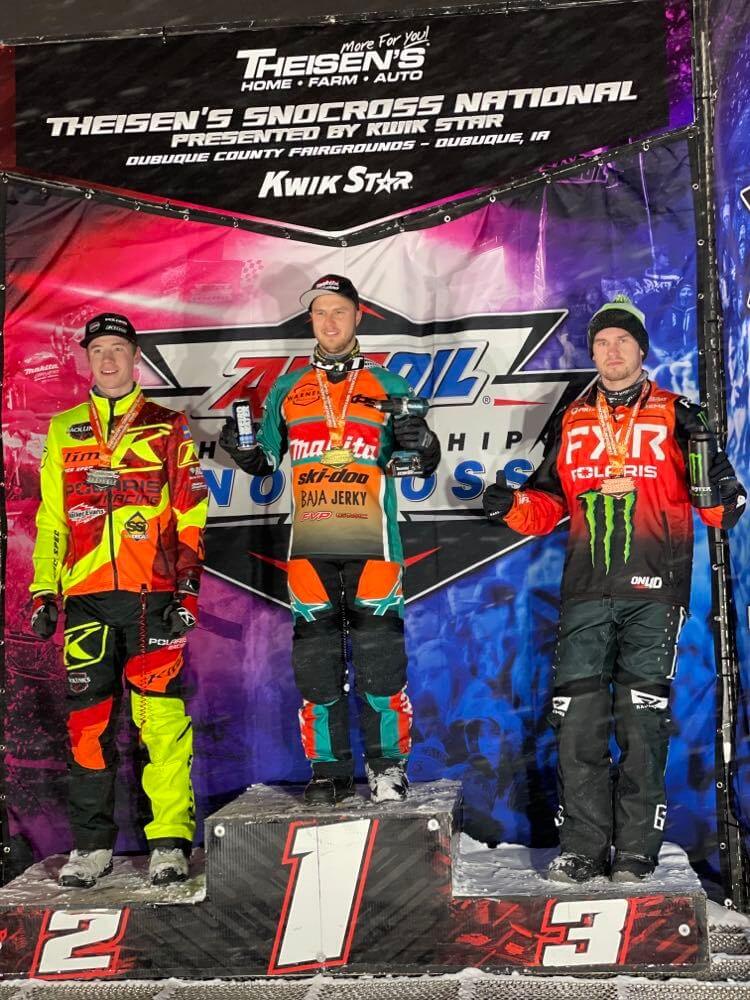 "I tried to have so much fun out there," said Harr. "And my team is so good in helping with everything and, yeah it's just fun to be out there pushing. And I think that's the goal, definitely."
Yurk and Lincoln Lemieux were in a battle for the final podium position before they were both unable to complete the last lap. That opened the door back up for Norum to get back into podium contention. He was able to hold off a hard-charging Kyle Pallin by two-tenths of a second for his first podium of the season.
"I was able to get a good start and I had a few fast laps there, but I lost my rhythm a little bit and hit a little ridge and went off the sled," said Norum. "I just kept trying to fight as hard as I could the whole race, but yeah, I'm pretty happy with the third place today."
Pallin would cross in fourth and Kody Kamm worked his way through the field after starting 12th to finish fifth.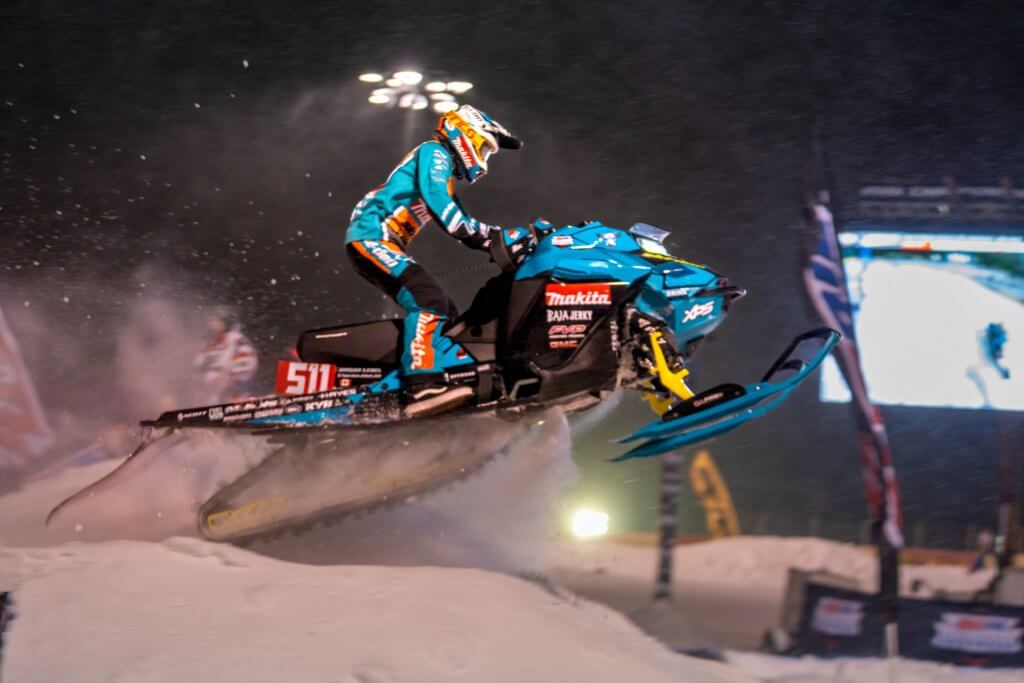 Pro Lite Leader Lebel Keeps Streak Intact
Ski-Doo's Jordan Lebel is having a heck of a start to his rookie campaign in Pro Lite. The Quebec native has been on rails through the first three nights of racing and stayed undefeated after an impressive run in the Dubuque opener.
Lebel perfectly timed the green light, launching off the start, squirting ahead of the rest of the Pro Lite field. He came through the first turn clean and found a way to tame the extremely rough track as he cruised to his third straight win to start the 2021 season.
"I had a great start, so it helped a lot," said Lebel. "I was just trying to keep my lines and get some that were a little faster. I got a couple (fast) lines and then I just stayed there."
It's been seven rounds since Ski-Doo's Korbyn Anderson has been on the podium, but the Michigan native held off several early challengers and utilized his top end speed and strength to nab the runner-up spot. He utilized a great start to put himself into position, before keeping Nick Lorenz at bay for the second half of the race.
"My mentality out there was probably the same as every other rider on this track: hole shot, hole shot, hole shot," said Anderson. "I want to thank my whole team Anderson racing and everybody that's been behind me through this whole journey."
Lorenz showed a lot of grit on Friday night. He had to work his way through several positions and some carnage to get his Polaris into position for his second straight podium finish.
"If you don't get a good jump, you need to find a nice hole to shoot through," said Lorenz. "I didn't have the greatest jump. I got pinched between Jordan and Carson and ended up just finding the hole on the inside and I came out like fourth or fifth."
Ryley Bester continues to show off his speed with another top five finish, coming across the line in fourth. Camryn Anderson put together another strong ride, finishing fifth.
PRO WOMEN: If you keep grabbing hole shots, eventually the end of the race will be as successful as the start. It was a momentous night Inanna Hauger, who pulled another great start and skillfully powered her way to her first career win in the Pro Women's class.
Hauger was challenged for the entirety of Friday night's final by defending champion Malene Cottew, who tried just about every trick in the book to get around Hauger, including several aggressive attempts on the last lap. But it was Hauger's night from start to finish as she became the third different winner this season.
"I've been working so hard. My dad's been working so hard. Everyone has been working so hard to get me here and I'm just so grateful," said Hauger. "(Malene) was definitely right on me. I felt her around me the whole time, but especially those last two laps and I just did my best to block her."
After suffering a knee injury in round two, Cottew fought back to finish second. Round two winner Taven Woodie was well within striking distance, finishing third.
PRO SNOWBIKE: It was a wild ride, or rides, in the Pro SnowBike class on Friday night. Several on-track incidents moved finishing orders around all night, causing some tricky math at the end of the second moto.
When the snow dust cleared, Troy Horbaty was declared the overall winner. In the second moto, Yanik Boucher and Jesse Kirchmeyer were battling for the lead when there was some contact between the two in the air. That sent Boucher off the track and forced him to reenter Infront of Kirchmeyer. Both riders were docked positions, putting Kirchmeyer second overall and Boucher third overall.
FXR SPORT: Adam Ashline is asserting some early season dominance as the Ski-Doo rider picked up his second straight win in FXR Sport. Ashline sneaked through the tight first turn and jumped out to an insurmountable lead for his third podium of the season. Zak Farmer finished second and Cael Firth held off Eric Downs for the final spot on the box.
FRIDAY NIGHT LIGHTS:
SPORT LITE: Chance Tietjen keeps getting better with each passing round in 2021. After missing the top five in round one, Tietjen stormed back to a third place finish in round two. He is now the third winner in the Sport Lite class thanks to a wire-to-wire in Dubuque on Friday night. Jan Even Romsdal also notched his first podium as the runner-up to Tietjen on Friday, as did Josh Connolly, who finished third.
TRANSITION 8-10: Riley Johnson set the fastest lap in the Transition 8-10 final, and rode away from the field on his way to his second win of the season. Avery Hemmer had her hands full with round two winner Rylan Nelson, but Hemmer was able to keep her ski's ahead of Nelson for her second straight podium finish, by less than a second.
STOCK 200: Ryan Shimanski bounced his podium streak to three to start the new season as the round one winner picked up another win with a wire-to-wire win in Dubuque on Friday night. Trenton Peterson finished second, with Lincoln Skar crossing the line in third.
JR 14-15: Thor David Rasmus put in a heck of a ride to win his first race of the 2022 season. Rasmus took the early lead over the Junior 14-15 field and led the entire race. Isaac Peterson made it three straight second place finishes and Kaden Helsel finished third in his first race of the season.
TRANSITION 9-13: Tanner Johnson is rolling to start the 2022 season, becoming the first rider to win three straight finals after putting in another dominant ride in the Transition 9-13 final. Caiden Pflipsen returned to the podium after a one-race absence and Kamden Duffy put in his best ride in a final this year by finishing third.
It will be a quick turnaround for teams as AMSOIL Championship Snocross returns for a full day of racing on Saturday, January 15 in Dubuque, Iowa. Pro racing begins at 6:00 PM Central Time. The entire AMSOIL Championship Snocross series will air on FloRacing and CBS Sports Network. To subscribe to click here.