Salamanca, N.Y. ~ Eight rounds down and eight rounds to go as AMSOIL Championship Snocross wrapped up two days of high-speed, big air racing in upstate New York.
With half of the season in the rearview mirror, any sense of championship clarity is still a way down the road. Elias Ishoel returned to the top of the pro points, while a pair of Polaris riders put a stop to Jordan Lebel's winning streak in Pro Lite. After two days of racing, the New York track proved to be a great equalizer and almost every class saw several new faces emerge as championship contenders.
Ishoel Rolling after Weekend Sweep
Elias Ishoel and Hunter Patenaude are lining themselves up for a second-half showdown, as the two wrapped up the season's first half with a dazzling dance around the Salamanca track.
It was a scrum to get to the first corner on Saturday night, and another scrum to get across the finish line and into turn two with the lead. Patenaude struck first, getting to both turns with the lead. It was a nice rebound after a tough day of racing on Friday. Patenaude looked smooth on Saturday night and was poised to win his first race of the season. Ishoel had other thoughts.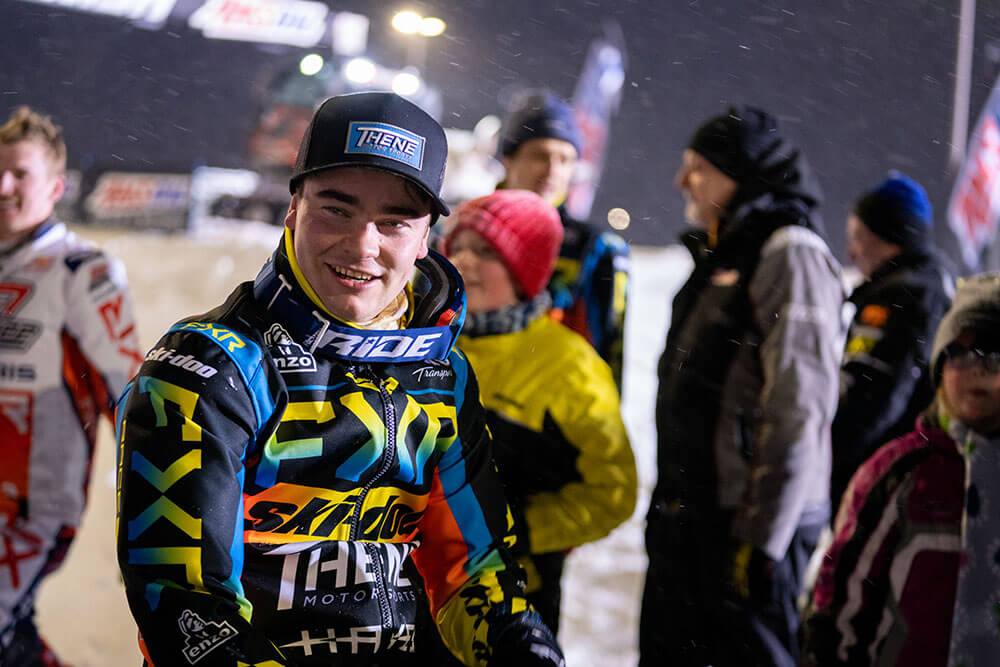 The defending champion spent the majority of the race eating the roost being shot out from behind Patenaude's sled. But Ishoel was also getting closer to Patenaude's taillight with each passing lap. With just over two minutes left on the clock, Ishoel made his move and took over the lead. Patenaude kept close, but Ishoel was locked in and rode to his third straight win.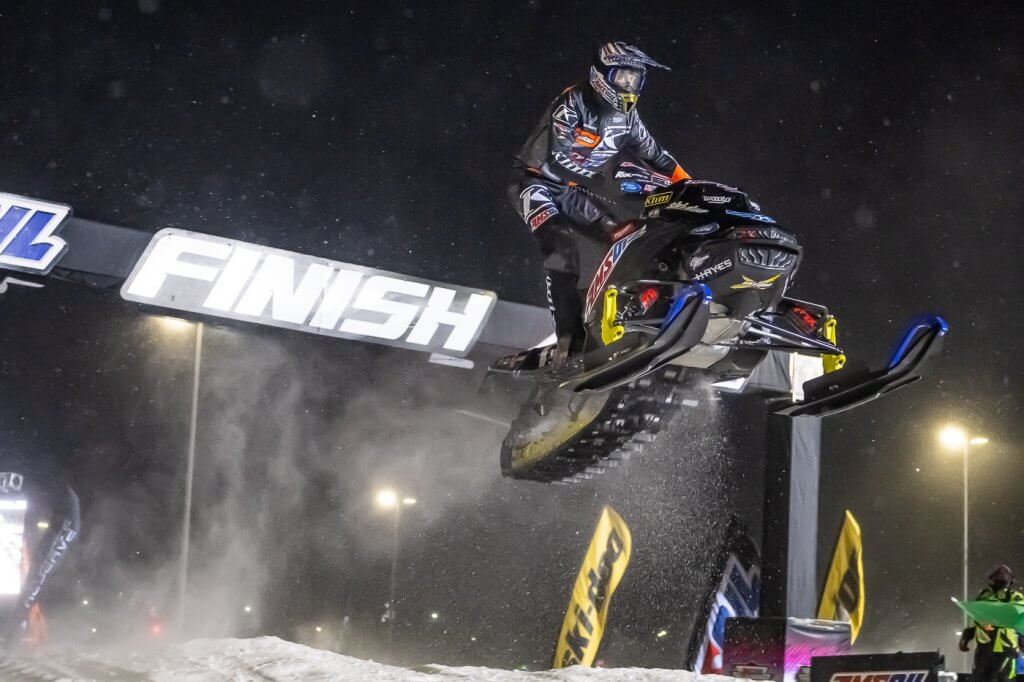 Patenaude never has two tough races in a row and that trend continued on Saturday night. Despite giving up a late lead, his second-place finish did mark his fifth podium of the season and he is keeping pace with Ishoel in the points race.
Kyle Pallin was in rhythm during round eight action. The perennial fan favorite rode a strong and steady race, finishing third. It marked the first time Pallin has made it on the box this season and it pushed him back into the top five overall.
Oskar Norum and Francis Pelletier raced each other hard to the finish line, with Norum finishing fourth and Pelletier in fifth.
Note: We incorrectly referenced Friday nights runner-up Jacob Yurk as a rookie. It is Yurk's third season in the Pro class. We regret the error and congratulate Yurk on a great race.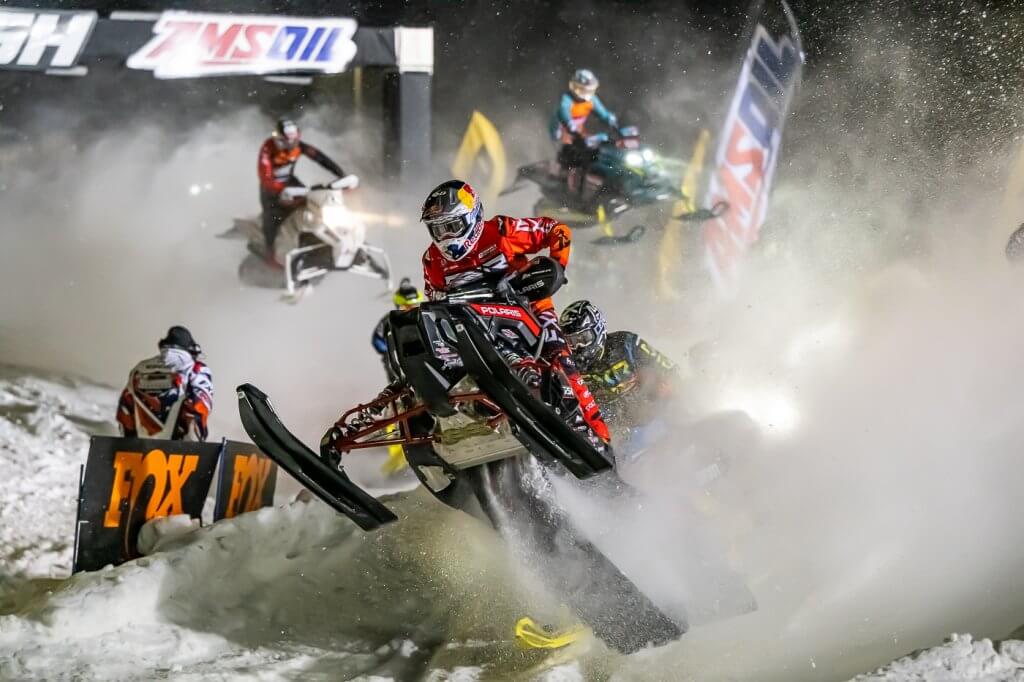 Lorenz Lights the Lamp in Pro Lite
Nick Lorenz has been extremely close to winning his first Pro Lite race of the season. He has mixed his high-level of determination with a hard-charge style that has put him on the box five times this season and sitting second overall behind Jordan Lebel. A win at this point of the year would be a big boost to his championship chase.
He finally got it in New York. Lorenz loves New York. He picked up his first professional win in New York. On Saturday, he left New York with the winning edge.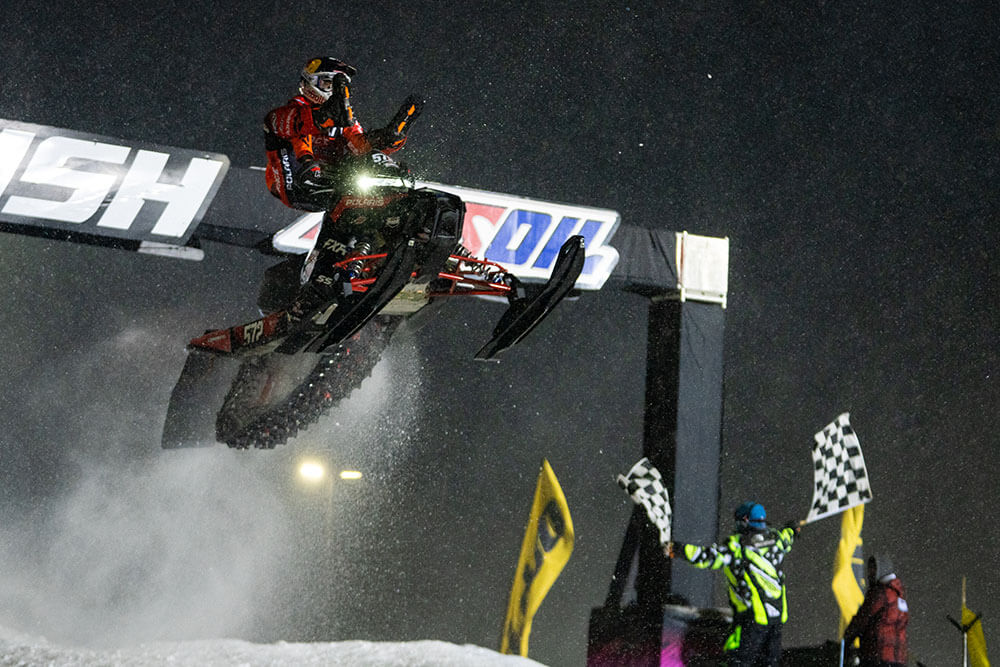 Lorenz blasted off of the start, banging through the moguls and getting through the first few turns with the lead. That hole shot set up a great race that saw him attack the big, windy track in Salamanca. He was running on adrenaline as he came to the line, hitting doubles while fist pumping his way down the final straight stretch.
"I got my pro Lite career win here in 2020 and it feels good to get my first win of the year here again," said Lorenz. "The crowd is unreal here. They are cheering like crazy and it's like a dream come true to come here again and win.
"I wanted to hit the light good and just hit my marks on the first straight away and I wanted to get that inside corner and just lead from green-to-checkers and fortunately I was able to do that tonight."
Marcus Ogemar continued his stretch of running with the front of the pack. After another great start, Ogemar kept Lorenz honest for the first several laps, keeping the race winner within a few sled lengths. He would settle into second and was able to keep the gap between him and Ryley Bester for the runner-up spot.
After winning on Friday night, Bester was once again fast on Saturday. While he was challenging Ogemar, he was also able to pull away from the field and stay in touch with the lead pack. His two podium finishes in New York marked his best weekend of racing this season as he moved into fourth overall, just four points behind Ogemar for third.
Evan Christian tied his best finish of the season in fourth and Anson Scheele was able to work his way through some early race traffic to finish fifth.
PRO WOMEN: Taven Woodie took advantage of a great start and powered to her second win of the season. Woodie was not to be denied during Saturday night's Pro Women final. She kept on the throttle and was able to keep the field in her snow dust.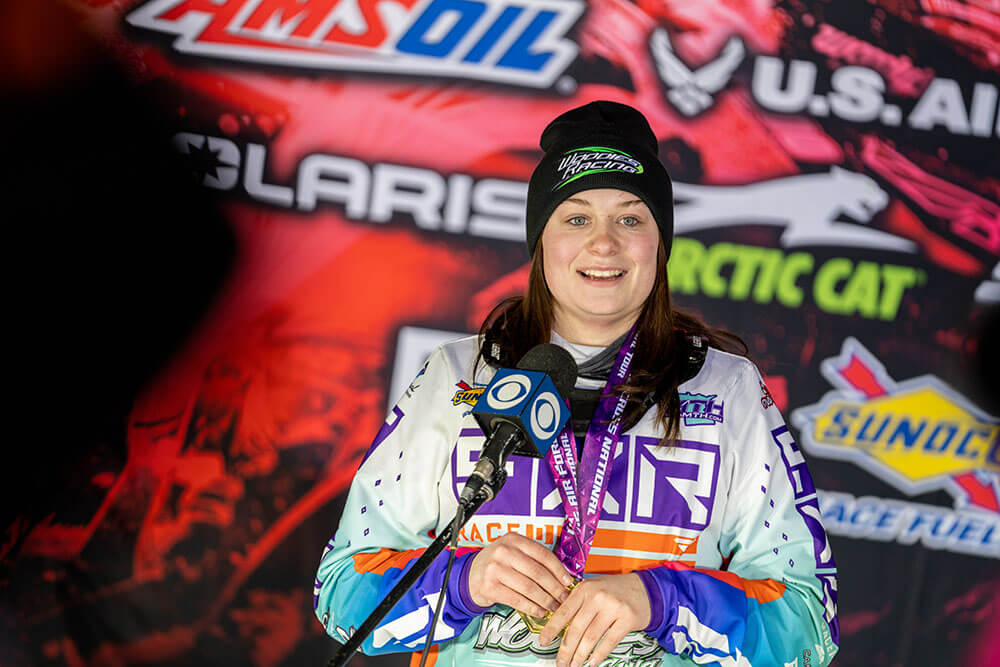 Inanna Hauger was also looking for her second win of the year but could close the gap on Woodie and finished second. Makenna Kleiman has been running some good races this season and found success by finishing third.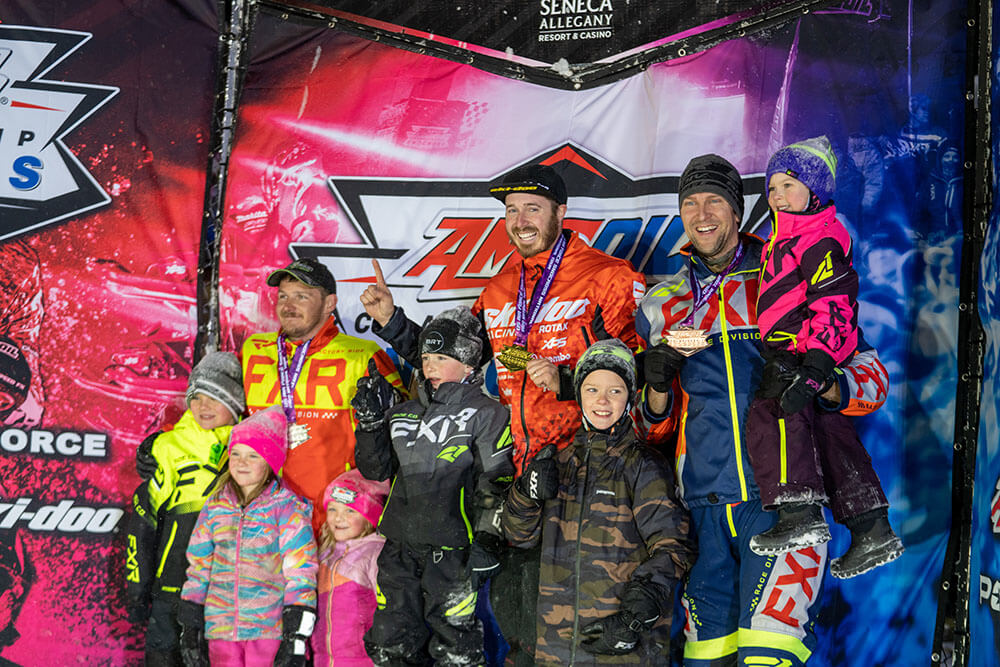 PRO AM PLUS 30: Maxime Bellerive has only raced twice this season in the Pro AM Plus 30 class, but he's made the most of it. Bellerive took home the win in New York, his second podium finish in 2022. Devin Denman took over the overall points lead with his second place finish and Joe Kohegyi made his podium debut with a hard-fought third.
PRO SNOWBIKE: Defending Pro Snowbike champion Jesse Kirchmeyer was leading early in the first moto but got into some trouble and finished sixth. That kicked the door wide open for Troy Horbaty and Yanick Boucher to battle it out for the overall.
Horbaty was able to capitalize with the first moto win, and Yanick was right there in second. But in the Moto 2, Kirchmeyer again took the early lead, but this time he didn't give it up. Horbaty, meanwhile, was the aggressor, pushing hard for a second place finish. His 1-2 gave him the overall. Boucher was also solid in the second moto, and his 2-3 was good enough for second overall. Kirchmeyer's win helped him get the final podium spot.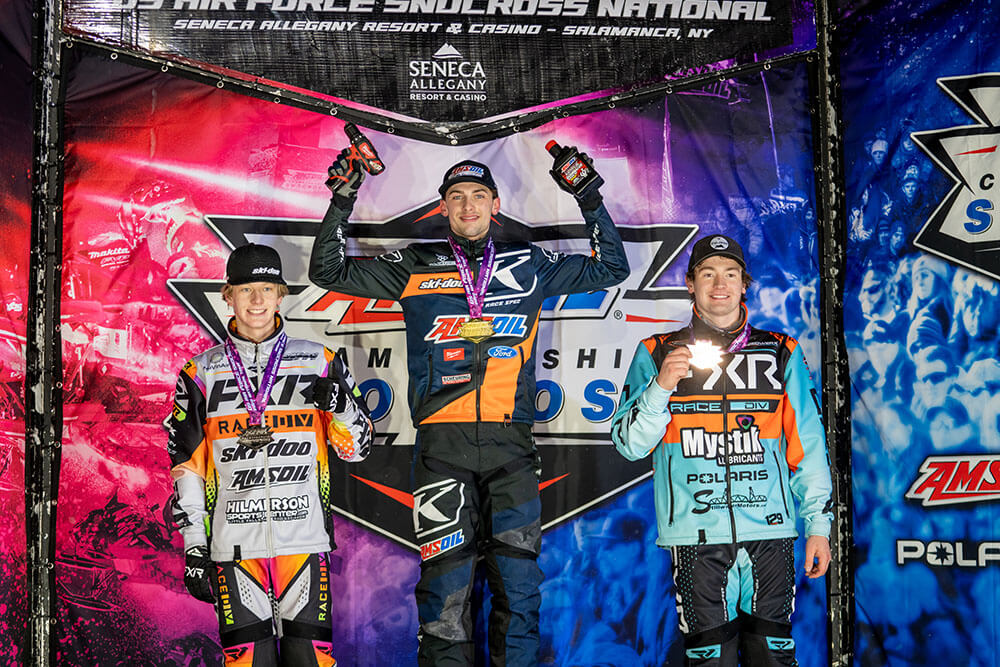 FXR SPORT: Adam Ashline had his win streak stopped at six on Friday night, but the Ski-Doo rider rebounded nicely on Saturday with his class-leading seventh win. Friday night's winner Drew Freeland was back on the box as well, finishing second after a back-and-forth race with Eric Downs, who finished third.
SATURDAY SHOWDOWN
SPORT LITE: Craydon Dillon keeps on rolling as the Sport Lite rider notched his fourth straight win on Saturday night. Dillon picked up the weekend sweep with a dominant final, finishing more than eight seconds ahead of second place rider Even Romsdal. Isaac Peterson finished third.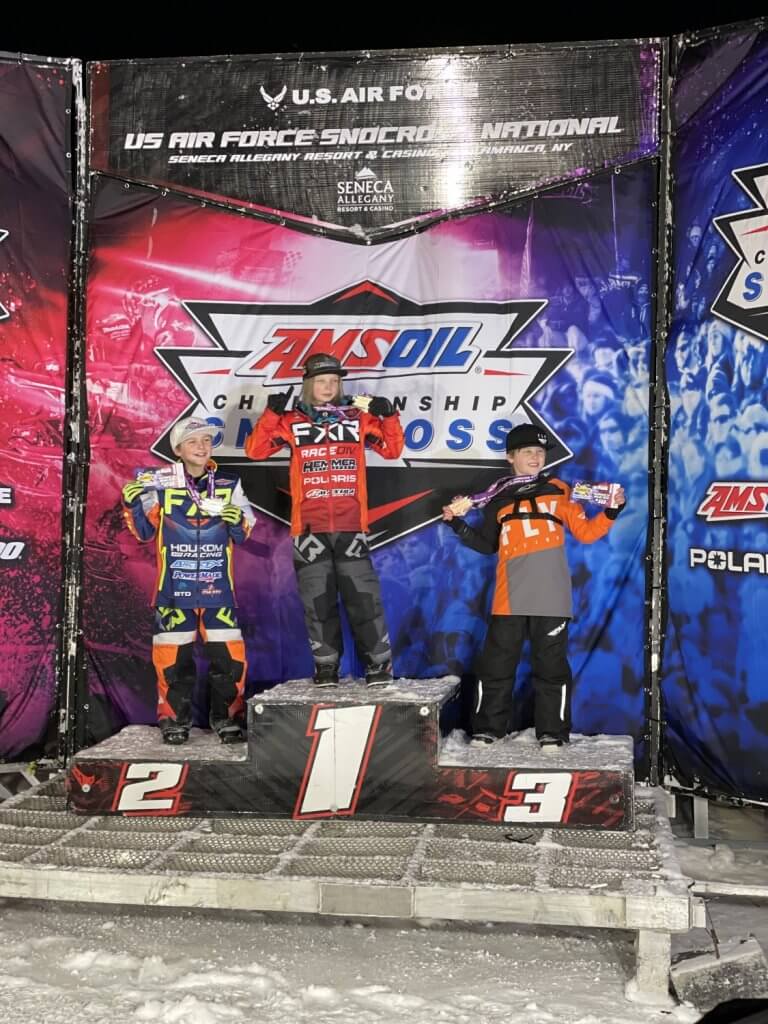 120 CHAMP: Avery Hemmer and Jaxon Houkom continued their season-long showdown in the 120 Champ class on Saturday night. Hemmer got the edge in New York, but Houkom kept pace in the overall points standings by finishing second. Ryan Shimanski finished third.
TRANSITION 8-10: Riley Johnson and Ryder Hayes put on a show in the Transition 8-10 class on Saturday. The two ripped round the Salamanca racetrack in tandem, but it was Johnson who was able to hold off Hayes at the line by about a sled length. With Hayes in second, it was Avery Hemmer who locked down the final podium spot.
STOCK 200: Ryan Shimanski brought his broom with him to New York as the Stock 200 racer swept the weekend with another strong race on Saturday. Trenton Peterson finished second for the second day in a row and Lincoln Skar rounded out the podium in third.
JR 14-15: Isaac Peterson's weekend in New York resembled most of his weekends this season as the Junior 14-15 driver won both races in Salamanca. That marks six straight wins for Peterson. Jacob Begin kept pace with Peterson for the second night in a row and finished second. Shade Meyer came across the line in third.
JR 16-17: Connor Campbell continued his strong start to the season by picking up his first win of the year in the Junior 16-17 final. Campbell has made the podium in all four rounds this season. Thomas Levi missed the first two rounds but has made it on the box the past two after finishing second on Saturday. Points leader Jan Even Romsdal kept his podium streak in order as well, finishing third.
JR Girls 9-13: Kendall Rose stayed undefeated after winning Saturday's Junior Girls 9-13 final. Rose led from start-to-finish for her fourth win of the year. Cecily Bernaiche cruised to a second-place finish. Rilee Nowaczyk made her first trip to the podium this year by finishing in third.
TRANSITION 9-13: Dylan Lebel notched his first win of the season in the Transition 9-13 class on Saturday. Lebel grabbed the lead of the start and kept Friday nights winner Tanner Johnson at bay for the win. Johnson would cross the line in second, with Carter Meyeraan finishing third.
JR 10-13: Lebel was also your winner in the Junior 10-13 final. Lebel once again had his hands full with the pursuit from Tanner Johnson, who finished second. Trenton Hilmerson grabbed the final spot on the podium in third.
The 2022 AMSOIL Championship Snocross returns to action in two weeks as the series heads to Deadwood, S.D. on March 3-4. AMSOIL Championship Snocross airs all rounds live on FloRacingand CBS Sports Network. To subscribe to click here.