Elk River, Minn. ~ AMSOIL Championship Snocross has gone to the extremes the past two weekends. One week after a trip to Deadwood, S.D. featured the smallest and tightest track during the sixteen race series, competitors were met by the biggest and widest circuit this season in Elk River, Minn.
A majority of the racers that tour with the series are used to the ERX Motor Park track, but the large layout that was unveiled for this weekend's action was a masterful mix of big air, multiple lines of racing and just loose enough to give fits to the world's best snocross pilots.
Ishoel Battles Back for 29th Career Win
Give a man an inch and he will take a yard. Give a pro snocross racer a chance to catch some air and they will fly through the night. That was the case for the Pro classes on Friday night as the top riders hit big jump after big jump in a wild Pro final.
The story early was all about Hunter Patenaude, who was the top qualifier and took the lead after the first turn. He held that lead until about three minutes remained on the clock when his sled seemed to lose power.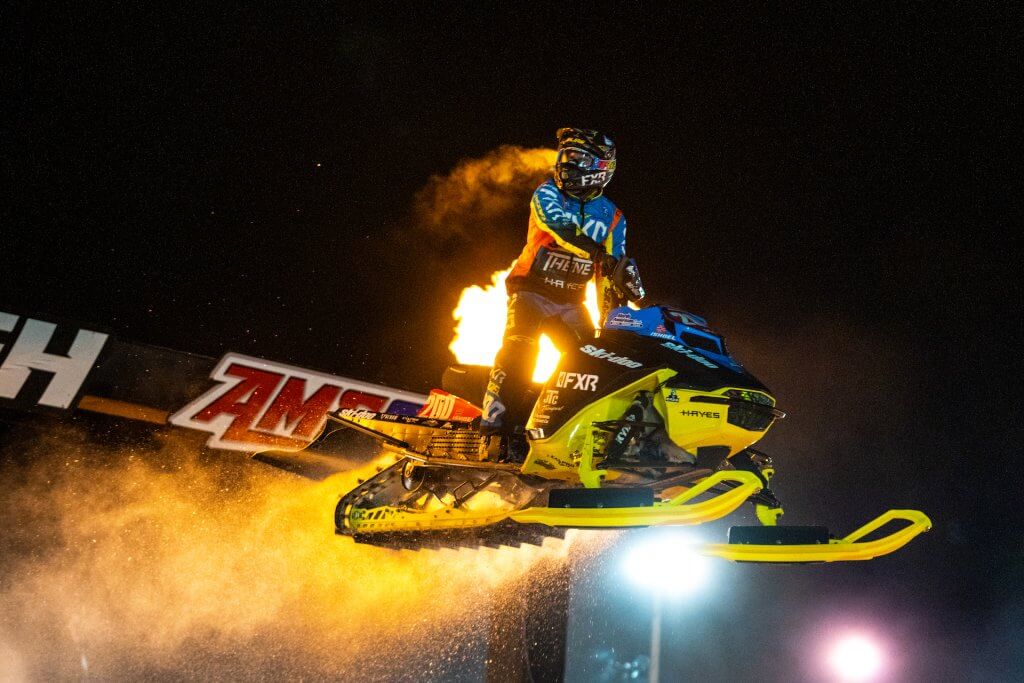 Behind him, Elias Ishoel kept chipping away at Emil Harr for second, carrying both riders closer to Patenaude. When Patenaude slowed, Ishoel was able to get past both men and take over the lead. From there he was able to stretch his championship legs, taking the win by more than four seconds and his fourth career win at ERX.
"I was trying to find a good line," said Ishoel who won his 29th career pro final. "I just knew it was going to be better and better in that inside line, so I kept doing it and making up time."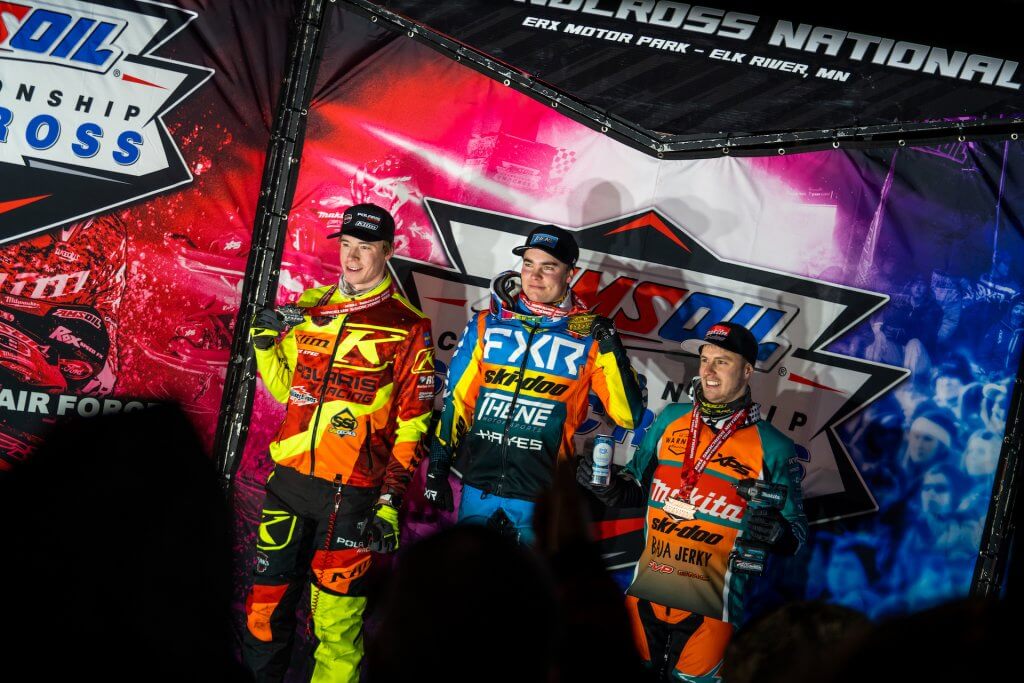 Harr used some early race maneuvering to get into the second spot. His early battle with Ishoel was one of the best in-race battles of the night. The round nine winner kept charging, grabbing his fifth podium of the season and keeping pace in the overall points race (third overall).
"It always feels great to battle with Ishoel because I know that he's a good rider and he's a friendly rider, also," said Harr. "We were having fun out there and he was a bit faster today, so he passed me, and I ended up second, so I'm super happy."
After the strong start, Pelletier shuffled back, but he was able to stay in touch with the lead group, and when Patenaude slowed, he pounced into the third spot. He did continue to close the gap on the top two but ran out of time as he cross the line in the final podium spot.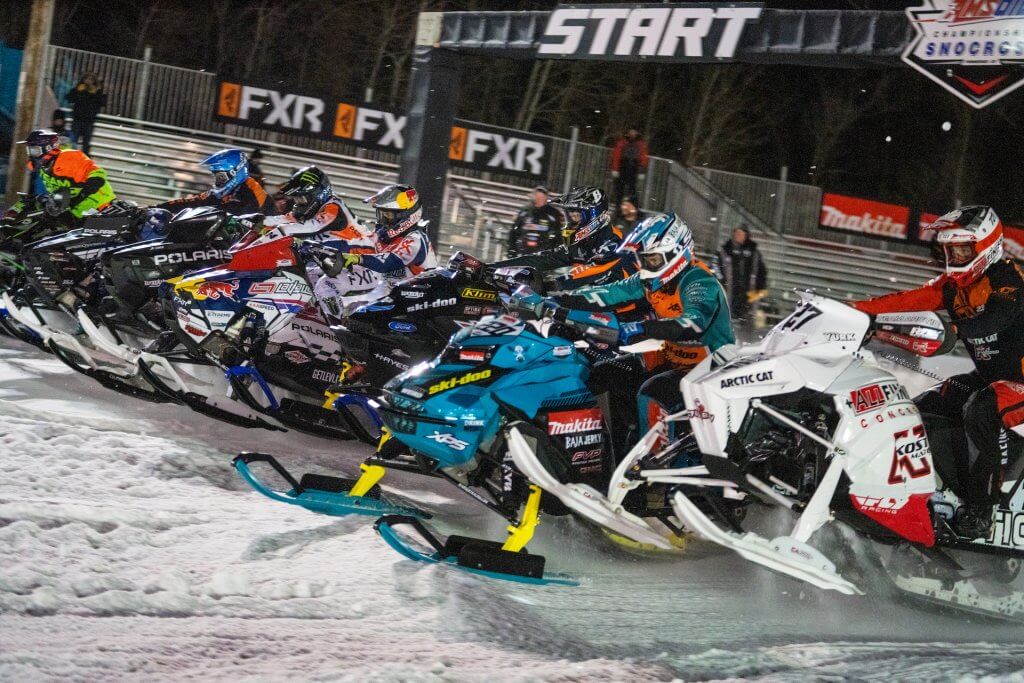 "We got the Speedwerx-tuned machine just ripping the start right away," said Pelletier. "I just kept pushing until the end, you know sometimes there's races like this and so we're going to take (this finish) and be really happy about it,"
Whatever slowed Patenaude was brief as he powered back to a fourth place finish. He continues to qualify well and sits second overall behind Ishoel. Daniel Benham rounded out the top five.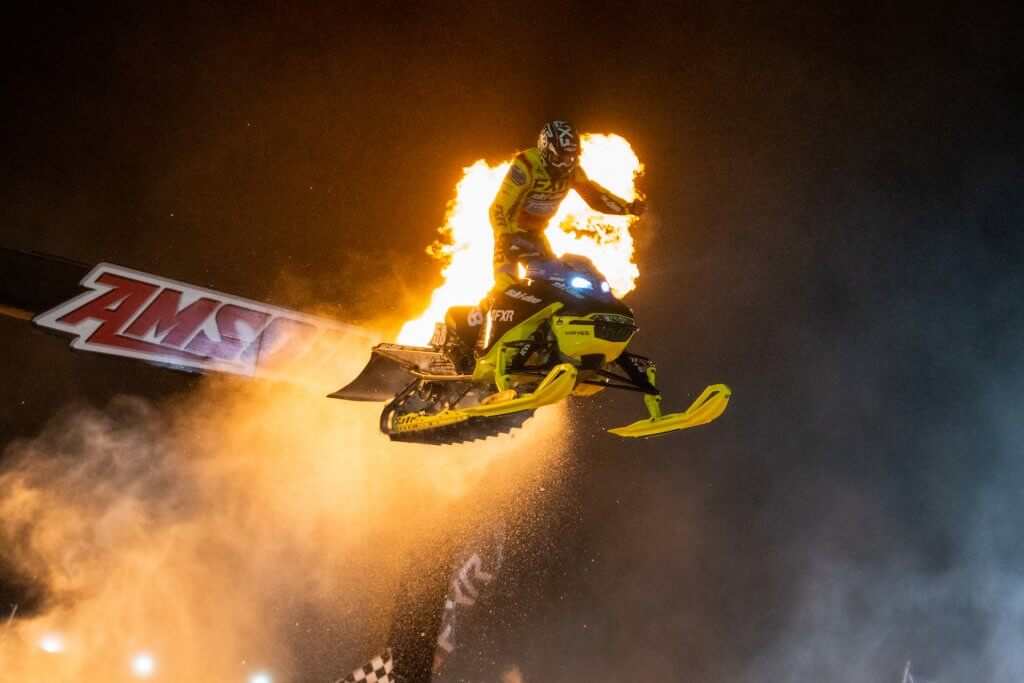 Ogemar Outlasts Lebel for First Win
Early in the Pro Lite final on Friday night, the ERX track was acting a lot like a bucking bronco as several riders were ejected from their seats on the opening lap.
That included early race leader Leo Patenaude, who grabbed the hole shot but wasn't able to get to the AMSOIL finish line with the lead. Several riders took advantage of the crazy first lap, including Marcus Ogemar and Jordan Lebel.
Ogemar stretched out his early lead, but as the clock dwindled and the final laps came into focus, Lebel's charge was looking for resolution. Lebel, the current Pro Lite points leader, had to start in the back row, but was able to get through the first lap clean and when the clock hit zero, he had closed the gap on Ogemar to less than two seconds. But Ogemar had the right lines, and despite the heavy pressure from Lebel over the final two laps, he was able to hold on for his first win in more than three years.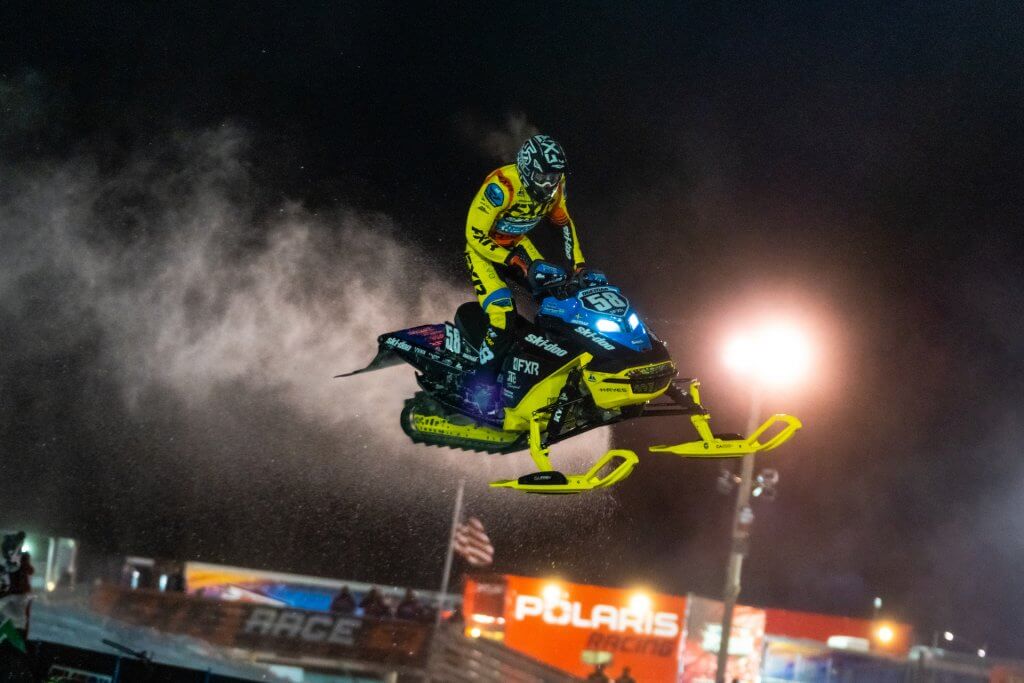 "I got a good start and I tried to pick my line and Leo made a mistake on the first lap, so I was able to pass him," said Ogemar. "Then I tried to put down some fast laps in the beginning, and yeah it's awesome. It's been a long time since I've been winning a race. Over three years, so this feels really good."
Lebel had an eight place finish in one of his heat races, putting him in the back row for the final. He used an inside line to duck under the field and came out in fifth. Four minutes into the final, he got around Anson Scheele for second and had his site set on Ogemar. On the final turn, he nudged the front of his sled next to the rear bumper of Ogemar's, but it wasn't enough as the points leader grabbed the runner-up spot.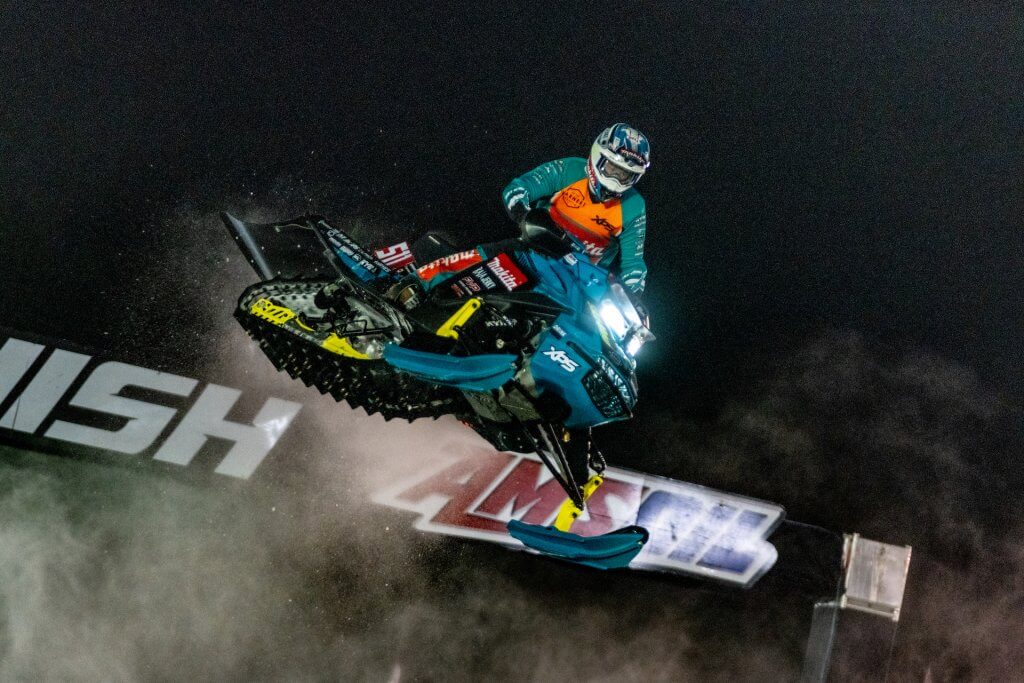 "We had a mechanical problem in the first seat, so I went to the LCQ, so I was back," said Lebel. "We just wanted to have a good start and I came out of the corner in like fifth. Marcus was really fast tonight, and I couldn't find a line faster than him."
Scheele continued to find confidence, and success, in the Pro Lite class on Friday night. Over the past five races, he has been the most consistent rider in the class with three podiums and four top five finishes. But the Arctic Cat driver is looking for more as the season sprints to its finale.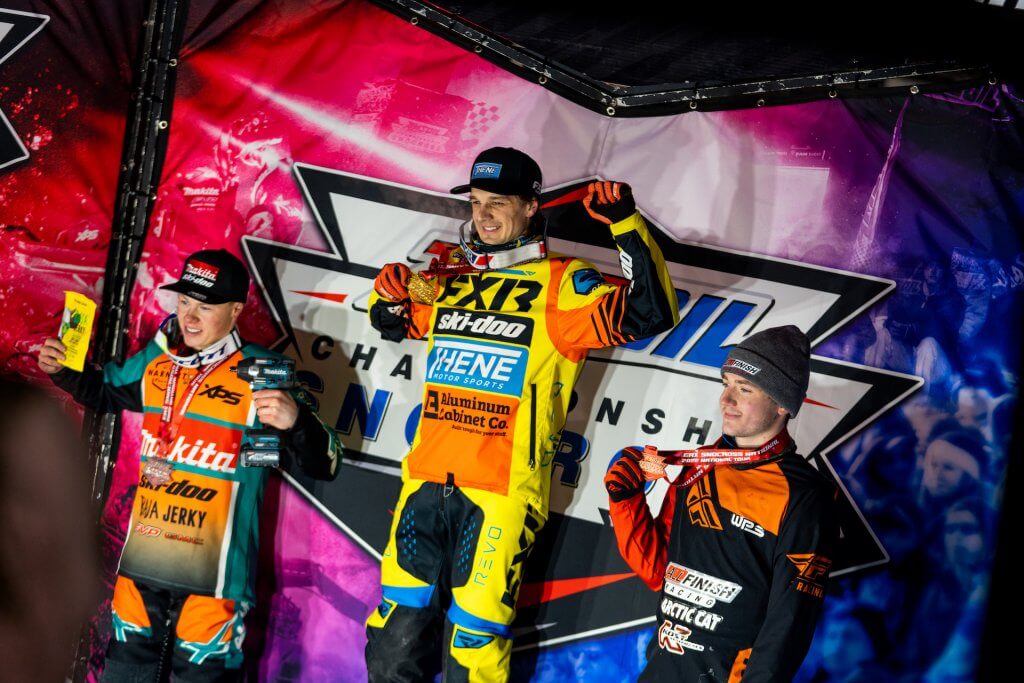 "It wasn't my best race," said Scheele. "I came out in second and I went behind a little bit. I just tried to fight until the end. I'm happy with the third place finishes, but I'm tired of getting these. I want to go up a couple steps."
Evan Daudt's success at ERX continued as he finished fourth on Friday night. High-flying Andy Pake earned a top five finish in his first race action since round four.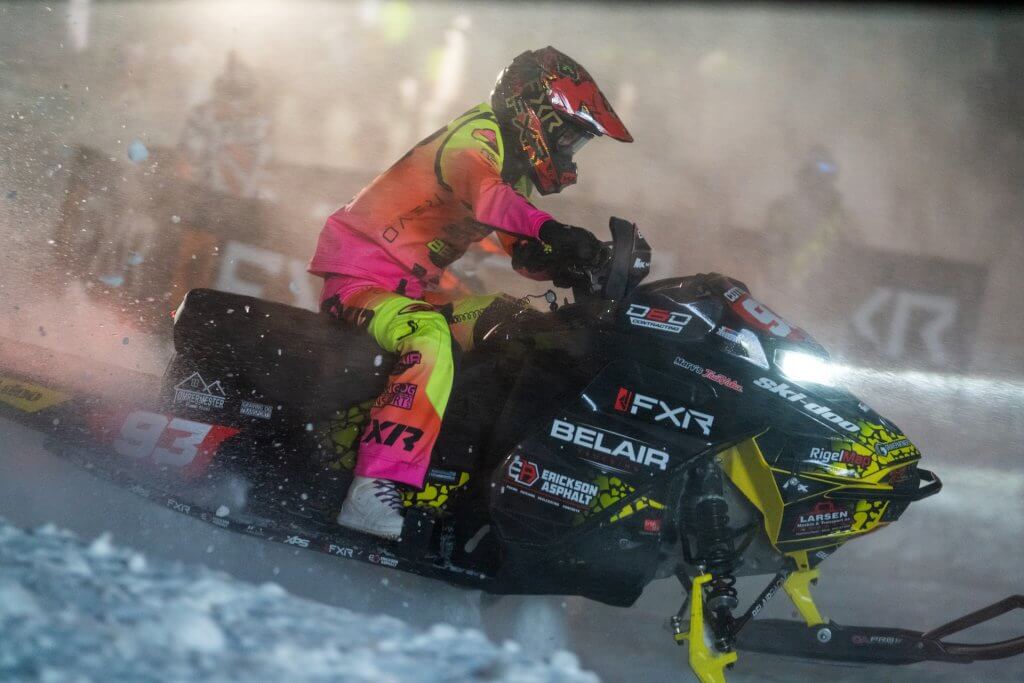 PRO WOMEN: After a slight bobble in Deadwood, Pro Women's points leader and defending champion Malene Cottew was error-free at ERX on Friday night.
Cottew led a full field of 14 sleds around the left-handed turn one and she hit her marks, lap-after-lap on her way to a nearly 18-second win. It marked her seventh win this season and gave her a little bit of breathing room over Inanna Hauger.
Taven Woodie was looking to throw everything at the ERX track on Friday night. Early on in the final she attempted the big triple jump, and that was enough to get her into the runner-up spot. She and Hauger would dice it out for second, but Woodie was quickest to the line in a close finish.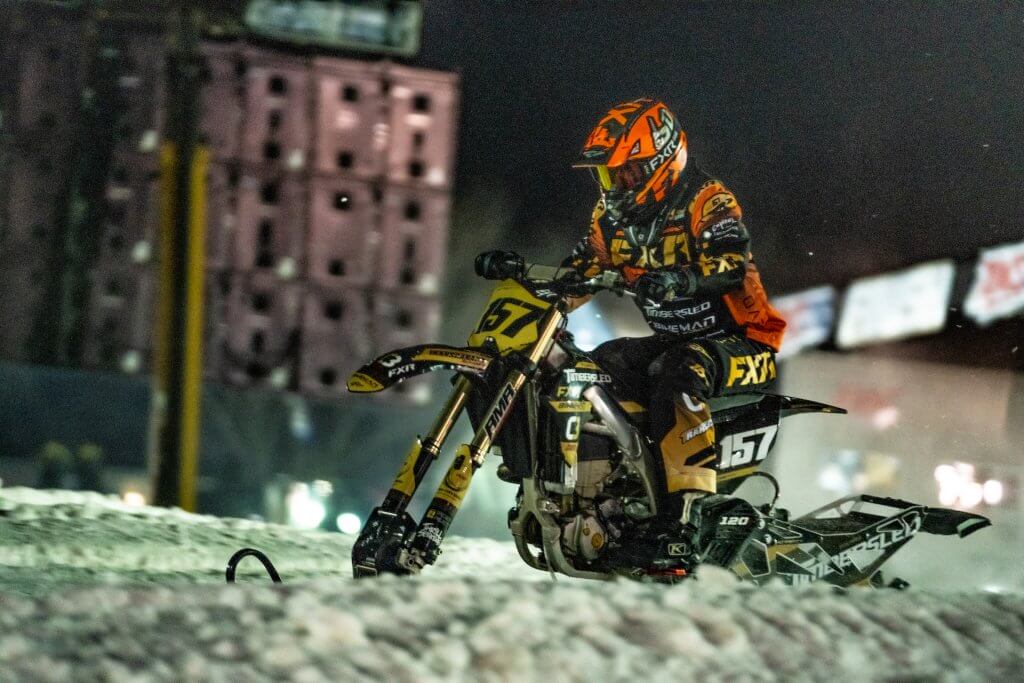 PRO SNOWBIKE: The Pro Snowbike class has been led all season long by the trio of Jesse Kirchmeyer, Troy Horbaty and Yanick Boucher. All three led in the first moto, but it was Horbaty who took the win, with Kirchmeyer in second and Boucher in third.
That set the mark for a great second moto, but things quickly got crazy for the front-runners. Horbaty was out front first, but Kirchmeyer was able to get around on the second lap. Just a few turns later they would both pitch their bikes into a left-handed turn, and both went down in a pile. Horbaty was able to get back on his mount first and found himself back in second place.
Horbaty would have to follow Keaton Ward around the big track for the remainder of the second moto, finishing second behind Ward. Kirchmeyer was able to rally and made some late moves to get back into the top three.
When the math was done being calculated, Horbaty's 1-2 gave him the overall. Kirchmeyer's late move into third was just enough to get second overall (2-3) and Ward was able to capitalize on the win to finish third overall (5-1). Boucher would go 3-5 after a second moto crash.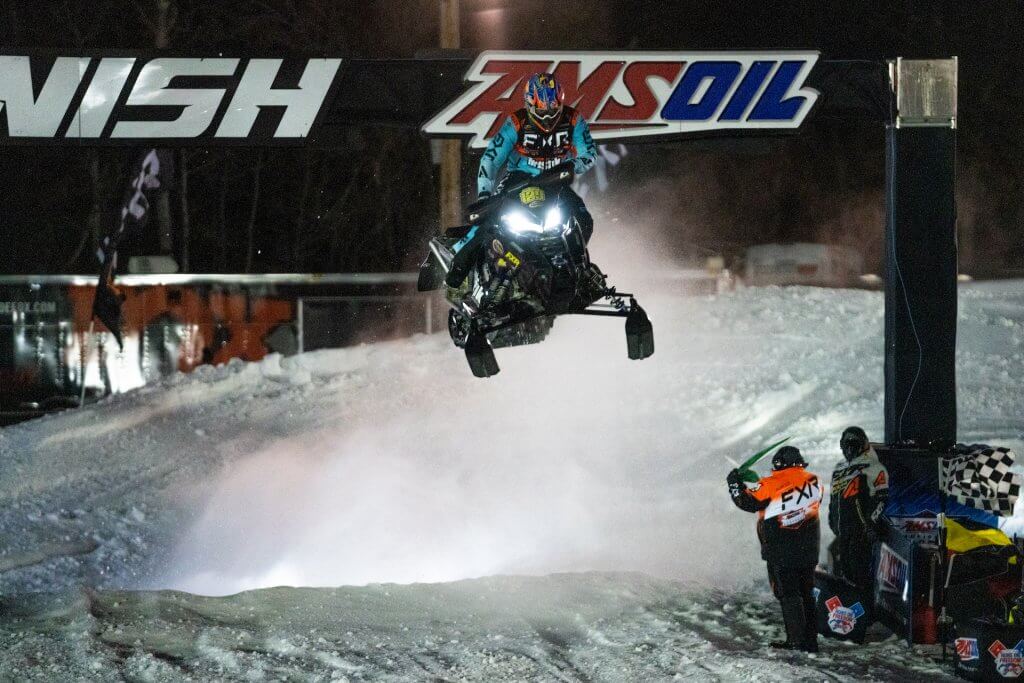 FXR SPORT: Eric Downs blasted off the start and controlled the pace as he picked up his second FXR Sport win of the season. Downs led from wire-to-wire as he picked up some much needed points in his quest to track down points leader Adam Ashline.
Ashline did everything he could to move up the leaderboard on Friday night, but he couldn't get past the steady sled of Drew Freeland, who has found a spot on the box in three of his past five races since returning in round seven.
Ashline hasn't missed a podium in 2022, including eight wins. He kept the podium streak alive at ERX, finishing third.
FRIDAY SHOWDOWN
SPORT LITE: Cameron Cole extended his overall points lead with an impressive win in Friday night's Sport Lite final. Cole made it two in a row, and four wins overall after setting a blistering pace at ERX.
Gavin Love successfully returned to racing action with a second place finish. Love, who won the opening round but hasn't raced since, got around Tanner Johnson for the runner-up spot on lap five. Johnson kept pace, finishing third.
TRANSITION 8-10: Riley Johnson has been perfect on Friday nights in the Transition 8-10 class this season, but Ryder Hayes had him covered at ERX. Hayes was able to get around Rylan Nelson on the second lap and motored to the win. Nelson kept pace to finish second, and Tyson Kielman came across the line in third.
STOCK 200: Ryan Shimanski turned the fastest lap in the Stock 200 and came away with his fourth class win of the season on Friday night. The points leader held off Colden Harnois, who found his way to his first podium of the season. Trenton Peterson, who won in Deadwood last weekend, made a late push to pressure Harnois for second before finishing in third.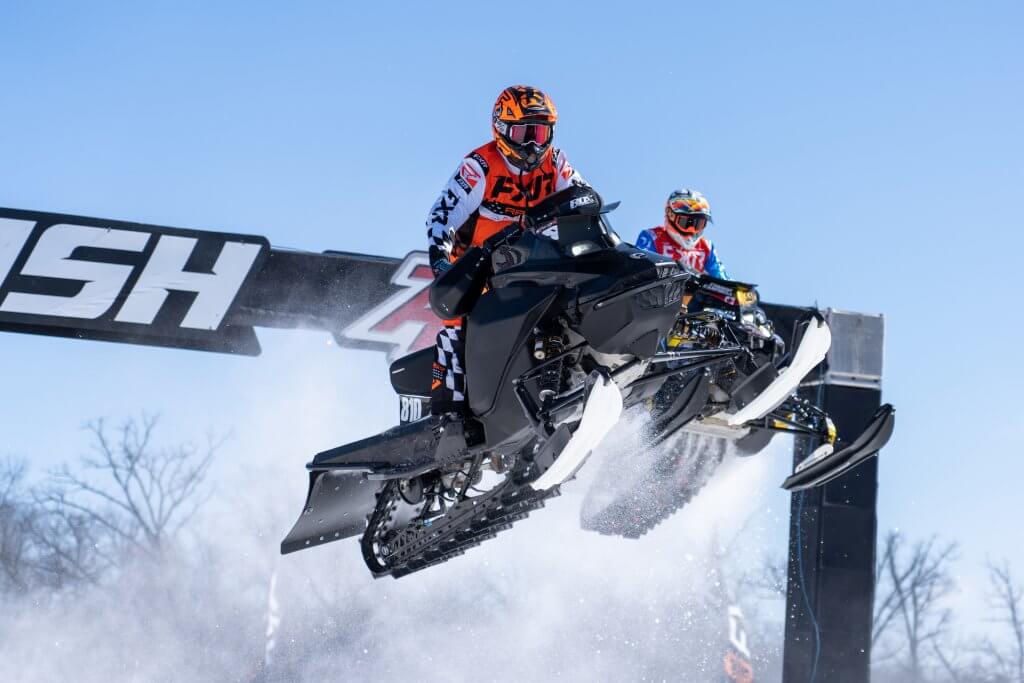 JR 14-15: Kenny Goike is starting to get on a role in the Junior 14-15 class. He finished with a win and a second place in Deadwood and utilized a great start to notch his second straight win at ERXZ. Points leader Isaac Peterson has not missed a Friday night podium this season, finishing second at ERX. Lawrence Eeg has now finished third in three straight Junior 14-15 finals.
TRANSITION 9-13: Dylan Lebel is starting to shine on Friday nights during national events. After missing the top five through the first four weekends, Lebel picked up his second-straight win on a weekend opener, cruising to a nearly seven second win. Caiden Pflipsen returned to box with a strong second place finish, crossing the finish line ahead of third place finisher Carter Meyeraaan.
The 2022 AMSOIL Championship Snocross will be back in action on Saturday, March 12 at ERX Motor Park for round twelve of the 16 round season. AMSOIL Championship Snocross airs all rounds live on FloRacing and CBS Sports Network. To subscribe to click here.