Lake Geneva, Wis. ~ With championship pressures mounting, and only four rounds of racing left on the 2022 AMSOIL Championship Snocross schedule, the series makes its annual trip to the Grand Geneva Resort in southern Wisconsin this weekend.
Friday night has been tabbed as the Showdown for a majority of the sports amateur ranks, with Pro finals often times being held in the evening. This year, the Showdown returned with nineteen races, plus an exciting Pro Women's final and the always entertaining AMSOIL Dominator melee.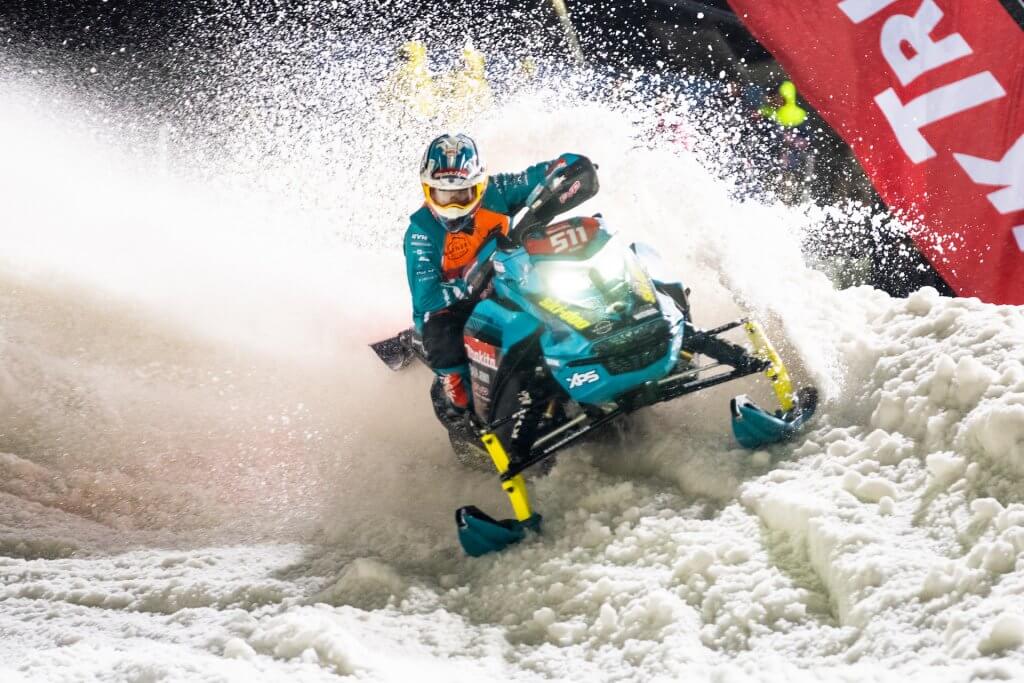 Lebel Holds of Pair of Pro's for Big Payday
The AMSOIL Dominator first started as a head-to-head, winner-takes-all shoot-out at the AMSOIL Snocross National in Duluth, Minn. It opened the season with a $10,000 payday and focused squarely on the Pro class.

Last season, the AMSOIL Dominator moved to a full-field extravaganza that featured both Pro and Pro Lites, and instead of a bracket racing format, the series now pitted a mix of ten Sport and Pro Lite qualifiers going against ten Pro qualifiers, who would have to start in the back row.
With a ten minute plus two lap format, the goal was for the more experience pro's to make a last second, heroic pass for the 10-k payday. Pro Lite rookie Jordan Lebel put the kibosh on that plan and pocketed the big reward all on his own.
Theo Poirier got the hole shot, and he and Lebel diced for the opening laps. But Lebel was able to get the lead with just under five minutes on the clock. This season, the Pro Lite points leader has been uncatchable with a lead, and he proved that to be the case again in the Dominator.
"I just had a good start that was a second behind Theo, who was running a good race," said Lebel. "I struggled to pass him, but then I found a line to get past him and then, yeah, I just rode my race. I could see (Peterson and Ishoel) coming, but I knew I was all right."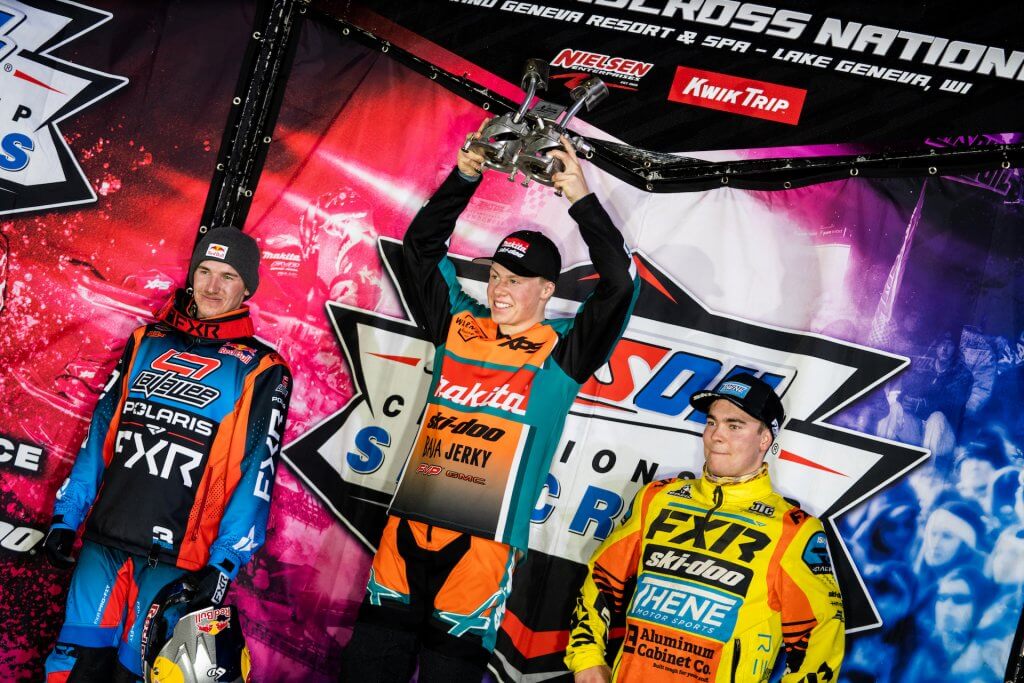 Lebel's win wasn't without pause. Adam Peterson, who won the event last season as a Pro Lite, was able to get into second about four minutes into the race but could never close the gap on the race leader.
Elias Ishoel also dug deep to try and catch Lebel. The former Dominator champion set some blistering lap times once he got clear from the crowd. He was able to catch Peterson, but never made it around the Pro rookie. Peterson would finish second to secure a $2,000 check. Ishoel's third brought home a $1,000 pay day.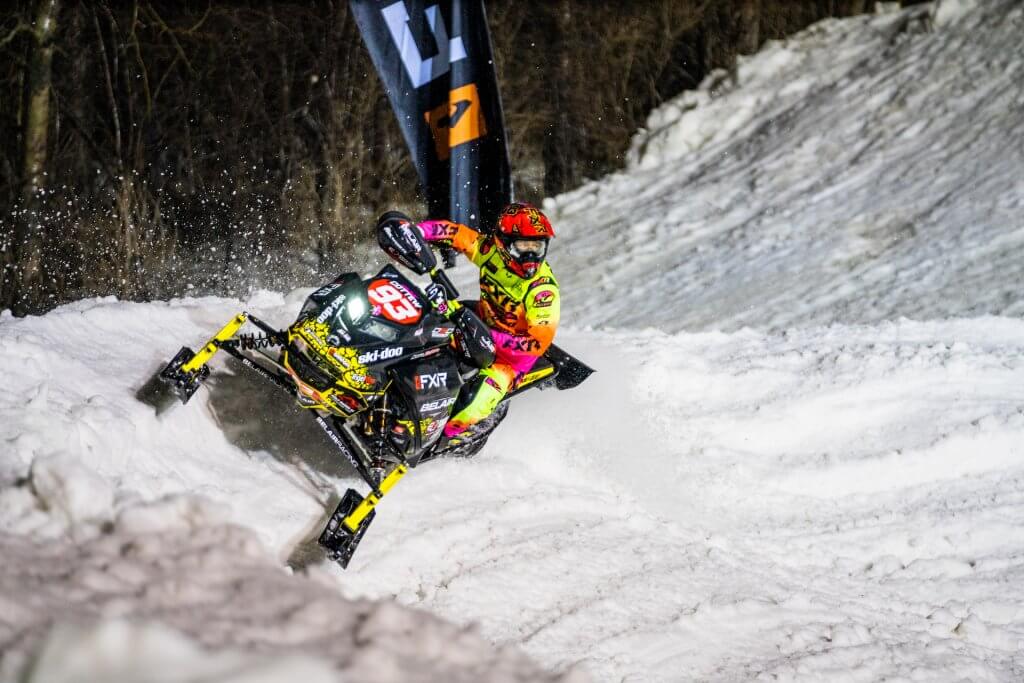 PRO WOMEN: Malene Cottew overcame a tough start to claim her third straight win the Pro Women's class. Cottew was pinched off the start but put on a quick charge to get into the lead.
Inanna Hauger once again was full throttle on the start, grabbing the hole shot. She had her hands full trying to fend off a hard-charging Taven Woodie over the final two laps. Hager was able to stay in front of the two-time winner in 2022, finishing second
For her fourth straight podium.
PRO AM PLUS 30 (SHOWDOWN): Tomosuke Sano got the hole shot and led from start-to-finish in the Pro AM Plus 30 Showdown race on Friday. It was Sano's second career win at Lake Geneva. Adam Johnson finished second, just ahead of Ryan Kuhn.
FXR SPORT (SHOWDOWN): Friday's FXR Sport race was part of the event's Showdown program and Emil Mikalsen made a last lap pass to take over the lead and the win. Jan Even Romsdal did everything in his power to get the position back, finishing less than half a second behind Mikalsen for second. Hayden Meyer finished third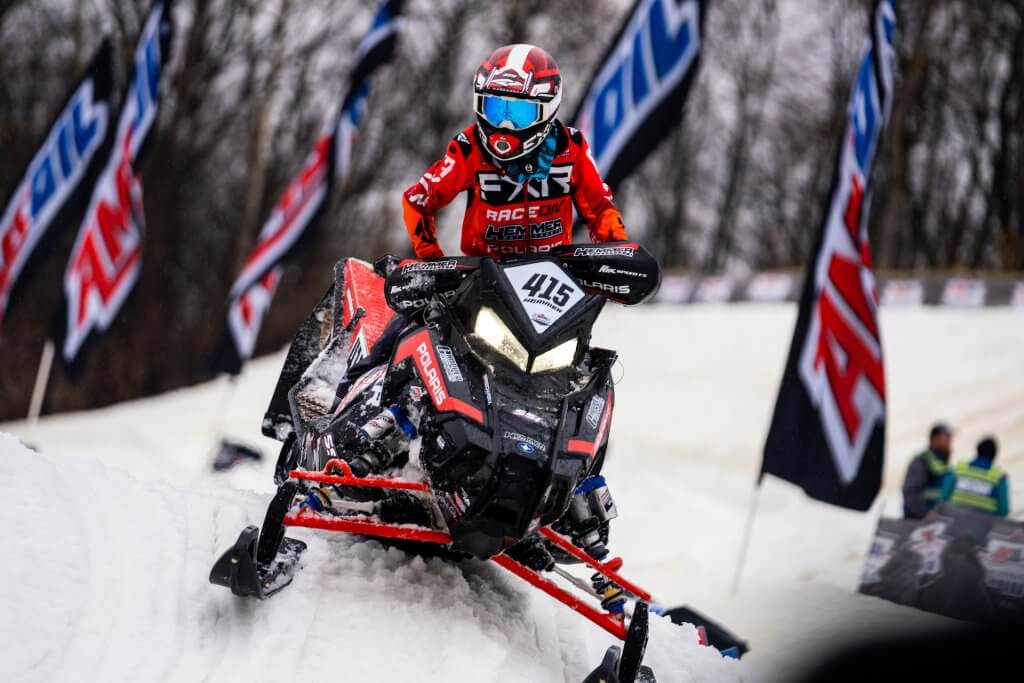 FRIDAY AMATEUR AND SHOWDOWN RACING
ISOC hosted its annual Showdown race at Lake Geneva. The day featured multiple classes and several riders participated in both a Showdown race and their current class race.
PRO WOMEN (SHOWDOWN): Ava McCurdy was not to be denied as she led wire-to-wire to win the Showdown's Pro AM Women final. McKaylee Meyerhofer finished second and Janiece Brown made it on the podium in third.
120 STOCK & IMPROVED STOCK 6-7: Harrison Skar worked his way into the lead on the last lap of the 120 Stock & Improved Stock 6-7 final on Friday. Jezebel Munford and Lia Harrison would finish a half-second apart, with Munford holding on for second.
JR 10-13 #1: Kamden Duffy was the Showdown winner in Junior 10-13 #1 on Friday, with Trenton Hilmerson cross the line in second. Shane Beasley finished third.
PRO 206 8-12: Lincoln Skar won two finals on Friday, with one of them being the Pro 206 8-12 final. Skar held off Beau Engel at the finish line for the win. Henry Dillon moved into the final podium spot with two laps to go, finishing third in the process.
PRO 206 6-7: Wyatt Miller was your winning Pro 206 6-7.
JR GIRLS 9-13 (SHOWDOWN): Kendall Rose led the entire Junior Girls 9-13 Showdown race in Lake Geneva on Friday. Cecily Bernaiche finished second and Victoria Dillon cross the stripe in third.
120 CHAMP (SHOWDOWN): Avery Hemmer was a double winner on Friday, including the 120 Champ Showdown final, Cody Moras kept pace, finishing second. Kody Krantz nudged Lila Hemmer out of the final podium spot by about two sled lengths.
JR 16-17: Connor Campbell set the fastest lap time of the Junior 16-17 final, while taking home the Showdown victory. Isaac Peterson finished second and Jack Beasley came home in third.
TRANSITION 11-13 (SHOWDOWN): Brandon Martinson was on point in the Showdown's Transition 11-13 final on Friday, Martinson grabbed the lead off the start and never looked back. Aiden Beckmann finished second, with Kasen Dunn rounding out the podium in third.
SPORT LITE (SHOWDOWN): Steven Max won a hard fought Sport Lite final on Friday as part of the events Showdown series. Max held the lead for the entire race, with steady pressure from runner-up Connor Campbell. Chance Tietjen finished third.
TRANSITION 8-10: Avery Hemmer picked up her first Transition 8-10 win of the season on Friday night. Hemmer had a tight battle with runner-up Wyatt Ohnstad and third place rider Ryder Hayes.
TRANSITION 8-10 (SHOWDOWN): Wyatt Ohnstad grabbed the lead on the second lap and cruised to the win the Transition 8-10 Showdown race. Tyson Kielman finished second, just head of Tristian Hinton.
STOCK 200: Trenton Peterson earned his first Friday night win of the season after running out front of the Stock 200 final from start-to-finish. Gvanni D'Antonio took the runner-up spot. Colden Harnois held off Tucker Jahns for the final podium spot.
JR 14-15: Isaac Peterson extended his points lead by winning Friday's Junior14-15 class race. Peterson had a dominant run in Lake Geneva, finishing almost 11 seconds ahead of the field. Treyton Kielman finished second, with Jack Beasley rounding out the podium.
JR 14-15 (SHOWDOWN): Jacob Begin grabbed the hole shot and the win in the Junior 14-15 Showdown race in Lake Geneva. Begin was followed to the line by Shade Meyer and Deegan Johnson. Meyer and Johnson finished less than a second apart at the finish.
TRANSITION 9-13: Points leader Tanner Johnson returned to the top of the box with a great start and dominant race in the Friday's Transition 9-13 final. Brady Freeland started seventh but set the fastest lap of the race on his way to a runner-up finish. Caiden Pflipsen.
TRANSITION COMBINED (SHOWDOWN): Owen Eide went wire-to-wire to win Friday nights Showdown race in the Transition Combined class. Cody Moras came across the line in second. Zach Miller finished third.
Only two weekends of Pro racing remain on the 2022 AMSOIL Championship Snocross schedule. The series heads to Grand Geneva Resort & Spa in Lake Geneva, Wis. for three days of racing. Action continues in Lake Geneva on Saturday, March 19th. AMSOIL Championship Snocross airs all rounds live on FloRacing and CBS Sports Network. To subscribe to click here.