Lake Geneva, Wis. ~ Friday night at Lake Geneva was filled with fun, and a big $10,000 AMSOIL Dominator pay day, as AMSOIL Championship Snocross held its annual Showdown featuring the best amateur snocross racers from around the United States.
On Saturday, it was back to the business of pursuing points as the Pro classes hit the big ski-hill at the Grand Geneva Resort. After Saturday's racing, there will only be three rounds left in the 2022 season, and every point has hit a critical stage.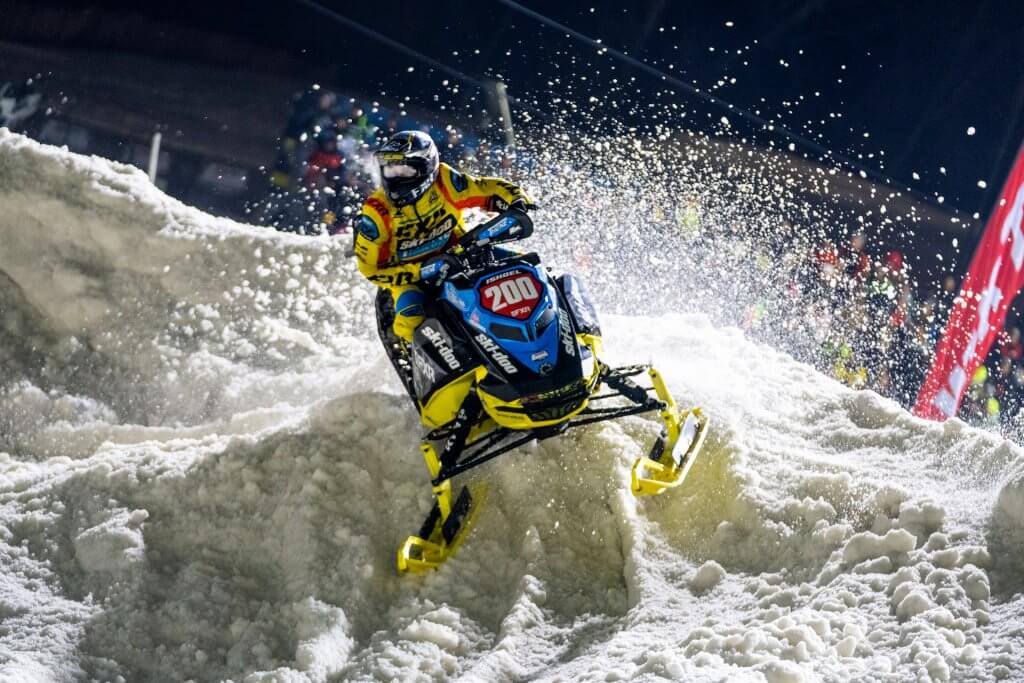 Ishoel Inches Closer to Fourth Title
There is still a lot that can happen with three rounds of racing remaining in the season, but Elias Ishoel is making the right moves as the clock ticks down on the 2022 season.
Ishoel, who has won the past three Pro championships, has raced at high-level all season, as shown by his six class wins heading into Geneva. He has been dominant at times and calculated at others. On Saturday, he was both, and got a little help as he notched win number seven.
Off the long uphill start, it was Oskar Norum who rushed out front first. It was the start Norum had been searching for over the past few rounds, and he took full advantage. He was on rails for most of the final that included the fastest lap time that was four seconds quicker than anyone else in the field. But with two laps to go, Norum sketched out in the rhythm section that runs parallel with the Lake Geneva grandstands.
That opened up the door for Ishoel, who was in the right place at the right time. The defending champ rolled through the yellow flag and then opened up his Thene Motorsports Ski-Doo for the win. His successful night helped extend his overall points lead over Hunter Patenaude, who finished outside of the top ten. What was a 28-point deficit is now up to 49 with three rounds remaining.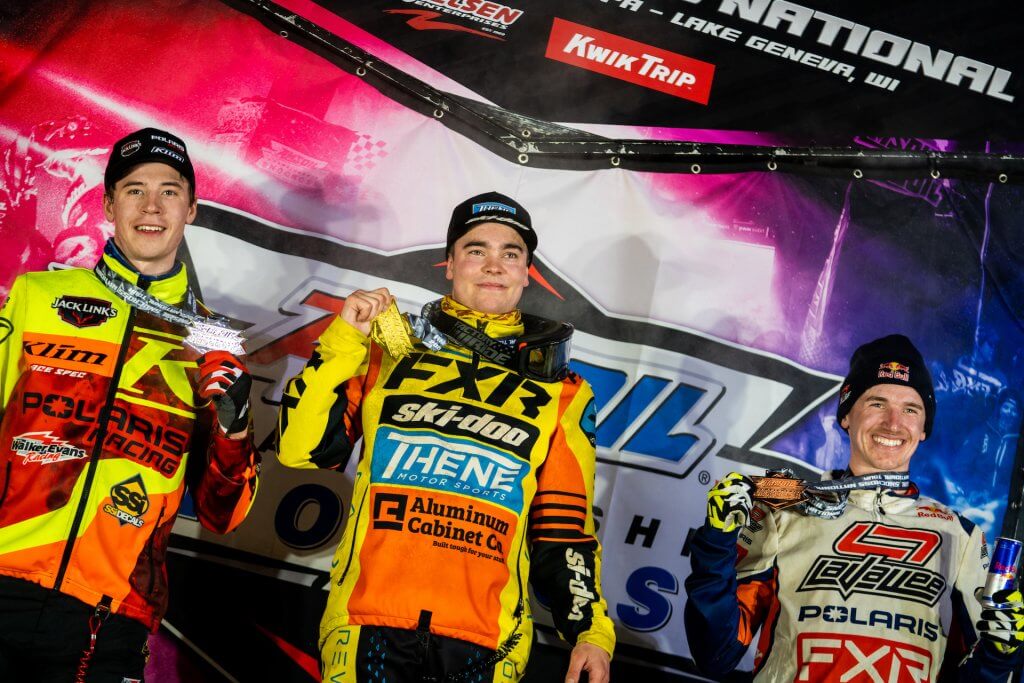 Emil Harr had worked his way from a mid-pack start to find his sixth podium finish this season. Harr started seventh, but the Polaris rider was on the move all night. He caught up to Ishoel with four laps remaining and slid into the runner-up spot right behind the race winner. It also moved him closer to second overall, with just three points separating him and Patenaude.
Pro rookie Adam Peterson also moved up a spot after Norum's off. The Polaris rider moved into third behind Harr, picking up his third podium finish in 2022. Kody Kamm finished fourth, one spot ahead of his teammate Norum, who was able to quickly remount and power to a fifth place finish.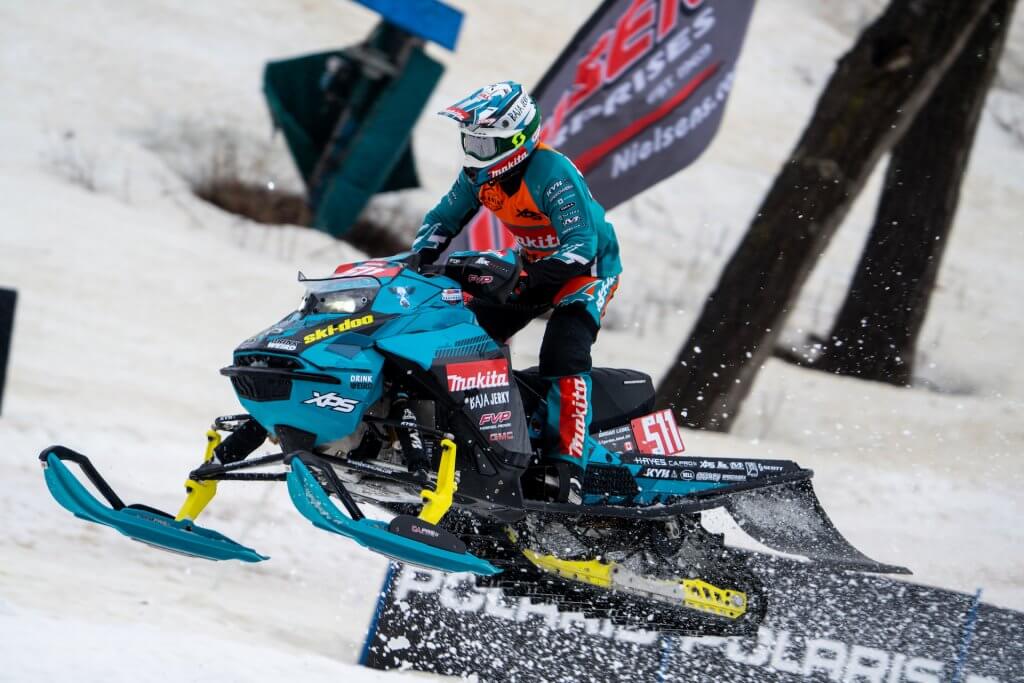 Number Nine for Lebel
There has been zero learning curve for Pro Lite rookie Jordan Lebel this season. Instead, it has been a steep incline to the top of the standings. He took the opening round win in Canterbury, and after a remarkable run on Saturday in round 13, the Ski-Doo rider has nine total wins.
One night after cashing in on the $10,000 AMSOIL Dominator win, which included both Pro and Pro Lite riders, Lebel was turned in a near carbon-copy performance. The only difference came from the start. On Friday, he came out in second and had to work his way into the lead. On Saturday, he used brute strength to hold his line as he maneuvered to the front of the field. Much like the Dominator, and for most of the season, once Lebel was out front he was not going to get caught. He laid down the fastest lap and powered his way to that class-leading ninth win.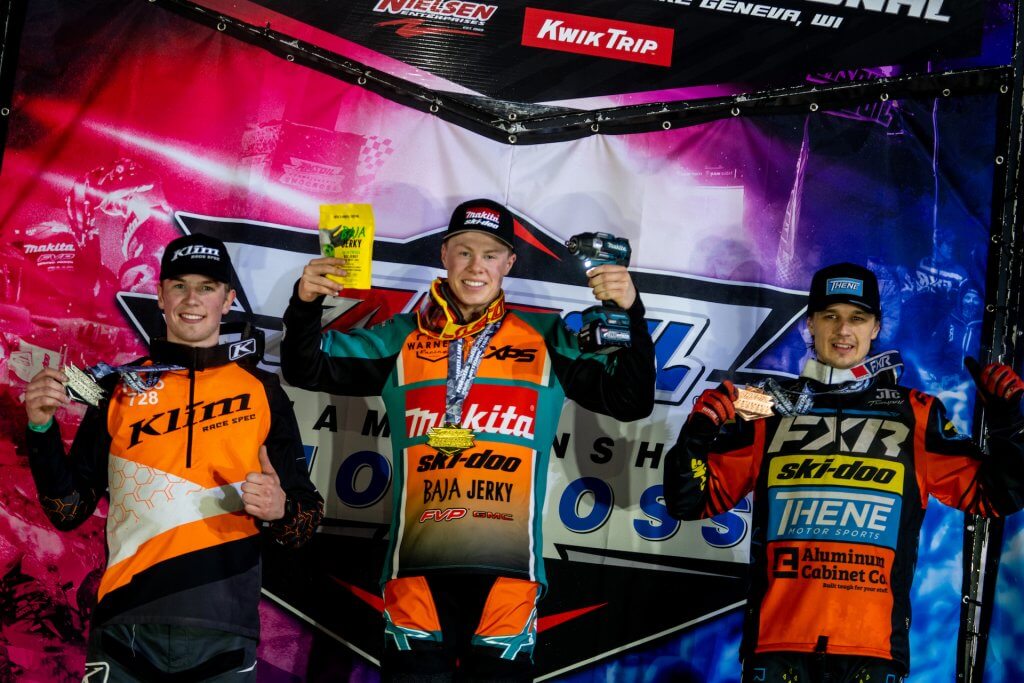 Theo Poirier has had his sled dialed in at Lake Geneva. On Friday, Poirier was the early leader in the Dominator before getting passed by Lebel. During Saturday night's Pro Lite final, Poirier handled the big hill with relative ease as took home the runner-up spot and his first podium in 2022.
Marcus Ogemar rounded out the Pro Lite podium. The round 11 winner started fifth but picked up steam in the middle of the race before moving into third with just two laps to go.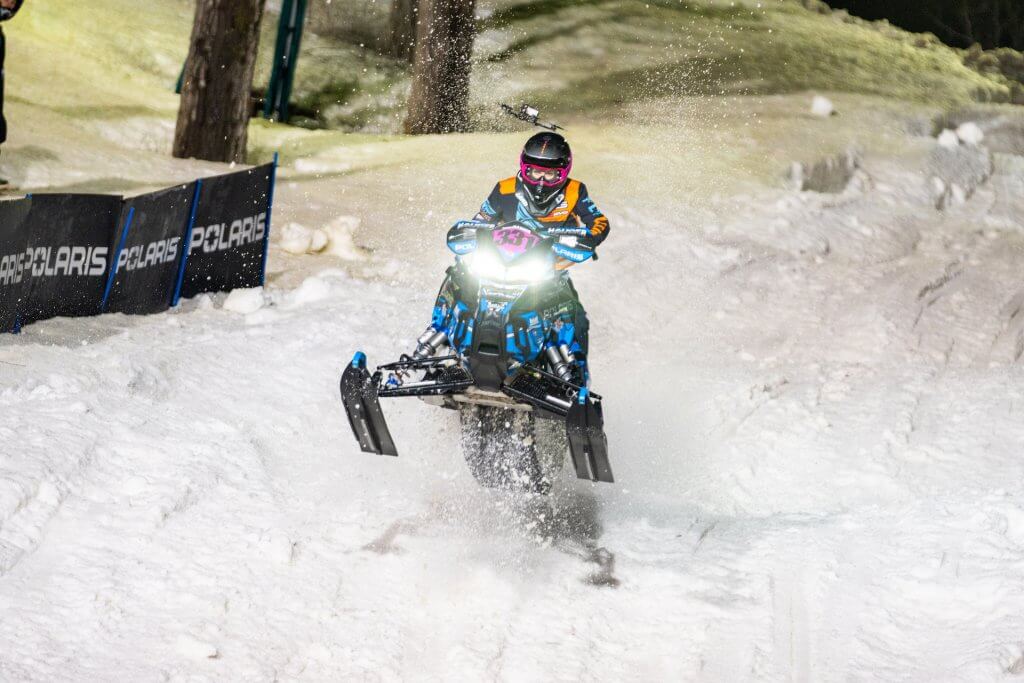 PRO WOMEN: Inanna Hauger had her hands full with the defending champion on Saturday night but showed a steadfastness that propelled her to her third Pro Women's win of the season.
As has been the story all season long, Hauger grabbed the hole shot, but points leader Malene Cottew was right on her bumper. The two would dice it out for the first two laps before they went bar-to-bar on the steep downhill. Cottew lost her edge and hit the snow. That gave Hauger clean air as she raced to her third win of the season.
Cottew would remount and was able to get back into podium contention behind Taven Woodie. On the final lap, Cottew slip past Woodie to move into second. Woodie would keep the pressure on for the final few turns before finishing third.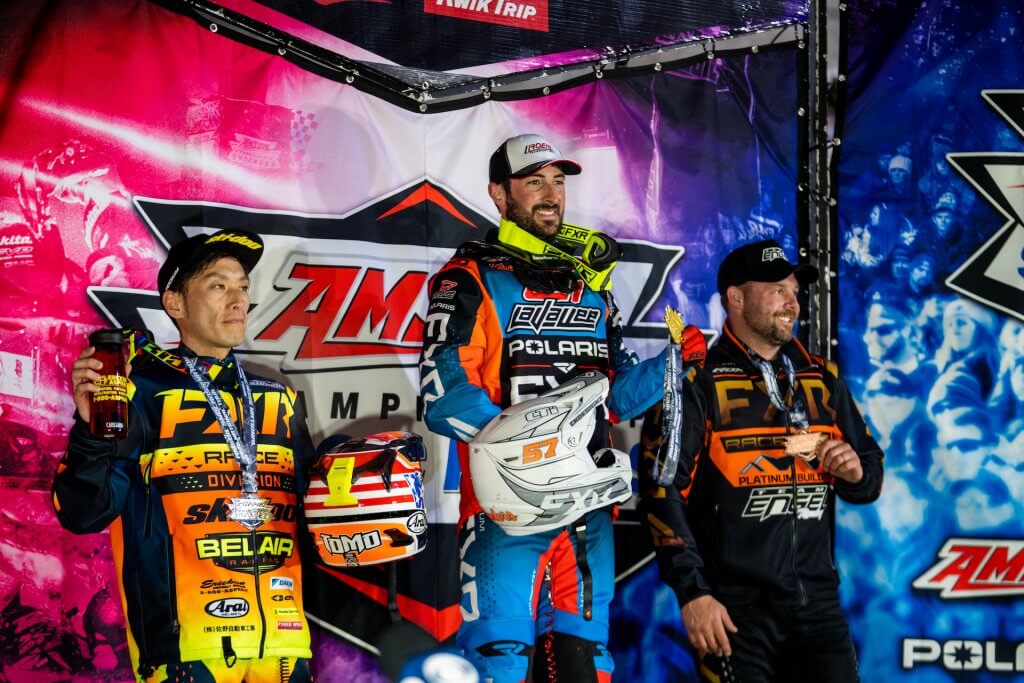 PRO AM PLUS 30: Andy Lieders flexed his class supremacy with a dominant win in the Pro Am Plus 30 final on Saturday. The Polaris rider set the fastest lap of the race by more than six seconds as he cruised to a big win for his fifth win of the season.
Friday Showdown winner Tomosuke Sano joined the points race on Saturday and finished second. Seth Engel crossed the line Just ahead of Adam Johnson for third.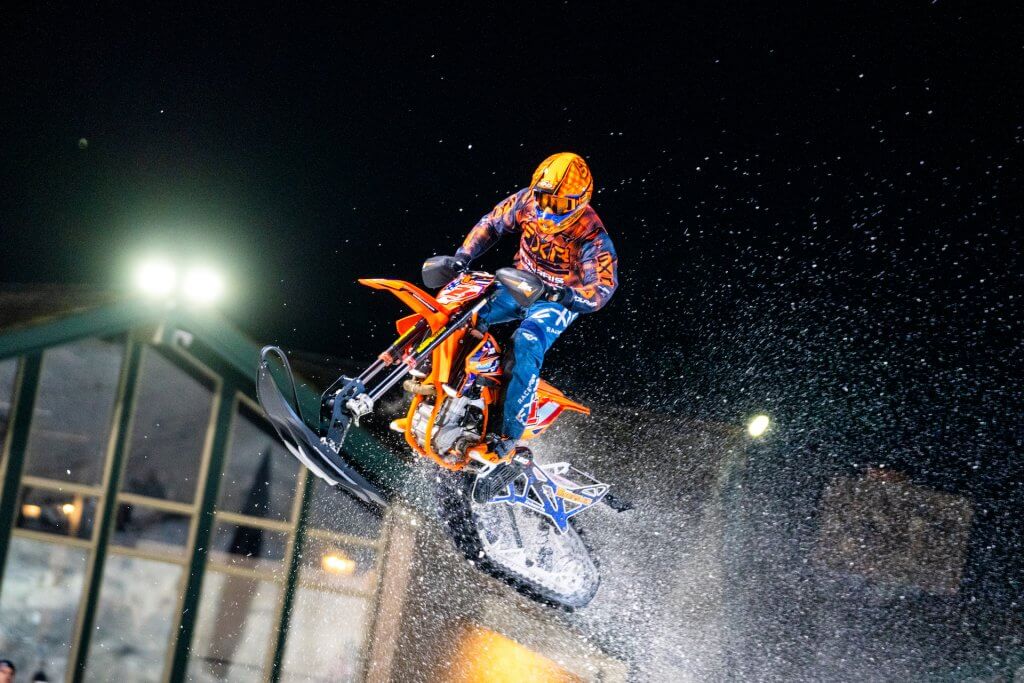 PRO SNOWBIKE: Jesse Kirchmeyer finished second in the first Pro Snowbike moto but took care of business and secured the overall by winning big in Moto 2.
Mot0 1 winner Troy Horbaty was looking to grab his second straight overall, but a third place tally in the second moto put him second overall. Yannick Boucher was again a model for consistency, finishing 3-2 for second overall.
FXR SPORT: Adam Ashline might be leading the FXR Sport class by a country mile, but the field is still coming full throttle as the season winds down. Kellen Chapuran went wire-to-wire for his first win in 2022. Craydon Dillon was in the mix deep into the race, finishing second, ahead of third place finisher Tyler Archambault.
SATURDAY SHOWDOWN
SPORT LITE: Tanner Johnson joined the Sport Lite fray just three rounds ago, but he now has three straight podium finishes, including his first win of the year on Saturday.
Chance Tietjen started second and finished second but picked up several points on the leader Cameron Cole (4th). Jan Romsdal crossed the line in third.
120 CHAMP: Avery Hemmer was wicked quick on Saturday night, as the 120 Champ points leader picked up her fifth win of the season with a wire-to-wire win. Ryan Shimanski followed Hemmer to the line to finish second. Shimanski had to hold off Jaxon Houkom at the line, edging ahead by point-four seconds.
JR GIRLS 9-13: Make it win number seven for Kendall Rose after another fast Junior Girls 9-13 final. Rose never trailed on Saturday, staying ahead of runner-up Cecily Bernaiche and third place rider Victoria Dillon.
TRANSITION 8-10: Tyson Kielman was victorious for the first time this season in the Transition 8-10 class. Kielman used a big hole shot and stayed out front to notch his second trip to the box in 2022. Points leader Ryder Hayes finished second, getting into the runner-up spot on the last lap after passing Riley Johnson. Just five points separate Hayes and Johnson in the overall standings.
STOCK 200: Trenton Peterson and Ryan Shimanski are now just separated by two points after Peterson took home the Stock 200 win on Saturday. It was Peterson's third win of the season. Shimanski finished second, and Noah Kuhn crossed the line third.
JR 14-15: Kenny Goike keeps on trucking along in the Junior 14-15 class. Goike was crazy quick on Saturday night, winning his fourth straight final and closing the gap on Isaac Peterson to four points. Treyton Keilman finished second and Jacob Begin crossed the strip in third.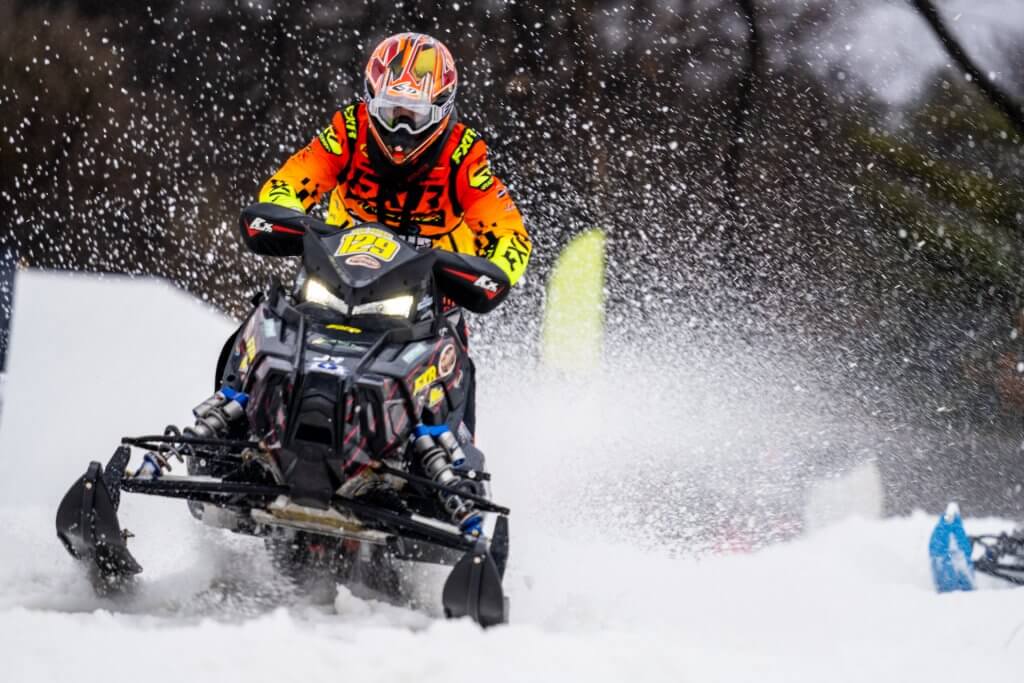 TRANSITION 9-13: Brady Freeland cut Tanner Johnson's overall lead in the Transition 9-13 class by winning his second straight final in Lake Geneva on Saturday. The race was the closest race in recent ISOC memory as Kamden Duffy ripped around the big Geneva track and almost got around Freeland at the line, finishing a mere .001 behind Freeland. Johnson finished third.
JR 10-13: It was a sprint to the finish in the Junior 10-13 final on Saturday night, with Caiden Pflipsen edging out Tanner Johnson for the win by less than a second. Dylan Lebel finished third.
JR 16-17: Jan Even Romsdal turned in a perfect day of racing, notching wins in both heat races and winning the final in Junior 16-17. The victory marked his fifth win of the year, Connor Campbell and Thomas Levi had an old-school drag race to the finish line, with Campbell holding onto the runner-up spot by .001 of a second.
AMSOIL Championship Snocross returns to racing action on Sunday, March 20 at the Grand Geneva Resort & Spa in Lake Geneva, Wis. March 20th. AMSOIL Championship Snocross airs all rounds live on FloRacing and CBS Sports Network. To subscribe to click here.