Cannonsburg, Mich. ~ Sixteen rounds over 12 weekends. The 2022 AMSOIL Championship Snocross season started as a marathon but ended in a sprint at the Cannonsburg Ski Area in Michigan.
A mere four weeks ago, the championship chase was sitting at its halfway point. The leaderboards in nearly every class were far from determined, and it would take all eight remaining rounds to conclude.
The series saw repeat champions in Pro, Pro Women and Snowbike. But new contenders rose to the challenge in Pro Lite, Sport and Pro AM Plus 30. No one rider ran away with a title in 2022, and the final weekend helped sort out all of the unknown with two days of remarkable racing.
Pelletier Wins Pro Finale
Elias Ishoel put the clamps down on his fourth straight AMSOIL Pro championship on Friday night. That meant the gloves were off for the talented field of the world's snowmobile riders as the field attacked the massive, rutted-up track in Michigan for this season's swan song.
Francis Pelletier started the final doing what he's done better than any other rider in a Pro final this year, he grabbed the hole shot. The Ski-Doo rider grabbed his class leading fifth hole shot on Saturday night, and as has been the case all season long, Pelletier is tough to catch when he has that much clean air in front of him.
"I think my morale was done a little bit today after yesterday, and it just means everything to be on top again," said Pelletier. "Just to prove to everyone I'm still fast."
There was no doubt about Pelletier's speed on Saturday, but he needed a flawless night as he was looking to pass Emil Harr and Hunter Patenaude for second in the overall standings. He had the smoothest ride in the final as he raced to his fourth win of the season. He would come up just short in his quest to finish second overall. Harr was relegated to starts and Patenaude finished fifth and qualified better than Pelletier, giving him the second overall spot.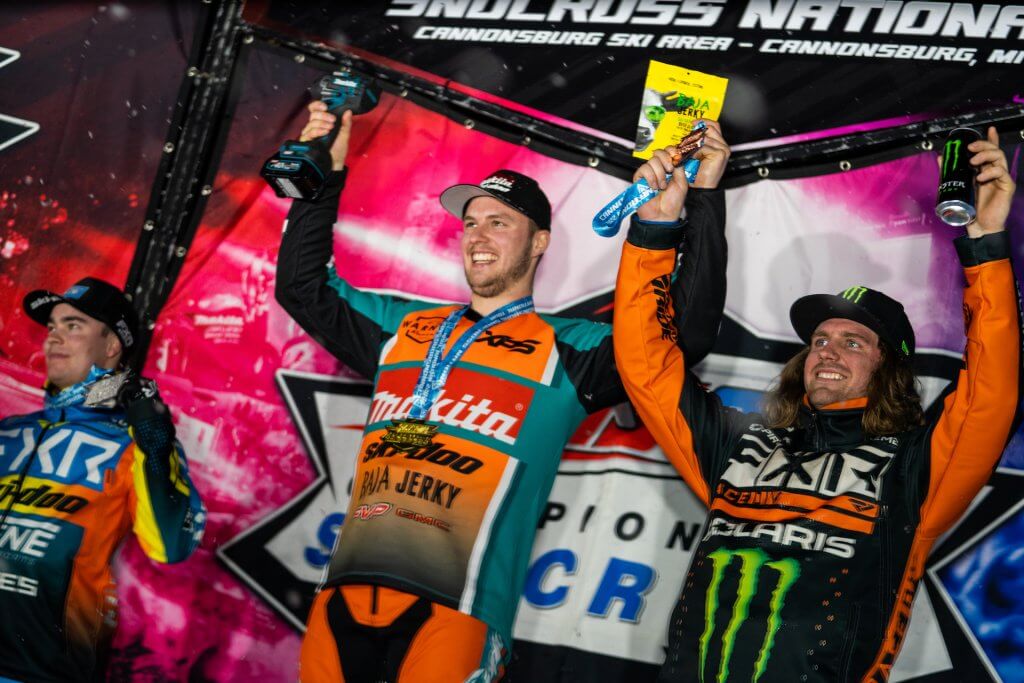 The race of the night, possibly the year, came between the numerous battles for the runner-up spot. Kody Kamm was bad fast in the final. He challenged and swooped past Patenaude early in the race and held on to the runner-up spot for several laps. That's when Ishoel engaged and started picking up podium spots. The race over the last several laps with Kamm was intense. Both riders didn't give an inch as they raced elbow-to-elbow around the track. But with two laps to go, Ishoel kept trying insane lines to get past Kamm and into second. Both riders talked about the rough track, the battle and trying to find a workable line.
"It was hard to find any place to pass out there," said Ishoel. "Out of every corner it was kind of one line, so it was sketchy. But we made it and we made a couple good passes. It was a good battle with Kody again."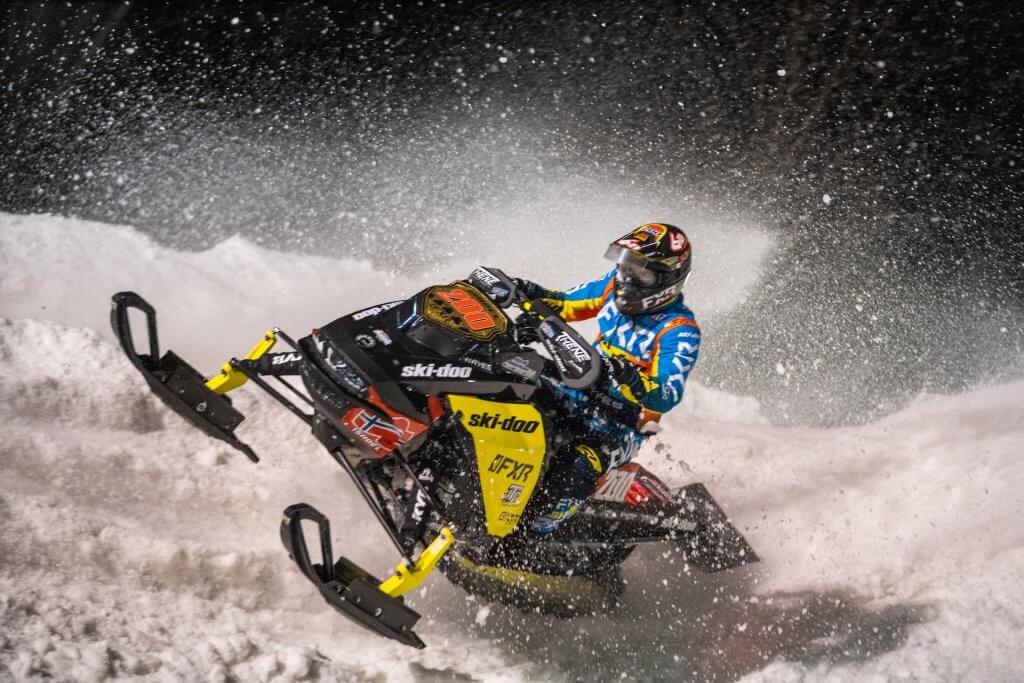 "It was felt like a long race for me," said Kamm. "At one point I made a couple big moves out on the track that scared me a little bit. So, I just calmed down and just rode my own race. I was watching Elias behind me the whole time and he just started gaining and I saw he was doing a triple up the hill that I did early on and there's no way I was going to try that again. So, I just played it safe, and we had an awesome battle the last four laps and just stoked to be up here again.
Oskar Norum came back from an eighth place start to finish fourth, just ahead of Patenaude.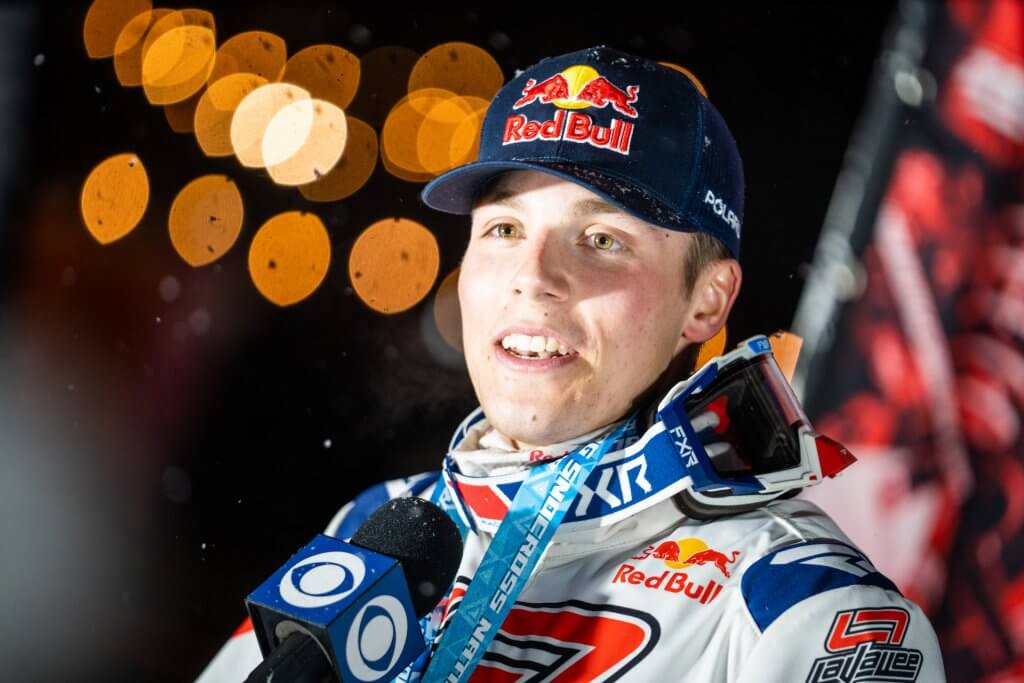 Lebel Crowned Pro Lite Champion, Bester Takes Season Finale
After some final overnight calculations, Jordan Lebel was able to clinch the Pro Lite title after Friday night's race. It was a tough out for the rookie rider, who crashed while running in second, forcing him to finish 14th. But it was a dominant season for the young Ski-Doo rider, who shot out of the gates with six straight wins to start the year. He would pick up four more wins and the AMSOIL Dominator on his way to championship.
But Friday's crash put Lebel on the sideline for Saturday's racing. The great thing about AMSOIL Championship Snocross' Pro Lite class is that the competitiveness of its riders runs deep. Plus, there were still three riders in contention for the runner-up spot in the standings, including Marcus Ogemar, Nick Lorenz and Ryley Bester.
Off the start and after heavy contact, Ryley Bester had to use every muscle in his body to hold on and power through turn one and into the lead. While he had the most ground to make up, he did everything in his control to give himself a chance. Bester was not to be denied, as he ran the smoothest race of any pro lite rider, cruising to his second win of the year.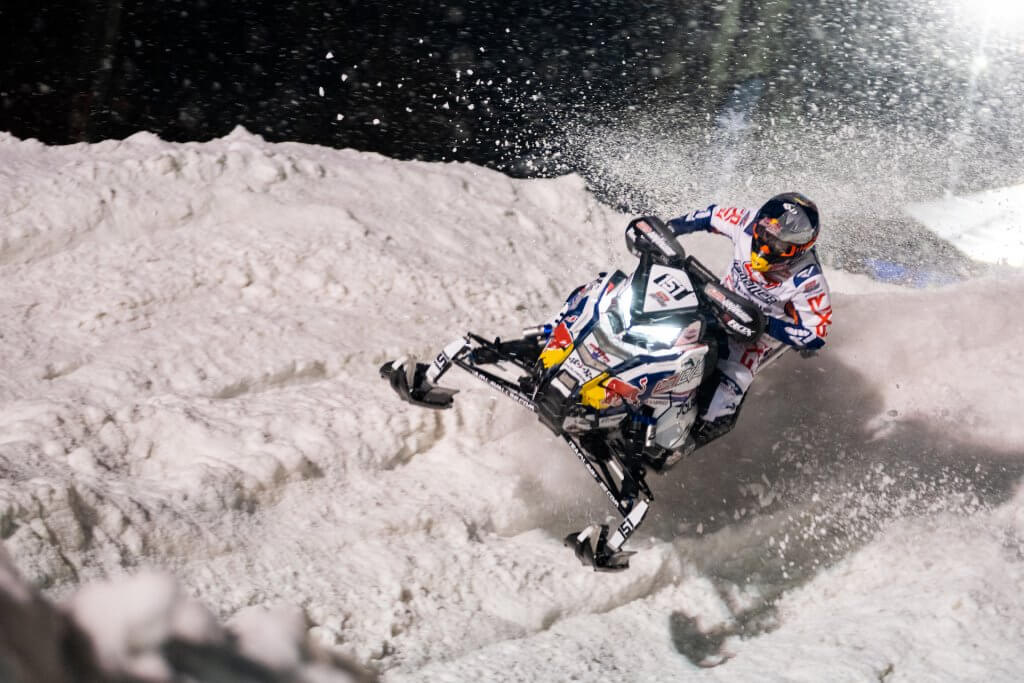 "You know yesterday I think I was just mentally, I don't know, i5 just wasn't a good day," said Bester "So, I came in today and I wanted to just have fun and just end the season on a good note and know that I did my best. And that's what I did out there.
Behind him it was going to be a dog chase for the runner-up spot. Rookie Evan Christian looked the part early, but Evan Daudt was able to work his way around and into the runner-up spot. Daudt was then challenged by a hard-charging Lorenz. 
With 1:20 on the clock, Lorenz carried a ton of speed as he got around Daudt, but he couldn't keep the sled under him as he slid out and hit the ground. That gave Daudt enough clean air, and he powered through the remaining laps for his second podium finish of the year.
The crash by Lorenz also put Ogemar into third and allowed him to secure the second spot in the final points standings. It was a great rebound year for Ogemar, who found his groove with a second place finish in round five. From there, he picked up seven podiums over the final 11 rounds.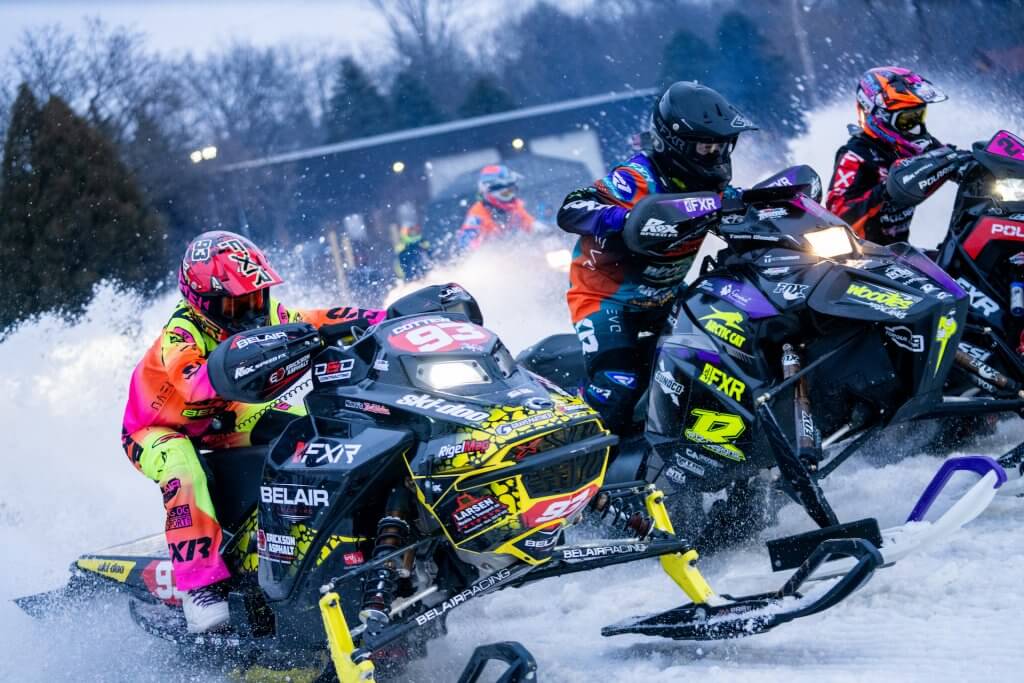 PRO WOMEN: It was a bit of a fun run for Malene Cottew on Saturday night. The defending champion wrapped up the 2022 title with a convincing win on Friday night and just needed to take a start on Saturday to secure the championship. That allowed her to keep the good times rolling with another duplicate effort in the season finale.
Cottew didn't miss a beat as she won her 11th Pro Women's final while picking up the series Fan Favorite award along the way.
"(It means) A lot. I don't have anything more I can say about it," said Cottew. "It means so much to have my family here this year and that really, really, really, means a lot to me."
Taven Woodie slotted into the second spot behind Cottew in the final, riding to her 12th podium of the year. It wasn't enough to move her off of the third overall spot because overall runner-up Inanna Hauger came from a back row start to finish third in the final.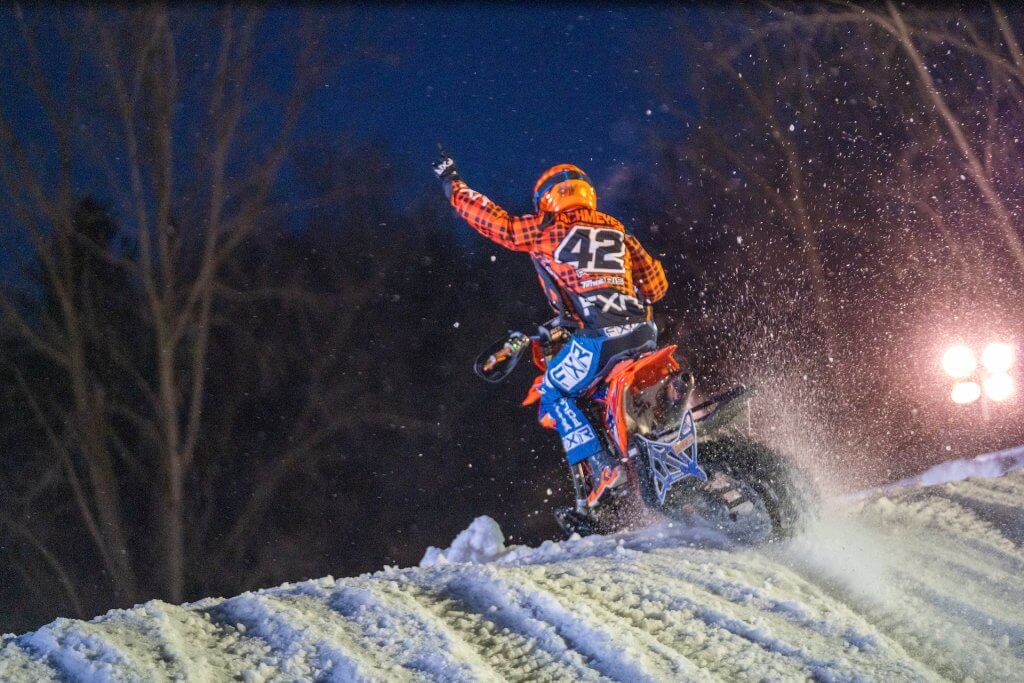 PRO SNOWBIKE: It came down to the last moto of the season. Kirchmeyer had a 30 point lead over Trevor Horbaty coming into Saturday, but Horbaty had momentum thanks to his overall win on Friday night.
In the first moto, Horbaty picked up five points on Kirchmeyer as the Manitoba Missile grabbed the hole shot and the win. Yannick Boucher powered his way to second, with Kirchmeyer playing it smoothly in third.
In the second moto, Horbaty got the lead off the start, but it was Boucher who powered past for the race lead on lap two as he went looking for his first overall win of the season. Kirchmeyer, who raced in the Pro Last Chance Qualifier one race before the Pro Snowbike final, moved into third. With the white flag out for Boucher, Horbaty scrubbed out just before the finish line, letting Boucher walk away with the win and the overall (2-1).
Horbaty was able to remount in time to finish second, going 1-2 for second overall. Kirchmeyer's 3-3 was enough to hold off Horbaty for his third straight Snowbike title.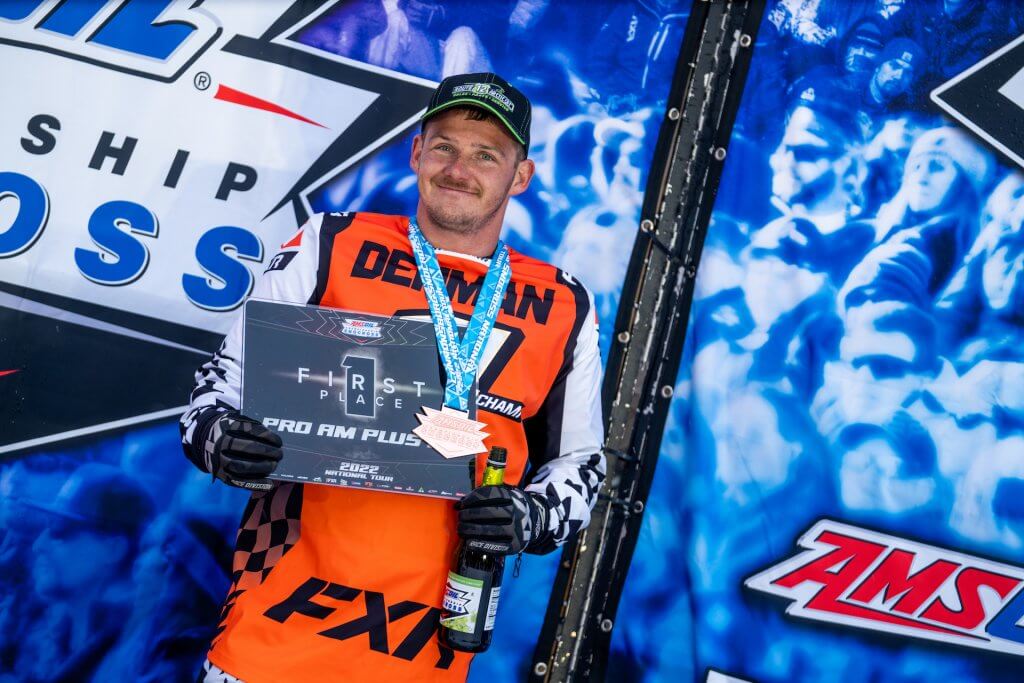 PRO AM PLUS 30: Andy Lieders has been the class of the Pro AM Plus 30 field for the past few years, and he once again led the category in wins in 2022. That includes a convincing win in the final race of the season in Michigan.
But Lieders did miss two rounds in the middle of the year, and that was more than enough for Michigan's third place rider Devin Denman to wrap up his first career championship. His round six win led to the title, fifteen points ahead of Lieders.
"It's been highs and lows," said Denman. "We took a win earlier this year and I'm like "oh come on. I want to get this over with." So, I got a good start and slid behind Lieders, and it was just an amazing feeling like "hey, we got it!"
Tomosuke Sano continued his podium prowess as the Japanese rider joined the circuits at ERX and ended the year with three straight podiums.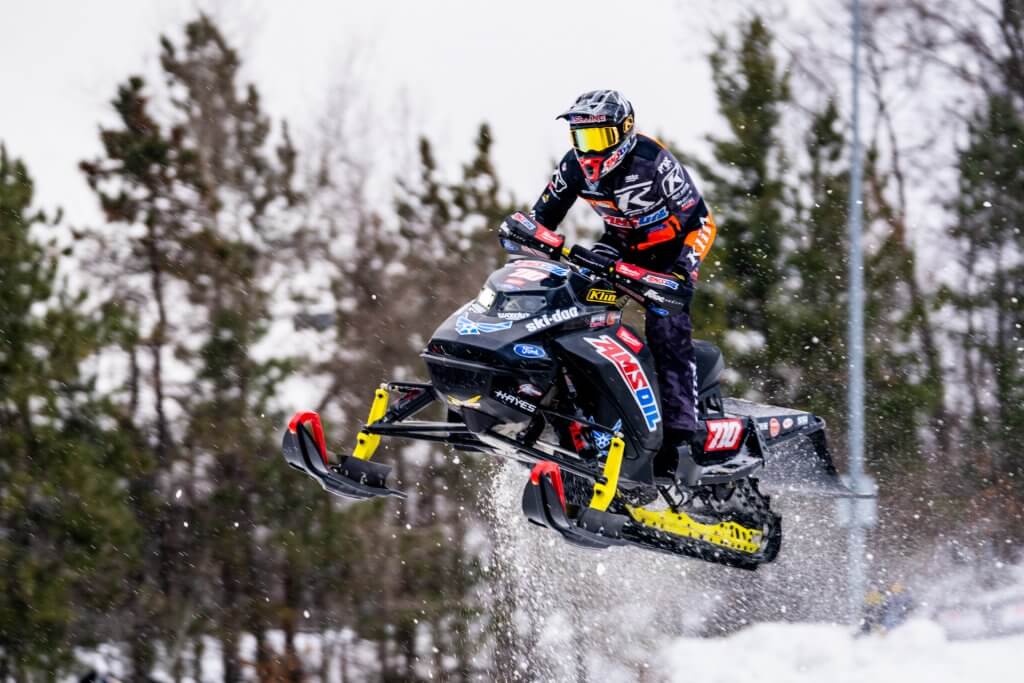 FXR SPORT: One night after clinching the FXR Sport title, Adam Ashline continued his winning ways on Saturday. The Ski-Doo rider used another great start to get out front as he motored to his class leading eleventh win of the season.
The race for second was a microcosm of the 2022 season. Eric Downs and Crayden Dillon were only separated by six points heading into Saturday's final with second place overall on the line. Downs was able to get around Dillon on the second lap, and the two were bar-to-bar racing for the entire final, before a yellow-flag on the last turn dashed any hopes for a photo finish. Downs secured his runner-up season finish, one that featured two wins including the opening round in Canterbury. Dillon used a strong second half, including five straight podiums to end the year, to vault into contention.
SPORT LITE: After Cameron Cole secured the Sport Lite title on Friday night, it was a chance for the future of the class to step up on Saturday night.
Before the final two rounds in Michigan, Brandon Nelson had raced to just one podium finish back in round seven. But Nelson was wicked quick on Saturday, clocking in with the fastest lap and picking up his second straight podium with the win.
Tanner Johnson joined the Sport Lite field in round 11 and found himself on every podium through the end of the year. He was right behind Nelson for much of the race to finish second.
Josh Connolly won both of his heats and knocked out a third place finish in the final to end the year fourth overall, behind Chance Tietjen and Jan Even Romsdal.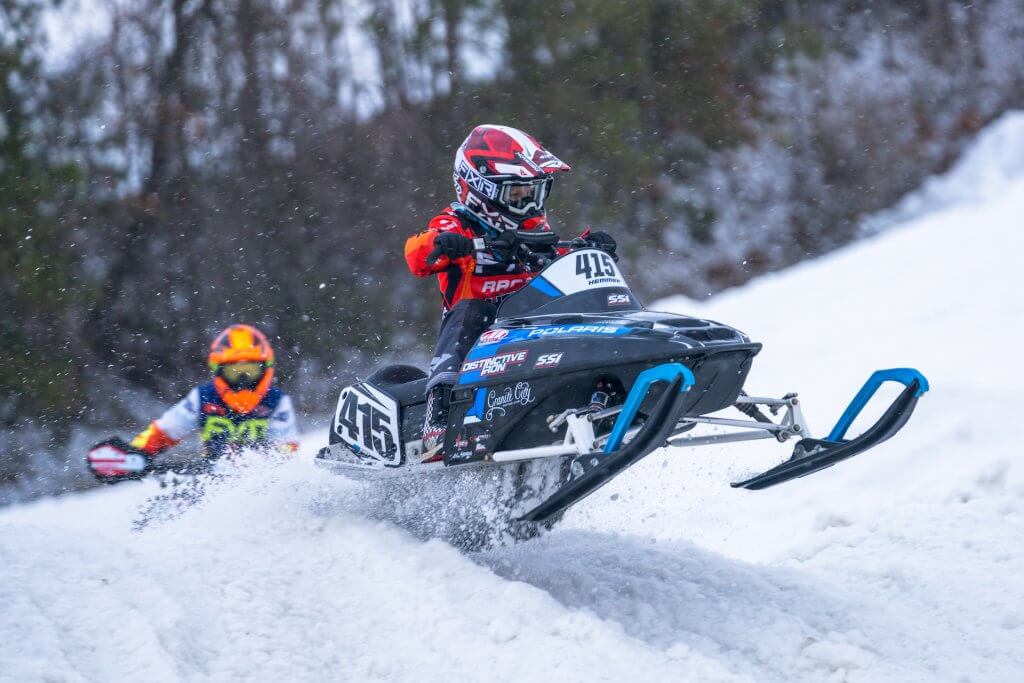 SATURDAY SHOWDOWN
ISOC holds separate championships for several amateur classes, breaking them between Friday and Saturday night championships.
120 CHAMP: Two points is all the separated Avery Hemmer and Jaxon Houkom coming into the final round of 120 champ racing. Going into the final, Hemmer needed to finished better than fourth to wrap up the title. She got the job done by taking the win by about three sled lengths over Houkom.
Lila Hemmer helped bookend the podium with Hemmer's as she held off Owen Eide by .005 of a second for her first podium finish of the year.
JR GIRLS 9-13: Kendall Rose capped off a near perfect season of racing by winning the Junior Girls 9-13 final on Saturday. Rose got the lead after blasting her way down the first steep-downhill section and never looked back, despite being pressured by Cecily Bernaiche.
Rose took the class title thanks to winning all eight finals and winning 14 out her 16 heat races in 2022. Bernaiche finished second overall after finishing as the runner-up to rise in seven of the eight finals. Victoria Dillon, who finished third on Saturday, ended the year third overall.
TRANSITION 8-10: Coming into Saturday, only four points separated Ryder Hayes and Riley Johnson for the Transition 8-10 (Saturday) championship. Johnson was able to get the number one qualifying spot before taking his fourth class win in Saturday's final. With Hayes finishing third in the final, that gave Johnson a sweep of the Transition 8-10 class titles.
Hayes would end the year second overall, having never missed the podium and picking up two wins.
Tyson Kielman used a good start to finish in the runner-up spot on Saturday. That helped him secure a top five overall. Avery Hemmer crossed the line in fourth in Michigan, capping off a strong season at third overall in the points race.
STOCK 200: Lincoln Skar got the hole shot but Ryan Shimanksi took home the Stock 200 win on Saturday.
Skar finished second after leading a tight group of three sleds to the finish line. Trenton Peterson would cross the line in third, about a half sled length ahead of Blake Beatka.
Overall, Shimanski took home the Stock 200 Saturday championship, one night after winning the Stock 200 Friday title. He edged out Peterson by four points, thanks to his fourth win of the season in Michigan. Skar's runner-up on Saturday helped solidify his third overall finish.
JR 14-15: Kenny Goike was the number one qualifier on Saturday, and he was the only rider to run a sub-one minute lap time in the Junior 14-15 final as he cruised to his fourth straight win.
His five win season was the best in class and Goike overcame a four point difference to overtake Isaac Peterson for the Saturday class title. Jack Beasley grabbed the hole shot and chased Goike around the big Michigan track before finishing second. Beasley would finish third behind Peterson in the final standings.
Kaden Helsel finished third on Saturday, his first podium of the season in his first action since the opening round in Minnesota.
TRANSITION 9-13: Brady Freeland and Dylan Lebel put on a show in the Transition 9-13 final on Saturday. Freeland was able to find a bit of space near the end of the race as he picked up his third straight win. Lebel finished second, with Tanner Johnson crossing the line in third.
Coming into the weekend, Freeland trailed Johnson by seven points. Freeland picked up five points in the final, but they cancelled each other's points out in the heat races, tabbing Johnson as the class champion by only two points. Kamden Duffy finished third overall.
JR 10-13: Dylan Lebel paced the field in the Junior 10-13 final on Saturday, picking up his second win-in-a-row. The win locked Lebel into fourth place overall for the season.
Tanner Johnson's fifth place finish capped off a solid season that included two wins and seven total podiums on his way to the Junior 10-13 title.
Kamden Duffy was doing everything in his power to catch Brady Freeland for second overall, including taking the runner-up spot in Saturday's final. Freeland would finish outside of the top ten but picked up enough points to hold off Duffy by two points. Colin Taggart finished second in Michigan, ending the year in the top five.
JR 16-17: Jack Beasley took the win in a two-man final for the Junior 16-17 class on Saturday, besting Nathan Dalli for his first win of the season.
Jan Even Romsdal had five wins in 2022 to win the class championship. Connor Campbell ended the year in second and Thomas Levi finished third overall.
AMSOIL Championship Snocross congratulates all of its 2022 champions, and thanks all of its competitors, sponsors, teams and fans for a successful season. AMSOIL Championship Snocross airs all rounds live, with full replays, on FloRacing and CBS Sports Network. To subscribe to click here.