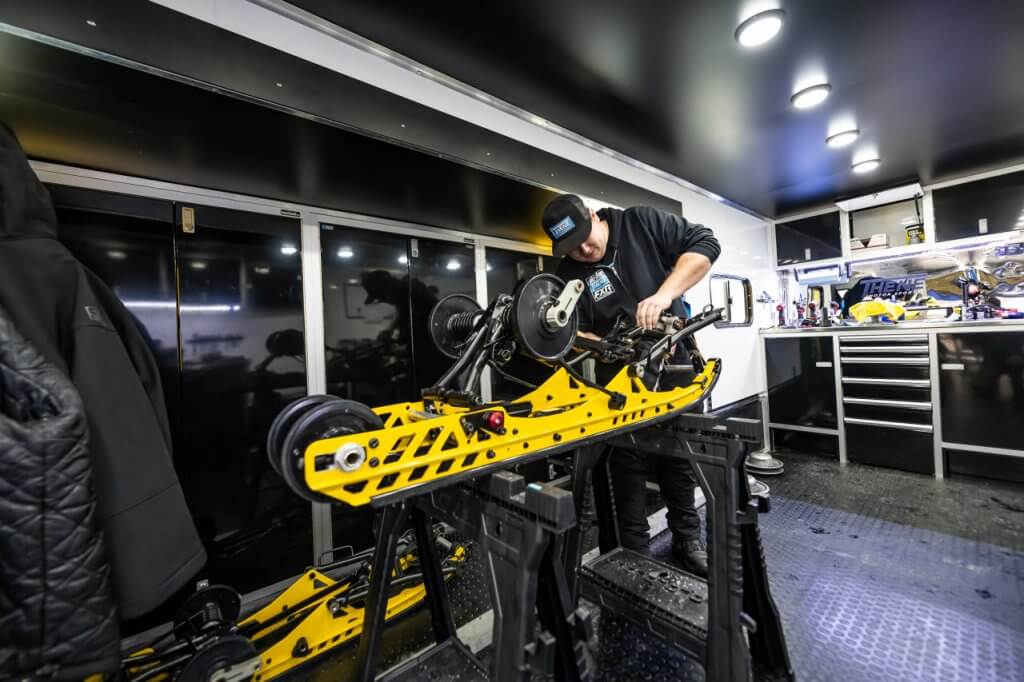 Clear Lake, MN (January 31, 2023) – The close confines of the bullring course in the heart of Deadwood, South Dakota often produce some of the most exciting racing of the season, along with mayhem, carnage and unexpected consequences. It's one of the reasons the annual stop in the Black Hills is a fan favorite and this year was no exception.
Fortunately, the team was able to escape the weekend without any major damage and despite being one of our tougher outings, we managed to leave town with two title contenders holding their positions at the top of their respective classes.
Elias Ishoel was never 100% comfortable on the tight and technical Deadwood course. And, while starts were his biggest obstacle, he did win a heat race on Friday before going on to an eighth place finish in the main event.
Saturday was better with Elias starting the final among the front-runners where he finished second, closing in on the race winner at the finish.
Elias Ishoel:
"Not all bad, but I'm glad Deadwood is over, this is always a hard one. Friday was probably one of the worst races of my whole career. I don't know what I was doing, just struggling myself and with the sled.
It was way better Saturday, I'm super happy to go away with a second place and keep going. We get a little break now and I'm going straight home to Norway and it will be good to come back to the race in Valcourt where we can try a lot of things with no pressure and then be ready for New York."
Emeric Legendre equalled his season best finish in the Pro Lite division finishing fifth at round five on Friday night. Legendre followed up with a seventh on Saturday after qualifying 4-4 and having to start from a late gate pick. Emeric continues to build valuable experience as a rookie in the class and has shown plenty of speed to race inside the top five on any night.
Marcus Ogemar was battling through heavy traffic in Friday night's main event when he suffered a Deadwood dismount. Ogemar dropped to the back of the pack but was able to regain a couple spots to finish 12th.
On Saturday Marcus finished 1-7 in his heat races but still had to transfer through the last chance qualifier. Although a second row starting position at Deadwood can be a huge disadvantage, Ogemar quickly worked his way forward off the start and was able to pass his way to fifth place by mid race, ending the weekend on a high note.
It was another double podium weekend for Sport class standout Crayden Dillon. Although his perfect season came to an end on Friday night, Dillon did finish third to keep a main event podium streak intact.
On Saturday, Crayden led from wire-to-wire for the win, expanding on what is the biggest point lead among the headline classes on the national tour.
There is a three week break in the national tour schedule, however, the team will be in action on February 10-12, when we visit the home of Ski-Doo and take part in the Valcourt Gran Prix. From there we will travel to Western New York for rounds 7 & 8 of the national tour at the Seneca-Allegany Casino in Salamanca.
You can follow the team all year on our social media links below and catch all of the on track action through the Flo Racing streaming service @ floracing.com