Robbie Malinoski recently tested the Pro 2 off road truck of Traxxas TORC Series veteran Mike Oberg, with hopes of making his series debut in Crandon, Wisconsin on Labor Day weekend. The Scheuring Speed Sports team is working to secure sponsorship for the event and has been laying the ground work for a full campaign in 2012.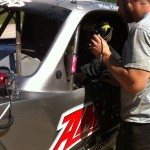 Scheuring's primary sponsor AMSOIL is also the key backer of the Oberg team, as well as a presenting sponsor of the TORC Series. This connection opened the door for the recent test in which Oberg claimed Malinoski was already capable of running in the top half of the field. Another test may be in the works as early as next week at the Crandon course.
As for Malinoski's snocross future, he's still in it to win it with a new three-year contract.