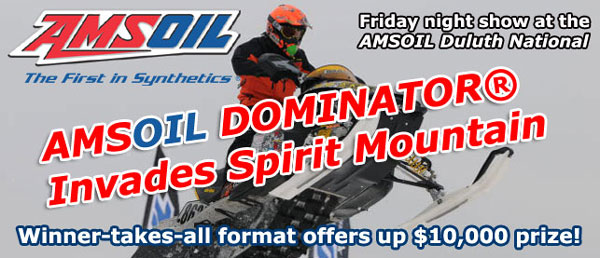 Superior, Wis. ~ The 2011-12 AMSOIL Championship Snocross Series will start with a new twist in Duluth, Minn. this November. The AMSOIL DOMINATOR® race will offer up a winner-take-all, $10,000 prize and adds a unique format to the Friday night show at the AMSOIL Duluth National. 
Sixteen riders will go going head-to-head in a bracket-style elimination race. The winner of each one-on-one race moves on to the next round, while the loser goes back to the trailer for the night.  After four rounds of racing, one rider will stand alone at the top of Spirit Mountain, $10,000 richer and a newly crowned AMSOIL DOMINATOR®.
"We wanted to do something new and exciting in Duluth," said Carl Schubitzke, ISOC Director of Operations.  "The AMSOIL Dominator® will be a fast-paced, man-versus-man, brand-against-brand event that will have race fans on the edge of their seats.  This race will set the tone for an exciting year of racing on the ACSS."
How it works: The top eight riders from the 2010-11 ACSS Pro Open points championship are automatically seeded.  There will be two 15-minute seeding sessions on Friday night.  From these sessions, the next eight fastest pros (combining their fastest lap times from the two sessions), will move on to the AMSOIL DOMINATOR® round of 16.  After that, it will be one-on-one for two and a half laps with the winner moving on to the next round. 
CLICK HERE for the  2011 Amsoil Dominator Bracket