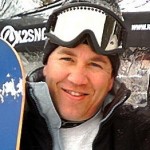 Schutte/HPPR delivers more than 15 years of PR and promotional experience in motorsports and extreme powersports to the ACSS
FOR IMMEDIATE RELEASE
For more information contact:
Pat Schutte, PR Director, ISOC Racing
(734) 369-2170; pat@ISOCRacing.com
Minneapolis – Oct. 4, 2011 – Officials with ISOC, producers and promoters of the 2011-'12 AMSOIL Championship Snocross Series (ACSS) announced today that Pat Schutte with High Profile Public Relations (HPPR) has been named the series' new PR Director, effective immediately.
With more than 15 years of experience in live event PR and promotion, including, AMA Supercross and MX Nationals, American Le Mans Series, AMA Arenacross and EnduroCross and, currently, the Traxxas TORC Series, Schutte brings to the ISOC team a wealth of information and experience from numerous proven motorsports and extreme powersports properties.
"We're pumped to have Pat Schutte and HPPR on board with ISOC. He and his company's successful track record with live motorsport event PR and promotion is well-documented, including innovative promotional ideas, along with insightful and professional writing," said ISOC Director of Operations/Racing Director Carl Schubitzke. "Pat worked with us last year at the ACSS' highest-attended round (Pontiac Silverdome), producing excellent results. We're looking forward to having Pat on board with us for the Duluth opener, and all the way through to the final ACSS round in Geneva."
Based out of Michigan, smack dab in the middle of the Snowbelt, Schutte has been a longtime fan of snocross racing and the sport of snowmobiling in general.
"Along with the sport's athletes and industry technology that combine to deliver the impressive speeds and big air ACSS is known for, the thing that really impresses me about the ACSS is the legions of die-hard fans that attend the live events," said Schutte. "It's a two-day, high-speed celebration of gas & gravity out in the elements – the Silverdome notwithstanding – that's a mainstay for hearty people in this region of the United States. And I'm pleased to be on board with the ISOC team."
About ISOC Racing
The International Series of Champions (ISOC) is the premier snowmobile race sanctioning organization in North America and sanctions the national AMSOIL Championship Snocross Series, in addition to affiliating with nine regional circuits. Visit snocross.com for more information, fan and racer memberships, schedule details and more.