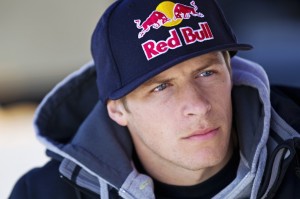 LONGVILLE, Minn., December 13, 2011 – Snowmobile star Levi LaVallee will be a guest on the Tonight Show with Jay Leno this Wednesday, December 14 at 11:35 p.m. ET/PT (10:35 p.m. CT) on NBC.
Levi will follow comedian Louis C.K., starting off on the couch and an interview with Jay Leno, and then proceeding to become the first person to jump a snowmobile in the Tonight Show's illustrious history.

Levi will be jumping his snowmobile alongside fellow Red Bull athlete Robbie Maddison and his motorcycle at Red Bull: New Year. No Limits. on Saturday, December 31 in San Diego, live on ESPN. Both athletes are aiming to break the distance jumping world records in their respective disciplines. Levi holds the existing snowmobile record at 361' and Robbie is looking to take back his record by exceeding 391'.
For more information, visit www.redbullnewyearnolimits.com
Photo: Levi LaVallee (c) Chris Tedesco