Pro Open points is tied (Tremblay and Ross Martin) after the heats, but Martin gets black flagged in the main and winds up 5th; Kody Kamm wins Pro Lite
For more information contact:
Pat Schutte, PR Director, ISOC Racing
GLYNDON, Minn. (March 2, 2012) – Buffalo River Race Park's (BRRP) sparkling new facility was packed to the windows with fans on Friday for the running of the BRRP Fargo National, round six of the eight-rough 2011-'12 AMSOIL Championship Snocross Series. And taking the main event wins were Ski-Doo's Tim Tremblay in the premier Pro Open class, along with Polaris' Kody Kamm in the support Pro Lite division.
With the win, which came after Polaris' Ross Martin was black flagged by ISOC officials for aggressive riding – and docked five spot during the race – Tremblay took over the overall Pro Open points lead, which Martin had tied before the main with two heat race victories. Tremblay now leads by nine points, 883 to 872.
AMSOIL Pro Open Friday Final
A wild Friday night of Pro Open racing at the new Buffalo River Race Park was highlighted by a flawless performance by overall Pro Open points leader Tim Tremblay (Ski-Doo), who walked away with the overall win over first-time 2011-'12 podium finisher Emil Ohman (Ski-Doo) in 2nd and defending Pro Open class champion Tucker Hibbert (Arctic Cat) in 3rd.
With Arctic Cat's Cody Thompsen pulling his second-straight Stud Boy Holeshot, teammate Kyle Pallin quickly moved into second, before Mike Bauer (Polaris) hopped into the second spot. Things would soon get a bit hectic as, according to ISOC race officials, Polaris' Ross Martin parked Pallin in a corner and was quickly black flagged. Martin, unaware of the (rolled) black flag, possibly due in part to the snowy conditions, took a couple laps before he backed his sled down – dropping five positions.
Tremblay would stay on the gas the whole time and put upwards of 11 seconds on Thompsen and a charging Robbie Malinoski (Ski-Doo). On lap seven Thompsen would wipe out in the rhythm section, giving Malinoski 2nd place. Around this time Hibbert would suffer some sort of mechanical issue, which he would later explain on the podium was his kill cord getting pulled out on the far back corner on the half mile track.
On lap 11 Ohman would move into 2nd place when Malinoski appeared to suffer some sort of mechanical issue. At the same time Hibbert appeared back in the top five, from as far back as 11th, and was picking off riders left and right. Tremblay would cruise through the checkers, taking with him the red No. 1 plate into Saturday night's race at BRRP. Ohman would hold off Hibbert for 2nd.
Said Tremblay: "Tonight was really good for me in the final. I found some new lines in the parade lap that worked well for me in the race. There was a lot of new guys up front (Thompsen, Pallin and Bauer), which makes for some good racing for the fans. So I pretty much want to come into Saturday and charge real fast, hope to keep the No. 1 red plate right through the end."
Added Ohman: "It's been two rough seasons for me, so to get back up on the podium makes me so happy. I must really thank my team for everything tonight."
Sledhead 24/7 Pro Lite Friday Final
Rocketing his Polaris sled out to the Pro Lite holeshot at BRRP was Kody Kamm. Following closely behind were Ski-Doo rider Derek Ellis and Polaris' Jake Scott.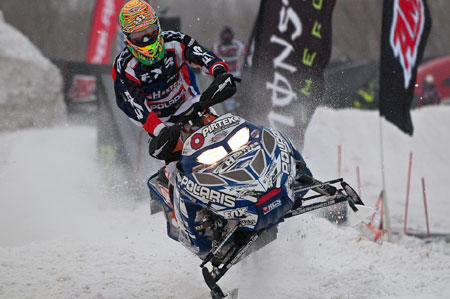 As the three broke away from the rest of the field, Kamm put about 1.5 seconds on Ellis at the halfway point of the ten-lap contest, while Ellis had about a two-second lead on Scott. As the final laps clicked off, Kamm made up some more time on Ellis in the middle section of the half mile course and Scott stayed well ahead of fourth place Travis Muller (Ski-Doo) and fifth place Corey Watkinson (Ski-Doo).
At the checkers it was Kamm, Ellis and Scott making up Friday's Pro Lite podium at BRRP.
Said Kamm: "I had an OK start, got into the lead on the first lap and stayed there."
Added Ellis: "That was a good race. We really have to give it up to the guys at BRRP. They really pulled this place off."
CLICK HERE for complete results
CLICK HERE for up to date point standings
Next up …
Who: World's top snowmobile racers, including Minnesota's own Robbie Malinoski, hard-charger Ross Martin, Canadian Tim Tremblay, defending '11 champ Tucker Hibbert – also from Minnesota – and yet another Minnesotan in New Year's eve snowmobile jumping legend Levi LaVallee!
What: Penultimate round of the 2011-'12 AMSOIL Championship Snocross Series
When: March 9-10, 2012
Times: Opening ceremonies are at 6 p.m. both Friday at Saturday
Where: Elk River Extreme Motorpark (ERX) … http://www.erxmotorpark.com/
ISOC/ACSS photos by Gary Walton
About ISOC Racing
The International Series of Champions (ISOC) is the premier snowmobile race sanctioning organization in North America and sanctions the national AMSOIL Championship Snocross Series, in addition to affiliating with nine regional circuits. Visit snocross.com for more information, fan and racer memberships, schedule details and more.