Ski-Doo racer rockets out to a 15-point lead over Polaris' Ross Martin with two weekends/four main events remaining on the ACSS schedule 
For more information contact:
Pat Schutte, PR Director, ISOC Racing
Pat@ISOCRacing.com
MINNEAPOLIS (March 7, 2012) – We've got a flat-out Pro Open class dogfight on our hands heading into this weekend's penultimate round of the 2011-'12 AMSOIL Championship Snocross Series at Elk River (Minn.) Extreme Motor Park, aka "ERX." Three racers have a legitimate shot at winning the overall championship – with the defending champion no doubt sticking his nose in there to play spoiler for one of them.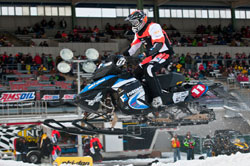 Rising above the rest of the competition this past weekend as the racers come down the main stretch was Canadian Tim Tremblay. The Ski-Doo pilot and former 2009-'10 ACSS Pro Stock points champion is enjoying his best season to date in the Pro Open class, and capped things off in Fargo, N.D., several days ago by becoming the first Pro Open racer to sweep 1st place podium honors the same weekend.
Powerful, calculating and as fast as a shark, Tremblay opened up a 15-point lead over Polaris' Ross Martin on Saturday – after Martin tied things up before the main by virtue of winning both of his qualifiers (to Tremblay's 1st & 3rd-place qualifier finishes at Fargo). Tremblay's victory in front of a massive crowd at Fargo's BRRP Raceway was not only highlighted by the fact that it was an all-Ski-Doo podium (Mathieu Morin 2nd, Robbie Malinoski 3rd), but also because it was an all-Canadian podium – the first time anyone could remember that happening.
We caught up with Tim this week and got his take on the championship points chase, how he's got to the top of the heap with two weekends of racing to go – and what it's going to take to stay there.
ACSS: Wow. What a weekend of racing in Fargo, N.D. You put up two very commanding performances in the Pro Open main events – becoming the first racer this season to sweep a 1st/1st weekend effort. Talk about how well things went for you in Fargo.
Tremblay: Thanks, like you said things went really well for me in Fargo. I got two great starts in the mains and my sled was working really well. Being the first racer sweeping a weekend was a good accomplishment for myself and my team. We have been working and searching a lot to improve the sled every week, so we all deserve it.
ACSS: You went up 15 points on former ACSS champ Ross Martin, with Robbie Malinoski still in the hunt at 27 points back. How does this set the table for the final four main events in Minnesota (Elk River/ERX) and Wisconsin (Lake Geneva)?
Tremblay: It's good to be on top with a little bit of a lead with four mains to go. But we have to stay on our toes a lot of things can happen in four rounds. I think it will be a battle until the end.
ACSS: Heading into Saturday's final a BRRP in Fargo you and Martin were actually tied in points – based on Ross' two qualifier wins that day. Talk about the importance of the qualifier points – and have you and your team been pretty consistent with those (or as consistent as you'd like to be) throughout the 2011-'12 ACSS season?
Tremblay: Qualifiers are really important in snocross. You can almost make as much points in those two qualifiers as the main. We have been good at them but I feel we need to do a little better so we are not losing any points in them. 
ACSS: The all-Ski-Doo podium final on Saturday at Fargo had to be pretty cool. That's the second time this year that has happened … also with Ski-Doo at Farmington, NY. As long as they're behind you, do you pull for the other Ski-Doo racers? Is there much brand loyalty in terms of who you pull for and who you don't?
Tremblay: Like you said – as long they are behind me I'm find with it (Tremblay laughs). I think it's really good for Ski-Doo that they did sweeps twice the podium this year in Pro Open. The sleds are getting really good. I don't really pull for any brand or rider .. I just want all of them behind me!
ACSS: Looking back on the year you had some big wins at the Silverdome (Mich.) and Canterbury Park (Minn.), along with Fargo. Seems though that Martin and Malinoski have been on the box just as much. That said, what's allowed you to reach the top of the pack at this point in the season?
Tremblay: I think this year the competition have been really good. We have been really close each other all year. I think I have been the most consistent in all the races that's why I'm leading the championship right now.
ACSS: Another racer who's won multiple main events is Tucker Hibbert. And while mathematically speaking it's an extreme longshot for him to retain his 2010-'11 ACSS title, he'll no doubt be in there to mix it up – as he did at Fargo. How do you think Hibbert will play into the points battle between you, Martin and Malinoski?
Tremblay: I think it will make a difference in the points for sure because he (Hibbert) will be battling with us for podium spot. So if he gets between us we can get more points or less points sometimes because of an extra top racer.
ACSS: One of the most difficult jobs on the ACSS tour this year has been the actual construction of the race tracks – done in many cases with ZERO natural snow to work with due to the unseasonably warm winter in the States. Given this, what do you think of the effort put forth by ISOC and how have the tracks been for the racers such as yourself?
Tremblay: I think so far ISOC has done a really good job. The weather has been warm all year and they were still able to make it happen. The tracks have been pretty good, especially last weekend in Fargo where the track was awesome.
ACSS: OK … put on your freestyle snowmobile hat here for one question … with the right take-off ramp and massive landing hill, how many automobiles do you think you could hump on your Ski-Doo.
Tremblay: (Laughter) The biggest jump I've ever done on my snowmobile was probably 130 feet. I don't know how many cars it would be … maybe I should say maybe 15 to 20? Probably not as much as Levi Lavallee I would bet! (laughter)
ACSS: Back to racing … obviously you'd like to win out through the remainder of the ACSS season to secure your first-ever Pro Open class championship. However, the risks involved with running up front – moreover just getting up front – are very high. So do you play it safe, or do you charge as hard as you have been all season?
Tremblay: I will definitely not play it safe until maybe the last round of Geneva depending on what kind of lead I would have. There are still four rounds to go and 15 points is not enough to be too safe. I will go out there and give 100-percent every race just like I have been doing all year.
ACSS: Sounds like a plan. Thanks again for you time, Tim. Figure we'd take this opportunity to let you thank your sponsors, along with the people that have helped you get to this point.
Tremblay: Thank you for this interview and I would like to thank my team Warnert Racing and all our great sponsors: Ski-Doo,Foremost Insurance, NSK Bearing, XPS Oil, SSI Decals, KYB Enzo Suspensions, ROX, C&A Pro Skis, Stud Boy®, Go Fast, CTI, Oakley and Fly. 
Next up …
Who: World's top snowmobile racers, including Minnesota's own Robbie Malinoski, hard-charger Ross Martin, Canadian Tim Tremblay, defending '11 champ Tucker Hibbert – also from Minnesota – and yet another Minnesotan in New Year's eve snowmobile jumping legend Levi LaVallee!
What: Penultimate round of the 2011-'12 AMSOIL Championship Snocross Series
When: March 9-10, 2012
Times: Opening ceremonies are at 6 p.m. both Friday at Saturday
Where: Elk River Extreme Motorpark (ERX) … http://www.erxmotorpark.com/
ISOC/ACSS photos by Gary Walton
About ISOC Racing
The International Series of Champions (ISOC) is the premier snowmobile race sanctioning organization in North America and sanctions the national AMSOIL Championship Snocross Series, in addition to affiliating with nine regional circuits. Visit snocross.com for more information, fan and racer memberships, schedule details and more.