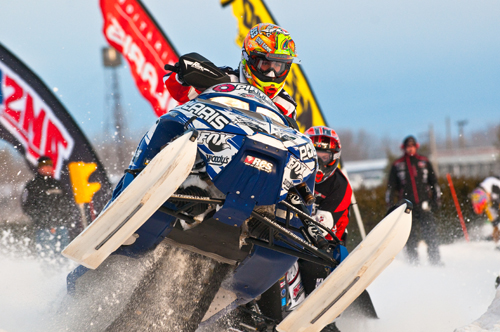 Shakopee, Minn. (June 12, 2012)-Hentges Racing has began a revolution of change since the ending of the 2011-2012 ISOC AMSOIL Championship Snocross Series with veteran pro #44 TJ Gulla retiring from the sport and Pro Lite champion #553 Kody Kamm characterizing himself as the newest addition to dominate the pro rankings. The changes continue with the recent announcement that the black #19 Polaris Industries, Pirtek, Fox Shox rider Brett Bender is also retiring from professional snowmobile racing.
TJ Gulla had a long and successful, 15 year career with most of those years a part of Hentges Racing. It was a long time-coming decision to finally retire. He will be missed both on and off the track this season.
For Brett Bender the decision to retire has not been easy. He said, "I'm not going to lie. The decision to not race this winter has been a rough one and something I have struggled with for awhile. I love the sport, the atmosphere, the whole Hentges family and team but I just need a change. It is crazy to think I've been riding for the Polaris factory for the last 10 years and I can't thank them enough for everything they've done for me. When I tell people I turned down the contract this winter, they think I'm nuts and keep asking me why I'm retiring. I wouldn't call it retirement because I know I'll end up at one or two races but definitely looking forward to the direction my life has been heading."
When asked what is next for Bender he said, "I've been interested in tattooing since I was a kid, so when I saw the opportunity I jumped on it. I just want to thank all my fans for making the last 10 years a complete blast and also a big thanks to Nate Hentges and Tom Rager for always pushing me and standing behind me no matter what. I'd say good luck to the Hentges team but I know they won't need it."
As one of the most dominant professional teams in Snocross history, Hentges Racing has entered a new era with saying good-bye to long time team members, signing a multi-year deal with Kody Kamm who is a legend in the making and now finalizing who will replace the #19 Brett Bender who rode that mysterious black mod. Nate Hentges, team owner, said Bender has brought great things to Hentges Racing and we will still see him around the track.
The team roster has been finalized for the 2012-2013 ISOC AMSOIL Championship Snocross season. With the Hentges Racing impact left behind in the Pro Lite class, let the revolution continue with the Polaris Industries Hentges Racing team expecting to now dominate the Pro Open class with riders Kody Kamm and Justin Broberg.
"I'm super excited to being joining Hentges Racing. I really like working with everyone from Polaris and the team already. It is definitely going to be a change for the better for me. It's going to be an awesome year," said Broberg.
This will be Broberg's third year racing in the pro class. Last season placing sixth overall in Pro Open is a great testament to his talent and dedication. He has proven to be competitive and capable of pushing towards a Pro Open championship title. With much success in the Pro Lite class, Broberg is still looking for his first pro podium and hoping it happens this season on a Hentges Racing Polaris machine.
With all the drastic changes from last season till now, Nate Hentges said, "I am extremely excited to start the next chapter of Hentges Racing and to find out what the future holds. But through hard work, perseverance and the talented team in place, we are poised for success."
Remembering the hiatus that happened at the grand finale race in Lake Geneva, Hentges said, and "Kamm has his work cut out for him this summer as there is a big target on his back. Hopefully Kody can start right back at Duluth where he finished at Lake Geneva on top of the podium. Adding Broberg to the trailer will also be a great compliment to Kody as they know each other well and have a lot of similarities."
Kody Kamm dominated last season and made Snocross history winning both the Pro Lite championship and his first pro debut final all in the same weekend. This upcoming season is going to be an exciting one with his position in the pro class already loud and clear. Now add in the consistency and experience of Justin Broberg to the mix and the team has a winning combination. May the championship titles continue for Hentges Racing this season.
The team will be kicking off winter at the annual Hay Days grass drag and snowmobile swap meet event September 8th and 9th, 2012 in Sunrise, Minn. Fans are invited to meet the team, catch some swag, participate in autograph sessions and step inside the hauler for a tour.