Crafted and Styled with Hibbert's World Championship-Winning Components
FOR IMMEDIATE RELEASE
Thief River Falls, Minn. (Sept 20, 2012) –Arctic Cat and Tucker Hibbert have partnered to create the all-new 2013 ProCross F800 Tucker Hibbert Race Replica snowmobile. It's a machine honed to high-performance excellence and available to snowmobilers whose passion reflects the same race-winning attitude shared by Hibbert and Arctic Cat.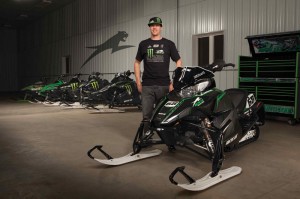 "Arctic Cat and I have crafted a truly special Race Replica that is equipped with the same components I rely on to win in snocross," said Hibbert.
It starts with the race-winning ProCross chassis that carried Hibbert to his second FIM Snowcross World Championship last season, and is equipped with an 800 H.O. 2-stroke EFI engine renowned for its class-topping 160-plus horsepower.
Highlighting the Race Replica are signature components that Hibbert has chosen for his personal race sled and for this limited edition machine: Kashima-coated FOX FLOAT X EVOL ski shocks with full compression and rebound adjustability; a custom race-cut low windshield designed by Hibbert; aggressive non-slip seat cover; hand guards; number plate; matching white trail skis and suspension rails; FOX ZERO-X rear shocks featuring remote reservoirs and clicker adjustment; and exclusive race-inspired graphics.
The result is an iconic high-performance trail snowmobile that accurately reflects the style and performance pedigree of Tucker Hibbert.
Commenting on the tradition of Hibbert family-inspired snowmobiles, Arctic Cat Snowmobile Product Manager, Joey Hallstrom said, "Beginning in 2000 with his first ESPN Winter X Games snocross victory at age 15, Tucker displayed a style and talent that set him apart from his competition. Six X Games gold medals, six National Championships and two World Championships later, he's become to this generation the same legendary champion that his father Kirk was to the previous generation.
"Their success is the result of talent, dedication and the pursuit of the very best technology and equipment. Tucker's Race Replica is a continuation of that legacy."
The limited edition ProCross F800 Tucker Hibbert Race Replica is available at Arctic Cat dealers worldwide with an MSRP of $13,999 U.S. and $15,599 Canada.
Fans of Tucker and Arctic Cat can also register for a chance to win the Serial #2 ProCross F800 Tucker Hibbert Race Replica and an all-expense paid trip to the Thief River Falls, Minn. factory to ride with Tucker. Information about this special sweepstakes is available at www.arcticcat.com or www.supertraxmag.com, where you can print a ballot that you bring it to a North American Arctic Cat dealer to officially enter.
"My Race Replica snowmobile is one way I can connect with the great Arctic Cat consumers who have supported me," said Hibbert. "I realize that buying the snowmobile isn't an option for everyone. So we created the sweepstakes to give every fan a chance to win my new snowmobile, visit the factory and spend a day riding with me."
For more information go to www.arcticcat.com or visit your local Arctic Cat dealer.
Specification highlights of the Arctic Cat ProCross F800 Tucker Hibbert Race Replica:
• Tucker Hibbert-designed low race-cut windshield; number plates; hand guards; aggressive non-slip seat cover; white trail skis; white suspension rails; and exclusive race-inspired graphics
• FOX FLOAT X EVOL Kashima coated shocks on the Arctic Race Suspension (ARS) front suspension featuring adjustable compression and rebound and 10 inches of travel
• Race Version Slide-Action rear suspension
• FOX ZERO-X remote reservoir shocks with adjustable dampening, 7-position coupling and 13.5 inches of travel
• Lightweight and rigid ProCross Chassis featuring a Tapered 2-piece Tunnel and Race running board edge rolls and reinforcements
• 160-plus hp 800 High Output 2-stroke engine with Electronic Fuel Injection, electronic APV exhaust valves and Exhaust Pipe Temperature System
• Arctic Drive System (ADS) with Torque Control Link for consistent performance
• Race Version RMC Hydraulic Braking System with lightweight disc and race pads
• 15 x 129 x 1.25-in. 2-ply Ripsaw track (2.86 pitch)
• Deluxe digital/analog gauge
• Tether switch
• Push-button engine reverse system
About Arctic Cat
Arctic Cat Inc., based in Thief River Falls, Minn., designs, engineers, manufactures and markets all-terrain vehicles (ATVs) and snowmobiles under the Arctic Cat® brand name, as well as related parts, garments and accessories.  Its common stock is traded on the Nasdaq National Market under the ticker symbol "ACAT."  More information about Arctic Cat and its products is available on the Internet at www.arcticcat.com.