Sharp new logo goes with new series name, streamlined for 2012-'13 race season and beyond to simply "ACS" 
For more information contact:
Pat Schutte, PR Director, ISOC Racing
Pat@ISOCRacing.com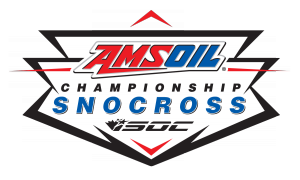 MINNEAPOLIS (Oct. 22, 2012) – Officials with ISOC and AMSOIL unveiled the new AMSOIL Championship Snocross (ACS) logo today, representing a crisp and bold move forward for the world's premier professional snocross racing series.
Tighter with bolder lines and greater representation of the sport's biggest sponsor – AMSOIL – the confident and edgy logo is set to pop when the prestigious series opens for action this Nov. 23-25 at Duluth's (Minn.) Spirit Mountain.
"Everyone at ISOC and AMSOIL are always looking for ways to make this series better in every aspect. We feel we've come a long way in the past couple years – and to signify this we wanted a new and upgraded look for the series logo as well," said Carl Schubitzke, Director of Operations and Racing for ISOC. "We feel the new ACS logo best represents the series' most generous supporter – AMSOIL – along with being an iconic symbol representative of the of the great people involved with this great sport."
In addition to the new logo, ISOC has dropped the Series "S" from the new ACS acronym, primarily just to streamline the series' title so that it flows better in day-to-day communication both inside and outside the snowmobile industry.
Beginning with the AMSOIL Championship Snocross season opening round in Duluth, Minn. (Nov. 23-25) and running through the season finale in Lake Geneva, Wis. (March 15-17), CBS Sports Network will broadcast 16 half-hour race shows – all in HD – on Sundays at 10:30 a.m. EST. AMSOIL Championship Snocross – as an added bonus – will also air in an evening repeat of each show during the week.
CBS Sports Network's coverage of the 2012-'13 AMSOIL Championship Snocross Series begins Sunday, Dec. 30th, at 10:30 a.m. EST.
About CBS Sports Network
CBS Sports Network (CBSSN) is the 24-hour cable destination of CBS Sports. The Network covers more than 340 live games annually, showcasing 30 men's and women's sports, in addition to a variety of studio shows, documentaries and original programs. CBSSN's live programming is highlighted by college sports and also features professional lacrosse, Professional Bull Riding (PBR), the sports news and commentary show ROME and the Tim Brando Show. CBS Sports Network is available across the country through local cable, video and telco providers and via satellite on DirecTV Channel 613 and Dish Network Channel 158. For more information, and to access the CBS Sports Network channel finder, go to www.cbssportsnetwork.com.
About ISOC Racing
The International Series of Champions (ISOC) is the premier snowmobile race sanctioning organization in North America and sanctions national AMSOIL Championship Snocross, in addition to affiliating with nine regional circuits. Visit snocross.com for more information, fan and racer memberships, schedule details and more.