AMSOIL Championship Snocross' Duluth winner Robbie Malinoski looks to keep the momentum going @ Blackjack
The Ski-Doo racer – who doubled up going 1st/1st @ Spirit Mt. – looks for another double podium finish at Bessemer, Mich.'s rounds of ACS 
For more information contact:
Pat Schutte, PR Director, ISOC Racing
Pat@ISOCRacing.com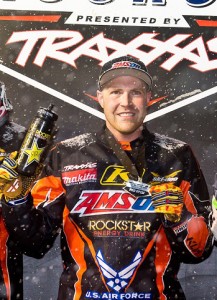 MINNEAPOLIS (Dec. 5, 2012) – Scheuring Speed Sports' Robbie Malinoski (Ski-Doo) comes blasting into Michigan's Upper Peninsula this weekend on a big time roll. The veteran racer doubled up at the AMSOIL Championship Snocross, presented by Traxxas, opener going 1st/1st in the Pro Open class and carries that momentum into a the Blackjack National – an event that saw Malinoski on the podium twice last year as well.
The track at Blackjack ski resort is not one for posers. As formidable of a venue as the ACS racers will see all year, its massive elevation changes and (in) famous downhill rhythm section can define and separate the field in terms of pure guts. And to his credit Malinoski is certainly one of the favorites to repeat up on the box this weekend in Bessemer.
ISOC caught up with Malinoski and got his take on this weekend's Blackjack National.
ISOC: You scored a 2nd and a 3rd last year at Blackjack – AMSOIL Championship Snocross' first venture to the upper Michigan ski area. What are your memories of the venue?
Malinoski: Blackjack's a great landscape with a lot of snow. It's the ideal spot for a snocross track and I'm pumped to get back there.
ISOC: From a spectator's standpoint the face of Blackjack's ski hill looked to be the most rugged and challenging terrain you guys faced all last season on the AMSOIL Championship Snocross circuit. Would you agree with that?
Malinoski: Yeah, for sure. The downhill section they had was the gnarliest section we faced all year – definitely a spot for crashes, race passes and whatnot. It's the signature area of the course for sure and I sure hope they bring it back for this weekend.
ISOC: The downhill section seemed to be the primary area where you could set guys up to pass. Was that the case?
Malinoski: Yeah, at the top with all the bumps and that was a good spot to pass. Then the bottom … if you held it on a little bit longer than the other guy there you were able to make some passes. It's a real difficult section, but definitely a good spot to find and create new lines. I love that section and can't wait to get back on it.
ISOC: Overall, what were the keys to your dual podium success at Bessemer?
Malinoski: I think that downhill … I felt comfortable on it all weekend and was able to stay consistent coming down it. I didn't make too many mistakes on it, although I had a few close calls. Just try to limit those close calls.
ISOC: How key was the uphill section as well? Seemed you really had to carry a lot of momentum in that area in order to set yourself up properly for the downhill section. Both those sections really played into each other.
Malinoski: Yeah, for sure. If you didn't get a good run coming up the hill you were probably falling behind coming down the hill. You had to be spot on with both.
ISOC: Will the guys at Scheuring set up the sleds any differently for Blackjack than you had set up for Spirit Mountain?
Malinoski: The setup should stay pretty much the same, we won't change too much. Tune the motors for the day based on the temperature and whatnot, elevation – although we won't have to change much for elevation. Probably won't be that much colder than it was in Duluth. So I really don't know if there'll be that much in the way of changes, but who knows. We'll figure it out after the first practice session I'm sure.
ISOC: Talk a bit about how big of a weekend that was for you at Duluth. Getting out of the gate the way you did, back to back 1st place performances – no doubt a whole lot of confidence heading out of the AMSOIL Championship Snocross season opener.
Malinoski: Just for the team itself it was a big deal. My two firsts were awesome and I'm totally excited about that. But that's two weeks ago and now we're at a new track with a new race. So we're just putting our heads down and getting after it this weekend – hopefully heading into the holidays with two strong weekends under our belt.
Who: World's top snowmobile racers
What: Round two of 2012-'13 AMSOIL Championship Snocross
When: Dec. 7-8
Times: Practice starts each day at 8 a.m., amateur racing begins at 9:30 a.m., pros at noon.
Where: Blackjack Resort
Tickets: Single day tickets are $20, three-day weekend passes are $30. Kids five and under are free. Tickets are available at the gate and online at snocross.com
More information: www.skiblackjack.com
Beginning with the AMSOIL Championship Snocross, presented by Traxxas season-opening round in Duluth, Minn. (Nov. 23-25) and running through the season finale in Lake Geneva, Wis. (March 15-17), CBS Sports Network will broadcast 16 half-hour race shows – all in HD – on Sundays at 10:30 a.m. EST. AMSOIL Championship Snocross – as an added bonus – will also air in an evening repeat of each show during the week.
CBS Sports Network's coverage of 2012-'13 AMSOIL Championship Snocross begins Sunday, Dec. 30th, at 10:30 a.m. EST.
About CBS Sports Network
CBS Sports Network (CBSSN) is the 24-hour cable destination of CBS Sports. The Network covers more than 340 live games annually, showcasing 30 men's and women's sports, in addition to a variety of studio shows, documentaries and original programs. CBSSN's live programming is highlighted by college sports and also features professional lacrosse, Professional Bull Riding (PBR), the sports news and commentary show ROME and the Tim Brando Show. CBS Sports Network is available across the country through local cable, video and telco providers and via satellite on DirecTV Channel 613 and Dish Network Channel 158. For more information, and to access the CBS Sports Network channel finder, go to www.cbssportsnetwork.com.
About ISOC Racing
The International Series of Champions (ISOC) is the premier snowmobile race sanctioning organization in North America and sanctions national AMSOIL Championship Snocross, presented by Traxxas in addition to affiliating with nine regional circuits. Visit snocross.com for more information, fan and racer memberships, schedule details and more.