AMSOIL Championship Snocross' Tucker "T-Train" Hibbert rails to victory @ Blackjack
Multi-time Pro Open champ Hibbert tops Robbie Malinoski & Darren Mees for first win of season; David Joanis tops in Lites 
For more information contact:
Pat Schutte, PR Director, ISOC Racing
Pat@ISOCRacing.com
BESSEMER, Mich. (Dec. 7, 2012) – About the only snow in the lower 48 is at Blackjack Resort in Michigan's Upper Peninsula – an outstanding setting for round three of 2012 AMSOIL Championship Snocross, presented by Traxxas.
A new winner this year in the Pro Open class – Monster Energy/Arctic Cat's Tucker Hibbert – highlighted the evening's final race under the lights on the steep ski hills of Blackjack Resort, while the support Pro Lite division was won by Ski-Doo's David Joanis – his second win in three rounds this year.
Pro Open
Qualifying first by sweeping both his heat races in convincing fashion, Tucker Hibbert was on a mission at the AMSOIL Championship Snocross Blackjack National today, catching and passing Duluth (Minn.) double winner Robbie Malinoski (AMSOIL/Ski-Doo) three laps into the 15-lap contest and pushing his sled on the treacherous track to a 23-second lead at the checkers.
Malinoski would put it best when he said on the podium: "That was a good 'ol fashion butt whipping I took from Tucker."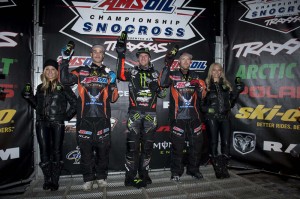 Hibbert passed Malinoski in the gnarliest section of the Blackjack track. Dubbed the "Dirty Dozen" for its 12 downhill jumps, it was the most talked-about section of the day and a spot where most of the passing was done, or set up for passes on the finish line straightaway- which is where Hibbert took the lead from Malinoski.
Joining the aforementioned racers on the Pro Open podium in 3rd place was Malinoski's AMSOIL/Ski-Doo teammate Darrin Mees, who added: "I couldn't believe how far out front Tucker was."
With Malinoski pulling the Stud-Boy Holeshot, Polaris' Ross Martin was up front early and well into podium position when he was struck by Mees' sled and run off the track into a deep valley. Once Martin, who won the Blackjack National opener last year, got back on the track he was way out of the top five and would be a non-factor. Said Mees" "I got squirrely on that downhill section and bumped Ross off the track – and I'm sorry for that."
Back in the pack as well was defending AMSOIL Championship Snocross Pro Open champion Tim Tremblay (AMSOIL/Ski-Doo). Tremblay would however salvage a descent 4th place finish, with fan-favorite Levi LaVallee (Polaris) rounding out the top five.
But the night was Hibbert's as the former champ came blazing back in to the overall Pro Open points picture. "We had a lackluster weekend in Duluth, so I think this was a good statement for us," he said. "Hopefully we can do it again here on Saturday."
Official – Blackjack National – Pro Open #1 12/7/2012
Final
1 68 Hibbert Tucker Arctic Cat Pelican Rapids MN
2 4 Malinoski Robbie Ski-Doo Lino Lakes MN
3 9 Mees Darrin Ski-Doo Stanchfield MN
4 11 Tremblay Tim Ski-Doo Ste Jeanne D'Arc Quebec
5 108 LaVallee Levi Polaris Longville MN
6 837 Martin Ross Polaris Burlington WI
7 53 Kamm Kody Polaris Kenosha WI
8 48 Kaufman Garth Arctic Cat Driggs ID
9 168 Broberg Justin Polaris Waukesha WI
10 271 Narsa Petter Ski-Doo Sweden
11 999 Crapo Colby Polaris St.Anthony ID
12 62 Thomsen Cody Arctic Cat Nisswa MN
13 43 Christian Logan Arctic Cat Fertile MN
14 324 Pallin Kyle Polaris Ironwood MI
DQ 27 Ohman Emil Ski-Doo Pitea Sweden
Pro Lite
Continuing his reign on the AMSOIL Championship Snocross' Pro Lite class, Ski-Doo's Canadian pilot David Joanis ripped to his second main event win in three rounds, topping Polaris racers James Johnstad (2nd) and Andrew Carlson (3rd) for the victory.
"It was really rough out there and everyone raced awesome," said Joanis, rallying back in a big way from a black flag DNF at round two at Duluth. "I just let the race play out and tried not to make many mistakes."
Up front early in the night's first Pro class main event was Carlson. The Minnesotan's Polaris pulled holeshots for him all day and he was able to parlay that explosive out-of-gate speed into an early race lead. But biding his time and pretty much stalking Carlson was the #115 of Joanis, who passed Carlson five laps into the 11-lap race and made it stick – extending his lead as the laps ticked off.
The best battle of the Pro Lite main would be for 2nd and 3rd when Johnstad reeled in Carlson and passed him late in the race. However, all was not lost in Carlson's 3rd place effort as it was his first career podium in the Pro Lite class. "I had a great start on my Polaris, 2nd off the start and led part of the race," said Carlson. "Congrats to Dave on the win."
Rounding out the top five in the Pro Lite class on Friday at Blackjack were Sweden's John Stenberg (Ski-Doo) in 4th and Canada's Dylan Hall (Ski-Doo) in 5th.
Official – Blackjack National – Pro Lite #1 12/7/2012
Final
1 115 Joanis David Ski-Doo Cochrane Ontario
2 154 Johnstad James Polaris Beltrami MN,
3 151 Carlson Andrew Polaris Elk River MN
4 259 Stenberg John Ski-Doo Lofsdalen Sweden
5 421 Hall Dylan Ski-Doo Ayr Ontario
6 793 Alexandre Renaud Ski-Doo Val-D'or Quebec
7 436 Muller Travis Ski-Doo Windom MN
8 122 Wallenstein Kevin Ski-Doo Cadillac MI
9 173 Watkinson Corey Ski-Doo Port Carling Ontario
10 202 Sagan Joey Ski-Doo Elmvale Ontario
11 722 Johansson Marcus Polaris Sweden
12 857 Lieders Andrew Polaris Colby WI
13 931 Leighton Trevor Polaris Eagle ID
14 105 Kraus Jordan Polaris Osage MN
15 42 Scott Jake Polaris Port Jefferson Statio NY
Next up: Round four of AMSOIL Championship Snocross, presented by Traxxas, at northern Michigan's Blackjack Resort, Sat., Dec. 8.
Who: World's top snowmobile racers
What: Round two of 2012-'13 AMSOIL Championship Snocross
When: Dec. 8
Times: Practice starts each day at 8 a.m., amateur racing begins at 9:30 a.m., pros at noon.
Where: Blackjack Resort
Tickets: Single day tickets are $20, three-day weekend passes are $30. Kids five and under are free. Tickets are available at the gate and online at snocross.com
More information: www.skiblackjack.com
Photo credit: John Hanson and Lissa Marsolek
Beginning with AMSOIL Championship Snocross' season-opening round in Duluth, Minn. (Nov. 23-25) and running through the season finale in Lake Geneva, Wis. (March 15-17), CBS Sports Network will broadcast 16 half-hour race shows – all in HD – on Sundays at 10:30 a.m. EST. The AMSOIL Championship Snocross – as an added bonus – will also air in an evening repeat of each show during the week.
CBS Sports Network's coverage of 2012-'13 AMSOIL Championship Snocross begins Sunday, Dec. 30th, at 10:30 a.m. EST.
About CBS Sports Network
CBS Sports Network (CBSSN) is the 24-hour cable destination of CBS Sports. The Network covers more than 340 live games annually, showcasing 30 men's and women's sports, in addition to a variety of studio shows, documentaries and original programs. CBSSN's live programming is highlighted by college sports and also features professional lacrosse, Professional Bull Riding (PBR), the sports news and commentary show ROME and the Tim Brando Show. CBS Sports Network is available across the country through local cable, video and telco providers and via satellite on DirecTV Channel 613 and Dish Network Channel 158. For more information, and to access the CBS Sports Network channel finder, go to www.cbssportsnetwork.com.
About ISOC Racing
The International Series of Champions (ISOC) is the premier snowmobile race sanctioning organization in North America and sanctions national AMSOIL Championship Snocross, in addition to affiliating with nine regional circuits. Visit snocross.com for more information, fan and racer memberships, schedule details and more.