Fans of AMSOIL Championships Snocross racing are able to cover more miles, more comfortably and more reliably in Ram trucks 
For more information contact:
Pat Schutte, PR Director, ISOC Racing
Pat@ISOCRacing.com
MINNEAPOLIS (Jan. 4, 2013) – Officials with the International Series of Champions (ISOC) and the Ram Truck brand are pleased to announce that Ram has been named the Official Truck of 2012-'13 AMSOIL Championship Snocross, presented by Traxxas.
Ram Truck's award-winning line of vehicles, including the reigning 2013 Motor Trend magazine Truck of the Year – the Ram 1500 – are known for their durability and are relied upon by the snowmobile industry, whose participants log thousands of miles a year in their trucks, towing their sleds in pursuit of snow.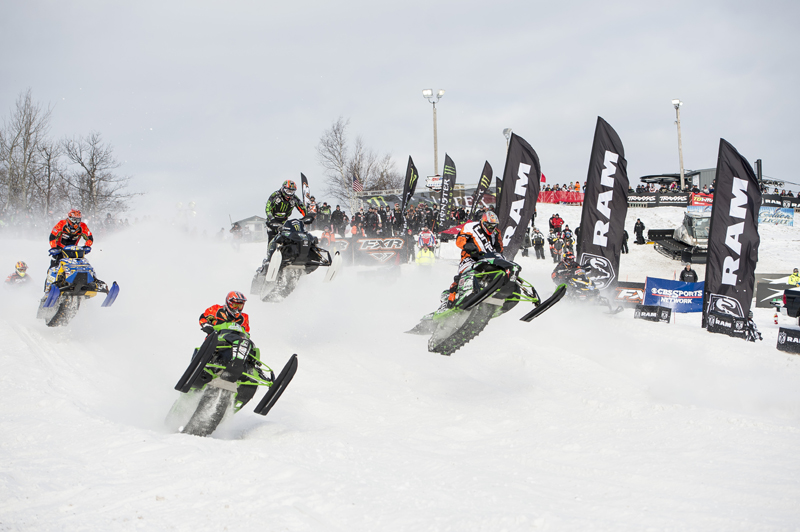 "You need look no further than our own Ram Truck team to understand Ram Truck's longstanding relationship with the snowmobile industry," explained Fred Diaz, President and CEO – Ram Truck Brand and Chrysler de Mexico. "As soon as the whistle blows on Friday, many of our employees race to the parking lot and jump in their Ram trucks – snowmobile trailers in tow – and make the trek up I-75 to northern Michigan for a couple days of riding.
"For winter sports, snowmobiling is the place to be. Ram Truck is looking forward to reaching a core group of truck customers through our new partnership with AMSOIL Championship Snocross."
In addition to being named the official truck of AMSOIL Championship Snocross, Ram Truck will also serve as the title sponsor of the March 8-9 Fargo, N.D. National ACS rounds held at nearby Glyndon's (Minn.) Buffalo River Race Park. Ram Trucks will also be the title sponsor of the season-ending Ram Trucks World Cup event held at Lake Geneva, Wis., a special one-off match race event held in conjunction with the final rounds of ACS to determine which nation has the top snocross racers.
"Everyone at ISOC and AMSOIL Championship Snocross is pumped to welcome Ram Truck to the team of tier-one sponsors backing the world's premier competition snowmobile series," said Carl Schubitzke, ISOC President/Race Director. "We're looking forward to showcasing the Ram Truck brand product this weekend at Canterbury Raceway in Minneapolis and continuing to activate the brand at the remaining ISOC ACS stops – through the March 15-17 finals in Lake Geneva, Wisconsin. Ram Trucks has a strong track record with the sport of snowmobiling and we're confident they'll continue to be warmly welcomed by the AMSOIL Championships Snocross racing community."
In addition to its AMSOIL Championship Snocross official truck status, the Ram Truck brand also sponsors six-time ACS champion Tucker Hibbert (Arctic Cat).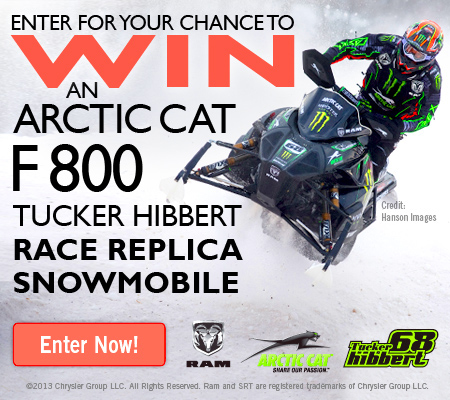 Beginning with AMSOIL Championship Snocross' season-opening round in Duluth, Minn. (Nov. 23-25) and running through the season finale in Lake Geneva, Wis. (March 15-17), CBS Sports Network will broadcast 16 half-hour race shows – all in HD – on Sundays at 10:30 a.m. EST. The AMSOIL Championship Snocross – as an added bonus – will also air in an evening repeat of each show during the week.
Next up: Rounds five and six of AMSOIL Championship Snocross, presented by Traxxas, at Minnesota's Canterbury Park Racetrack and Card Casino, Jan. 4-5.
Who: 150 of the world's top snowmobile racers
What: Round five and six of 2012-'13 AMSOIL Championship Snocross
When: Jan. 4-5
Where: Canterbury Park Racetrack and Card Casino, Shakopee, Minn.
Times: Friday: Gates open at 10 a.m., amateur racing begins at 11 a.m. and pro racing begins at 5 p.m. Saturday: Gates open at 9 a.m., amateur racing begins at 10 a.m. and pro racing begins at 5 p.m.
Host hotel: Mystic Lake Casino Hotel
Tickets: General admission tickets are $15 for Friday and $15 for Saturday and $25 for a two-day pass. Children 5 and under are free. Tickets are available at the gate and online at snocross.com
More information:www.canterburypark.com
About CBS Sports Network
CBS Sports Network (CBSSN) is the 24-hour cable destination of CBS Sports. The Network covers more than 340 live games annually, showcasing 30 men's and women's sports, in addition to a variety of studio shows, documentaries and original programs. CBSSN's live programming is highlighted by college sports and also features professional lacrosse, Professional Bull Riding (PBR), the sports news and commentary show ROME and the Tim Brando Show. CBS Sports Network is available across the country through local cable, video and telco providers and via satellite on DirecTV Channel 613 and Dish Network Channel 158. For more information, and to access the CBS Sports Network channel finder, go to www.cbssportsnetwork.com.
About Ram Truck Brand
The Ram Truck brand continues to establish its own identity and clearly define its customer since its launch as a standalone vehicle brand. Creating a distinct brand for Ram trucks has allowed the brand to concentrate on how core customers use their trucks and what new features they'd like to see. Whether focusing on a family that uses its half-ton truck day in and day out, a hard-working Ram Heavy Duty owner or a business that depends on its commercial vehicles every day, Ram has the truck market covered.
About ISOC Racing
The International Series of Champions (ISOC) is the premier snowmobile race sanctioning organization in North America and sanctions national AMSOIL Championship Snocross, in addition to affiliating with nine regional circuits. Visit snocross.com for more information, fan and racer memberships, schedule details and more.