Longville, MN (January 8, 2013) – The third stop on the ISOC National Snocross Series was held at beautiful Canterbury Park (a horse track by trade) in Shakopee, Minnesota. With a combination of huge crowds and a fun track, this is a favorite stop for Pro Rider, Levi LaVallee. LaVallee was a crowd pleaser throughout the 2-day National. Kicking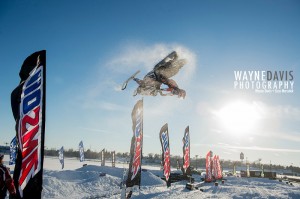 both nights off with his high-flying backflip introductions and along with his backflips, LaVallee was able to sneak in a couple extra freestyle tricks over the finish line to pump up the crowd. With determination and the never-give-up attitude, LaVallee made it into both Pro Open finals throughout the weekend and finished a solid 10th and 9th place. Pallin had one of his strongest weekends so far this season, with great holeshots off of the line and holding a steady pace throughout the finals, Pallin finished high on the roster with a 6th place Friday night and a 5th Saturday night. Really impressive results for Pallin.
In the Pro Lite Class, Jake Scott was again on top of his game. Scott took three 1st place finished in his qualifying rounds throughout the weekend and when it came down to the finals, he did not upset. In the Pro Lite final Friday night, Scott come off the line in 2nd place and when he went for the pass to be in first, Scott had an unfortunate off and went back to 6th place. But that crash did not damper Scott, he continued to pick off riders one-by-one and was still able to snag a podium finish with a 3rd place! And rounding out the weekend, Scott continued to ride smooth and consistent and finished an awesome, 4th on Saturday night.
"It was a very good weekend overall of our team." states Levi LaVallee (co-owner to Team LaVallee) "Kyle, Jake and myself have been working hard on the track and our crew has been working hard to get our sleds running to ample capacity. Next, I transition into adding more freestyle to my regimen. I just found out I have been selected for Best Trick at Winter X. So I will now be competing in 4 snowmobile disciplines (Snocross, Speed & Style, Freestyle, and Best Trick) it will be busy, but I can't wait."
RACE RESULTS
Pro Open Round 5 (LaVallee) Round 1: 5th Round 2: 8th LCQ: 5th Final: 10th
Pro Open Round 6 (LaVallee) Round 1: 3rd Round 2: 2nd LCQ: — Final: 9th
Pro Open Round 5 (Pallin) Round 1: 4th Round 2: 4th LCQ: — Final: 6th
Pro Open Round 6 (Pallin) Round 1: 4th Round 2: 3rd LCQ: — Final: 5th
Pro Lite #1 (Scott) Round 1: 1st Round 2: 1st LCQ: — Final: 3rd
Pro Lite #2 (Scott) Round 1: 1st Round 2: 3rd LCQ: — Final: 4th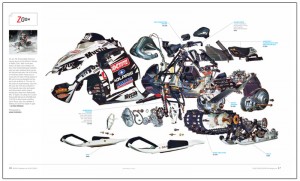 NEWS & NOTEWORTHY
ESPN THE MAGAZINE Check out this weeks ESPN The Magazine (Jan 7th, 2013 issue). Flip to page 16 & 17 and "Zoom In" to view a two page spread of Team LaVallee's race sled. ESPN The Magazine has 2.2 million subscribers and a readership of 15 million.
http://insider.espn.go.com/insider/espn-the-magazine/
COMING UP
Winter X Games 2013 – Aspen, CO January 24-27, 2013
http://xgames.espn.go.com
Deadwood National – Deadwood, SD February 1-2, 2013
https://snocross.com/feb-1-2013-deadwood-sd/
Photos: ©WayneDavisPhotography / Wayne Davis + Lissa Marsolek
Unauthorized use is prohibited.