Jake Scott explodes out of the back row in the Pro Lite and re-takes o/a points lead w/win; Tucker Hibbert makes it eight wins in 11 starts.

For more information contact:
Pat Schutte, PR Director, ISOC Racing
Pat@ISOCRacing.com
SALAMANCA, N.Y. (Feb. 22, 2013) – With thousands of fans pouring out of the packed grandstands and lining the hill adjacent to the AMSOIL Championship Snocross track at Seneca Allegany Casino, the stage was set for a couple powerful Pro class main events at the inaugural running of the Seneca Allegany Air Force Snocross.
In the premier Pro Open main event Tucker Hibbert (Monster Energy/Arctic Cat) overcame a sub-par qualifying effort (5th) to again dominate the night's final race, taking the lead from rival Ross Martin (DuPont/Jack Links/Polaris) early and cruising unchallenged to victory. And in the support Pro Lite class main event Jake Scott (Mystik Lubricants/Loctite/Polaris) put up one of the best efforts of the year in that class, nearly pulling the holeshot from a second row start, grabbing the lead early and running away with the win much like Hibbert did.
Pro Open
Rocketing out of the gate in the night's final contest, Kyle Pallin (Mystik Lubricants/Loctite/Polaris) pulled the Stud Boy Holeshot, but was quickly caught by the No. 1 qualifier Martin. With the fifth gate pick Hibbert ran the risk of getting caught up at the start and forced back to mid-pack. But a 4th place start would dash the hopes of those wanting to see Hibbert make one of his classic runs through the pack as, before you could say "Lap Two," Hibbert was already past Polaris' Justin Broberg and Pallin and into 2nd place – roughly 4.3 second back of Martin.
With a clear track and no lappers in site Martin clicked off a 25.852 to Hibbert's 26.857 lap time on lap four. And for a brief moment it looked like we might have a race. But on lap six Hibbert would take advantage of Martin checking up just briefly off a jump landing, dove to the inside and was gone – just like that.
"We've got to catch that son-of-a-gun," Martin would say from his spot on the 2nd rung of the podium after the race.
Hibbert rode another perfect race. He seemed to use lapped professional riders on 450-pound sleds as ski gates, weaving in and out of the traffic with such ease that Martin and the others chasing him could never make up any time. By the last lap, where Hibbert finally slowed his pace just enough to look over his shoulder and see who was around, he still had over a ten-second lead on 2nd place Martin.
"Felt really good tonight. Ross got out to a great start and was doing a step-up (jump) on the back of the track that I really didn't want to do," said Hibbert, the overall Pro Open point leader. "But I ended up stepping up and doing it. It was a great race tonight … can't wait for tomorrow's race."
Battling through the pack and coming away with another solid podium performance was defending AMSOIL Championship Snocross Pro Open champion Tim Tremblay (Scheuring Speed Sports/Rockstar/Ski-Doo). Tremblay had a great race early with former teammate Emil Ohman (Ski-Doo/XPS/Warnert Racing), then another thrilling battle late in the race with rookie Pro Open racer Kody Kamm (Polaris/Monster Energy/Hentges Racing).
"I didn't have such a great start, then wasn't paying attention later in the race and was running wide," said Tremblay, who qualified 8th for tonight's Pro Open main. "Then I saw Kamm coming on hard and thought to myself 'I've just got to make the podium.'"
AMSOIL Championship Snocross action continued at Seneca Allegany Casino on Saturday. Opening ceremonies for the night program begin at 6 p.m.
Friday Seneca Allegany Air Force Snocross Pro Open Results
1 68 Hibbert Tucker Arctic Cat Pelican Rapids MN
2 837 Martin Ross Polaris Burlington WI
3 11 Tremblay Tim Ski-Doo Ste Jeanne D'Arc Quebec
4 53 Kamm Kody Polaris Kenosha WI
5 27 Ohman Emil Ski-Doo Pitea Norrbotten
6 324 Pallin Kyle Polaris Ironwood MI
7 52 Lidman Johan Polaris Pitea Sweden
8 43 Christian Logan Arctic Cat Fertile MN
9 168 Broberg Justin Polaris Waukesha WI
10 9 Mees Darrin Ski-Doo East Setauket NY
11 24 Bauerly Paul Ski-Doo Milaca MN
12 106 Ellis Derek Arctic Cat Fargo ND
13 99 Pattyn Zach Ski-Doo Ravenna MI
14 244 LePage Bobby Polaris Duluth MN
15 717 Bauer Mike Polaris Owen WI
Pro Open Overall Points (through 11 of 16 rounds)
1 Tucker Hibbert 10 453 453 Monster Energy/Arctic Cat 68 Arctic Cat Pelican Rapids, MN
2 Ross Martin 10 391 391 Judnick Motorsports 837 Polaris Burlington, WI
3 Tim Tremblay 10 384 384 Amsoil/Air Force/Makita 11 Ski-Doo Ste Jeanne D'Arc, Quebec
4 Robbie Malinoski 10 335 335 Amsoil/Air Force/Makita 4 Ski-Doo Stacy, MN
5 Kody Kamm 10 316 316 Hentges Racing 53 Polaris Kenosha, WI
6 Logan Christian 10 303 303 Christian Brothers Racing 43 Arctic Cat Fertile, MN
7 Emil Ohman 10 302 302 Warnert Racing 27 Ski-Doo Pitea, Norrbotten
8 Darrin Mees 10 296 296 Scheuring Speedsports 9 Ski-Doo East Setauket, NY
9 Kyle Pallin 10 284 284 Team LaVallee 324 Polaris Ironwood, MI
10 Justin Broberg 10 273 273 Hentges Racing 168 Polaris Waukesha, WI
Pro Lite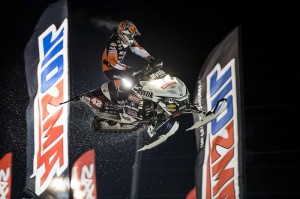 A spectacular start from the back row by Pro Lite points leader Jake Scott would be the highlight of tonight's Pro Lite main event at Seneca Allegany Casino. Scott railed to a 2nd place position after the third turn, then soon parlayed that amazing start to the race lead over Andrew Carlson (Polaris/Carlson Motorsports) and brought 'er home to the checkers.
"I can't believe it!" said Scott of his start. "I would have been pumped with a top seven start. I honestly can't tell you how I ended up winning from the back row. With all my family and friends here from New York I just had to show them something!"
Scott ran fast and flawless, opening up a 6.5 second lead through lap 11. Running into some lapped traffic would be the only hiccup in his effort when he changed up his line through the rhythm section, got bucked sideways and was nearly pitched off his sled. But Scott reeled it back in and ran clean through the last five laps of the 16-lap main for the win.
Tied with Scott in the overall points chase heading into tonight's Pro Lite final was David Joanis (Royal Distributing/Ski-Doo). Qualifying fifth (to Scott's 11th), Joanis got a solid start but was soon clipped by another rider and nearly left his sled. But he would rally back to 6th by the midway point of the race, then began picking off the top Pro Lite guys until finally passing Carlson for 3rd and some highly important series points.
"I got a great start, then somebody cut me off. After that I made a charge and am glad to be up here," said Joanis. "But hat's off to these two (Scott and 2nd place Travis Muller). They rode awesome."
Muller (NSK/Foremost Insurance/Ski-Doo), who qualified in 3rd, got out of the start in 3rd place and moved into 2nd past Carlson on lap seven. Trailing Scott by 5.5 seconds at that point of the race, Muller wasn't able to make up the distance to challenge Scott – but he didn't give up any time to the hard-charging Joanis either.
"Good track tonight that was nice and wide, made for some good racing," added Muller.
With the victory Scott took the Pro Lite points lead back from Joanis. Through 11 rounds Scott leads Joanis by a score of 396-394.
Friday Seneca Allegany Air Force Snocross Pro Lite Results
1 42 Scott Jake Polaris Port Jefferson NY
2 436 Muller Travis Ski-Doo Windom MN
3 115 Joanis David Ski-Doo Cochrane Ontario
4 151 Carlson Andrew Polaris Elk River MN
5 857 Lieders Andrew Polaris Colby WI
6 248 Nastala Brett Ski-Doo Milton WI
7 931 Leighton Trevor Polaris Eagle ID
8 193 Pichner Matt Arctic Cat Owatonna MN
9 793 Alexandre Renaud Ski-Doo Val-D'or Quebec
10 630 Boylan Casey Ski-Doo Anchorage AK
11 173 Watkinson Corey Ski-Doo Port Carling Ontario
12 198 Pattyn Nick Ski-Doo Ravenna MI
13 79 Zelinski Joshua Arctic Cat Traverse City MI
14 307 George Michael Ski-Doo Pine Plains NY
15 136 Todd Corin Polaris Otego NY
Pro Lite Overall Points (through 11 of 16 rounds)
1 Jake Scott 10 396 396 Team LaVallee 42 Polaris Port Jefferson Station, NY
2 David Joanis 10 394 394 Royal Distributing 115 Ski-Doo Cochrane,
3 Andrew Lieders 10 364 364 Lieders Racing/Leighton Motorsports 857 Polaris Colby, WI
4 Travis Muller 10 363 363 Warnert Racing 436 Ski-Doo Windom, MN
5 Renaud Alexandre 10 343 343 Team Jimmy John's/Ski-doo/BossRacing 793 Ski-Doo Quebec
6 Dylan Hall 10 307 307 Royal Distributing 421 Ski-Doo Ayr,
7 Andrew Carlson 10 274 274 Carlson Motorsports 151 Polaris Elk River, MN
8 Trevor Leighton 10 240 240 Leighton Motorsports 931 Polaris Eagle, ID
9 Corey Watkinson 10 237 237 Team Jimmy John's/Ski-doo/BossRacing 173 Ski-Doo Ontario
10 Chase Rosemeyer 10 232 232 Team Bauerly Racing 675 Ski-Doo Chippewa Falls, WI
Next up: Round 12 of AMSOIL Championship Snocross, presented by Traxxas, at New York's Seneca Allegany Casino & Hotel, Salamanca, N.Y., Feb. 22-23.
Who: 2012-'13 AMSOIL Championship Snocross Series' Seneca Allegany Air Force Snocross National
What: Motocross-style professional snowmobile racing, complete with big jumps, bump, berms and plenty of bar-to-bar racing action!
When: Feb. 22-23, 2013
Where: Seneca Allegany Casino & Hotel, Salamanca N.Y.
Tickets: Available in advance online at www.senecaalleganycasino.com and snocross.com
Photos courtesy of Lissa Marsolek/Wayne Davis Photography
Beginning with AMSOIL Championship Snocross' season-opening round in Duluth, Minn. (Nov. 23-25) and running through the season finale in Lake Geneva, Wis. (March 15-17), CBS Sports Network will broadcast 16 half-hour race shows – all in HD – on Sundays at 10:30 a.m. EST. The AMSOIL Championship Snocross – as an added bonus – will also air in an evening repeat of each show during the week.
About CBS Sports Network
CBS Sports Network (CBSSN) is the 24-hour cable destination of CBS Sports. The Network covers more than 340 live games annually, showcasing 30 men's and women's sports, in addition to a variety of studio shows, documentaries and original programs. CBSSN's live programming is highlighted by college sports and also features professional lacrosse, Professional Bull Riding (PBR), the sports news and commentary show ROME and the Tim Brando Show. CBS Sports Network is available across the country through local cable, video and telco providers and via satellite on DirecTV Channel 613 and Dish Network Channel 158. For more information, and to access the CBS Sports Network channel finder, go to www.cbssportsnetwork.com.
About ISOC Racing
The International Series of Champions (ISOC) is the premier snowmobile race sanctioning organization in North America and sanctions national AMSOIL Championship Snocross, in addition to affiliating with nine regional circuits. Visit snocross.com for more information, fan and racer memberships, schedule details and more.