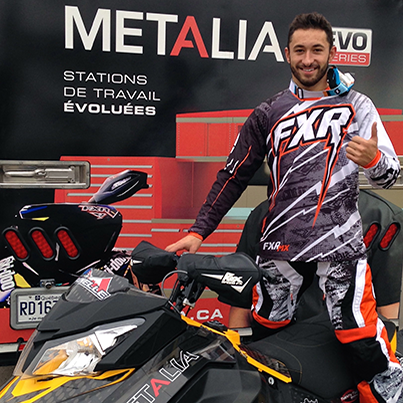 NORTH HATLEY, QC — With cold temperatures fast approaching, Damexo Racing is excited to kick off their 2014 racing season next week at the ISOC Amsoil Duluth National, Nov. 29th to December 1st. After years of running a partial schedule on the ISOC National tour, Damexco Racing is announcing plans to compete in the entire 16 race schedule and running for the Championship.
Carrying the team's banner will be Lucas Brunelle in the Pro Lite division piloting the No. 228 Metalia / FXR Ski-doo. Lucas is a former East Coast Snocross Pro Lite champion and has won numerous ISOC Pro Lite qualifying races in years past while running a partial schedule.
"This is the most excited I have been in a long time," Brunelle said. "As a racer, it is your dream to be competing on the ISOC tour, so to be able to finally do it is awesome. The entire crew has been working nonstop getting our machines ready and I have spent a lot of time on our woodchip track this fall. I look forward to the green flag dropping in Duluth!"
For additional team information, visit Damexco Racing at: www.damexcoracing.com.
To stay up to date with racing news, both on and off the track, follow us on Facebook at Damexco Racing.
For information regarding sponsorship opportunities with Damexco Racing, please contact Luc Brunelle.