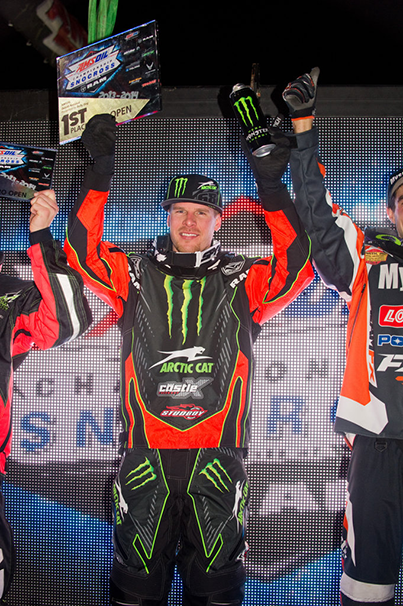 December 2, 2013 – Monster Energy/Arctic Cat's Tucker Hibbert came out swinging at the 22nd Annual Duluth National. The reigning ISOC Pro Open Champion outshined the competition on the slopes of Duluth, Minn.'s Spirit Mountain ski hill and permanently stamped his name in the snocross record books by lapping the entire field in the first Pro Open final of the 2013/2014 season.
Hibbert led every lap of his qualifying rounds Saturday evening giving him the number one seed for the main event. Lining up on the far inside, he drag raced fellow Arctic Cat racer No. 62 Cody Thomsen into corner one. By the time the Cat duo hit the uphill step-up, Hibbert took the lead. Turning consistent laps, he moved through lapped traffic with patience and control. Two laps to go in the 22-lap, 15-rider main event, he was only sled lengths away from the second place battle of Thomsen and No. 324 Kyle Pallin. Hibbert found an opening, passed both riders in a single sweep, and in that moment, lapped the entire field – a feat never achieved in the pro class at a national snocross event.
Sunday was a similar story for Hibbert. After winning both qualifying events, he ran away in the final event crossing the finish line over 20 seconds ahead of second place.
Next up for Hibbert is the second stop of the ISOC tour this weekend in Bessemer, Mich. The past two years, the technical rider has excelled on the long, challenging ski hill track winning three of the four finals held at Blackjack Resort.
Tucker Hibbert – #68 Monster Energy/Arctic Cat
"This weekend was unreal. Coming into Duluth, I knew we (the team) were prepared but didn't anticipate putting together such a dominating weekend. Everything just clicked. I instantly felt comfortable on the track, never fought the sled or struggled to find lines. It was just one of those weekends where everything went perfect.
I had no idea I lapped the entire field Saturday night until after the race. When I'm in the lead, I put all my focus on moving forward and keeping my intensity. I can't say it's ever been a goal to lap the field but it's a pretty cool accomplishment. Sunday's final was a little more challenging battling snow dust. It kept me on my toes and I was forced to ride by memory a few times. I wanted to keep pushing but backed it down to make sure I didn't get myself into a sketchy situation.
It's going to be a short week but we already have plans to test a few things. We're going to work hard to keep our momentum rolling into Bessemer."
Fast Facts
• Hometown: Pelican Rapids, Minnesota
• Seven-Time National Snocross Champion – 82 National Pro Wins
• 11-Time ESPN Winter X Games Medalist
• 2012 and 2010 FIM Snowcross World Champion
Resources
www.tucker-hibbert.com • www.monsterenergy.com • www.arcticcat.com • snocross.com