Round three of AMSOIL Championship Snocross, powered by Ram, at Michigan's Blackjack Ski Resort goes to Hibbert despite being relegated to a back row start
Contact: Pat Schutte
PR Director, ISOC Racing
pat@highprofilepr.com
BESSEMER, Mich. (Dec. 6, 2013) – With a big chill blanketing the Upper Peninsula's famous Big Snow Country, Monster Energy/Arctic Cat/Ram's Tucker Hibbert remained undefeated on the AMSOIL Championship Snocross, powered by Ram, tour – overcoming a back row start (due to a false start penalty) to win the series' third round – the Northern Clearing Snocross – in convincing fashion over 2nd place Ross Martin (DuPont/Jack Links/Polaris) and Kody Kamm (Monster Energy/Hentges Racing/Polaris) in 3rd.
Friday's support Pro Lite class at Blackjack would go to Andrew Lieders (Mystic/Polaris/Team LaVallee).
Friday Pro Open
Qualifying in the No. 1 position on Friday, Hibbert cruised to two heat race wins and, by virtue of his 1st/1st effort, selected the outside gate pick. But that'd all be for not as Hibbert would false start (prompted by Kamm, the No. 2 qualifier) and ISOC officials sent both to the back row for the start of the night's final race. Said Kamm one the podium (when questioned of the incident at the start): "Me and Tucker jumped at the same time."
Pulling the Stud Boy Holeshot in the main would be Red Bull/Mystic/Polaris/Team LaVallee Pro Open class racer Jake Scott. Last year's overall AMSOIL Championship Snocross Pro Lite champ, Scott led the race through the first couple laps before making a mistake on a tricky uphill section turn and running his Polaris out wide into the fresh deep snow on Blackjack's front ski run. Martin, who was on Scott's tail heading into the turn, would appear to have the hand in taking over the lead – but Hibbert darted seemingly from out of nowhere (passing seven sleds in the first lap) on the inside and led Martin up the hill. It would be a lead Hibbert would never relinquish.
"I thought I was going for the lead and got snuck under," said Martin kind of half laughing on the podium. "He (Hibbert) just took me by surprise!"
Battling frigid (2-degrees Fahrenheit at race time) temperatures and chocking snow dust that settled above the track for the entire race, Hibbert put his head down and rode his typical consistent, fast and, most importantly, mistake-free ten laps. And when he and Martin got past Scott, Kamm did as well and the three would separate from the rest of the pack.
"It was a gnarly race," said Hibbert, who is now one race away from tying Blair Morgan's all-time professional snocross premier class win record of 84 victories. "I was able to make up a bunch of places in the first couple of turns, but man – that was tough race. The conditions were brutal and I was just glad when it was over."
With tons of fresh soft snow covering a layer of boilerplate manmade snow, Hibbert said that the chance of catching an edge in an ice rut was high. Out front Hibbert would ride with caution, not putting a much of a lead on the rest of the pack as he did in Duluth the previous weekend. Hibbert took the checkers ahead of Martin, who was 4.5 seconds in front of Kamm.
AMSOIL/Scheuring Speed Sports/Ski-Doo's Tim Tremblay, the 2012 ACS Pro Open overall champion, would make some amends for having to qualify for the main through the LCQ at Blackjack by placing a hard-earned 4th. Rounding out the top five would be homeboy Kyle Pallin (Mystic/Polaris/Team LaVallee).
Blackjack Friday Pro Open results
1 Tucker Hibbert Monster Energy/Arctic Cat 68 Arctic Cat Pelican Rapids, MN
2 Ross Martin Judnick Motorsports 837 Polaris Burlington, WI
3 Kody Kamm Hentges Racing 53 Polaris Kenosha, WI
4 Tim Tremblay Amsoil/Air Force/Rockstar 11 Ski-Doo Ste Jeanne D'Arc, Quebec
5 Kyle Pallin Team LaVallee 324 Polaris Ironwood, MI
6 Mike Bauer Jess Racing 717 Arctic Cat Westminster, MA
7 Justin Broberg Hentges Racing 168 Polaris Mukwonago, WI
8 Adam Renheim Boss Racing 311 Ski-Doo Lima,
9 Robbie Malinoski Amsoil/Air Force/Makita 4 Ski-Doo Stacy, MN
10 Iain Hayden Rockstar Energy Polaris 93 Polaris Chatsworth, Ontario
11 Cody Thomsen Arctic Cat 62 Arctic Cat Nisswa, MN
12 Levi LaVallee Team LaVallee 108 Polaris Longville, MN
13 David Joanis Royal Distributing/Christian Brothers Racing 115 Arctic Cat Cochrane (Kok rane),
14 Jake Scott Team LaVallee 42 Polaris Port Jefferson Station, NY
15 Logan Christian Christian Brothers Racing / Drift 43 Arctic Cat Fertile, MN
Friday Pro Lite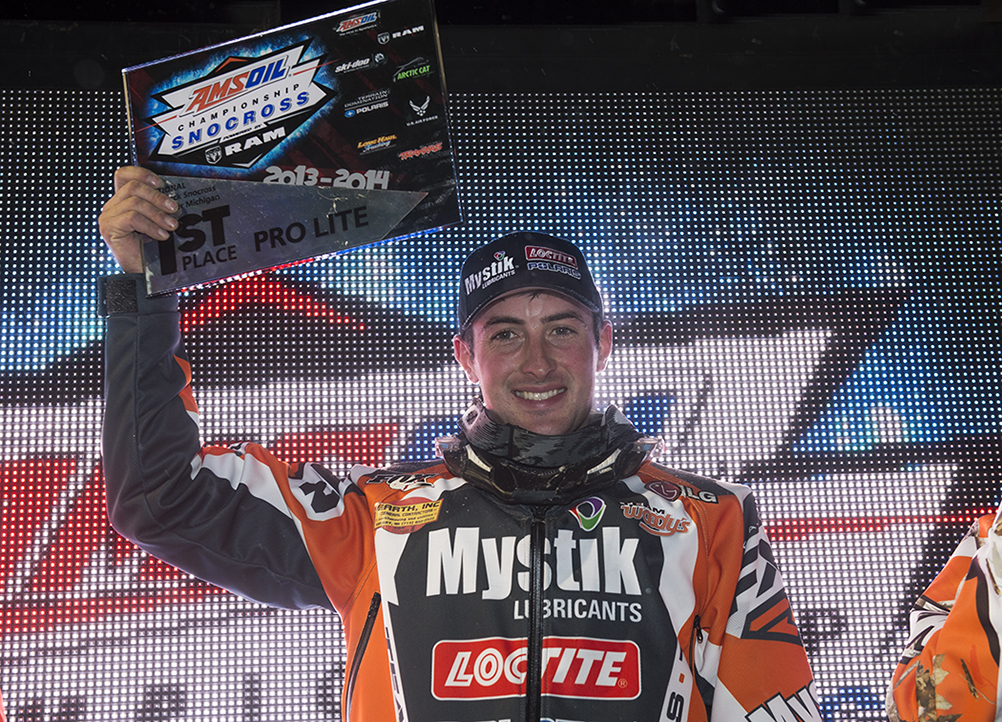 Pulling the holeshot and leading the Pro Lite field on Friday night to the top of Blackjack's centerpiece ski run, Lieders, the No. 3 qualifier, was on a mission to make up for what he felt was a rather poor showing at Duluth.
"I can't thank Levi (LaValle) and his crew enough for bringing me on board this year. We struggled in Duluth and I'll admit it a lot of it was me," said Lieders. "But I'm glad we could get up here tonight and I hope we can carry this momentum."
Right there with Lieders early – and possibly in front of him at times (although it was difficult to tell due to the massive snow cloud) – were Andrew Carlson (Sportech/Polaris) and John Stenberg (AMSOIL/Ski-Doo). But Lieders would soon separate from the two aforementioned riders and began to work on a three-second gap that he'd carry through the checkers.
Stenberg would put a bit of distance between himself and Carlson for 2nd, while Carlson had to fight off a hard-charging Corin Todd (Polaris) late in the race. Carlson would end up 3rd, saying: "I'm glad I could prove Duluth wasn't a fluke. I like it up here (podium) and I'm here to stay."
Todd, who was on the podium in Duluth, would falter and dropped out of the top five (6th) with Marcus Johansson (Carlson Motorsports/Polaris), another Duluth podium finisher, taking 4th and Corey Watkinson (Arctic Cat) placing 5th.
Blackjack Friday Pro Lite results
1 Andrew Lieders Team LaVallee/Lieders Racing 857 Polaris Colby, WI
2 John Stenberg Team Bauerly Racing 259 Ski-Doo Lofsdalen,
3 Andrew Carlson CARLSON MOTORSPORTS 151 Polaris Big Lake, MN
4 Marcus Johansson Carlson Motorsports 227 Polaris Ostersund,
5 Corey Watkinson Watkinson Motorsports, Arctic Cat 173 Arctic Cat Port Carling, Ontario
6 Corin Todd Leighton Motorsports 136 Polaris Otego, NY
7 Filip Eriksson Team Yngvesson 423 Arctic Cat lycksele, Lycksele
8 Kevin Wallenstein Ingles Performance 122 Ski-Doo Cadillac, MI
9 Zak Mason LEIGHTON MOTORSPORTS 863 Polaris Gaylord, MI
10 Travis Muller Warnert Racing 436 Ski-Doo Windom, MN
11 Trevor Leighton Leighton Motorsports 931 Polaris Eagle, ID
12 Korbyn Anderson Team Anderson Racing 179 Ski-Doo Allenton, MI
13 Jordan Kraus Relentless Racing 105 Polaris Osage, MN
14 Chase Rosemeyer Team Bauerly Racing 675 Ski-Doo Chippewa Falls, WI
15 Dylan Hall Royal / Hall Racing 421 Ski-Doo Ayr, Ontario
AMSOIL Championship Snocross, powered by Ram, continues tomorrow (Dec. 7th) at Bessemer, Michigan's Blackjack Ski Resort for the Northern Clearing Snocross – round four of AMSOIL Championship Snocross.
2013-'14 AMSOIL Championship Snocross, powered by Ram
Round/Date City/State
1 – Nov. 29-Dec. 1 Duluth, Minnesota
2 – Dec. 6-7 Bessemer, Michigan
3 – Jan. 3-5 Shakopee, Minnesota
4 – Jan. 31-Feb.1 Deadwood, South Dakota
5 – Feb. 7-8 Salamanca, New York
6 – Feb. 21-22 Mt. Pleasant, Mich.
7 – March 7-8 Fargo, N.D.
8 – March 14-16 Lake Geneva, Wisconsin
Beginning with AMSOIL Championship Snocross' season-opening round in Duluth, Minn. and running through the season finale in Lake Geneva, Wis. CBS Sports Network will air 16 half-hour programs of the ACS races.
Photos courtesy of Lissa Marsolek/ISOC
About ISOC Racing
The International Series of Champions (ISOC) is the premier snowmobile race sanctioning organization in North America and sanctions national AMSOIL Championship Snocross, in addition to affiliating with nine regional circuits. Visit snocross.com for more information, fan and racer memberships, schedule details and more.