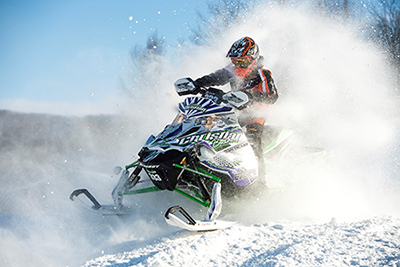 Bessemer, Mich. (December 8, 2013) – The slopes of Blackjack Ski Resort in Bessemer, Michigan, played host to the second round of the ISOC National snocross schedule. Bitter cold greeted the Christian Brothers Racing team for the Northern Clearing Snocross event December 6-7, 2013. A Friday-Saturday double-header, this race marks CBR's third visit to the Bessemer venue, which again featured a massive track laid out on the slopes of Blackjack Mountain. It is typically one of the largest tracks and longest lap times the team sees during the season.
Pro Open: Arctic Cat/DRIFT Racing rider Logan Christian went 6-3 in heat racing on Friday and was sent to the back row in the main along with four other riders for jumping the start. He finished 15th after having to sacrifice his race to avoid hitting a downed rider on the track. He came back Saturday to finish 10th in a race plagued by snow dust and bad visibility.
Rookie Pro Open rider Dave Joanis won his first ever Pro Open heat race on Friday and cruised to the main where he finished 13th. Saturday was much kinder to the Arctic Cat/Royal Distributing rider and he nearly matched his career best Pro Open finishing spot taking 9th in the main.
Pro Am Women: It was a perfect weekend for Arctic Cat/Polarbear Boots riders Marica Renheim. She went undefeated in heat races and in a very exciting main passed the leader on the last lap to take the win, making it her second straight win on the season.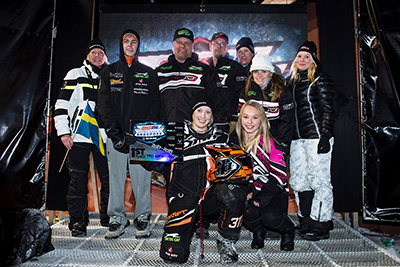 Sport: Tyler Adams looks like the rider to beat this season in the ISOC National Sport class. Adams had a stellar weekend at the opening event in Duluth taking his first career Sport National win and backed it up in Bessemer with a 3rd place podium finish on Friday. Adams racked up points in the heats taking two heat wins, one 2nd and a 4th on the weekend.
Jr. Novice 10-13: Arctic Cat/Finley Motors rider Evan Christian improved on his opening weekend performance finishing 6th in the Jr. Novice 10-13 final at Bessemer. A standout rider in the 120 and Transition classes, Christian is working at climbing the finishing order in the highly-competitive Jr. Novice classes.
Quotes:
Logan Christian – Because it was so cold there was a lot of snow dust and that made it hard to see if you were in traffic, especially on Saturday. I'm just happy to walk away from this race healthy. Our Arctic Cat snowmobiles are working great and we are looking forward to Canterbury.
Dave Joanis – I came into Bessemer looking to finish at least as well as I did in my first weekend of Pro Open racing. I think I achieved that and I think I can finish on the box real soon.
Marica Renheim – I would like to thank Arctic Cat, Polarbear Boots and Christian Brothers Racing for their support. I am 2 for 2 in Pro Am Women this season and hope to keep the momentum up headed into the next race in a few weeks.
Tyler Adams – So far this season is going great. I feel like I've found the pace and our Arctic Cat snowmobile is really working good – I just need to keep finishing at the front to keep the points lead.
Dwight Christian – Two weekends into the season and our Arctic Cat snowmobiles are working great, we have three wins, the points lead in two classes and both Dave and Logie are Top 10 in Pro Open points. This shows how hard our whole team has been working, from the mechanics to the riders and everyone else.
Points Standings
Pro Open
Logan Christian 9th
Dave Joanis 8th
Pro Am Women
Marica Renheim 1st
Sport
Tyler Adams 1st