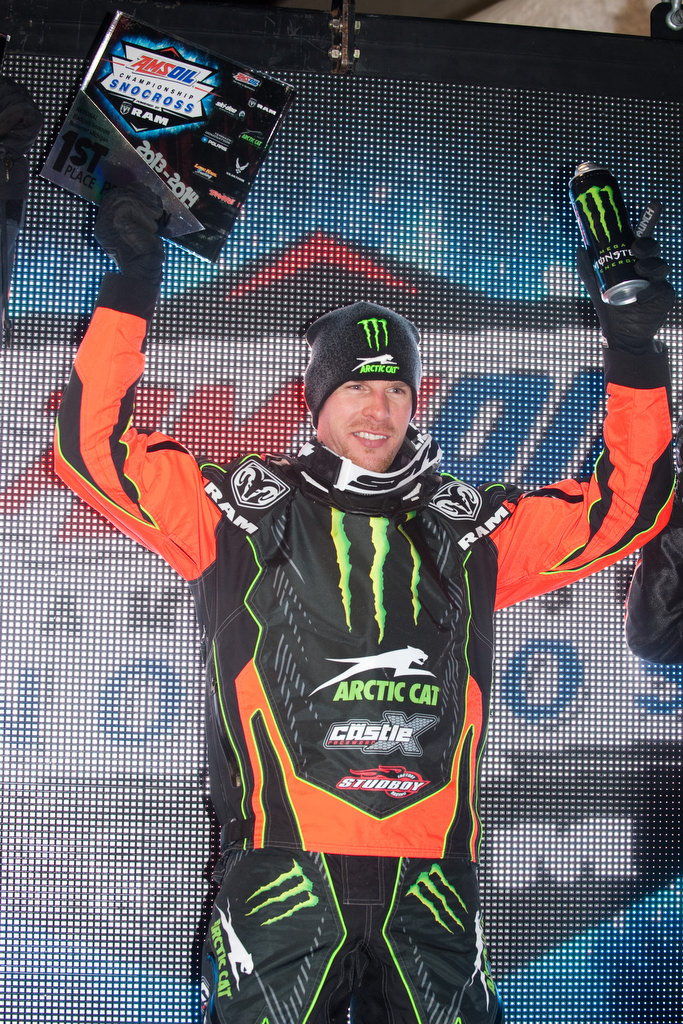 December 9, 2013 – Monster Energy/Arctic Cat's Tucker Hibbert raced to back-to-back Pro Open final wins at rounds three and four of the ISOC National Snocross tour in Bessemer, Mich. tying legend Blair Morgan for all-time premier class victories. With Morgan no longer competing, it's opened the door for Hibbert to break his standing record of 84 wins. Although Hibbert won both final events in commanding fashion, Blackjack Ski Resort's technical track paired with subzero temperatures challenged the defending champion.
Hibbert went 2-1 in qualifying Friday giving him the number one pick for the night's main event. Hot on the throttle, Hibbert, Logan Christian and Kody Kamm were sent to the second row after tripping the laser start line. With a clean restart, Hibbert darted through traffic finding openings in the heavy snow dust and slotted into fourth place by the second corner of the 15-rider, 10-lap race. On lap three, Hibbert snuck under front-runners Jake Scott and Ross Martin in a tricky off-camber turn as they battled for the lead. Hibbert exited the corner clean, roared up the hill and never looked back finishing the race 10 seconds ahead of Martin.
Colder temperatures on day two caused a thick blanket of snow dust to hang over the track. Fighting poor visibility, Hibbert didn't take any chances in his qualifying rounds finishing 1-2. In the final, he got a third place start and by the end of lap one, he took the lead. With a clear track ahead of him, he pulled a comfortable gap to finish 12 seconds over second place.
The series has a three-week break before returning to action at Canterbury Park Jan. 3-4 in Shakopee, Minn. Stay up-to-date with Hibbert by visiting www.tucker-hibbert.com.
Tucker Hibbert – #68 Monster Energy/Arctic Cat
"Obviously, we (the team) wanted to start the season off strong. We couldn't have done much better. I'm excited and thankful for how the first two races went. It sets the tone for the rest of the season.
The track in Bessemer was awesome. The only downfall was the cold weather. It caused a lot of snow dust, which changes the way you can race. The wins didn't come as easy this weekend as they did in Duluth. Overall, it worked out and I'm really happy with our results.
My goal is to win every race I enter whether or not I'm chasing records. For me, it's all about doing the best I can. It's an exciting honor to be tied with Blair for wins but just like when we used to battle back in the day, I want to beat him."
Fast Facts
• Hometown: Pelican Rapids, Minnesota
• Seven-Time National Snocross Champion
• 84 National Pro Wins – Tied with Blair Morgan
• 11-Time ESPN Winter X Games Medalist
• 2012 and 2010 FIM Snowcross World Champion
Resources
www.tucker-hibbert.com • www.monsterenergy.com • www.arcticcat.com • snocross.com