Good day to you all,
Sorry for the delay. Since my last report, let's just say I've had quite the experience! I'm going to combine the Canterbury and ERX Regionals all into one report due to the craziness since my last writings.
So let's start with Canterbury. On a track known for its 4 legged power, the continued arctic blast of frigid cold temps, and the statewide closing of schools and businesses, it still couldn't stop the ISOC MN Regional from rippin' up the track with horses of a different nature, snowmobiles! After a sleepless night trying to decide on whether to race or not and what would be best and safest for all, a morning meeting with the riders and teams gave a unanimous decision to press through and race, after all it is sno-x!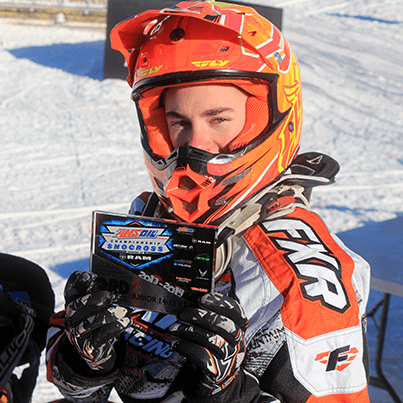 At the riders meeting we discussed some options with entries down and cold weather, we prayed and went green with practice. We made some minor adjustments to the track and as the day went on, our staff and the racers worked together to have another safe day of racing. We made sure to have the right amount of breaks to keep us all as warm as possible. We managed to finish racing shortly after 2 pm and were able to get everyone on the road at a decent time for travel. In looking back at the tough decision and options we were faced with, I felt that it was handled in an appropriate way. I knew that in the end it would not make everyone happy, and even a few that would say we were crazy. I talked with my staff, the racers, and the parents and together we made a decision to race for those who were there. After all in the end it was a choice to either race or go home. I felt as a series we provided a safe place to race and did our best to accommodate all that were involved as best we could!
Moving on to ERX – well, let's just say for me this is where it kind of fell apart! In having a prior commitment before becoming Race Director to do another motorsports event out of state, I had made all the proper arrangements to have things covered. I had Jimbo, last yrs race director, to be there for me to cover Saturday as I would return for Sundays race and my role as Race Director. With all of the weather the U.S. had been experiencing when I left on Monday for my other event, what was supposed to be a 6 hour travel day turned into 19 hour travel day. I like to fly but that many hours in an airport – not that fun. The week was going well and on Friday, the day before the regional event, I received word that Jimbo was sick and unable to attend Saturday. Great, now what? I am in Newry, Maine and cannot do my duties from here over the phone! So, I made a decision to put Paul Ruud at the controls as Race Director for the day and was confident in my team that all would go well. I would see them Sunday so no problem right? Not so fast, my travel nightmare would continue. When I got to the airport Saturday to head home, all flights for the day were being cancelled due to weather. Fantastic – I will be going nowhere! With time on my hands, I made some calls and gave my team the bad, or good (not sure, ha ha) news that I would be missing the weekend. So at this time, I need to send a huge shout out to Paul and my team for all their added workload, hard work and extra effort to have another safe successful weekend of racing while I'm miles away and can't help at all! It just goes to show when you put a team as good as this together with years of experience, anything can be done!
I would also like to thank Chris Carlson, Todd Plaisted and the staff at ERX for providing a place and playground for us to enjoy our passion! ERX is an awesome facility with great staff with a passion for motorsports and working with them is always a pleasure. We had good entries and fantastic racing on a redesigned track from previous years. My understanding is we had some new racers (welcome), new winners and nice weather (finally) to enjoy some good battles and good times. I wish I could have been there to experience it with all of you.
My lesson in the end is you can't control the weather, airplanes or travel; sometimes things are just out of your hands. So put it in the hands of your higher power. With Him and the right people and team in place, there is not much to worry about, things will get done right! The team did a great job again and the weekend was a success.
Special Thanks to Tyler and Jay Hoese, LeRoy Grams, Bruce Mosher, Matt Brandemuehl, Rod, Dusty and Chelsie Skorich, Dennis Diller, Todd Howard, Amanda Kamstra, Craig Rhode, Lora Horngren, Paul Ruud, Paul Lemke, Tyler Mumm. Rich Jensen, Shelby Jensen and Mickey for a job well done! I could not do it without all of them and can't thank them enough! I look forward to seeing you all at the next MN regional. Be safe, have fun, laugh often!
Canterbury Regional GoPro Lap of the Day