Shakopee, Minn. (Feb. 2, 2014) –Hentges Racing continues the momentum from X Games into the Deadwood Snocross Shootout with Polaris/Pirtek/FXR Racing rider Kody Kamm earning the team's first victory of the 2013-14' AMSOIL Championship Snocross season. Kamm was able to put an end to the defending champion and current point leader Tucker Hibbert's winning streak.
"It was fantastic for the team to continue our success from X Games with Kody's win on Friday night," said Nate Hentges, team owner of Hentges Racing.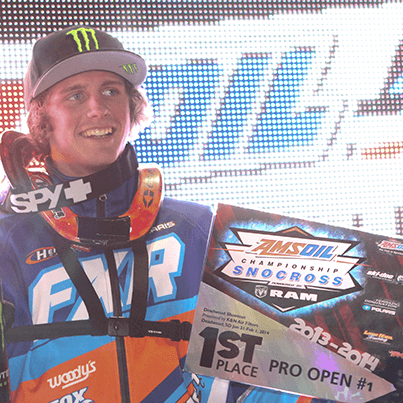 These rounds showcased short-track snowmobile racing at its best with riders describing an aggressive style of racing needed on this type of track. Good starts, breaking through the first turn chaos and making no mistakes was key to overcoming the narrow track.
"You have to be tough and you can't just let anyone pass you," said Kamm about the difficulty to race for position.
In 2012 at the Lake Geneva Grand Final, Kamm won his debut pro race so it was definitely time for another pro win. Putting up almost a second faster lap time over Hibbert, the battle for the win would come to down to holding off a hungry Tim Tremblay.
"Tremblay was on me the whole time and passed me with only two laps to go. I was able to pass him back for the lead on the last lap and take the win," said Kamm about the race.
Justin Broberg remains consistent once again during rounds nine and 10 of the ACS series with back-to-back 4th place finishes in finals both days, just missing his place on top of the podium. Posting competitive results in the top 5 during all of qualifying, Broberg was strong throughout the weekend.
The chase for the championship continues with Kamm closing the gap three more points and maintaining 2nd place in the Pro Open point standings. With half the season remaining, the chance for Kamm to achieve his first pro championship is well within reach. Broberg is 5th place in points, tied with Tim Tremblay, and will continue striving for those podium finishes.
Friday's race (round 7) will air at 10:30 a.m., Feb. 9, and Saturday's race (round 8) at 10:30 a.m., Feb. 16, on the CBS Sports Network. Tune into the 16 half-hour programs of the ACS that will be televised.
Next up…Hentges Racing will be traveling to Salamanca, N.Y., for ACS rounds nine and 10 (out of 16) on Feb. 7 – 8, 2014. See you there and be sure to follow the team on Facebook and Twitter! For live action from home tune into: http://www.ustream.tv/isoc.