Contact: Pat Schutte
PR Director, ISOC Racing
pat@highprofilepr.com
MT. PLEASANT, Mich. (Feb. 22, 2014) – Soaring Eagle's Ram Snocross came to a thrilling crescendo on Saturday night as AMSOIL Championship Snocross, powered by Ram, Pro Open class point leader Tucker Hibbert (Monster Energy/Arctic Cat) completed the weekend sweep with a convincing performance on the massive Soaring Eagle track.
And, prior to Hibbert's victory, firing up the sizable crowd that braved the cold and high winds was a big win in the Pro Lite class by Team LaVallee/Polaris' Andrew Lieders.
Pro Open
After pulling a clean Stud Boy Holeshot, Hibbert battled bar-to-bar with sophomore Pro Open class racer Kody Kamm (Hentges Racing/Polaris) through the finish line table top and into the corner leading into the uphill section. Hibbert was passed – cleanly – in the back bowl turn by Kamm and led around the track for the first couple laps by the hard-charging young racer.
"Kody was riding on the edge," admitted Hibbert, adding that he made a conscious choice to follow Kamm through the downhill section to "see if Kody tripled" (which Kamm did).
With Kamm putting up a 54.7 lap (to Hibbert's 55.17) on lap two, things were heating up quickly in the 12-lap contest. The situation quickly came to a boil when, on lap four, Hibbert rammed into the back end of Kamm's sled. Both riders came away without issue, but soon thereafter Kamm would miscalculate the landing of a large tabletop jump and high-sided, rolling his sled on its side and pitching himself into the sugar-like snow.
"It was a bummer for him, he was riding good," said Hibbert of Kamm. "So from then on I just focused on riding strong and consistent after he crashed."
With Kamm back up and running in 12th place, Arctic Cat's Cody Thomsen – running blazing fast all night – moved up from 3rd to 2nd and Friday Pro Open finisher Johan Lidman (Warnert Racing/Ski-Doo) popped up from 4th to 3rd.
Without Kamm (12th) up front the aforementioned racers would spread out evenly, making up the podium the way they stood at the midway point of the race. Hentges Racing/Polaris' Justin Broberg rode well to place 4th, followed Christian Brothers Racing/Arctic Cat's Logan Christian in 5th.
Mt. Pleasant Friday Pro Open results
1 Tucker Hibbert Monster Energy/Arctic Cat 68 Arctic Cat Pelican Rapids, MN
2 Cody Thomsen Arctic Cat 62 Arctic Cat Nisswa, MN
3 Johan Lidman Warnert Racing 52 Ski-Doo Pitea, Sweden
4 Justin Broberg Hentges Racing 168 Polaris Mukwonago, WI
5 Logan Christian Christian Brothers Racing / Drift 43 Arctic Cat Fertile, MN
6 Petter Narsa Team Jimmy John's/Ski-doo/BossRacing 271 Ski-Doo Moskosel,
7 David Joanis ROYAL DISTRIBUTING 115 Arctic Cat Cochrane (Kok rane), Ontario
8 Lincoln Lemieux Amsoil/Air Force/Rockstar 13 Ski-Doo St. Johnsbury, VT
9 Kyle Pallin Team LaVallee 324 Polaris Ironwood, MI
10 Jake Scott Team LaVallee 42 Polaris Port Jefferson Station, NY
11 Darrin Mees BossRacing 9 Ski-Doo stanchfield, MN
12 Zach Pattyn Stud Boy Racing 99 Ski-Doo Ravenna, MI
13 Kody Kamm Hentges Racing 53 Polaris Kenosha, WI
14 Levi LaVallee Team LaVallee 108 Polaris Longville, MN
DNS Bobby LePage Cottew Motorsports 244 Polaris Duluth, MN
Pro Lite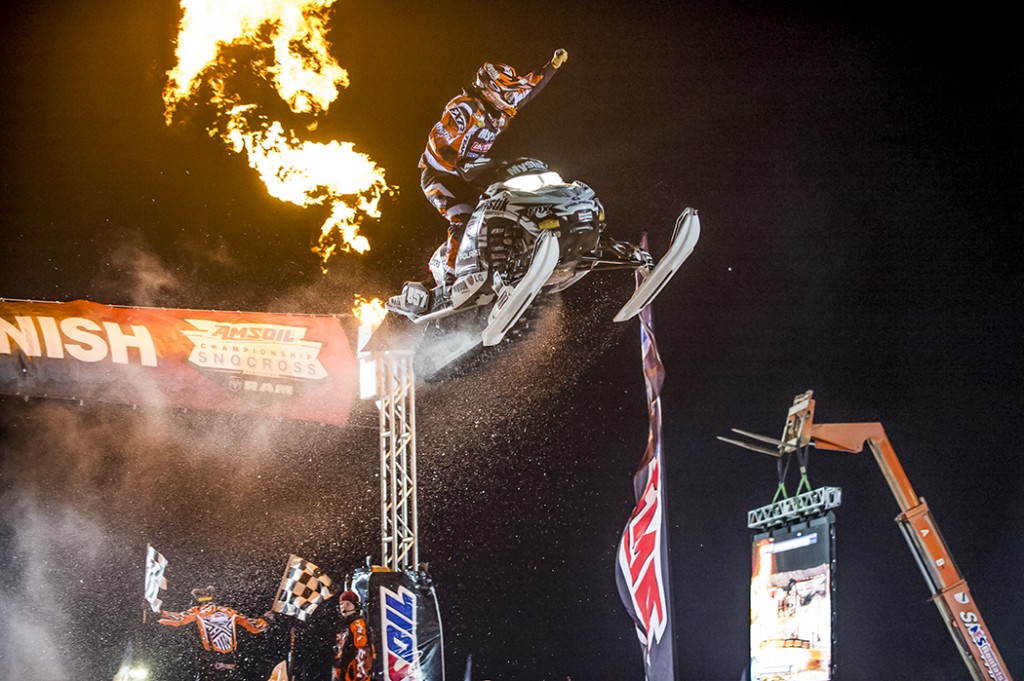 Andrew Lieders gave Team LaVallee a huge lift on Saturday at Soaring Eagle, going from a DQ finish on Friday in the Pro Lite class to winning Saturday's Pro Lite main event.
"This was a great group effort tonight – I'd really like to thank my entire team," said an elated Lieders from the top rung of the podium. "Everybody had a hand in this. It's just a great, great win."
Starting 2nd (behind Johnstad), Lieders was never challenged after he took the early lead, running up front for seven of the eight laps and winning by nearly five seconds.
Giving chase – in the Pro Lite's best battle of the weekend – were James Johnstad (Judnick Motorsports/Polaris) Johnstad nailed the holeshot and took the early lead in the race before being passed by Lieders and John Stenberg (Team Bauerly/Ski-Doo). Johnstad nailed the holeshot and took the early lead in the race before being passed by Leiders at the start of the second lap. And noteworthy in the opening lap was Friday's Pro Lite winner, Corin Todd (Leighton Motorsports/Polaris), got tied up with Michael George (MFG Racing/Arctic Cat) and went down. Todd would remount in second-to-last place and ran the remainder of the Pro Lite main without a seat (finishing 10th).
With Lieders cracking off the night's fastest Pro Lite laps, Johnstad and Stenberg settled in to 2nd and 3rd, respectively. Pro Lite overall point leader, Andrew Carlson (Carlson Motorsports/Polaris) would move up to 4th place and set his site on the podium – his overall point lead down to a mere seven after Todd won on Friday and Carlson finished 8th.
By lap six Lieders had opened up a 3.5-second lead, while Trevor Leighton (Leighton Motorsports/Polaris) rallied back from a poor start and came out of nowhere to pass Carlson for 4th place. At the same time Stenberg got past Johnstad to take 2nd place.
With Lieders pretty much checked out, the fans' focus turned to Stenberg and Johnstad, who swapped the lead back and forth on the final lap. Stenberg would edge Johnstad at the tape while Leighton placed 4th and Zak Mason (Leighton Motorsports/Polaris) caught Carlson for 5th.
"He passed me, I passed him – yeah, we had a battle out there," said Stenberg.
Mt. Pleasant Friday Pro Lite results
1 Andrew Lieders Team LaVallee 857 Polaris Colby, WI
2 John Stenberg Team Bauerly Racing 259 Ski-Doo Lofsdalen, Sweden
3 James Johnstad Judnick Motorsports 154 Polaris Beltrami, MN
4 Trevor Leighton Leighton Motorsports 931 Polaris Eagle, ID
5 Zak Mason LEIGHTON MOTORSPORTS 863 Polaris Gaylord, MI
6 Andrew Carlson CARLSON MOTORSPORTS 151 Polaris Big Lake, MN
7 Corey Watkinson Watkinson Motorsports, Arctic Cat 173 Arctic Cat Port Carling, Ontario
8 Casey Boylan Team Boylan 630 Ski-Doo Anchorage, AK
9 Travis Muller Warnert Racing 436 Ski-Doo Windom, MN
10 Corin Todd Leighton Motorsports 136 Polaris Otego, NY
11 Chase Rosemeyer Team Bauerly Racing 675 Ski-Doo Chippewa Falls, WI
12 Michael George MFG Racing 307 Arctic Cat Pine Plains, NY
13 Nick Pattyn Stud Boy Racing 198 Ski-Doo Ravenna, MI
14 Matt Pichner HAALA Racing 193 Arctic Cat Owatonna, MN
DQ Kevin Wallenstein Ingles Performance 122 Ski-Doo Cadillac, MI
AMSOIL Championship Snocross, powered by Ram, continues the 2013-'14 tour at Buffalo River Race Park (Glyndon, Minn.) with the U.S. Air Force Snocross, Feb. 7-8.
2013-'14 AMSOIL Championship Snocross, powered by Ram
Round/Date City/State
1 – Nov. 29-Dec. 1 Duluth, Minnesota
2 – Dec. 6-7 Bessemer, Michigan
3 – Jan. 3-5 Shakopee, Minnesota
4 – Jan. 31-Feb.1 Deadwood, South Dakota
5 – Feb. 7-8 Salamanca, New York
6 – Feb. 21-22 Mt. Pleasant, Mich.
7 – March 7-8 Fargo, N.D.
8 – March 14-16 Lake Geneva, Wisconsin
Beginning with AMSOIL Championship Snocross' season-opening round in Duluth, Minn. and running through the season finale in Lake Geneva, Wis. CBS Sports Network will air 16 half-hour programs of the ACS races.
Photos courtesy of Lissa Marsolek/ISOC
About ISOC Racing
The International Series of Champions (ISOC) is the premier snowmobile race sanctioning organization in North America and sanctions national AMSOIL Championship Snocross, in addition to affiliating with nine regional circuits. Visit snocross.com for more information, fan and racer memberships, schedule details and more.